Martin Truex, Jr. Scores First-Career Darlington Victory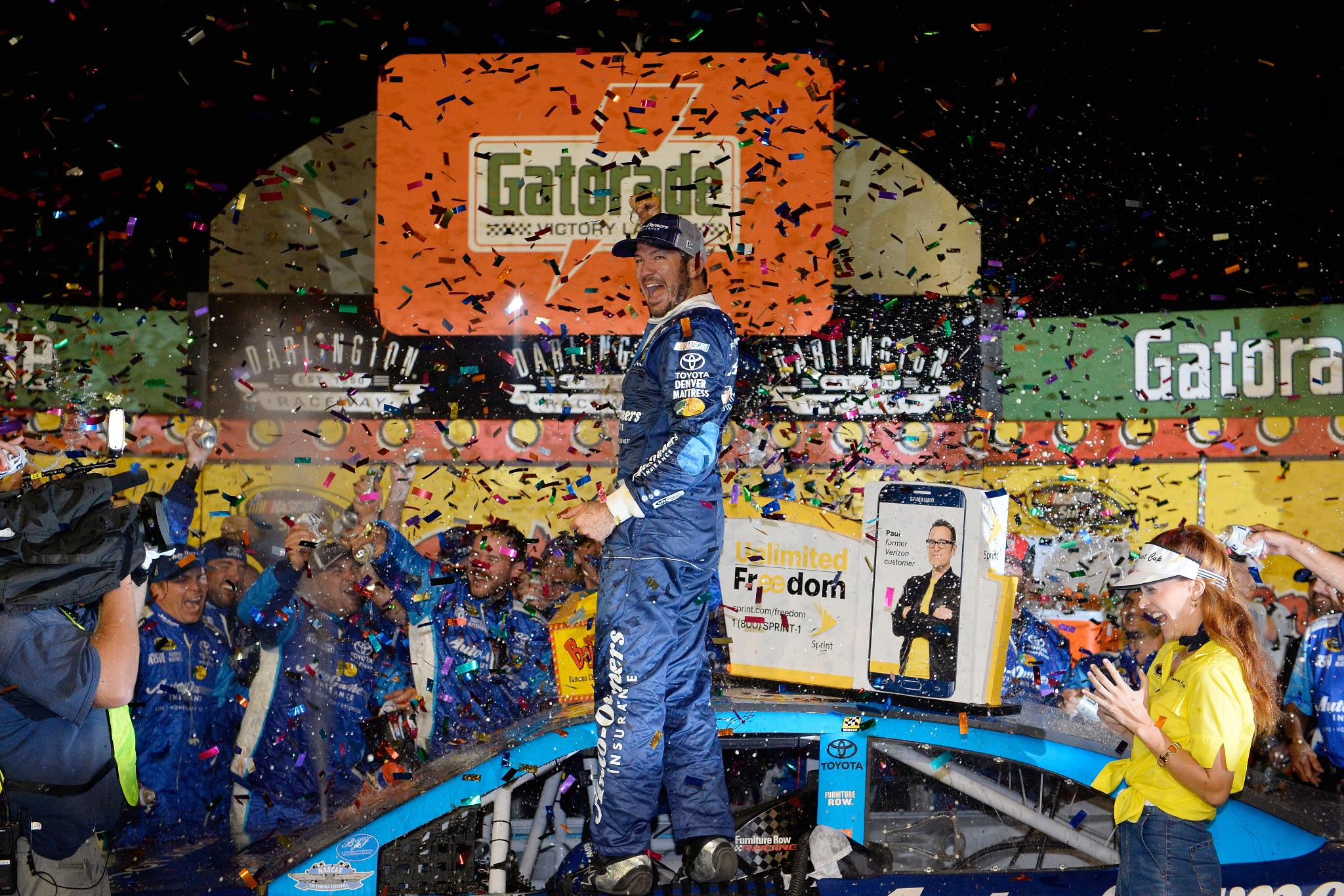 Martin Truex, Jr.
Josh Hedges/Getty Images
Martin Truex, Jr. finally shook off the bad luck that had dogged him all summer long and broke through for one of the biggest victories of his career – winning Sunday night's Bojangles Southern 500 at Darlington Raceway for his first-career victory at the "Track Too Tough To Tame."
Truex, Jr. won the battle off pit road following a round of pit stops on lap 331 to get himself near the front, took the lead for the first time six laps later and then held on for the last 30 laps – holding off a hard-charging Kevin Harvick in the final laps for his second win of the season.
Kyle Larson finished third, followed by Denny Hamlin and Joey Logano.
Truex, Jr. had never finished better than fifth in 10-career starts at Darlington, but came through to score Furniture Row Racing their second Southern 500 victory following the team's win in 2011.
"This is just – this is unbelievable," said Truex, Jr. "Honestly this has always been one of my favorite tracks. I've wanted to win here so bad, and I've led a bunch of races here in Cup car and felt like I was in position or had chances to win this race before, or just to win at this track in general, and I've had a few heartbreakers here. To finally get it done was sweet.
"It just was frustrating to lead laps here throughout my career and even in years when we didn't run that well at teams I was on, we seemed to run well here and felt like we let a few slip away. It was worth the wait for sure."
Truex's win was his second marquee victory of the year after winning the Coca-Cola 600 back in May for his first Charlotte victory.
Since then, Truex and his team had been plagued by back luck, including a crash two weeks ago at Bristol and a pit-road miscue while leading last weekend at Michigan.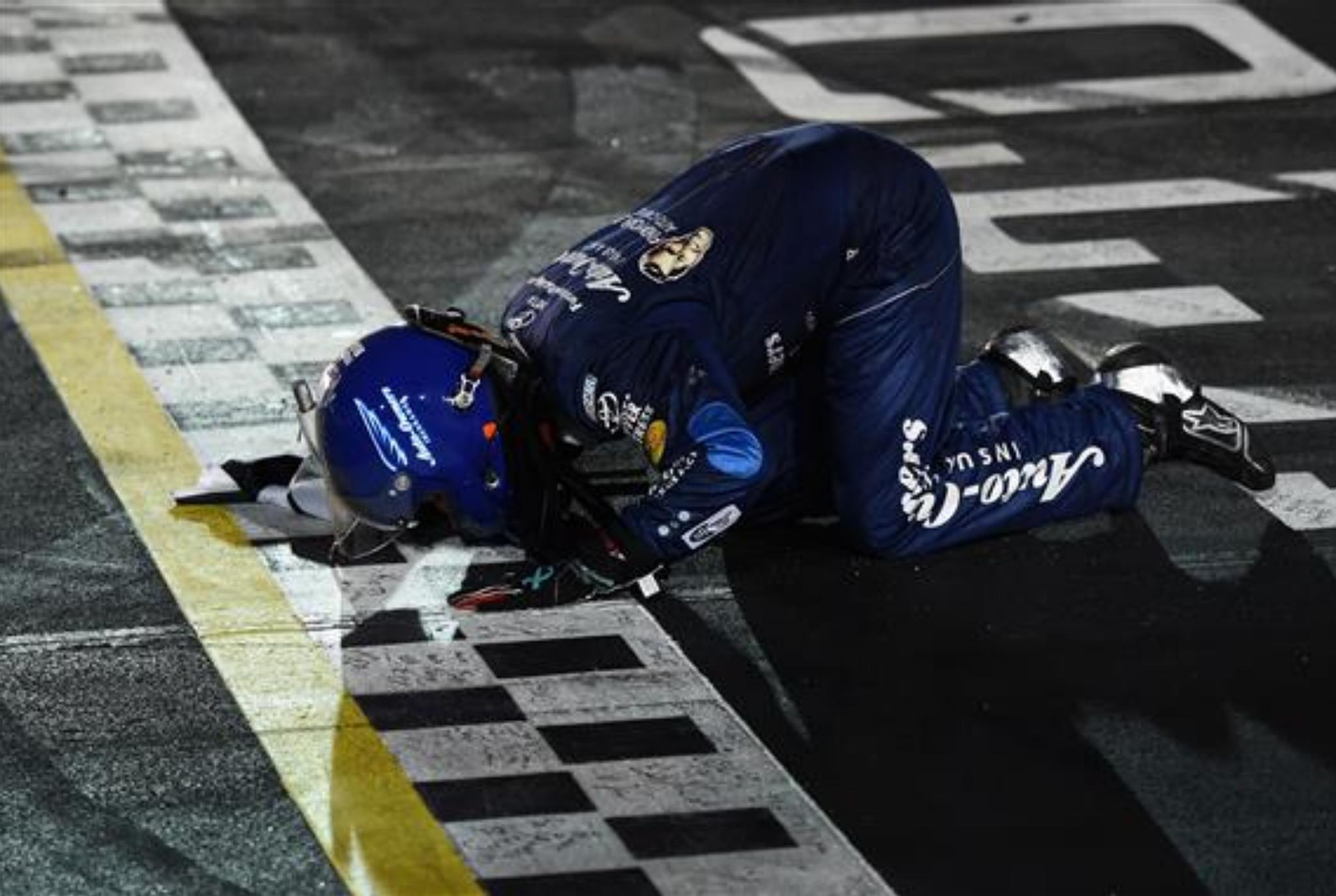 Martin Truex, Jr. kisses the finish line after winning the Southern 500
NASCAR via Getty Images
"We've had a terrible string of back luck," said Truex, Jr. "I knew when the bad luck would stop coming we'd start racking them off and tonight we weren't the best car for once and we actually won, so that was really cool and just couldn't be more excited to win at Darlington, the Southern 500. I've been wanting to win this thing a long time."
Truex, Jr. had battled his way to the front of the field after qualifying eighth, moving up to take second place behind Larson following a restart with 83 laps to go.
Truex, Jr. worked on Larson for the lead but could never close the gap as Larson checked out on the rest of the field.
A caution flag on lap 319 brought the field to pit road and Truex, Jr. beat everyone off pit road, but still found himself restarting third after Ryan Newman and Brad Keselowski stayed out.
On the restart, Truex, Jr., quickly overhauled Keselowski to take second place and started to track down Newman, who had moved out to a two-car length lead.
With 28 laps to go, Truex, Jr. ducked under Newman on the backstretch and had him cleared going into turn three to take the lead for the first time. Harvick would also make his way around Newman and set his sights on Truex, Jr.
[adinserter name="GOOGLE AD"] Although Truex, Jr. was able to keep his distance on Harvick, the tenth and final caution flag with 18 laps to go ended Truex, Jr.'s run – erasing a three-second lead over Harvick.
The caution flag brought the leaders to pit road and again Truex, Jr. won the battle off pit road over Harvick and Larson, bringing the field to the flag for a restart with 12 laps to go.
Back under green, Truex, Jr. held off Harvick going into turn one and began to pull away as Harvick fell into the clutches of Larson for the second spot. Harvick clawed his way back to regain the spot and tried to reel in Truex, Jr. who had pulled out to a five-car length lead.
In the final laps, Harvick looked to be making up ground, but started to fade as they came down to three to go, eventually falling five-car lengths behind at the finish line.
Harvick's runner-up spot was a bitter pill to swallow for the 2014 Southern 500 winner, who led a race-high 214 laps but ended the night losing a jaw-dropping 17 spots on pit road during the course of the event, including an airgun problem during a stop on lap 280 that cost him the lead.
Pit road problems has roiled the No. 4 team all season, and after Sunday night's race, Harvick took his pit crew to task over the myriad of problems during the race.
"We have championship cars and we're just mediocre on pit road," said Harvick. "It's been that way for a few years, and they've moved things around, but it just seems like it's just week after week.
"I'm over being a cheerleader. Those guys get paid a lot of money to perform on pit road, and cheerleading hasn't really been working. You've got to get after it on pit road and do your job."
Harvick then walked out of the media center without taking any more questions.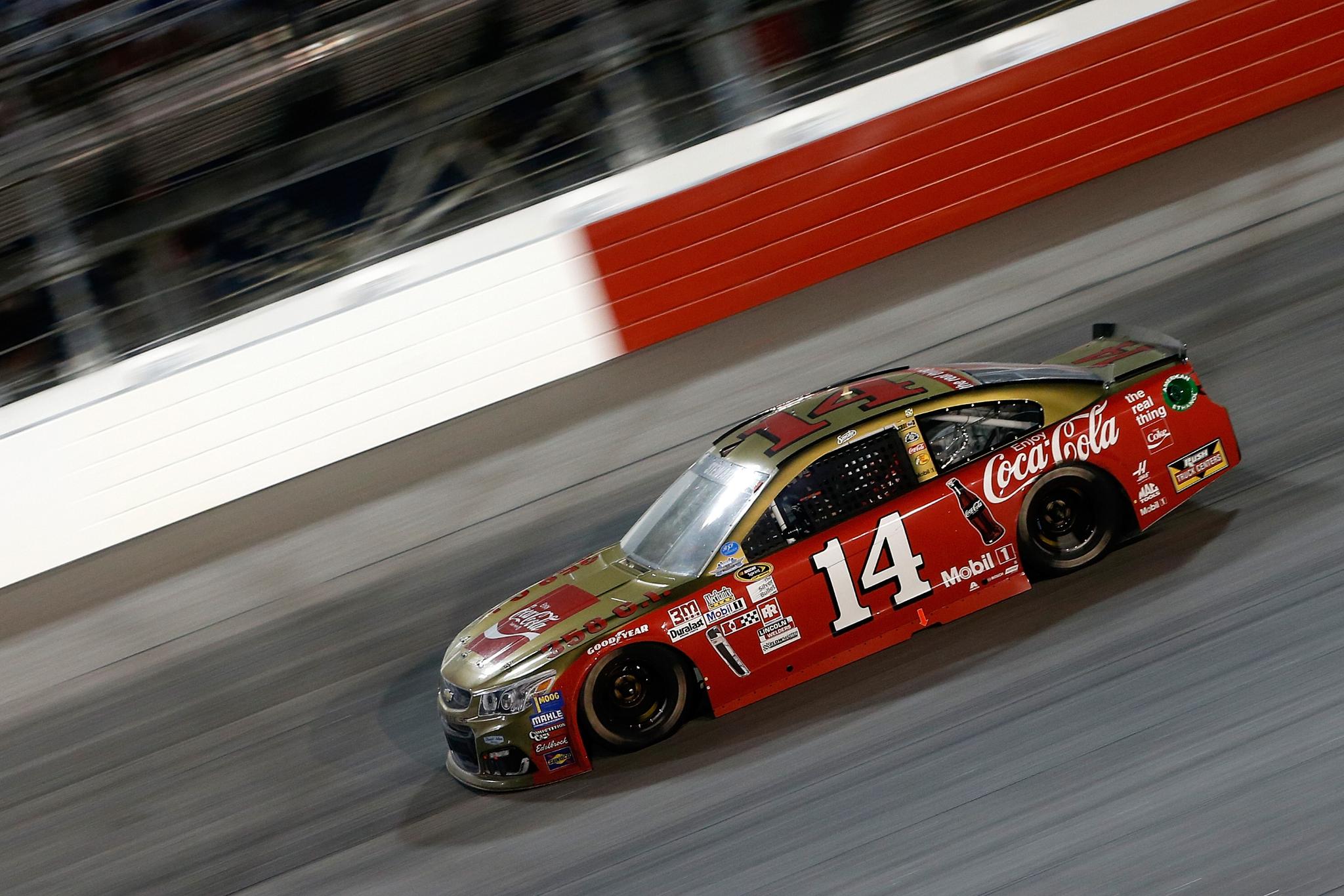 Tony Stewart finished 35th in his final Southern 500 start
Brian Lawdermilk/Getty Images
Sunday's race had continued a tradition established last year of throwback paint schemes, crew uniforms and drivers suits, including two throwback paint schemes honoring Tony Stewart – making his last Southern 500 start before he hangs up his helmet at the end of the season.
Stewart was the sentimental favorite to win the race – one of only two active Sprint Cup tracks he's never won at – but Stewart's hopes went up in smoke after blowing an engine with 48 laps to go.
Stewart made an impression in his final Darlington start, after making what appeared to be an intentional move to wreck Brian Scott on lap 205. That earned him yet another post-race visit to the NASCAR hauler.
"I'm kinda interested in what NASCAR has called me (to the hauler) for," Stewart said.
Race Results
| | | | | | | | | |
| --- | --- | --- | --- | --- | --- | --- | --- | --- |
| Pos. | # | Driver | Make | Start | Laps | Led | Status | Points |
| 1 | 78 | Martin Truex Jr | Toyota | 8 | 367 | 28 | Running | 44 |
| 2 | 4 | Kevin Harvick | Chevy | 1 | 367 | 214 | Running | 41 |
| 3 | 42 | Kyle Larson | Chevy | 16 | 367 | 45 | Running | 39 |
| 4 | 11 | Denny Hamlin | Toyota | 7 | 367 | 13 | Running | 38 |
| 5 | 22 | Joey Logano | Ford | 5 | 367 | 0 | Running | 36 |
| 6 | 20 | Matt Kenseth | Toyota | 10 | 367 | 10 | Running | 36 |
| 7 | 5 | Kasey Kahne | Chevy | 18 | 367 | 0 | Running | 34 |
| 8 | 31 | Ryan Newman | Chevy | 14 | 367 | 9 | Running | 34 |
| 9 | 2 | Brad Keselowski | Ford | 2 | 367 | 47 | Running | 33 |
| 10 | 24 | Chase Elliott | Chevy | 11 | 367 | 0 | Running | 31 |
| 11 | 18 | Kyle Busch | Toyota | 6 | 367 | 1 | Running | 31 |
| 12 | 3 | Austin Dillon | Chevy | 12 | 367 | 0 | Running | 29 |
| 13 | 21 | Ryan Blaney | Ford | 20 | 367 | 0 | Running | 28 |
| 14 | 88 | Jeff Gordon | Chevy | 15 | 367 | 0 | Running | 27 |
| 15 | 1 | Jamie McMurray | Chevy | 13 | 367 | 0 | Running | 26 |
| 16 | 27 | Paul Menard | Chevy | 24 | 367 | 0 | Running | 25 |
| 17 | 34 | Chris Buescher | Ford | 31 | 367 | 0 | Running | 24 |
| 18 | 17 | Ricky Stenhouse Jr | Ford | 22 | 367 | 0 | Running | 23 |
| 19 | 19 | Carl Edwards | Toyota | 3 | 366 | 0 | Running | 22 |
| 20 | 7 | Regan Smith | Chevy | 33 | 366 | 0 | Running | 21 |
| 21 | 23 | David Ragan | Toyota | 32 | 366 | 0 | Running | 20 |
| 22 | 15 | Clint Bowyer | Chevy | 27 | 365 | 0 | Running | 19 |
| 23 | 47 | AJ Allmendinger | Chevy | 21 | 365 | 0 | Running | 18 |
| 24 | 10 | Danica Patrick | Chevy | 25 | 365 | 0 | Running | 17 |
| 25 | 13 | Casey Mears | Chevy | 28 | 365 | 0 | Running | 16 |
| 26 | 83 | Matt DiBenedetto | Toyota | 35 | 364 | 0 | Running | 15 |
| 27 | 95 | Michael McDowell | Chevy | 30 | 364 | 0 | Running | 14 |
| 28 | 46 | Michael Annett | Chevy | 37 | 362 | 0 | Running | 13 |
| 29 | 30 | Josh Wise | Chevy | 40 | 361 | 0 | Running | 12 |
| 30 | 38 | Landon Cassill | Ford | 29 | 361 | 0 | Running | 11 |
| 31 | 55 | Reed Sorenson | Chevy | 39 | 358 | 0 | Running | 10 |
| 32 | 43 | Aric Almirola | Ford | 26 | 346 | 0 | Accident | 9 |
| 33 | 48 | Jimmie Johnson | Chevy | 9 | 328 | 0 | Running | 8 |
| 34 | 41 | Kurt Busch | Chevy | 4 | 326 | 0 | Accident | 7 |
| 35 | 14 | Tony Stewart | Chevy | 17 | 317 | 0 | Engine | 6 |
| 36 | 16 | Greg Biffle | Ford | 23 | 295 | 0 | Accident | 5 |
| 37 | 98 | Cole Whitt | Chevy | 36 | 250 | 0 | Electrical | 4 |
| 38 | 32 | Jeffrey Earnhardt | Ford | 38 | 247 | 0 | Accident | 3 |
| 39 | 44 | Brian Scott | Ford | 34 | 199 | 0 | Accident | 2 |
| 40 | 6 | Trevor Bayne | Ford | 19 | 161 | 0 | Engine | 1 |

[adinserter name="GOOGLE AD"]