NASCAR Post Race Press Conference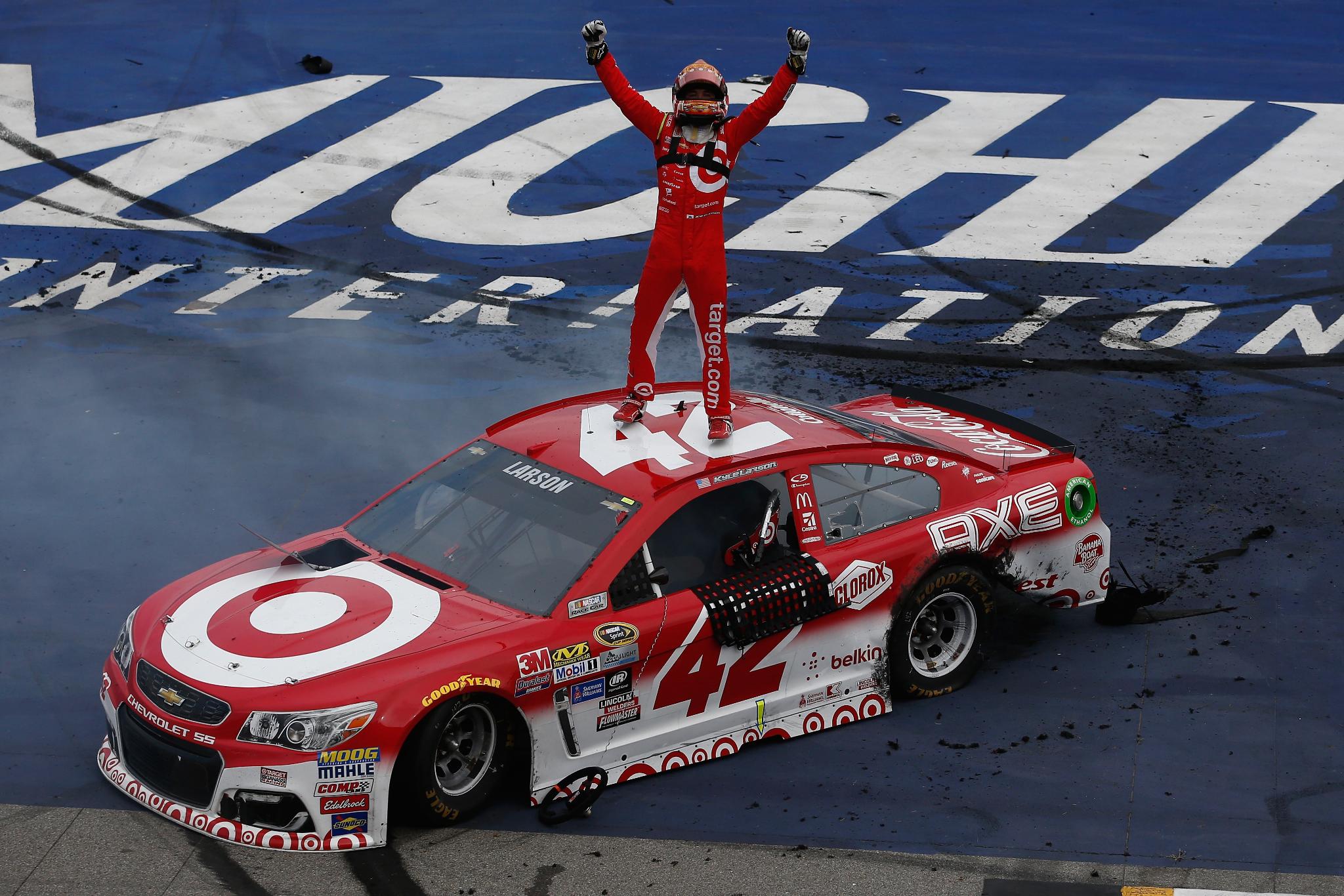 Kyle Larson celebrates his first-career Sprint Cup victory at Michigan
Jeff Zelevansky/NASCAR via Getty Images
THE MODERATOR: We'll continue on with today's post race media availability. We are joined by the owners of the No. 42 Target Chevrolet, Chip Ganassi and Rob Kauffman.
Chip, this ends a wins drought of 99 races, extending back to Jamie McMurray's win in October 20th, 2013, at Talladega. How sweet is this moment for you?
CHIP GANASSI: Pretty sweet. I remember when I got into this business, James Finch told me it took a hundred races before these guys could figure it out. Thank God we beat the triple digit by one.
THE MODERATOR: Rob, how is it to enjoy Victory Lane?
ROBERT KAUFFMAN: Frigging awesome. Been really close. Finally get it across the line. It's been a strong summer. They've been working their butts off. Good to see their success.
THE MODERATOR: We'll open it up for questions.
Q. Chip, we thought it was just a matter of when. He's been close so many times. Don't you think this is just the start of something? I heard you say earlier it will snowball. The kid has immense talent. We've all seen it.
CHIP GANASSI: Yeah, no question the kid has talent, he can drive. We had to put a weekend together, if you will. I mean, these weekends start off Friday morning. You're working on Friday morning every session. You got to get the most out of each day, out of each session. You have to have good pits.
I'd like to see some statistic, the last time somebody won a race that didn't have an opening in the pits or something like that, things like that. Those little things are so important.
Yeah, I mean, Kyle, everybody knew it was a matter of just when. But you know that we've been second plenty of times. I can't tell you how much respect I have for the people on the team that do the work, that hung in there, kept me in the game as well.
It's easy to change things in business. People talk about change management all the time. It's easy to change, Let's get somebody new and we'll change. I think it's a lot harder to have the fortitude as a team to say, Hey, we have all the pieces, we have all the stuff, we're going to hang in there and keep massaging what we have and work with that.
My hat is off to Target for hanging in there with us, for Hendrick engines for the great engines they provide, the great support Chevrolet gives us. It's amazing. All the partners on all the team, all the sponsors are really part of a group that makes our little company a success. It's very important.
Q. Chip, where do you see Kyle Larson? Do you see him as the foundation as the future of your NASCAR program?
CHIP GANASSI: I know this, I've developed a great relationship with Kyle. When he came to our team, people say, Well, he'll hang around for a couple years, then he'll go to a team where he can win. That wasn't the case at all.
His contract came up one time. I said, What do you think about these other teams that are talking to you? I'll never forget his answer. He said, They all had a shot at me the first time around and they passed.
[adinserter name="GOOGLE AD"] Yeah, to say he's the foundation of the team, sure. Anytime you have a young guy come along that can win, sure, you want to rally around that. It takes a lot of things these days to build your team and keep your team together.
I can tell you, a day like today goes a long way to be that mortar in between all the bricks that keeps everything pulled together. It's a big day today.
Q. You don't expect him to leave anytime soon?
CHIP GANASSI: I don't expect him to leave anytime soon, no.
Q. Rob, can you specify your business position with Chip Ganassi? Is it just concentrating on the NASCAR team or are you involved in IndyCar and GT racing?
ROBERT KAUFFMAN: I'll have to submit my W-2s. I'm a partner with Chip and Felix. I'm proud to be one. The IndyCar team is separate. This is about Kyle and the team winning, not about my financial position, but thanks for the question anyway.
Q. What would it mean if you can get both cars in the Chase?
CHIP GANASSI: Yeah, that's obviously our goal. That was the goal at the beginning of the season. We still have some work to do. We got Jamie in, but just by the skin of his teeth. We got to work on that with two to go now, right?
I mean, that's what we do. That's what we try to do every day. That's what we work towards. That's the goal.
Q. I'm trying to think the last time you had two cars in the Chase.
CHIP GANASSI: Two cars in the Chase. It's been never. Never is a while, yeah (smiling).
Q. Chip, Kyle showed a lot of heart with his dedication, a class act. What did you think of his words?
CHIP GANASSI: That's Kyle. It's the same thing whether it's his friends, whether it's Bryan or Stenhouse. Even going back, today I think about days like at Dover where we finished second behind Matt. He was up alongside Matt. Everybody said, Why didn't you hit him, why didn't you do this or that? That's Kyle.
I think it's important to understand that these guys are not robots. We want to cookie cutter them into saying, He's this, this driver is this, this team is that, this team is that. Really, they're all different. They're all different. They're all different personalities. I couldn't be more proud of how he's developed over the last couple of years in Cup, in the series, yeah.
Q. Kyle thinks he's got a really good shot in the Chase, the tracks coming up for him. What does Ganassi Racing have to do to support that quest?
CHIP GANASSI: That's a good question. We have to dig deep. We have to dig deep and work hard, like every other team's going to be doing.
Like you said, he thinks those are good tracks for him. We think they're good tracks. He's shown before he knows his way around Miami. That's always good, to be good at the final track.
He's a shootout kind of guy. A lot of those races turn into shootouts. You're not so much racing the entire field in those races a lot of times. I look forward to it.
Jamie has had some experience in the Chase, but Kyle has not. I think he's the kind of driver that that Chase is made for, that format.
[adinserter name="GOOGLE AD"] Q. Do you think your IndyCar background, as many championships as you have battled for, will transfer over to the NASCAR side as well?
CHIP GANASSI: I don't know. I hope so. I think anytime that the organization does well, there's some rub-off to the other groups within the team. It's down to the people. We're very, very fortunate to have great people on the team. That's what it takes. That's the only difference.
Everybody has all the stuff. All the stuff, everybody has it all. It's down to the people and the decision making by those people. A lot of times you don't have time. When the car is coming down pit lane, you don't have time for a meeting, you got to react, you got to go.
Q. Chip, when Kyle was wrecked on the last lap at Watkins Glen, so many points disappeared. It didn't look good for him to make the Chase. At that point did you feel like this was still a possibility or maybe it wasn't going to happen this year?
CHIP GANASSI: Until all possibilities are exhausted, it's always a possibility. I think that's how you have to be in racing. I wouldn't be the first to tell you that we all know anything can happen.
Yeah, we were disappointed that day. But days like today, I was saying to Rob a few minutes ago, it clears a lot of things off your desk that have been percolating.
Yeah, I mean, as long as there's a possibility, there's always a possibility. That's what we as racers hang on to. We hang on to every possibility because we know anything can happen. That's what's great about this sport.
ROBERT KAUFFMAN: A million things can happen, only one is good.
THE MODERATOR: Gentlemen, congratulations on the win.
CHIP GANASSI: Thank you very much.
ROBERT KAUFFMAN: Thank you.
THE MODERATOR: We're joined by Kyle Larson, his first victory and eighth top-10 finish in 2016. He is the first graduate of the NASCAR Drive for Diversity Program and Next Program to win a NASCAR Sprint Cup Series race. With the victory, Kyle Larson has now clinched a spot in the 2016 Chase for the NASCAR Sprint Cup.
That's a lot of stuff, but a long time coming, correct?
KYLE LARSON: It has been. We've been close a few times throughout my Sprint Cup career. To finally put it all together and get a win, it's awesome. Glad to get it before my hundredth start next week.
It makes me extremely proud because we didn't start off this year good at all. I was pretty down the first month and a half or so. Once Chad got to get to doing what he wanted to do with the racecars, we picked up speed immediately, almost went out and won a couple races, almost won the All-Star Race. We had a great month of May there, whatever that was. We had some bad luck again recently.
I knew we had to get a win here in these next three races to be able to make the Chase. Thought Bristol last week was probably going to be my shot to get a win out of these last handful of races. Had bad luck there.
But they gave me an awesome car here. We didn't change hardly anything. I felt like anything we changed really we went back on throughout practice.
Was able to get it done here today. I made a few mistakes early in the race, had a bad start. Chad wanted to take two tires that first stop and I slid through a couple pit stalls, we had to take four. Just kind of had to relax. Knew we had a good car. Had a close call when Kyle Busch spun.
Once we settled down, started clicking off positions in the green flag run. I knew if we could get a yellow we would have a shot at getting the lead. We did that. Then we had a not-so-good final pit stop there under green and Chase got by me as well as Harvick and Keselowski. Had to work by Harvick and Brad. Chase was going to win had the last caution not come out. That final caution, I was hoping that Brad would stay with me, and he did.
Chase and I both spun our tires really bad. We both had them lit up down the frontstretch. I just got a better push than he did. Brad stayed with me. He probably could have pulled down and got to my inside. We could have raced. But he gave me a nice push and got us the win.
Super, super happy. Glad we're in the Chase. We got some awesome racetracks in the Chase. We have a good shot at getting to the final two rounds, for sure, if not the final at Homestead.
THE MODERATOR: We're also joined by crew chief Chad Johnston.
How nervous were you on the final restart there?
[adinserter name="GOOGLE AD"] CHAD JOHNSTON: I wasn't too nervous. I thought that was our only chance to win, when the caution came out. On the previous restart he had done a pretty good job. We talked about it before the restart, that the race was going to be won on that final restart. He did everything he needed to. Both spun the tires, but he maintained his composure, ran the best eight laps of the race.
Good to finish one off. We've been fast a lot of times this year and things haven't gone our way. It was nice to finally get one to go our way.
THE MODERATOR: We'll take questions.
Q. Kyle, I think you said you had tears in your eyes the last few laps. Could you see okay, first of all?
KYLE LARSON: Is that an Asian joke (laughter)?
Q. What was going through your head as you were going through the last few laps? You were pretty confident you were going to win at that point, I assume?
KYLE LARSON: I don't know what it was, eight laps to go or so, I got the lead. I was happy that Brad was by me because I knew we were a lot better than Brad. I saw Chase get by him. After about a lap of him not closing on me, I kind of knew that I was going to win the race had another caution come out.
I was pretty calm for a couple laps. Then I started shaking, legs a little numb there for a couple laps. Yeah, then the last I think with two to go, I was starting to get choked up.
We worked really, really hard to get a win, and just haven't done it. Finally all the hard work by everybody, hundreds of people at our race shop, people who have got me through to the Cup Series, it was all paying off.
It was pretty awesome. I couldn't quite catch my breath there after I got out of the car because I spent two minutes screaming because I was so pumped up. It was pretty special and I'll remember it forever.
Q. Kyle, everybody has been talking about all the chances that you've had before. Have you ever gone back to even California a couple years ago and think, Man, maybe I should have roughed up Kyle, or a few weeks ago, I should have roughed up Kenseth? Have you ever replayed those races in your mind over and over or are bygones bygones?
KYLE LARSON: Fontana, nothing I could have done to get by Kyle, that one. Yeah, there's been a couple where I could have done things differently to get the win, cautions if they wouldn't have fallen at certain times I would have won.
Yeah, I mean, with Matt, I could have done something to get by him. But that's just not how I wanted to race him. Like I've said, yeah, for a few months, you guys keep asking, What if? What if you would have moved him? Now I won, so we don't have to talk about that anymore.
Q. Kyle, you've obviously won races in a bunch of other series before. How does this feel different?
KYLE LARSON: This feels different because it's taken me a lot longer than it took me in any of the other stuff to get a win. Took me a couple months to win my first Sprint car race, four days after my 15th birthday. Took me a few months to win when I got into USAC. Took me a few years to win an Outlaw race.
This, after the way my rookie season started, coming close a few times, not getting it done, you can visualize the win that early in your career. It's going to happen. It's going to happen. But it just never happened.
This one's different just 'cause of how long we had to wait and how much harder I've had to work for it. Like I said, it's special because all the hard work's paid off.
Q. Chip said he thinks if you do get in the Chase, and you said you think there's a lot of great tracks coming up for you, he said he wants to see you in shootout situations because he thinks that would be good for you as well. What tracks are you looking at that you can persevere at? Anyplace you think you might struggle?
KYLE LARSON: Yeah, there's probably half the tracks are some of my best racetracks. Starting out in Chicago, that's a great one for me. Loudon we've struggled a little bit. Dover, that's a good one. We almost won there earlier in the year. Texas, Charlotte, Kansas, then Homestead is awesome for me. Martinsville has typically been a bad track for me, but we ran third there this year. Hopefully we can go back and have another good run.
Yeah, there's a lot of good tracks. My rookie year, I didn't make the Chase obviously. Do the math. I made like the third or fourth most points in the Chase. Had I been in the Chase, I think I would have finished like sixth in points or something.
Yeah, there's a lot of good tracks coming for me. Talladega is a wild card. We could have a good run there or bad run, whatever. But we've been pretty decent on superspeedways this year, gotten our cars better. I feel we definitely have a shot to make it to the final eight. If we make it to Homestead, I'd be super excited because we can rail at the top there pretty good.
Q. Kyle, obviously Bryan's accident and death touched you deeply. What has it been like for you in the car since that happened? Was it difficult to get in and race? What has it felt like inside the car since he's been gone?
[adinserter name="GOOGLE AD"] KYLE LARSON: Watkins Glen, knowing that morning we didn't get any good news, that was really tough getting in the car there. Bryan was going to race 200 times this year. He would want us to race.
This is our job. We love doing it. He loved doing it. It's not hard to get in a racecar. Especially we're extremely sad, and still are sad, but after hanging out with the Clauson family, his fianc??e Lauren at Knoxville, to see how strong they were being, really helps all of us. All of their close friends and stuff.
Yeah, you hate it, you hate to see anybody go in racing, but especially somebody like Bryan that touched so many people, done a lot for a lot of people, charities and stuff like that.
It's good to be able to park it in Victory Lane, like he would have said. He didn't like people doing burnouts and stuff like that, 'cause he wanted you to act like you've been to Victory Lane before. But I hadn't been to Victory Lane before so I was going to do some burnouts.
Q. Kyle, this race at Michigan has evolved into an ebb and flow. It's not until the final 10 or 15 laps that we see some decisiveness. Is this the characteristic of Michigan or a result of the new aerodynamic package?
KYLE LARSON: Since they repaved it, there's been a lot of cautions and stuff. It's always kind of a crazy race just because you got to be on your toes on restarts and stuff. Then it also is kind of hard to pass here. Luckily enough, our car was really good today. We got in traffic a little ways and could pass some cars.
I mean, all these races are tough. You got to be perfect every single race to get wins. We weren't perfect and I wasn't perfect today, but we were still able to get it done.
I always enjoy coming to Michigan. We've always had speed here in the three years we've ran. Wish we could come here more often.
Q. Kyle, in 2014 in the first five races of the Chase, you had a finish of no worse than sixth. Do you feel the team is capable of duplicating that again?
KYLE LARSON: Yeah, I think we're actually better than where we were then. We've been working really hard. This is about the time of year where we get better normally.
Yeah, that was a hell of a run, that rookie year, to start the Chase. I think I had like back-to-back seconds and thirds and stuff like that. We need to have runs like that.
The first couple rounds, you just got to be consistent, not have any bad luck, not lose any points. I'm sure it will be stressful when we get to the Chase. You race a little bit differently when you're in the Chase, I think, than when you're out of it and have nothing to lose.
I don't know, but we're going to try our best to get a couple wins and advance in the rounds.
Q. Kyle, next week in Darlington, you go back to more or less a car that was run before. Is it difficult to set up the car for Darlington with the new aero package? How is the behavior of this new aero package in traffic?
KYLE LARSON: You have to ask Chad about the setups. I just get in and drive. I hold the wheel, touch the pedals.
With the less downforce we had here at Michigan, it's harder to drive because your entry is looser. It's better to drive because you're off throttle, going a little bit slower in the corners.
But going next week to Darlington, that track is so elbows-up, intense and tough, I'm glad we don't have less downforce there next week because it's already a handful.
It should be a good race, though. Love going there. One and two are extremely hard to run. Three and four you can run wherever you want. Looking to have a good run there again. We've been good there. So far in my Cup career, we've had two top 10s. Obviously the Gibbs cars are still the ones to beat when you have the '16 package. They're a little bit slower with the '17 stuff. We've all got work to do. But we've been working hard and getting better and better each week.
Q. Did the groove get wider today at all?
KYLE LARSON: Yeah, I didn't think the tire dragging did anything. That was kind of disappointing. I don't even know what compounds they used for that thing. I almost think they need to use a softer compound when they lay rubber down, that way it sticks better to the racetrack before we get here.
Today the groove looked pretty narrow. It had rubbered up to the bottom from the Truck race, but it got a little bit wider. I saw a few guys trying to work the top. Kasey Kahne was getting the top going all right. Looked like Chase could run up there some. I was better running the same line I ran here forever. Everybody kind of runs the same line through one and two. I thought I was able to run the bottom a little bit better than most people through three and four. As that got rubbered in, I got a little bit too tight down there. Went back up a lane. Was able to split the seam in three and four, get grip.
Yeah, it didn't widen out a ton. But this place hasn't really widened out much since I've ran here. It was pretty normal today.
Q. Chip was in here, he was talking about how when you first got to Ganassi, a lot of the talk was you'll be at Ganassi for a few years, then go somewhere else. That was kind of the vibe. He indicated he doesn't plan on you leaving for a long time. What makes you think this is the place for you?
KYLE LARSON: Well, Chip, I owe everything to him for why I'm here today. I was just racing Sprint cars and midgets 2011 in Indiana. Him and Mike noticed me, got me signed up later that year. I have a ton of respect for them and love racing for the organization.
I kind of like being the underdog, I guess you can say. Our team isn't up there, isn't considered with Hendrick or Penske or Gibbs. We're right below them. But I like that. I think everybody at our race shop likes that. I think it kind of drives them to work harder and push the limits of building faster racecars.
Yeah, Chip's a great car owner. He understands racing more so I think than a lot of the other owners. Then Felix, he's a great time. Rob is super passionate about racing. We have some great owners. Love racing for them.
Q. Chad, how long did it take you to get acclimated to the systems at Ganassi where you could feel comfortable to start getting things focused on Kyle? Having been in the Chase before with Martin, what is your strategy once you get there?
CHAD JOHNSTON: It took a month or so. Obviously you kind of hit the ground running and you get a late start, you don't have much of an off-season, you kind of have to get an idea of what the cars are, how they got to that point, what you want to do different to make them better. You kind of had what they've had in the past the first three or four weeks and then decide from there what you want to do.
A couple months into it we started making some changes. We all put our heads together. We obviously were behind the eight ball as far as being competitive on a week-to-week basis. Everybody at the shop worked their butt off in the fab shop, the body shop. Hats off to those guys. You don't make cars fast when you come to the racetrack, you make fast cars at the shop.
Hats off to all those guys at the shop. They're the ones that deserve the win and deserve all the congratulations because we unloaded with a fast car and didn't have to do much to it.
Q. Kyle, you had a couple close calls. Talk about the incident about 19 to go. On the restart, what did you have to do to gather the car back up after BK got you in the back there?
KYLE LARSON: There with 19 to go, Chase got into heavy traffic, cleared pretty quickly. When I got to it, they were side-by-side in front of me. The 83 went there. I went in behind him, was going to try to get to his outside. He was trying to leave me room, got loose. I had to chase up the track, got loose. Really lost a lot of time there.
I get mad at lappers a lot, but it's hard for them to get out of the way sometimes when the leaders are coming extremely fast. I know they were all trying to let me get clear of them. But, yeah, we were coming fast.
The last restart, like I said earlier, we both had our rear tires lit up. I was pretty sideways at one point, pointed the opposite direction. I was able to just kind of stay calm, I guess, gather my rear tires up, get going back straight, get some traction. It was pretty intense there because I knew that was where the race was going to be won and glad we took off better.
Q. The last pit stop, did you have any issues on the stop or the fact the 24 guys beat you out?
CHAD JOHNSTON: I thought the stop was a little bit slow. The biggest thing was the 2 had pitted a few laps before us and took two tires for the track position. The 4 had pitted a few laps before us. We pitted on the lap we needed to pit on to make it to the end. It's hard to talk yourself into staying out two more laps or three more laps when you know those guys are gaining lap time and track position with each lap.
The worst thing you can do is to let them force your hand and then run out of fuel at the end. We stood our ground, pitted when we needed to pit. Lost a lot of ground to Chase through traffic and racing the 2 and the 4. We needed that caution obviously at the end to compete for the win.
We did a good job of running them back down until we caught that group of three cars, I think the 6 and the 83 and another car, then lost everything we gained and then some.
We needed that last restart. Kyle did everything he needed to do to have the lead off of two. We knew whoever had the lead off of two was probably going to win the race.
THE MODERATOR: Gentlemen, congratulations.
[adinserter name="GOOGLE AD"]