Kyle Larson First Time Sprint Cup Winner at Michigan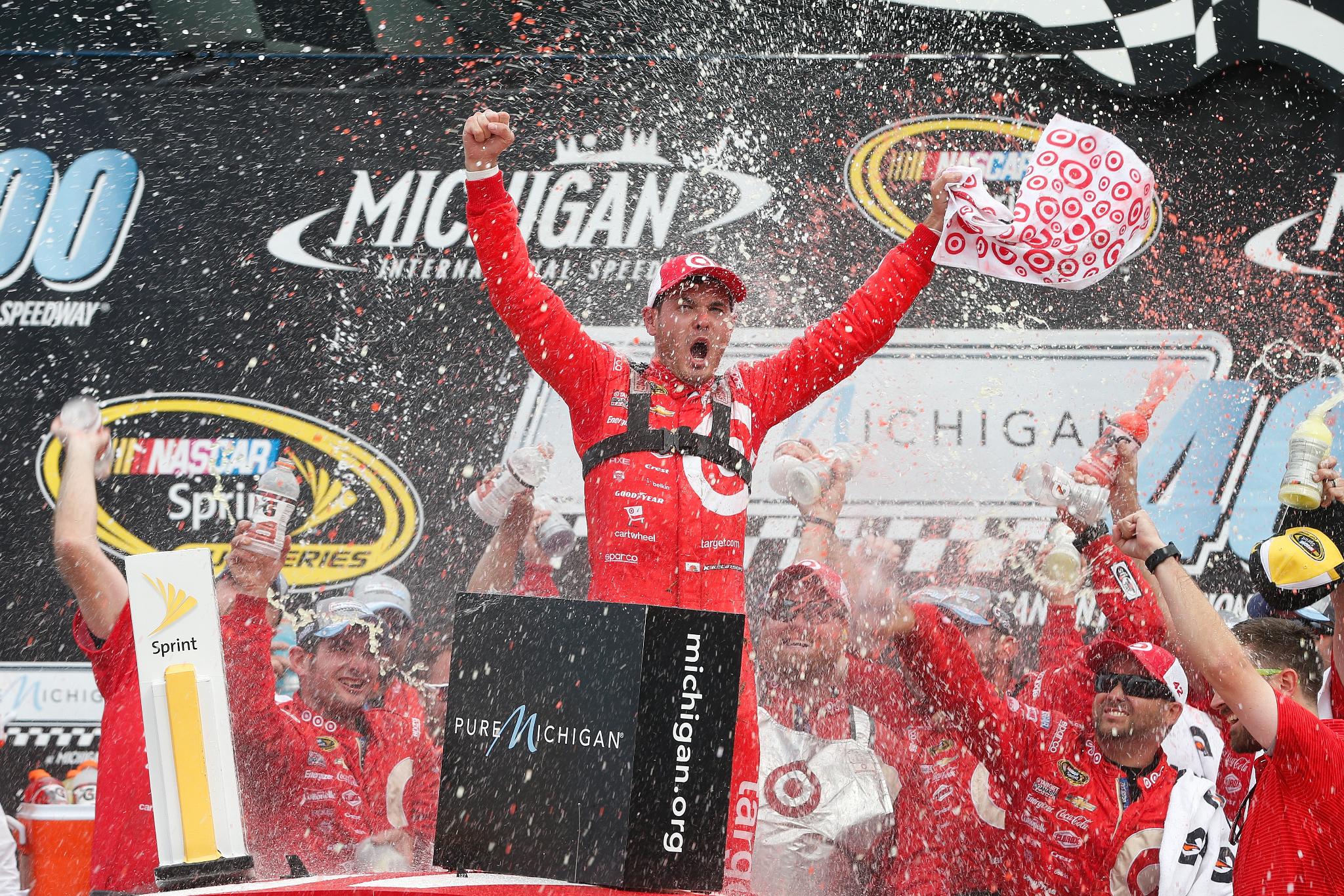 Kyle Larson
Brian Lawdermilk/NASCAR via Getty Images
The next generation of NASCAR's superstar drivers was on full display Sunday at Michigan International Speedway as twenty-four year old Kyle Larson beat out 20-year-old rookie Chase Elliott to score his first-career NASCAR Sprint Cup victory in the Pure Michigan 400.
Larson snatched the lead away from Elliott on a restart with nine laps to go and hit his marks over the final laps to beat Elliott by nearly 1.5 seconds for his first win in 99-career series starts and secure himself a spot in the field for the Chase for the Sprint Cup.
Brad Keselowski finished third, followed by rookie Ryan Blaney and Kevin Harvick.
Larson, the 2014 Sprint Cup Rookie if the Year, dedicated his first victory to his friend Bryan Clauson, who died on Aug. 7 from injuries suffered in a sprint car accident.
"I was teared-up that whole last few laps because I could just feel it. It was finally going to be it," said Larson. "This one is for the Clauson family. We really miss Bryan. We love you guys. We're going to miss him. We parked it for him, so that's really cool.
"We had a lot of work to do for that first third of the race, and got it done."
Larson's victory, coupled with wins by Brett Moffitt in the Michigan truck series race and Michael McDowell in the Xfinity Series on the road course at Road America, marks the first time in NASCAR's history that first-time winners claimed victory on the same weekend in all three series.
The victory also snapped a 99-race winless drought for owner Chip Ganassi, dating back to Jamie McMurray's victory at Talladega in October of 2013, and the first win for the No. 42 team since Juan Pablo Montoya won at Watkins Glen in August of 2010.
The team is now locked into the Chase for the second year in a row.
[adinserter name="GOOGLE AD"] "It's really, really big," said Ganassi of Larson's victory. "We've been on the cusp for so many years. We got Jamie (McMurray) in there last year and now getting Kyle in, we couldn't be happier. I'm kind of speechless to tell you the truth.
"(Larson) hung in there with our team. We were building. We've been building over the years. He came on board and did a great job. The team rallied around him. I can't say enough about the kid and the job he's done over the last few years and it's been a nice gradual coming-up through the pack. And I couldn't be more happy with Kyle right now."
Larson had been tantalizing close to his first victory before, only to see it slip away in the final laps – finishing second at Dover after a heated battle with Elliott and coming in third at Martinsville.
In the Sprint Showdown at Charlotte Motor Speedway – a non-points qualifying race for the Sprint All-Star race, Larson battled Elliott right to the finish line to transfer to the all-star event and held the lead in the vent until hitting the wall with two laps to go.
On Sunday, Larson almost gave the race away again after losing to lead to Elliott following a round of pit stops 44 laps to go, falling to fourth on the restart.
Under green and out in the clean air, Elliott pulled away to open up a 2.5-second lead as Larson fought his way back to second place, but too far back to mount a challenge on Elliott.
But fortune favored Larson, as the yellow flag came out with 14 laps left after Michael Annett cut a tire and hit the wall, giving Larson one last shot to catch Elliott.
The race resumed with nine laps to go with Elliott leading the field to the green on the outside of Larson, followed by Keselowski and Blaney.
Restarts had been Elliott's Achilles heel all day – losing the lead to Larson on an earlier restart on lap 126 – and again on the final start, Elliott spun his tires and lost momentum. Larson, meanwhile, also spun his tires, but got a fortuitous push from Keselowski that allowed him to pull ahead.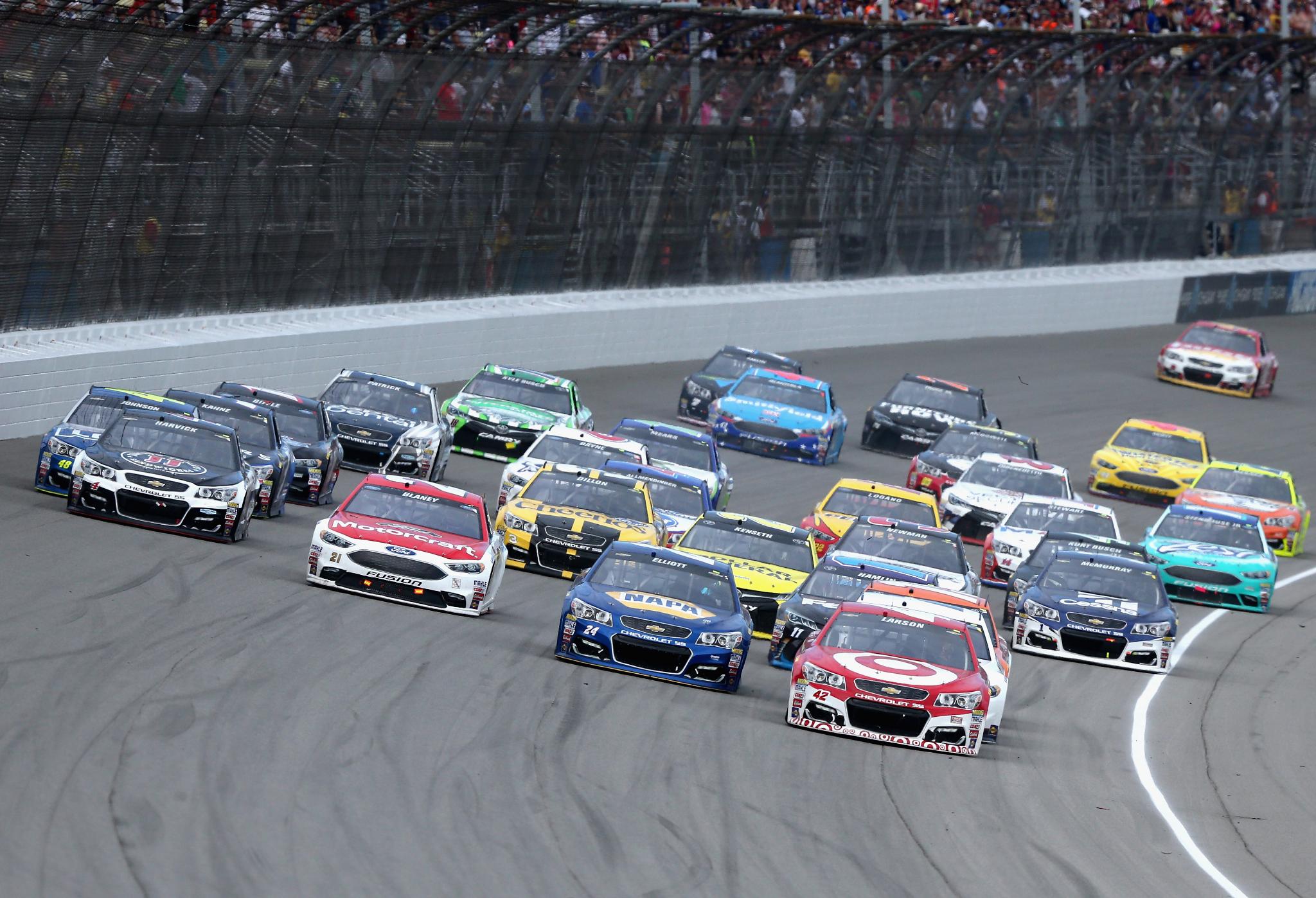 Kyle Larson (R) leads Elliott on the final restart
Jerry Markland/Getty Images
By the time the leaders entered the backstretch, Larson was out to a 10-car lead while Keselowski, Elliott and Blaney fell in line nose to tail. Just a lap later, Elliott ducked under Keselowski coming out of turn two and moved into second, looking to chase down Larson.
Now just a few miles away from his first career victory, Larson ran to perfection through nine nail-biting laps, but hit his marks in every turn and easily beat out Elliott to the checkered flag.
For Elliott, Sunday's runner-up finish was frustratingly similar to his second-place finish at Michigan back in June, where he lost the lead to race winner Joey Logano after spinning his tires on a restart with 50 laps to go.
"Bummer again here," said Elliott. "I hate to let my guys down is the biggest thing. For the second time this has happened. I made a mistake early on in the race. I asked my guys to bail me out, and they did. Unfortunately, I didn't do my part again.
"That's a couple races in a row in just a few short months here at this place we had a really good car, had an opportunity. That's one thing I try really hard to do is make the most of opportunities when they're presented. Obviously I didn't do a very good job of that here both trips. You just got to recognize your mistakes, look at the positives I guess and move on down the road."
Though Elliott lost out on both his first win and a secured spot in the Chase, he still remains in the running for one of the final three spots in the Chase field, 27 points ahead of 17th points.
Jimmie Johnson finished sixth, followed by Carl Edwards, McMurray, Denny Hamlin and Logano.
Race Results
| | | | | | | | | |
| --- | --- | --- | --- | --- | --- | --- | --- | --- |
| Pos. | # | Driver | Make | Start | Laps | Led | Status | Points |
| 1 | 42 | Kyle Larson | Chevy | 12 | 200 | 41 | Running | 45 |
| 2 | 24 | Chase Elliott | Chevy | 5 | 200 | 31 | Running | 40 |
| 3 | 2 | Brad Keselowski | Ford | 18 | 200 | 14 | Running | 39 |
| 4 | 21 | Ryan Blaney | Ford | 7 | 200 | 0 | Running | 37 |
| 5 | 4 | Kevin Harvick | Chevy | 4 | 200 | 33 | Running | 37 |
| 6 | 48 | Jimmie Johnson | Chevy | 2 | 200 | 37 | Running | 36 |
| 7 | 19 | Carl Edwards | Toyota | 9 | 200 | 1 | Running | 35 |
| 8 | 1 | Jamie McMurray | Chevy | 8 | 200 | 0 | Running | 33 |
| 9 | 11 | Denny Hamlin | Toyota | 3 | 200 | 0 | Running | 32 |
| 10 | 22 | Joey Logano | Ford | 1 | 200 | 24 | Running | 32 |
| 11 | 16 | Greg Biffle | Ford | 22 | 200 | 1 | Running | 31 |
| 12 | 41 | Kurt Busch | Chevy | 19 | 200 | 0 | Running | 29 |
| 13 | 20 | Matt Kenseth | Toyota | 13 | 200 | 8 | Running | 29 |
| 14 | 5 | Kasey Kahne | Chevy | 11 | 200 | 0 | Running | 27 |
| 15 | 47 | AJ Allmendinger | Chevy | 25 | 200 | 0 | Running | 26 |
| 16 | 3 | Austin Dillon | Chevy | 17 | 200 | 1 | Running | 26 |
| 17 | 31 | Ryan Newman | Chevy | 10 | 200 | 1 | Running | 25 |
| 18 | 27 | Paul Menard | Chevy | 20 | 200 | 0 | Running | 23 |
| 19 | 18 | Kyle Busch | Toyota | 16 | 199 | 0 | Running | 22 |
| 20 | 78 | Martin Truex Jr | Toyota | 14 | 199 | 7 | Running | 22 |
| 21 | 14 | Tony Stewart | Chevy | 15 | 198 | 0 | Running | 20 |
| 22 | 13 | Casey Mears | Chevy | 28 | 198 | 0 | Running | 19 |
| 23 | 10 | Danica Patrick | Chevy | 23 | 198 | 0 | Running | 18 |
| 24 | 6 | Trevor Bayne | Ford | 24 | 198 | 0 | Running | 17 |
| 25 | 43 | Aric Almirola | Ford | 26 | 198 | 0 | Running | 16 |
| 26 | 7 | Regan Smith | Chevy | 31 | 198 | 1 | Running | 16 |
| 27 | 17 | Ricky Stenhouse Jr | Ford | 29 | 198 | 0 | Running | 14 |
| 28 | 44 | Brian Scott | Ford | 30 | 197 | 0 | Running | 13 |
| 29 | 23 | David Ragan | Toyota | 32 | 196 | 0 | Running | 12 |
| 30 | 88 | Alex Bowman | Chevy | 6 | 195 | 0 | Running | 0 |
| 31 | 95 | Michael McDowell | Chevy | 35 | 195 | 0 | Running | 10 |
| 32 | 83 | Matt DiBenedetto | Toyota | 34 | 195 | 0 | Running | 9 |
| 33 | 46 | Michael Annett | Chevy | 36 | 195 | 0 | Running | 8 |
| 34 | 98 | Cole Whitt | Chevy | 37 | 194 | 0 | Running | 7 |
| 35 | 34 | Chris Buescher | Ford | 21 | 193 | 0 | Running | 6 |
| 36 | 55 | Reed Sorenson | Chevy | 39 | 193 | 0 | Running | 5 |
| 37 | 32 | Jeffrey Earnhardt | Ford | 40 | 192 | 0 | Running | 4 |
| 38 | 30 | Josh Wise | Chevy | 38 | 192 | 0 | Running | 3 |
| 39 | 38 | Landon Cassill | Ford | 33 | 174 | 0 | Suspension | 2 |
| 40 | 15 | Clint Bowyer | Chevy | 27 | 160 | 0 | Running | 1 |
[adinserter name="GOOGLE AD"]