Force, Worsham, Skillman, Hines Winners at Brainerd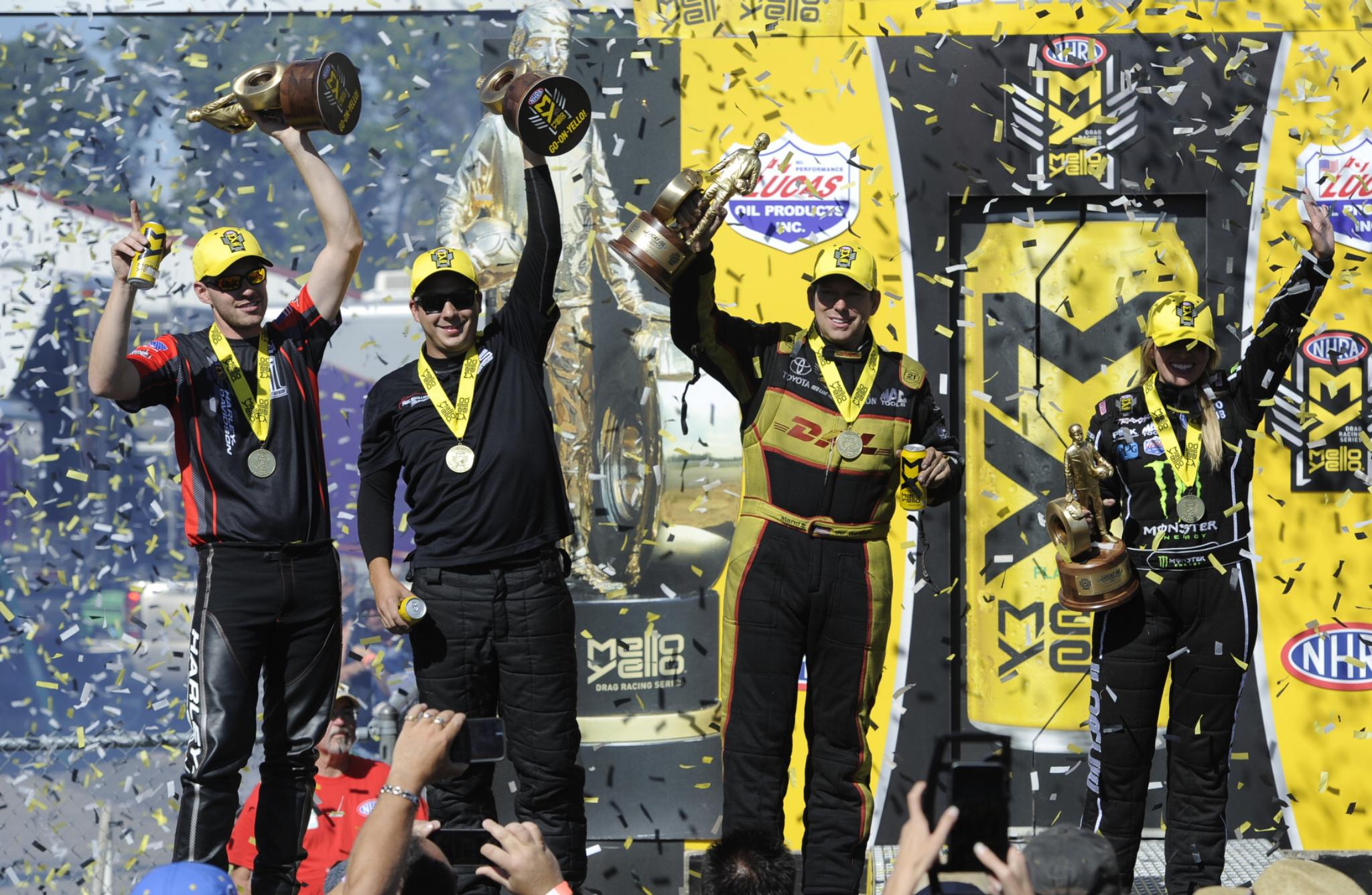 (L-R) Andrew Hines, Drew Skillman, Del Worsham, Brittany Force
Brittany Force raced to victory in Top Fuel Sunday at the Lucas Oil NHRA Nationals at Brainerd International Raceway.
Del Worsham (Funny Car), Drew Skillman (Pro Stock) and Andrew Hines (Pro Stock Motorcycle) were also victorious in their respective categories at the 17th event of 24 on the 2016 NHRA Mello Yello Drag Racing Series schedule. This is the penultimate event of the regular season.
Force powered her Monster Energy dragster to a 4.169-second pass at 180.21 mph to outrun reigning world champion Antron Brown's 6.566 at 103.47 in his Matco Tools dragster. Brown rattled and lost traction early while Force's dragster backfired and released the parachutes just a little farther down track than Brown and she coasted to the finish line in front.
Force claimed the third win of her career and her third in four final rounds in the 2016 season. She raced to her first career victory earlier this year at Gainesville, Fla., then became the first female to win in Nitro at the Four-Wide Nationals in Charlotte, N.C. Force outlasted Terry Haddock, three-time 2016 winner Doug Kalitta and two-time 2016 winner Shawn Langdon in the earlier rounds before defeating Brown in the final.
"It's awesome to be able to win here," said Force, who is fourth in the Top Fuel points standings. "I felt good coming in this weekend because we had some success last year and I'm pretty sure we did well the year before. We are exactly where we want to be as we go into the Countdown and our biggest race of the season in Indy. It feels so good to bring home another win."
Brown, the 2011 Brainerd winner, sprinted past Chris Karamesines, Clay Millican and eight-time world champion Tony Schumacher en route to his eighth final round of the season. The points leader has four wins so far this year and has clinched his spot in the Countdown to the Championship.
2014 top rookie Richie Crampton, from Adelaide, South Australia, secured his spot in the Countdown with a second round appearance.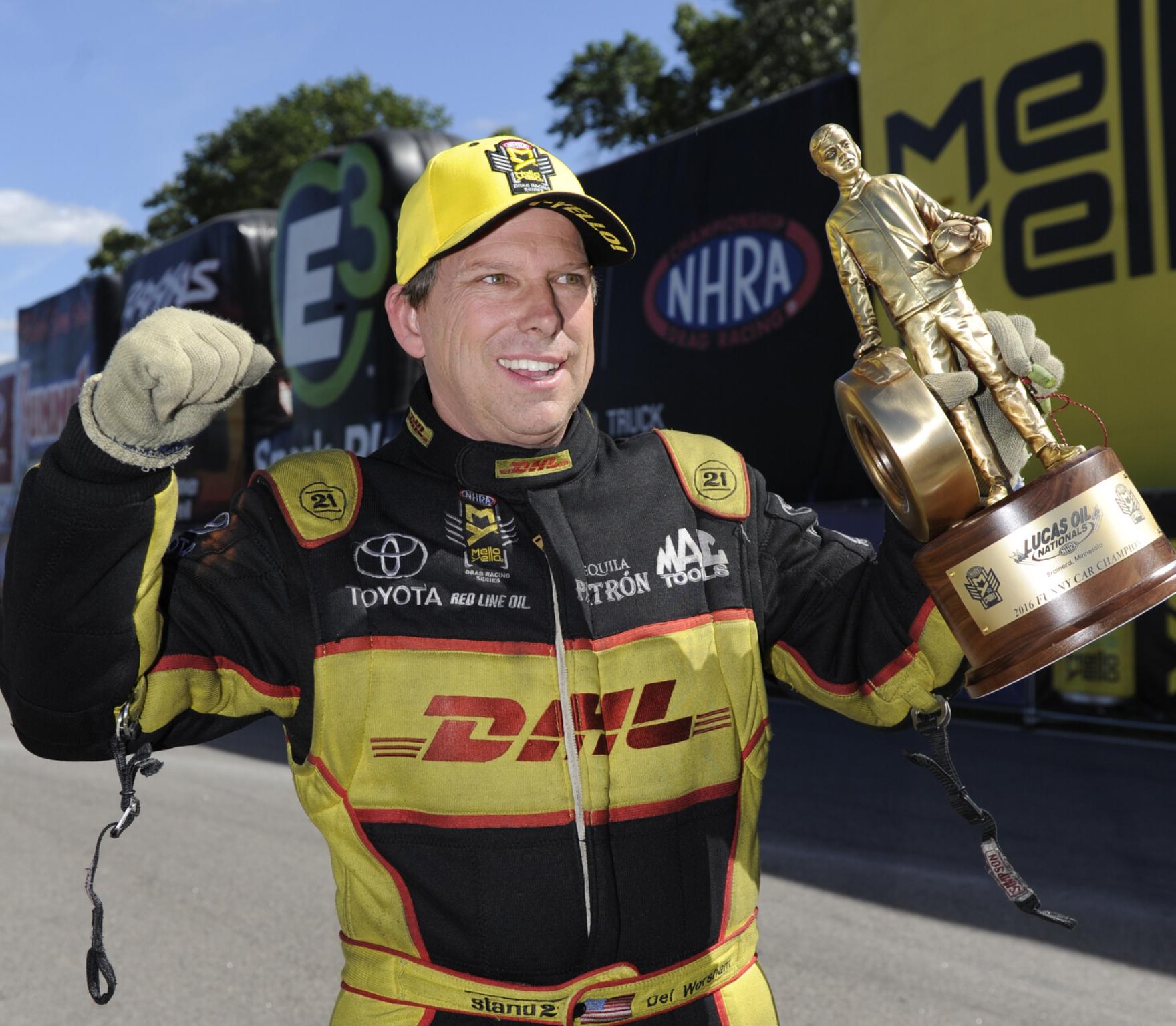 Del Worsham
In Funny Car, reigning world champ Worsham pushed his DHL Toyota Camry to a 3.908 at 327.27 to outrun Matt Hagan's 8.095 at 71.33 after Hagan smoked the tires in his Mopar / Rocky Boots Dodge Charger R/T.
"I'm very excited," said Worsham, who moved to third in the points standings with the win. "I came in here with a lot of confidence, thinking we were going to do well and Friday came around and we couldn't have made any better runs. Along came Saturday and we smoked the tires. We had to take a little step back today, but they put it together. Brainerd has always been a special place to me. Going back to 1991, my first No. 1 qualifier came here 25 years ago. I'm excited to be here. It's a great place, great facility and the team did a great job. I'm happy to get the win, go to Indy and start the NHRA Mello Yello Series Countdown."
Worsham, who won the world championship last season without a regular season win, tallied his first victory of 2016, 39th of his career and 31st of his Funny Car career. This was his first final round appearance at Brainerd. He outlasted Bob Bode, Tim Wilkerson, who clinched a spot in the playoff, and Courtney Force before beating Hagan in the final round.
Hagan, who has two wins in four final rounds this year, qualified No. 1 with a world record elapsed time pass of 3.822. The two-time Funny Car world champion sprinted past John Bojec, Robert Hight and five-time 2016 winner Ron Capps before falling to Worsham.
Capps, pilot of the NAPA Dodge Charger R/T Funny Car, secured his spot as the No. 1 seed in the Countdown to the Championship playoff after his semifinal round apperance.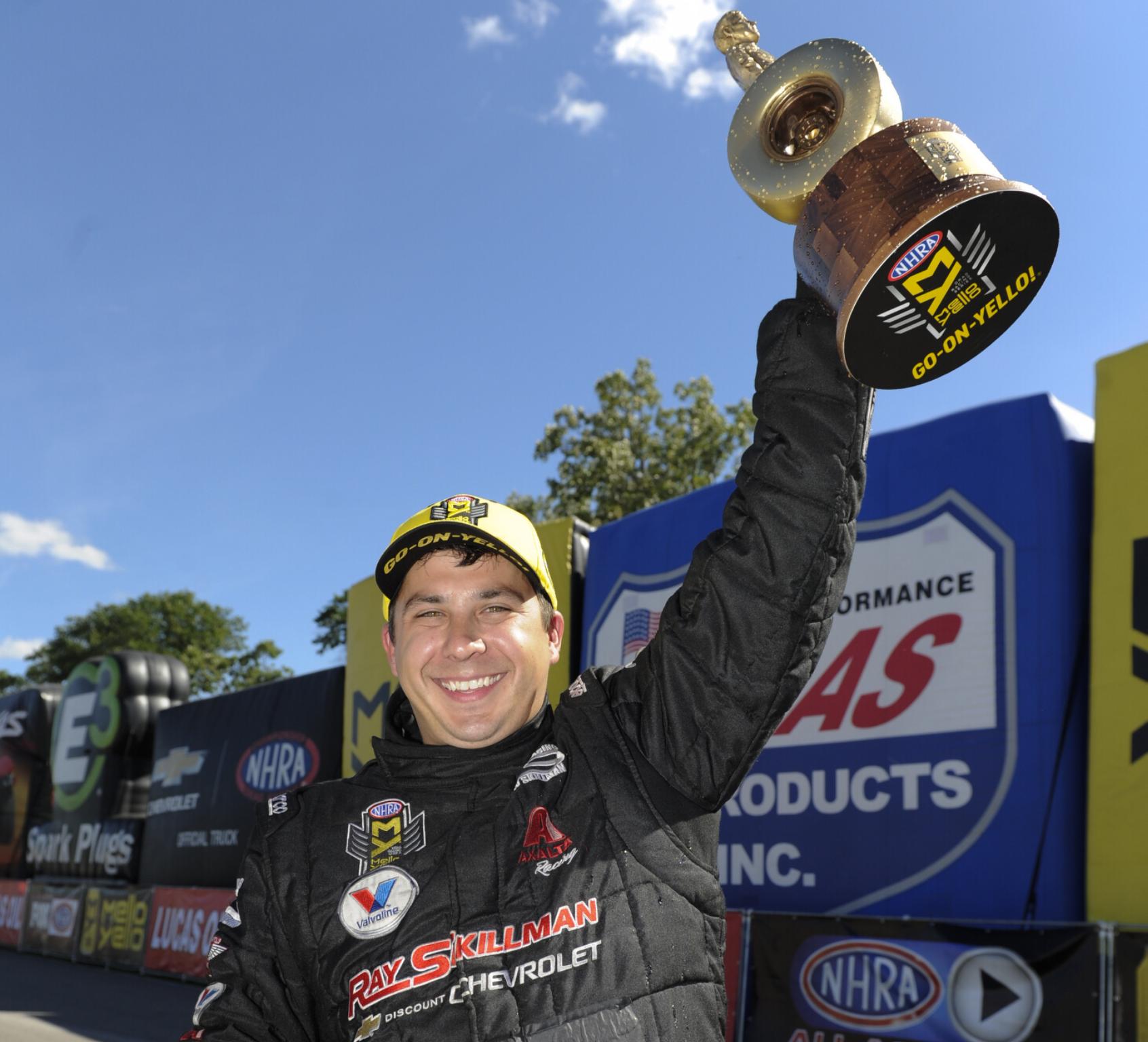 Drew Skillman
Drew Skillman earned his first Pro Stock victory of the year and second of his career by posting a 6.648 at 208.97 in his Chevy Camaro to better seven-time 2016 event winner Jason Line's 6.681 at 206.64 in his Ray Skillman Auto Group Chevy Camaro. Skillman, the 2015 Rookie of the Year, won his first race since last year in St. Louis and clinched a spot in the Countdown after beating Dave River in the first round. Skillman also outran Bo Butner and No. 1 qualifier Vincent Nobile before racing Line in the final.
"When I heard the rule changes, I thought we were going to be on top or on the bottom," said Skillman, who is sixth in points. "We were on the latter of that situation. My guys have been working very hard and this is for their hard work today. (The class) is getting much, much closer. I think by the end of the season we'll be very tight and next year I think you will see a very competitive class across the board."
Line, a two-time Pro Stock world champion, raced past Alan Prusiensky, Chris McGaha and two-time and reigning world champ Erica Enders in the earlier rounds. With the runner-up finish, Line maintained control of the points lead.
Andrew Hines posted a perfect .000 reaction time in the final round to defeat alligator farmer Jerry Savoie in the Pro Stock Motorcycle final round. Hines' 6.866 at 194.94 with the perfect reaction time on his Screamin' Eagle Vance & Hines Harley-Davidson was enough for a holeshot victory against Savoie's 6.863 at 194.88 on his White Alligator Racing Suzuki. This is Hines' fourth win of the season, 46th of his career and third at Brainerd International Raceway. He rode past veteran Steve Johnson, Cory Reed and Hector Arana Jr. in the earlier rounds.
"I was definitely a little nervous because we came here with the intentions of preparing for the Countdown," said Hines, the winningest Pro Stock Motorcycle racer in NHRA history. "We put brand new tires on the bike which turned out, in hindsight, to be a very bad decision because the track is so good here. We were battling with the tune up on Friday. We just pecked away at it all weekend. We took our chance at it in the final round, put an old tire back on it, and it went nice and straight. I was pressing it because I knew I needed an advantage over Jerry."
Savoie, who has three runner-up finishes this season, rode past Scotty Pollacheck, No. 1 qualifier and Englishtown winner Angelle Sampey and Eddie Krawiec in the first three rounds.
The NHRA Mello Yello Drag Racing Series will continue in Indianapolis, Aug. 31-Sept.5, with the Chevrolet Performance U.S. Nationals at Lucas Oil Raceway for the final race of the regular season.
[adinserter name="GOOGLE AD"]
Brittany Force at Brainard
AN INTERVIEW WITH TOP FUEL WINNER BRITTANY FORCE, JOHN FORCE RACING, MONSTER ENERGY CHEVROLET DRAGSTER:
Q: WHAT WAS IT LIKE TO GET THAT MONKEY OFF YOUR BACK AND YOUR THIRD WIN OF THE SEASON?
BRITTANY FORCE: "It's just awesome to be able to win here. I felt good coming in here this weekend just because we had some success (runner-up finish) last year. We had been struggling a little bit and to come out here and get the win is exactly where we want to be going to the Countdown and the biggest race of our season in Indy (the Chevrolet Performance U.S. Nationals), so we're exactly where we want to be. I have to say thank you to my entire Monster Energy team for all their hard work, and it feels so good to bring home another win."
Q: ARE YOU GUYS GETTING TO THAT NEXT STEP INTO THE COUNTDOWN?
BRITTANY FORCE: "We're hoping that we've turned everything around and keep heading up. Sometimes you push the car; you want to try new things and you struggle because of it and you don't turn those win lights on. But this weekend we got all four of them on."
Q: THIS HAS BEEN A GOOD TRACK FOR JOHN FORCE RACING OVERALL. HOW MUCH CONNECTION DO YOU HAVE TO THIS PLACE?
BRITTANY FORCE: "Being able to come here last year and go to the finals and not quite get it, we just wanted to completely finish it this weekend. So it feels good to do that. Actually, this is kind of a new track for me. I'd been to just about every track on the circuit as a kid coming out and watching my dad, but this was actually a new one for me in 2013. So to be able to win here is pretty awesome."
Q: COULD YOU TELL US ABOUT THAT FINAL ROUND?
BRITTANY FORCE: "It was definitely a crazy one. If we're going to blow everything up, at least get a win light on. And we did that. I didn't see Antron (Brown) next to me. I had no clue where he was, what he was doing. But I just had to keep my foot into it and I just felt it blow up and felt the tug and as long as I could hang on until I got to that 1,000-foot stripe and get the win light, and it did. I jumped out of the car and saw that it was on fire, but we're in the winner's circle."
Q: IS IT A LONG SECOND AFTER IT BLEW UP TO GET TO THE STRIPE?
BRITTANY FORCE: "Always. It's almost feels like it's in slow motion. It's happened to me before, and actually it may have been here. I've done that many times and you see the 1,000 foot and you're just trying to get to it and you see someone come around you. There's no worse way than losing like that when you can't do anything. You're just hoping your car is going to coast to the finish line first. It worked."
Q: YOU RACED DOUG KALITTA, SHAWN LANGDON AND ANTRON BROWN. TO OUTRUN THOSE THREE GUYS, WHAT'S THAT LIKE?
BRITTANY FORCE: "I definitely think it makes this one a very special one. All those guys we took down to get to the winner's circle, none of them are easy. They are some of the best drivers out here, so to be able to be lined up against them and turn to win light on I think makes the entire team proud."
AN INTERVIEW WITH PRO STOCK WINNER DREW SKILLMAN, RAY SKILLMAN RACING, RAY SKILLMAN CHEVROLET CAMARO SS:
Q: THIS WAS YOUR FIRST FINAL ROUND SINCE ST. LOUIS IN 2015. DID YOU THINK IT WAS GOING TO TAKE THAT LONG?
DREW SKILLMAN: "When I heard the world changes, I thought we were either going to be on top or on the bottom. We just worked very hard – both teams. When I was with Elite (Motorsports) those guys worked really hard and then I changed to Gray (Motorsports) midway through the season and they have been working extremely hard. This is proof of their work today. I have a new crew; they're all young guys. I've been blessed to have all the people I have around me."
Q: IS THIS A CASE OF THE CLASS STARTING TO BUNCH UP?
DREW SKILLMAN: "We're all getting much closer. It's natural. We're all picking at the same parts and pieces and we're all getting closer. I think by the start of next season I think you're going to see a real competitive class right across the board."
Q: WHEN ONE ORGANIZATION HAS BEEN HOGGING THE WINS, HOW GRATIFYING IS IT TO BREAK THROUGH?
DREW SKILLMAN: "I'm glad I got to race one of them (KB Racing's Jason Line) in the final. It solidifies our efforts for the whole season. It just doesn't mean I beat another guy who got lucky. We're here to win and we finally did it."
Q: DOES IT GIVE YOU EXTRA MOTIVATION GOING INTO THE FINAL (TO BEAT THE HOMETOWN FAVORITE)?
DREW SKILLMAN: "We have a weird situation. I travel the entire country and race the same guys. They're just friends of ours. You don't want to beat your friend, but I don't want them to beat me. We're all competitive. Not one has any animosity toward anyone. We're a small group. I like Jason (Line) a lot. He's a really good guy, he's given me pointers. I wish he could have won here, but I'm glad I did."
Q: HOW DOIES THIS WIN COMPARE TO THE WIN YOU HAD LAST YEAR?
[adinserter name="GOOGLE AD"]DREW SKILLMAN: "Every season is different. You could be the best in the world one year and come out the next year and be horrible. This is a game of consistency and keep trusting your guys moving forward, and that's what we've done. The proof is in the pudding today."
Q: WHAT WAS THE SUMMIT TEAM ABLE TO DO THAT YOU GUYS WEREN'T EARLY IN THE YEAR?
DREW SKILLMAN: "They outworked us. Period. They out-engineered us, they outworked us. And it's our turn to kind of pull up that same rope. It wasn't an overnight thing we were going to catch them because they already did that legwork. We were just a little behind the 8 ball to starts and we're back."