NASCAR Post-Race Press Conference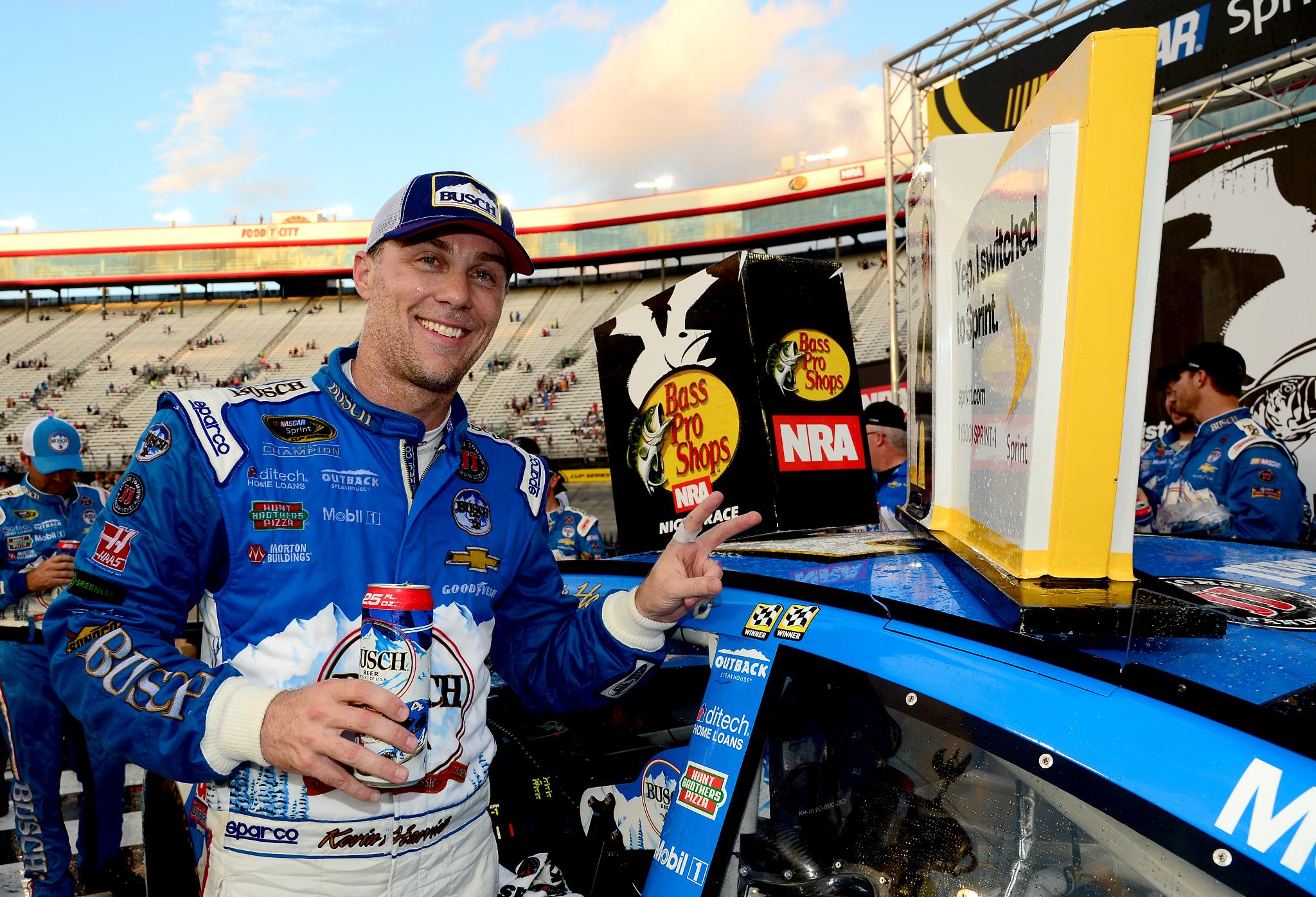 Kevin Harvick scored his second win of the season Sunday at Bristol
Jeff Curry/NASCAR via Getty Images
THE MODERATOR: We are now joined by our winner of the Bass Pro Shops NRA Night Race here at Bristol Motor Speedway, Kevin Harvick, driver of the No. 4 Busch Beer Chevrolet for Stewart-Haas Racing. This is Kevin's second win of the season and first win for Stewart-Haas at Bristol, and also of note for Chevrolet, it is the first Chevy victory at the Bristol night race since 2004 and the first Chevrolet week sweep of the Bristol night races since 1999. Just talk a little bit about your race tonight.
KEVIN HARVICK: Yeah, just really from the drop of the green flag, the car was really fast. Our strong point was the top groove in 3 and 4. Our weak point was being a little bit too free on restarts. But I think as the runs would go, our car would just keep turning, and I think that was really our advantage.
For me, I was excited that you were able to use the bottom of the racetrack, and the lap cars had an option. You just didn't get pinned up high. Really just want to applaud the racetrack for the effort that they made this weekend to really get that bottom groove working so that we had multiple grooves of racing, and I think today as a driver you had a lot of options to make your car work and maneuver through traffic and make up positions. We started 24th and pretty much drove through the field because of that.
I think Friday night was probably one of the best XFINITY races I've ever sat and watched. Just really, really happy to see Bristol back where it is this weekend, and looking forward to coming back and obviously coming to victory lane is always exciting. It's been a decade since I've been to victory lane here, and I know this is the race that he had circled on the calendar every year. I was like, really, you're going to circle that one? But it's definitely added some excitement for me over the last three years to come back to Bristol knowing how much it meant to him, and that's what motivated me.
They give me great cars to drive, and tonight was no different.
THE MODERATOR: We're also joined by crew chief Rodney Childers. If you could just share some thoughts on the win from your perspective.
RODNEY CHILDERS: Yeah, I mean, it was — this is definitely a big win for me personally. Like he said, it's just one that has always meant a lot to me. I loved coming up here when I was younger, a place that I actually raced at, and just feel like I understand it better. I kind of feel like I know what he's going through sometimes and that type of thing.
[adinserter name="GOOGLE AD"] Definitely means a lot to me, a great job from his standpoint, and like he said, applaud the racetrack for what they have done this week. It's really awesome to see that bottom groove back and to be able to pass those lap cars on the bottom and that type of thing.
Just a great job from our team all around. He mentioned that we've kind of circled this one every time, and we've had a good car every single time we've been here and just hasn't worked out to our way I guess you could say at the end of it. And tonight everything just happened to come together and everybody did a great job.
Q. Kevin, you talked about changes to the track, the VHT, the resin. We heard Jimmie talk earlier this weekend about how he believes that could open up several opportunities or avenues at other tracks. Do you agree?
KEVIN HARVICK: No, just for the fact that we've got to find something else that'll work on asphalt. I think we're on to something, but listening to them talk about the application that they did this week, it really works well on concrete, so I think Bristol, Martinsville, Dover, there are things that we can do to those particular racetracks, Martinsville being A No. 1 on the list. But I think we can get creative, and I think everybody saw what happened this weekend, and I think there's obviously got to be some other solutions and ideas that we can use on asphalt type racetracks. I think the concrete racetracks definitely have a new option, and I think everybody was kind of terrified of putting the rosin back down on the bottom of the racetrack to start the race. We really didn't have any issues, and I think it would have been even better if we could have put the rosin and the VHT and the layers and done it appropriately because I really feel like the modifieds pulled a lot of the rubber up to start with, and I felt like the truck race was a little bit different than the next two races.
But all in all, taking a chance like that, it could have been a complete disaster, but everybody was all in on trying to make the racing better. The SMI group has a little bit of an advantage on everybody else when it comes to these types of situations with their drag race side of things and the VHT and the rosin and how to apply those things and how to rubber it in with all their concrete launch pads, so they had a pretty good insight on what they needed to do to the bottom after the driver council and NASCAR got together and told them what we thought we needed to do to try to make better racing at Bristol. So they were all in. This is just a classic example of a collaboration between SMI, NASCAR and the driver council and seeing the outcome of it is pretty exciting, just because of the fact it does open up options, and what do we need to do for the asphalt racetracks to open up those options to get — whether it's just strips of grip through the center of the corner or wherever it may be. Probably doesn't need to be this wide in a lot of places. But I think it definitely has opened everybody's eyes to saying, all right, that worked pretty darned good because the last few years we've been here, you get on the bottom of the racetrack and you are three or four tenths slower. And tonight, you could hold your ground, you could get past lapped cars. It gave everybody an option to do something different, and as a driver, that's what you want, you want options. You don't want to get stuck behind a car that's four or five tenths slower than you after you've just run them down from a half a lap and can't pass him. It was exciting.
Q. For both of you guys, we've talked all year about Toyota being the dominant team, the things that they're doing to be so much better than everybody else, but you're kind of the Chevrolet team that's been right there with them. Do you have to have a chip on your shoulder that says, we're just as good, as when we get back to downforce tracks, intermediates, we can go head-to-head with them?
KEVIN HARVICK: It's really not a competition between us and Toyota. Really for us it's about not beating ourselves. Today we didn't beat ourselves, and that's what we've been talking about, and the performance of our race cars will be there. We've done a good job in getting pit road where it needed to be, whether it's been me or whatever the situation has been, we've had some circumstances that hadn't worked out. We've had a lot of bad luck. We've had some things that we've done wrong.
But the performance hasn't really been an issue. Yeah, there's been a couple racetracks where they beat us, but I don't think I could count more than three races that I thought that we wouldn't have been in contention to win.
[adinserter name="GOOGLE AD"] We're going to block all that out. You know, it's us against us. That's how we're going to treat it, and if that's not good enough, then we'll go back to the drawing board next year. I think we have a good plan. I think we have great cars, and we've made a lot of adjustments, and we've had a lot to adjust to as we started the year to overcome, and there's just a lot going on, and I think hopefully this win and everything getting ready to start with the Chase is going to put all the pieces together, and I think everybody has been working hard to do that.
RODNEY CHILDERS: He covered most of it. Those guys do a good job, of course. They've got good drivers, they've got good cars, and they work together well. But like he said, it's still about not beating ourselves. We've had great cars. We've been right there with them. Hopefully over the next few weeks we can get things ready for the Chase and be ready when it counts.
Q. Everybody talks about how exciting it is to win the night race. I'm curious if you feel like you've won the night race?
KEVIN HARVICK: I don't even care. I just won a trophy. I don't care where it came from, what the situation is. I know he likes the night race, but to see — for me to walk into the racetrack last night and see the crowd that you hadn't seen in a few years and see the excitement back inside of the racetrack, it definitely felt like the night race used to. To come to Bristol is just different anyway when you come to the night race. I'm just glad we won.
Q. Considering that you guys didn't do a qualifying mock run and had the qualifying result that you did, did you think, oh, man, this could be another one of those weekends where we have a good piece but it's just not going to happen?
KEVIN HARVICK: Qualifying in the back kind of motivates me. I know it frustrates him, but it's kind of exciting. I like to pass cars. He doesn't really like to do it that way, but I think it's fun to pass cars, and the last time I won at Bristol, I started 43rd, so it worked out fine.
Q. From what you have seen this week, did you have a reasonably good idea how the track was going to react and know what you were going to be able to do, or did it take a while into the race for you to figure all that out?
KEVIN HARVICK: I think the biggest question was just how much would the bottom groove wear all the rosin off and what would that really do, but there was still plenty of grip down there. It was right next to the apron of the racetrack. It still had probably a four- or six-inch strip of stuff that stayed on the racetrack. Everything else kind of wore off. The part that kind of caught me off guard was how rough it was. I don't know if that was from the rosin and the application, or if it was from the grinding, but it seemed to get better as the race went on on the bottom of the racetrack with the roughness, and I think it was probably from the rosin on the racetrack.
Q. You mentioned Martinsville; how do you imagine racing there will change with some sort of substance in the turns?
KEVIN HARVICK: The best racing that I've ever been involved with at Martinsville, they took the tractor and the backhoe and they dug these big giant trenches in the racetrack and you couldn't run on the bottom, but you could still kind of dive down there and kind of do the slide job, and I thought that was great. Martinsville needs to call Bristol and say, what do we need to do to make a second lane come in, because they did a great job here, and I think that would be the first place I would attack and do something different.
Q. You've been so consistent all season, but how does this win kind of bolster the team and get you in position to have momentum going into the Chase?
[adinserter name="GOOGLE AD"] KEVIN HARVICK: It's all about confidence, and it's all about momentum. I think we've been confident in our cars, just not confident in closing everything out, from myself, to is it ever really going to happen again, and I think that goes away tonight, and you get back into that — we know we have fast cars, knowing that you can win again, and it kind of happened that way for us in 2014 at Charlotte when we won, and it just kind of reinstilled that confidence of everything we know we can do, and it finally all just came together tonight. We're three weeks from the end of the regular season, and I don't think it could have come together at a better time. I'm looking forward to going to the next few weeks and really getting started in Chicago with our test. I think it's Tuesday. Today is Sunday. So yeah, Tuesday. A lot to be learned there.
Confidence and momentum go a long ways in racing, baseball, football, basketball, whatever it is, and you just want to ride the wave.
Q. Rodney, you've been a big advocate and champion for your pit crew, but do you think they're where they need to be right now to go in and win a championship?
RODNEY CHILDERS: You know, since we changed things around, they have done a tremendous job. They've done really, really good. We've been able to compete with the Gibbs cars, and that's what you compare yourself to every time you come down pit road, and like Kevin said earlier, it's about not beating yourself. You know, as the night was going on and we became the dominant car and started to lead the race, that's when everybody's nerves get up, and we started having mistakes. I walked to the bathroom during that one caution after that and just thought about what's the right thing to do. Got them all together behind the pit box, which I don't normally do. Sometimes people take that the wrong way, and it makes things worse. But they all looked me in the eye, and I could tell as soon as I turned around that they were ready to do this, and we were going to win a race tonight. I got back on the pit box and told my engineer Dax that they're going to be good to go from now on, and next time we come down pit road it was great. It's all about confidence. This win will mean a lot to those guys, and believing in themselves and not getting nervous when the time comes, and that's really what's important.
Q. Kevin, obviously Tony had kind of a rough night, but then he rallied and got a couple spots back and you brought him back there at the end. Can you talk about that moment?
KEVIN HARVICK: Yeah, that really wasn't what I had planned, but I learned that Tony and I aren't very good at sign language between each other from one seat to the other, and it evolved into the burnouts, which was pretty cool. Yeah, that was pretty neat to be able to win a race and convince him to actually come out on the front straightaway and do a burnout, and he actually did it, was pretty neat. Hopefully that was pretty cool for the fans, and to see him happy and smiling and having fun and doing the burnout was pretty cool.
I've been wanting to do something like that with Tony, we just hadn't won a race yet to do it. When they were stopping to check all the lug nuts on the back straightaway, I was not leaving the side of that 14 car. He was not going to get out of doing something after we won. He was going to participate in some way, shape or form, even if I had to pull him out of the car.
Q. Rodney, Kevin earlier said something about you circling this track every single year as the place you want to win. What is it about this track that makes you want to win here?
RODNEY CHILDERS: I think the biggest thing is just being so close so many times. We finished second here with Riggs in '06 and come close to winning it. We finished second with Reutimann I think two or three times and was close to winning it. And then with Kevin here, we've been really fast every time we've been here and just had things happen that didn't go our way. But I think the biggest thing is it's just short track racing. That's what I grew up doing. That's what I love. Just racing here before, just a little bit of everything. I think it just has always meant a lot to me. Any type of short track race, it doesn't matter if it's here or Martinsville, my car chief said that going to victory lane, he said, we've got one more left, that's Martinsville. I was like, no, we've got a lot more left. But Martinsville would be cool for sure.
THE MODERATOR: Gentlemen, congratulations. Good luck at Michigan.
[adinserter name="GOOGLE AD"]