Kevin Harvick Wins Rain-Delayed Bristol Night Race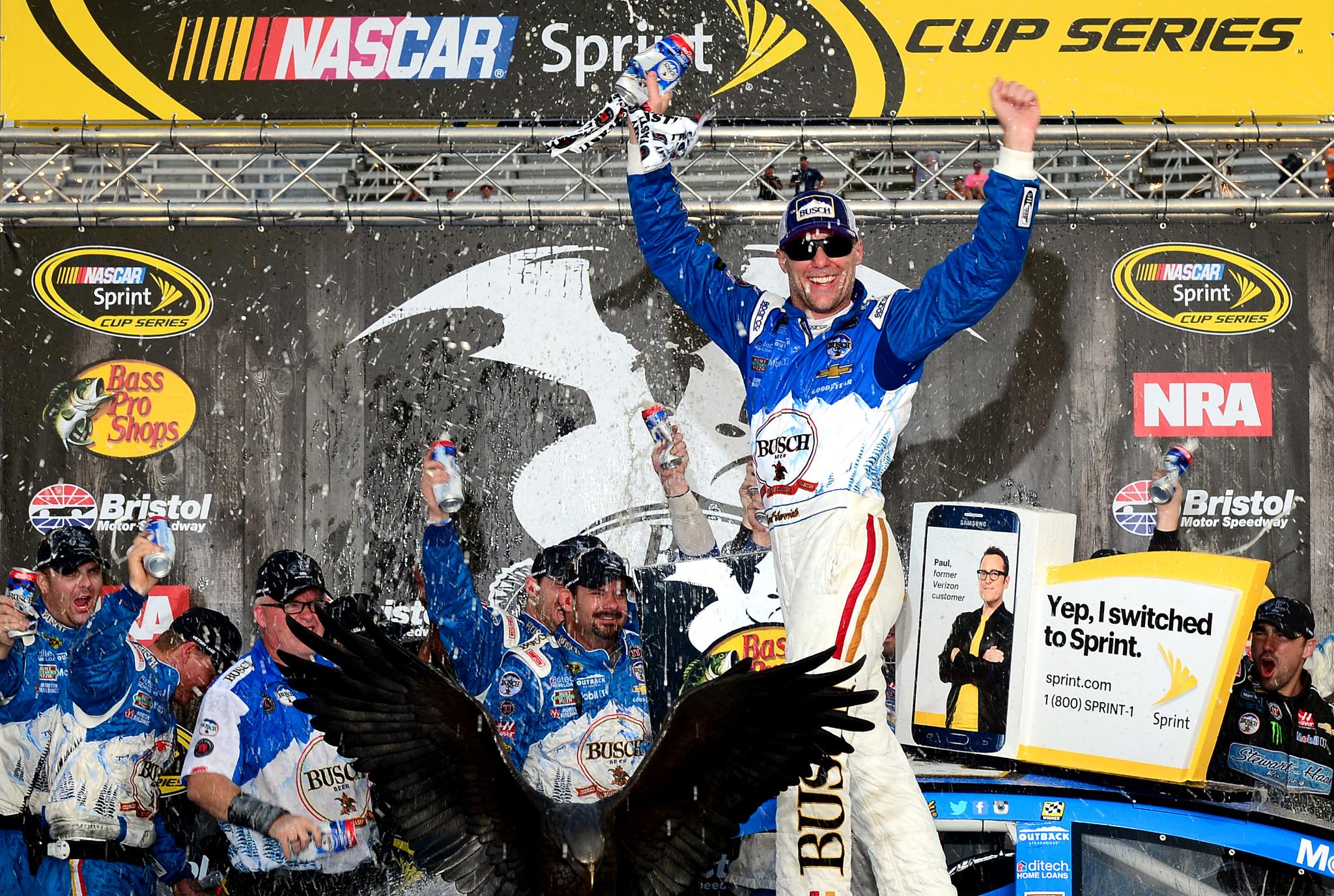 Kevin Harvick Wins at Bristol
Jeff Curry/NASCAR via Getty Images
In a race that seemed like it would never end, Kevin Harvick took the checkered flag in Sunday's rain-delayed Bass Pro Shops NRA Night Race at Bristol Motor Speedway.
Harvick passed race leader Denny Hamlin with 71 laps to go and hung on through one final red-flag for rain with 49 laps to go to beat out Ricky Stenhouse, Jr. by nearly two seconds for his second win of the season and second-career Bristol victory.
Hamlin held on to finish third, followed by Austin Dillon and Chris Buescher.
Harvick led 128 laps over the course of the race, which ended Nearly 24 hours after the scheduled green flag on Saturday night.
After crossing the finish line, Harvick invited his team co-owner and teammate Tony Stewart to join in on the celebratory burnouts on the frontstretch in honor of Stewart's last race at Bristol.
[adinserter name="GOOGLE AD"] "I wanted him to go on a victory lap with me and say goodbye to all the fans one last time here at Bristol. But that was pretty cool, doing burnouts with him," said Harvick. "We should have won a lot of races this year but we just had things not go our way. We made mistakes, or whatever the case may be. But, to get back into Victory Lane here at Bristol feels really good."
Under persistently overcast and gloomy skies, the race took the green flag on Saturday night after a one hour delay for rain, with Hamlin jumping out to an early lead over pole sitter Carl Edwards.
Hamlin, Chase Elliott and Kyle Busch combined to lead the opening 32 laps before the skies opened up just after 9 pm.
NASCAR made a concerted effort to get the race restarted, but after two red flags, race officials finally threw in the towel just before 11:30 pm.
More rain showers on Sunday's pushed the restart back past 4:30, when the green flag finally went back in the air on lap 48 with Kyle Busch still out front.
Busch led for a race-high 256 laps as the Joe Gibbs Racing powerhouse of Busch, Hamlin and Edwards traded the lead for the first 250 laps.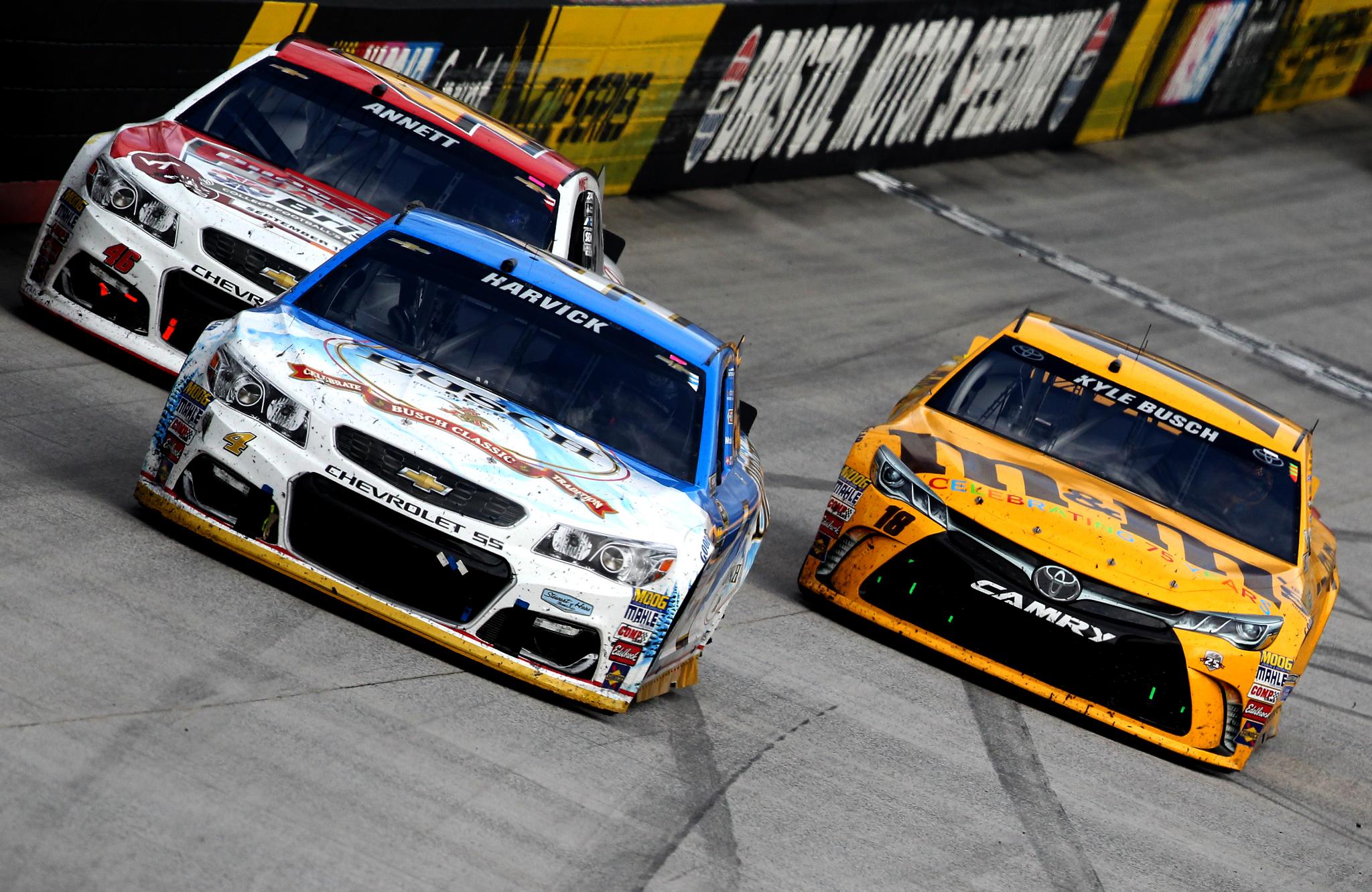 Harvick passes Kyle Busch
Brian Lawdermilk/Getty Images
Harvick led for the first time on lap 286 after passing Kyle Busch – the start of a 62-lap duel where the two drivers traded the lead three times before Busch began to fall back after reporting something was "broken" on his No. 18 Toyota.
On lap 359, whatever was "broken" on Busch's car finally broke, sending him spinning in front of the entire field and triggering a four-car crash to also damaged Martin Truex, Jr. and Kyle Larson, while Justin Allgaier, subbing for the ailing Michael Annett in the No. 46 Chevrolet, nailed Busch's stalled race car.
And just like that, Kyle Busch's night was over, and he wouldn't be the last of the race favorites to wind up behind the wall.
Joey Logano assumed the lead following a round of pit stops under the ensuing caution with Kurt Busch running in second. Shortly after taking the green flag, Kurt Busch tried to shoot around on the outside to take the lead, but broke loose coming off turn four and spun across the racetrack, collecting Brad Keselowski. Ryan Blaney, Matt Kenseth, Elliott and Kyle Larson also got collected in the aftermath.
Following the cleanup, racing resumed with Logano still out in front trailed by Jimmie Johnson before Harvick pushed his through to take second.
Working the low side, Harvick quickly reeled in Logano and powered his way past to re-gain the top spot on lap 430.
Another rain shower brought out the red flag briefly on lap 435, but after track-drying operations the race went green the rest of the way. Harvick got a good jump on the restart with Dillon running in second.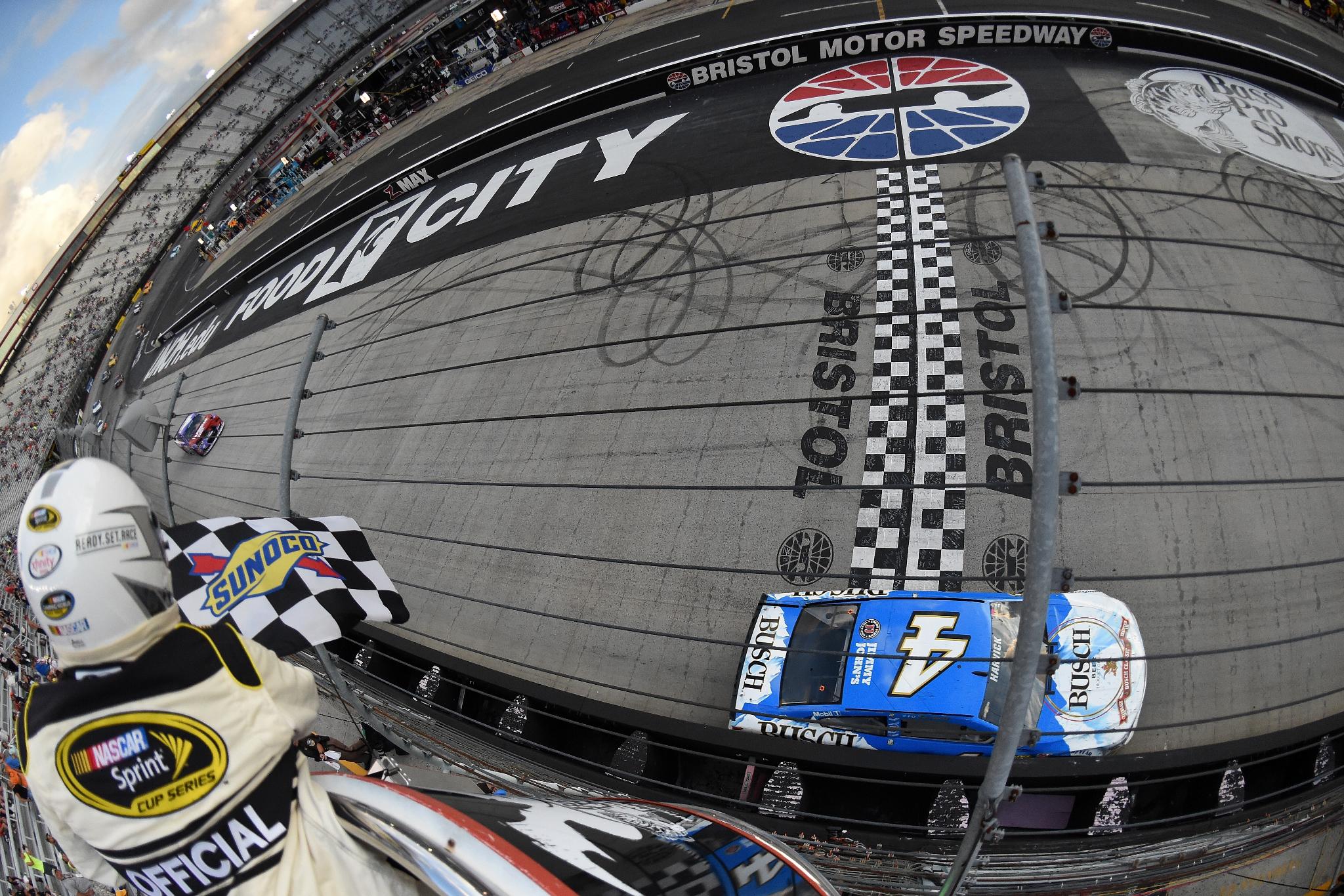 Kevin Harvick crosses the finish line at Bristol
Rainier Ehrhardt/NASCAR via Getty Images
With Harvick running the high side, Dillon went to work on low side and managed to pull even with Harvick, but was never able to pull ahead for the lead. Stenhouse, taking a cue from Harvick, also worked along the high side and got past Hamlin for third and then Dillon for second, but by then Harvick was already out of reach.
Stenhouse, running a special paint scheme and a custom helmet in honor of his friend Bryan Clauson, who passed two weeks ago following a sprint car crash, battled back from a lap down to tie his career-best finish, which came at the spring race at Bristol in 2014.
"We really wanted to get this Bryan Clauson tribute car in victory lane. It just wasn't meant to be today," said Clauson, who tallied his third top-five finish of the season. "We made our car a lot faster throughout the race and came from two laps down to get back on the lead lap. We missed some wrecks and gave it all we had. I thought we were matching the 4 car (Harvick) there lap for lap, but he got away from us and we had to restart sixth there on that last restart, but it was an honor to drive this car."
Hamlin also gritted out a tough third-place finish, rallying back after going two laps down following a pit road speeding penalty and an unscheduled stop for a loose wheel early in the race to notch his second straight top-three finish.
"We had a great car. We definitely got it a lot better there at the end and proud that we're able to come back from two laps down and get a good finish out of it – just came up a little short," said Hamlin. "The good thing is there was enough attrition and enough cautions that we were able to get our lap back and that was key for us."
Chris Buescher's fifth-place finish pushed him to 30th in the points standings and now eligible for the Chase, if he can finish out the final three races before the cutoff.
"I don't know exactly where we're at quite yet, but I know we had to get there," said Buescher. "That's Chase eligibility in one race out of the four we had to do it. Now, we have to hold onto it."
Edwards, Johnson, Jamie McMurray, A.J. Allmendinger and Logano rounded out the top ten finishers.
Race Results
| | | | | | | | | |
| --- | --- | --- | --- | --- | --- | --- | --- | --- |
| Pos | # | Driver | Make | Start | Laps | Led | Status | Points |
| 1 | 4 | Kevin Harvick | Chevy | 24 | 500 | 128 | Running | 44 |
| 2 | 17 | Ricky Stenhouse Jr | Ford | 25 | 500 | 0 | Running | 39 |
| 3 | 11 | Denny Hamlin | Toyota | 2 | 500 | 19 | Running | 39 |
| 4 | 3 | Austin Dillon | Chevy | 13 | 500 | 0 | Running | 37 |
| 5 | 34 | Chris Buescher | Ford | 12 | 500 | 0 | Running | 36 |
| 6 | 19 | Carl Edwards | Toyota | 1 | 500 | 31 | Running | 36 |
| 7 | 48 | Jimmie Johnson | Chevy | 16 | 500 | 0 | Running | 34 |
| 8 | 1 | Jamie McMurray | Chevy | 28 | 500 | 0 | Running | 33 |
| 9 | 47 | AJ Allmendinger | Chevy | 8 | 500 | 0 | Running | 32 |
| 10 | 22 | Joey Logano | Ford | 10 | 500 | 38 | Running | 32 |
| 11 | 88 | Jeff Gordon | Chevy | 11 | 500 | 0 | Running | 30 |
| 12 | 6 | Trevor Bayne | Ford | 22 | 500 | 0 | Running | 29 |
| 13 | 5 | Kasey Kahne | Chevy | 19 | 500 | 0 | Running | 28 |
| 14 | 43 | Aric Almirola | Ford | 17 | 500 | 0 | Running | 27 |
| 15 | 24 | Chase Elliott | Chevy | 6 | 500 | 14 | Running | 27 |
| 16 | 16 | Greg Biffle | Ford | 34 | 500 | 0 | Running | 25 |
| 17 | 83 | Matt DiBenedetto | Toyota | 18 | 500 | 0 | Running | 24 |
| 18 | 44 | Brian Scott | Ford | 30 | 499 | 5 | Running | 24 |
| 19 | 95 | Michael McDowell | Chevy | 26 | 499 | 0 | Running | 22 |
| 20 | 38 | Landon Cassill | Ford | 32 | 497 | 0 | Running | 21 |
| 21 | 23 | David Ragan | Toyota | 37 | 497 | 0 | Running | 20 |
| 22 | 10 | Danica Patrick | Chevy | 29 | 496 | 0 | Running | 19 |
| 23 | 78 | Martin Truex Jr | Toyota | 7 | 496 | 0 | Running | 18 |
| 24 | 42 | Kyle Larson | Chevy | 23 | 495 | 0 | Running | 17 |
| 25 | 13 | Casey Mears | Chevy | 21 | 495 | 0 | Running | 16 |
| 26 | 7 | Regan Smith | Chevy | 33 | 491 | 0 | Running | 15 |
| 27 | 55 | Reed Sorenson | Chevy | 36 | 489 | 0 | Running | 14 |
| 28 | 31 | Ryan Newman | Chevy | 15 | 487 | 9 | Running | 14 |
| 29 | 32 | Jeffrey Earnhardt | Ford | 38 | 479 | 0 | Running | 12 |
| 30 | 14 | Tony Stewart | Chevy | 27 | 471 | 0 | Running | 11 |
| 31 | 15 | Clint Bowyer | Chevy | 31 | 470 | 0 | Running | 10 |
| 32 | 27 | Paul Menard | Chevy | 20 | 458 | 0 | Running | 9 |
| 33 | 2 | Brad Keselowski | Ford | 9 | 458 | 0 | Running | 8 |
| 34 | 98 | Cole Whitt | Chevy | 35 | 442 | 0 | Running | 7 |
| 35 | 21 | Ryan Blaney | Ford | 4 | 437 | 0 | Running | 6 |
| 36 | 30 | Josh Wise | Chevy | 40 | 416 | 0 | Running | 5 |
| 37 | 20 | Matt Kenseth | Toyota | 5 | 373 | 0 | Accident | 4 |
| 38 | 41 | Kurt Busch | Chevy | 14 | 372 | 0 | Accident | 3 |
| 39 | 18 | Kyle Busch | Toyota | 3 | 357 | 256 | Accident | 4 |
| 40 | 46 | Justin Allgaier | Chevy | 39 | 354 | 0 | Accident | 0 |
[adinserter name="GOOGLE AD"]