Austin Dillon Steals Victory In Bristol Xfinity Race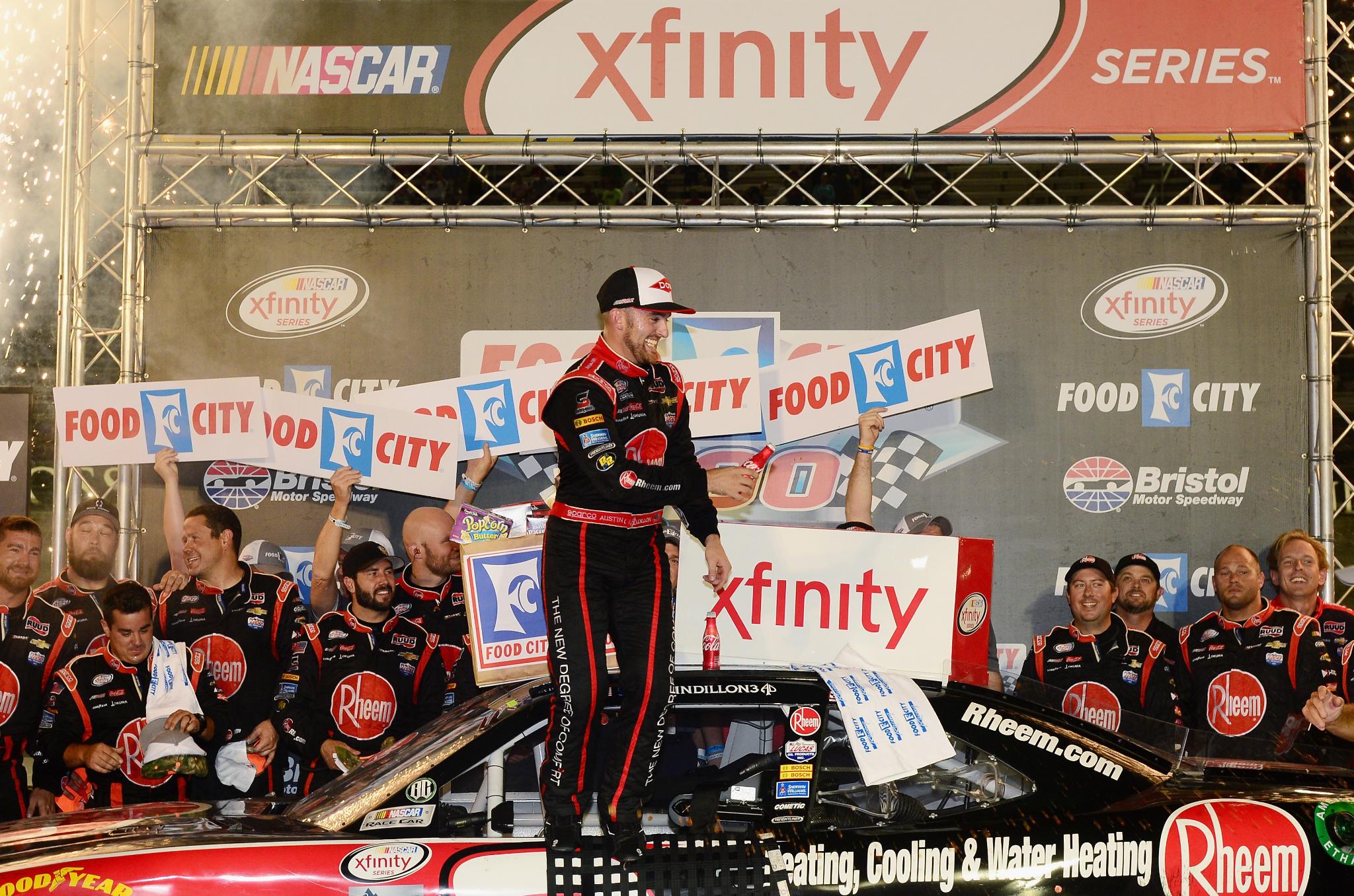 Austin Dillon celebrates in Victory lane at Bristol
Jeff Curry/NASCAR via Getty Images
Austin Dillon stole the victory at Friday night's Food City 300 at Bristol Motor Speedway, taking advantage of Brad Keselowski's bad luck and holding off Kyle Larson on a final overtime restart to score his second Xfinity Series victory of the season.
Dillon led just four laps – the final four laps – and wasn't even in a position to win until all hell broke loose among the front four drivers in the final 20 laps.
Just another typical Bristol Night Race.
Dillon's victory was the eighth-career series victory for the 2013 series champion, and his first ever at Bristol Motor Speedway.
"These short tracks have stumped me for a while, so to get a win here feels really good," said Austin. "It was just a war of attrition. We had a pretty good car, maybe not the fastest car, but the car that won."
And the "war of attrition" claimed its fair share of casualties Friday night, with series regulars Erik Jones and Ty Dillon ending their night in the garage along with Sprint Cup veteran Kyle Busch.
[adinserter name="GOOGLE AD"] Keselowski had inherited the lead after gambling on pit strategy by staying out following a caution flag on lap 245, putting him out front along with Larson, Busch and Ty Dillon.
Under green, Keselowski and Dillon traded the lead until Ty Dillon bounced off the wall with 11 laps to go, putting Keselowski back up front with Busch right on his bumper.
With three laps to go, Busch made his move for the lead, diving to the inside in turns one and two and trying the crossover move on the backstretch, but Busch couldn't quite clear Keselowski, who clipped Busch's right-rear bumper and sent him nose-first into the outside wall.
Busch bounced off the wall into turns three and four directly in front of Ty Dillon, who couldn't check up in time and plowed into the back of Busch.
Both drivers were done for the night.
Keselowski stayed on the track despite damage to his Ford, hoping to hold on for the overtime run, but then ran out of fuel under the caution and coasted into the pits, handing the lead to Austin Dillon.
On the restart, Dillon got a good jump and pulled in front of Larson coming out of turn two to hold onto the top spot, while Sadler, Allgaier and Larson battled three wide for second with Allgaier finally inching ahead in the final turn to secure the runner up spot.
Up front, Dillon flashed across the finish line a little more than a car length over Allgaier, while Larson, Elliott Sadler and Brendan Gaughan rounded out the top five finishers.
After the race, Dillon credited his grandfather and car owner, Richard Childress, and his spotter Andy Houston, for telling to take the high side for the final restart – a decision that turned out to be the winning move.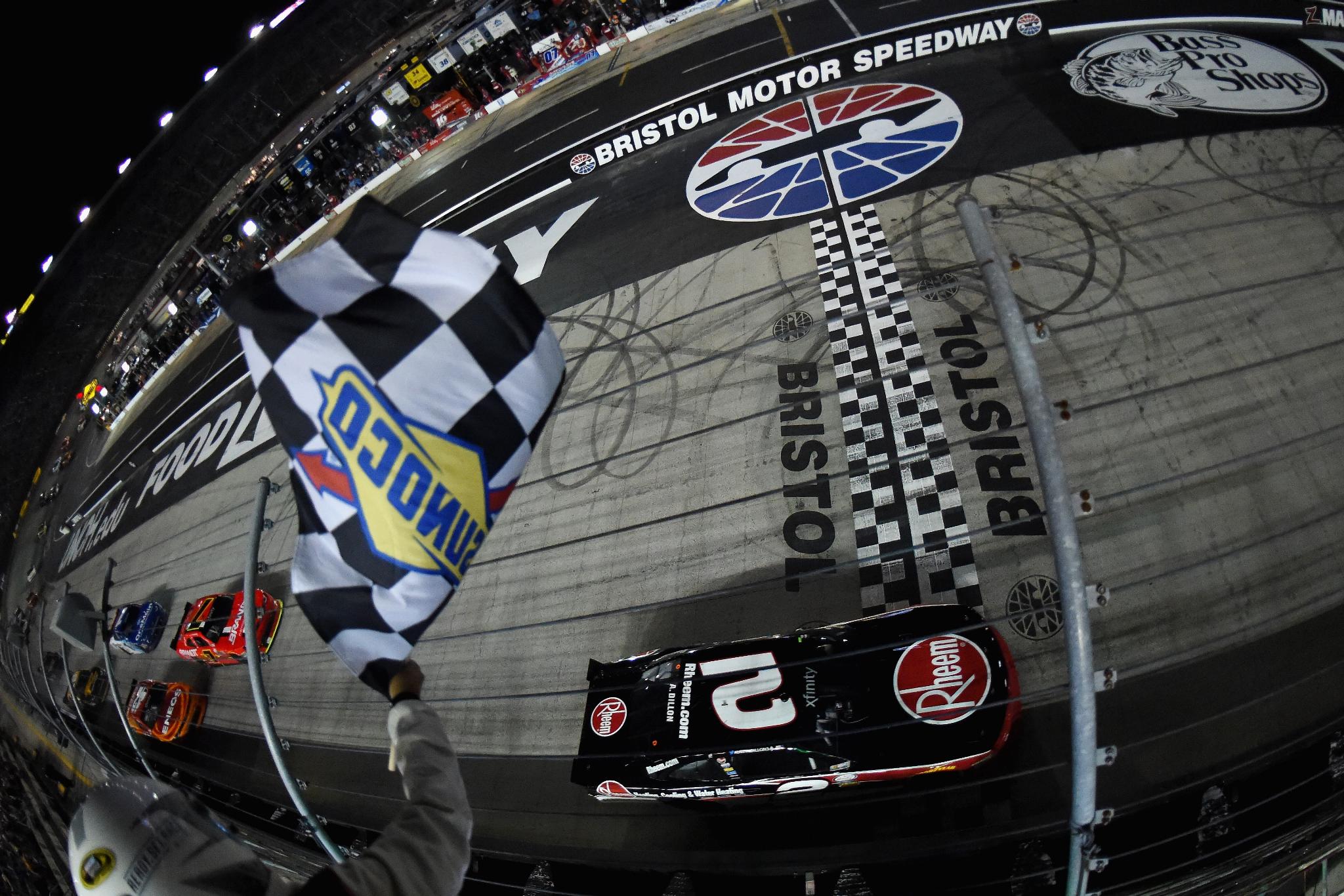 Dillon (2) led just four laps in Friday night's race
Rainier Ehrhardt/NASCAR via Getty Images
"I didn't know what line to choose on that restart, my grandfather and Andy Houston told me to choose the top," said Dillon. "I actually wanted the bottom, because I'd been good there all night, but the momentum on the restart carried us down into (turn) one where I could protect the bottom, then I just played defense from there on out and take it home to the checkered flag."
Larson ended up with his second-straight third-place Bristol Xfinity Series finish, despite leading a race-high 200 laps.
"It's disappointing," said Larson. "I thought the 18 (Busch) and 22 (Keselowski) were better than I was, but after about 30 or 40 laps, we were pretty good. I was just too loose, especially on those restarts, and winding up on the bottom didn't help."
Allgaier's second-place finish earned him his sixth-straight top ten finish and his ninth top-five of the year – despite starting the race in the rear of the field after unapproved adjustments to his No. 7 Chevrolet after qualifying.
"I don't know if you can describe that one or dream it up the way that it happened. We found a problem after qualifying and we had to go all the way to the back – then we drove through the field a couple of times, and ultimately put ourselves in position at the end.
"Every spot we gained, I was like 'okay, we're getting closer and closer'. I wish we had another lap or two – it was a fun night and I'm glad we came out of here with a top-two finish."
Sadler's fourth-place finish helped him retain the points lead by 51 points over Suarez, who came home 30th after crashing into teammate Erik Jones. Allgaier jumped two spots to third in points over Ty Dillon and Gaughan.
Race Results
| | | | | | | | | |
| --- | --- | --- | --- | --- | --- | --- | --- | --- |
| Pos | # | Driver | Make | Start | Laps | Led | Status | Points |
| 1 | 2 | Austin Dillon | Chevy | 5 | 308 | 4 | Running | 0 |
| 2 | 7 | Justin Allgaier | Chevy | 8 | 308 | 0 | Running | 39 |
| 3 | 42 | Kyle Larson | Chevy | 7 | 308 | 200 | Running | 0 |
| 4 | 1 | Elliott Sadler | Chevy | 15 | 308 | 0 | Running | 37 |
| 5 | 62 | Brendan Gaughan | Chevy | 14 | 308 | 0 | Running | 36 |
| 6 | 51 | Jeremy Clements | Chevy | 12 | 308 | 0 | Running | 35 |
| 7 | 6 | Darrell Wallace Jr | Ford | 6 | 308 | 4 | Running | 35 |
| 8 | 11 | Blake Koch | Chevy | 17 | 308 | 0 | Running | 33 |
| 9 | 33 | Brandon Jones | Chevy | 4 | 307 | 0 | Running | 32 |
| 10 | 24 | Corey Lajoie | Toyota | 20 | 307 | 0 | Running | 31 |
| 11 | 88 | Regan Smith | Chevy | 9 | 306 | 0 | Running | 0 |
| 12 | 22 | Brad Keselowski | Ford | 11 | 306 | 67 | Running | 0 |
| 13 | 60 | Gray Gaulding | Ford | 21 | 303 | 0 | Running | 28 |
| 14 | 07 | Ray Black Jr | Chevy | 28 | 302 | 0 | Running | 27 |
| 15 | 01 | Ryan Preece | Chevy | 18 | 301 | 0 | Running | 26 |
| 16 | 93 | David Starr | Chevy | 30 | 301 | 0 | Running | 25 |
| 17 | 90 | Mario Gosselin | Chevy | 25 | 301 | 0 | Running | 24 |
| 18 | 28 | Dakoda Armstrong | Toyota | 29 | 301 | 0 | Running | 23 |
| 19 | 78 | B J McLeod | Ford | 26 | 300 | 0 | Running | 22 |
| 20 | 15 | Travis Kvapil | Ford | 27 | 299 | 0 | Running | 0 |
| 21 | 46 | Brandon Gdovic | Chevy | 32 | 299 | 0 | Running | 20 |
| 22 | 52 | Joey Gase | Chevy | 31 | 299 | 0 | Running | 19 |
| 23 | 0 | Garrett Smithley | Chevy | 38 | 299 | 0 | Running | 18 |
| 24 | 18 | Kyle Busch | Toyota | 2 | 296 | 1 | Accident | 0 |
| 25 | 3 | Ty Dillon | Chevy | 10 | 296 | 1 | Accident | 17 |
| 26 | 25 | Camden Murphy | Chevy | 39 | 295 | 0 | Running | 15 |
| 27 | 44 | J.J. Yeley | Toyota | 19 | 293 | 0 | Running | 14 |
| 28 | 48 | Brennan Poole | Chevy | 13 | 291 | 0 | Running | 13 |
| 29 | 70 | Derrike Cope | Chevy | 35 | 290 | 0 | Running | 12 |
| 30 | 19 | Daniel Suarez | Toyota | 3 | 286 | 0 | Running | 11 |
| 31 | 97 | T.J. Bell | Chevy | 37 | 286 | 0 | Running | 10 |
| 32 | 4 | Ross Chastain | Chevy | 16 | 278 | 0 | Accident | 9 |
| 33 | 20 | Erik Jones | Toyota | 1 | 244 | 31 | Accident | 9 |
| 34 | 14 | Hermie Sadler | Toyota | 36 | 228 | 0 | Fuel Pump | 7 |
| 35 | 16 | Ryan Reed | Ford | 22 | 226 | 0 | Running | 6 |
| 36 | 74 | Mike Harmon | Dodge | 40 | 168 | 0 | Brakes | 5 |
| 37 | 39 | Ryan Sieg | Chevy | 23 | 165 | 0 | Suspension | 4 |
| 38 | 13 | Harrison Rhodes | Chevy | 34 | 36 | 0 | Engine | 3 |
| 39 | 89 | Morgan Shepherd | Chevy | 33 | 27 | 0 | Handling | 2 |
| 40 | 10 | Matt DiBenedetto | Toyota | 24 | 3 | 0 | Brakes | 0 |
[adinserter name="GOOGLE AD"]