Justin Marks Wins Rain-Soaked Xfinity Series Race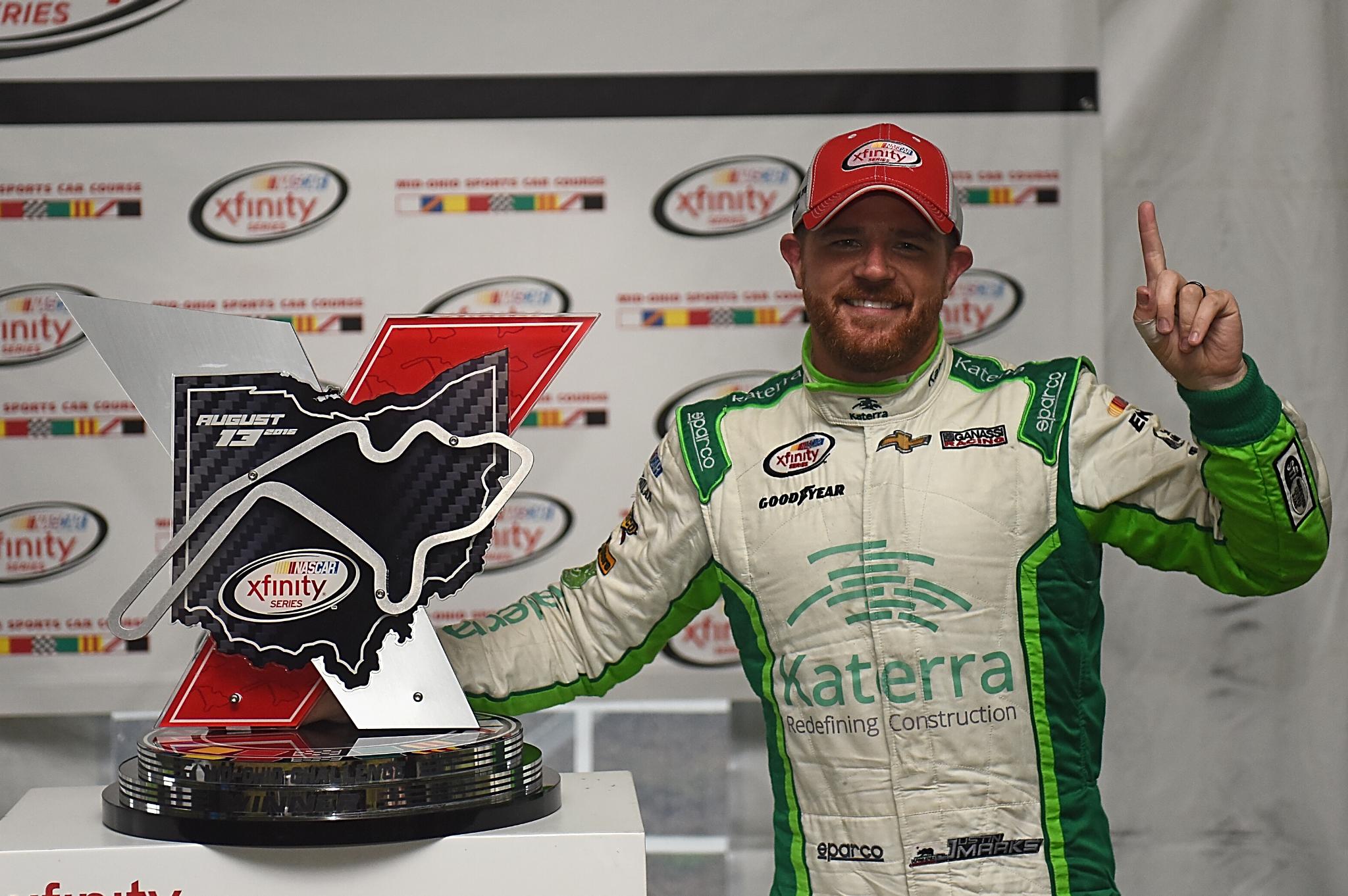 Justin Marks celebrates after scoring his first career NASCAR Xfinity Series race
Jonathan Moore/Getty Images
Thirty-five-year- old Justin Marks mastered the elements to earn his first-career NASCAR Xfinity Series victory on Sunday in a sloppy, rain-soaked Mid-Ohio Challenge at the Mid-Ohio Sports Car Course in Lexington, Ohio.
Marks led the final 10 laps including a white-knuckle three lap dash to the finish in a torrential downpour to beat out pole-sitter Sam Hornish, Jr. for the victory in his 12th start of the season driving the no. 42 Chevrolet for Chip Ganassi Racing.
Ryan Blaney, the only Sprint Cup regular in the field, finished third, followed by Ty Dillon and Justin Allgaier.
Marks' victory tops his previous best finish of sixth, which he also scored at Mid-Ohio in this same race two years ago.
"This means the world to me," said Marks after his victory. "I'm not a big-time race car driver with a big career or a lot of rides, so it just means a lot to be able to get an opportunity with Chip Ganassi Racing and to get a win here for them.
"My specialty is road racing in the rain in these stock cars, and I don't get much opportunity to do it, so when the opportunity presents itself you have to really take advantage of it. This are as a tough of conditions as you could put a driver in, it's just really hard on everyone to go from dry to wet, you don't really know what to do. I knew if the race ended in the rain, we'd have a real shot of winning it."
[adinserter name="GOOGLE AD"] For Marks, who just welcomed his second child with his wife Erin last week, Saturday's victory was also a chance to honor his friend Bryan Clauson, who lost his life in a sprint car accident earlier this week.
Although primarily known as an open-wheel standout, Clauson spent two years driving in NASCAR, making 25 starts in the Xfinity Series for Ganassi.
"Bryan's short career in stock car racing came with Chip Ganassi Racing, so it's a great feeling to be able to put this thing in Victory Lane and to honor him," said Marks. "Bryan was a real American hero racecar driver; they don't make them like that anymore."
Saturday's race at Mid-Ohio went from your average road-course race to a battle of rain-soaked attrition as the skies opened up just a few laps into the 75-lap event, forcing teams to switch to rain tires and battle it out on a wet race track.
The weather conditions made racing especially treacherous in the sharp Turn Four area of the track, where several cars wound up stuck in the gravel trap, including Hornish and Suarez.
Marks started the race in 16th spot but quickly moved up through the field, jumping to the lead on lap 11 and led for the next 32 laps.
Lap 33 brought out the yellow flag for the worse wreck of the day, as veteran road-racer Andy Lally got tagged in turn one, touching off a five-car crash that collected Erik Jones, Brennan Poole, Brendan Gaughan and Nelson Piquet, Jr.
After getting back on track, Lally opted to ditch the rain tires and switched over to slicks and powered straight to the top spot as the rest of the field pitted for slicks as well. Lally would only lead three laps before losing the lead to Dillon and then stopping to pit for fuel.
The weather continued to wreak havoc on the field as the rain persisted, forcing teams back to rain tires.
With about 20 laps to go, Marks was back out in front, trading the lead with Darrell Wallace, Jr. and Dillon before passing Dillon for the lead for the final time with 10 laps to go.
The record eighth caution flag flew with three laps to go after T.J. Bell got off course, setting up a final three-lap dash to the finish.
Under a torrential downpour, Marks took the green flag with Hornish close behind and began to carefully wind his way through the course, slowly pulling away from Hornish at each turn, finally opening up a 3.7-second lead over Hornish.
Despite the rain coming down the heaviest it had been all day, Marks navigated the final lap flawlessly to the checkered flag with Hornish coming home second.
Hornish nearly pulled off the worst-to-first comeback after fighting he way back through the field following his spin on lap 21, but still come home with his second top-five finish in just three starts so far this season, and his first in his second start driving for Richard Childress Racing.
"My hat's off to Justin Mark," said Hornish. "I generally hold myself as a pretty decent rain racer, and even given the opportunity there at the end, I couldn't do anything with him. I would have had to take massive chances with our car to be able to do anything, then you still have to pass him just to keep up with him.
"In the dry, I feel like we could win, but Justin just went out there and was a monster in the wet."
Erik Jones, Lally, Gaughan, Elliott Sadler and Poole rounded out the top ten finishers. Sadler retains the lead in the Xfinity Series points standing, gaining 14 points on Suarez who finished 23rd.
Race Results
| | | | | | | | | |
| --- | --- | --- | --- | --- | --- | --- | --- | --- |
| Pos. | # | Driver | Make | Start | Laps | Led | Status | Points |
| 1 | 42 | Justin Marks | Chevy | 16 | 75 | 43 | Running | 45 |
| 2 | 2 | Sam Hornish Jr | Chevy | 1 | 75 | 8 | Running | 40 |
| 3 | 22 | Ryan Blaney | Ford | 3 | 75 | 6 | Running | 0 |
| 4 | 3 | Ty Dillon | Chevy | 7 | 75 | 5 | Running | 38 |
| 5 | 7 | Justin Allgaier | Chevy | 11 | 75 | 0 | Running | 36 |
| 6 | 20 | Erik Jones | Toyota | 6 | 75 | 0 | Running | 35 |
| 7 | 90 | Andy Lally | Chevy | 15 | 75 | 3 | Running | 35 |
| 8 | 62 | Brendan Gaughan | Chevy | 12 | 75 | 0 | Running | 33 |
| 9 | 1 | Elliott Sadler | Chevy | 4 | 75 | 0 | Running | 32 |
| 10 | 48 | Brennan Poole | Chevy | 17 | 75 | 0 | Running | 31 |
| 11 | 16 | Ryan Reed | Ford | 8 | 75 | 0 | Running | 30 |
| 12 | 11 | Blake Koch | Chevy | 13 | 75 | 0 | Running | 29 |
| 13 | 40 | Alon Day | Dodge | 22 | 75 | 0 | Running | 28 |
| 14 | 4 | Ross Chastain | Chevy | 21 | 75 | 1 | Running | 28 |
| 15 | 6 | Darrell Wallace Jr | Ford | 10 | 75 | 7 | Running | 27 |
| 16 | 18 | Owen Kelly | Toyota | 2 | 75 | 2 | Running | 26 |
| 17 | 01 | Ryan Preece | Chevy | 24 | 75 | 0 | Running | 24 |
| 18 | 25 | Ryan Ellis | Chevy | 29 | 75 | 0 | Running | 23 |
| 19 | 33 | Brandon Jones | Chevy | 19 | 75 | 0 | Running | 22 |
| 20 | 15 | Stanton Barrett | Ford | 27 | 75 | 0 | Running | 21 |
| 21 | 28 | Dakoda Armstrong | Toyota | 26 | 74 | 0 | Running | 20 |
| 22 | 39 | Ryan Sieg | Chevy | 23 | 74 | 0 | Running | 19 |
| 23 | 19 | Daniel Suarez | Toyota | 5 | 74 | 0 | Running | 18 |
| 24 | 0 | Garrett Smithley | Chevy | 36 | 73 | 0 | Running | 17 |
| 25 | 93 | David Starr | Chevy | 32 | 73 | 0 | Running | 16 |
| 26 | 14 | Mike Bliss | Toyota | 30 | 73 | 0 | Running | 0 |
| 27 | 78 | B J McLeod | Ford | 38 | 73 | 0 | Running | 14 |
| 28 | 52 | Joey Gase | Chevy | 37 | 73 | 0 | Running | 13 |
| 29 | 70 | Timmy Hill | Chevy | 31 | 72 | 0 | Running | 0 |
| 30 | 07 | Ray Black Jr | Chevy | 33 | 72 | 0 | Running | 11 |
| 31 | 77 | Jordan Anderson | Chevy | 35 | 72 | 0 | Running | 10 |
| 32 | 97 | T.J. Bell | Chevy | 28 | 71 | 0 | Running | 9 |
| 33 | 74 | Roger Reuse | Dodge | 39 | 70 | 0 | Running | 8 |
| 34 | 51 | Jeremy Clements | Chevy | 14 | 64 | 0 | Running | 7 |
| 35 | 44 | J.J. Yeley | Toyota | 20 | 56 | 0 | Accident | 6 |
| 36 | 88 | Kenny Habul | Chevy | 18 | 54 | 0 | Accident | 5 |
| 37 | 13 | Tim Cowen | Ford | 34 | 54 | 0 | Accident | 4 |
| 38 | 98 | Nelson Piquet Jr | Ford | 9 | 31 | 0 | Accident | 3 |
| 39 | 92 | Mario Gosselin | Chevy | 40 | 3 | 0 | Electrical | 0 |
| 40 | 10 | Jeff Green | Toyota | 25 | 2 | 0 | Rear Gear | 1 |
[adinserter name="GOOGLE AD"]