Sam Hornish, Jr. Scores Record-Breaking Xfinity Pole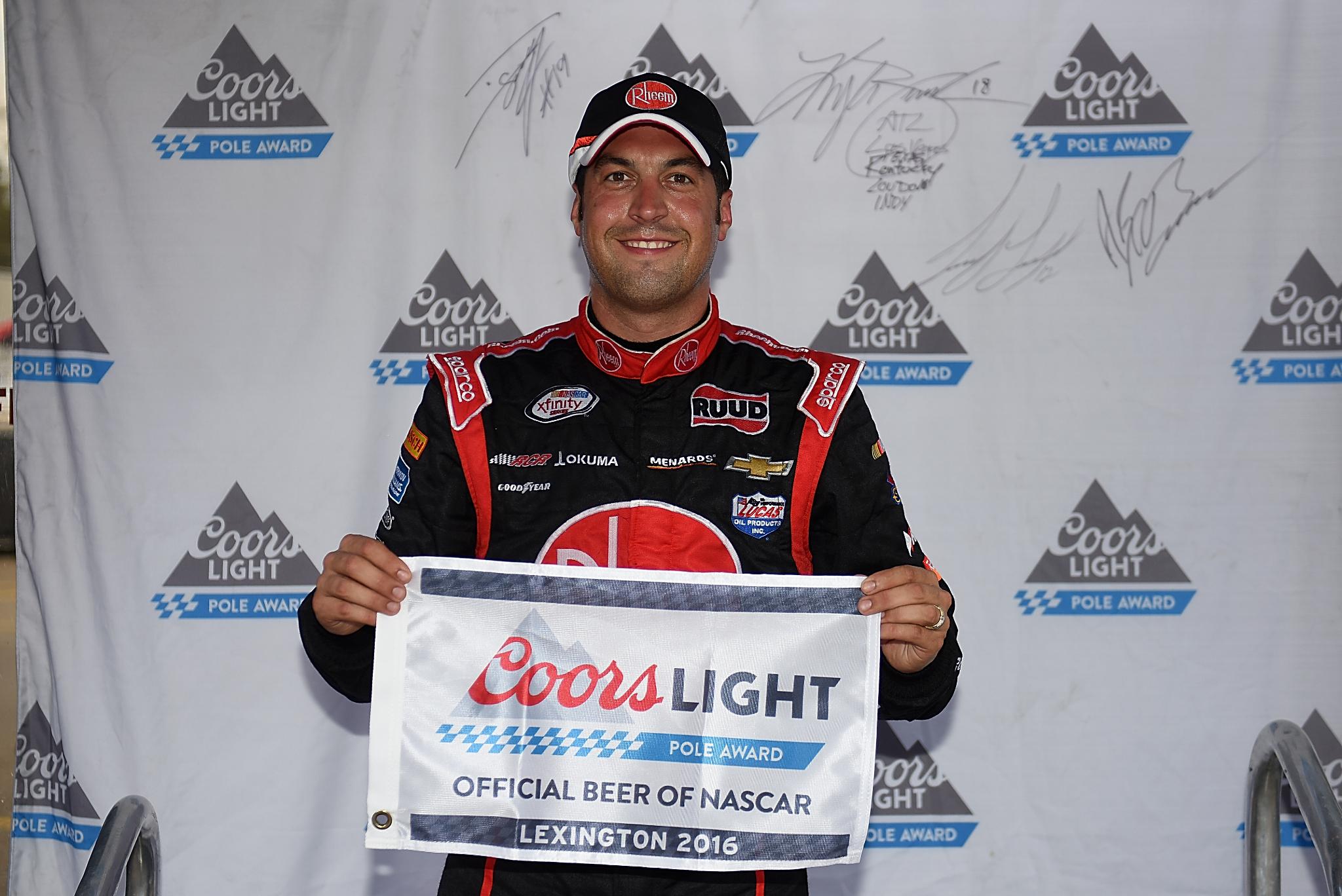 Sam Hornish, Jr.
Jonathan Moore/Getty Images
Ohio-native Sam Hornish, Jr. scored his eighth-career NASCAR Xfinity Series Coors Light Pole Award in record fashion on Friday, capturing the top spot in the afternoon qualifying session for Saturday's Mid-Ohio Challenge at the Mid-Ohio Sports Car Course in Lexington, Ohio.
Hornish, from nearby Defiance, Ohio, covered the 2.258-mile,13-turn road course at a speed of 96.755 mph (84.014 seconds) in the opening session, eclipsing the previous track record of 96.256mph set by Michael McDowell in 2013.
After pacing the field in the first segment, Hornish came right back out and topped the second segment with a speed of 96.374mph (84.346 seconds) to top Australian driver Owen Kelly and collect his first pole of 2016 and his second ever at Mid-Ohio. Hornish had previously won the pole for this event back in 2014.
Hornish is making just his third series start of the season and his second behind the wheel of the Richard Childress-owned no. 2 Chevrolet. He already has one victory this year, coming in his first start at Iowa Speedway back in June while subbing for Matt Tifft.
"The fact that we're here and we're as good as we have been really is hats off to RCR and all the people that work on the Rheem No. 2 car," said Hornish. "Right off the bat, this morning I was kind of worried about it being a little bit rusty. It's been a little while since I've been on a road course."
Kelly, making just his fourth Xfinity Series start in six years, qualified second in the no. 18 Toyota for Joe Gibbs Racing with a speed of 95.877mph (84.784 seconds).
Ryan Blaney, the only Sprint Cup regular to make the trip to Mid-Ohio this weekend, will start third after clocking in with a speed of 95.739mph (84.906 second) in the no. 22 Team Penske Ford. Series points leader Elliott Sadler (95.675mph, 84.963 seconds) and second-place points driver Daniel Suarez (95.613mph, 85.018 seconds) made up the rest of the top five qualifiers.
Qualifying Results
| | | | | | | | |
| --- | --- | --- | --- | --- | --- | --- | --- |
| Pos. | # | Driver | Make | Sponsor | Speed | Lap | Behind |
| 1 | 2 | Sam Hornish Jr | Chevy | Rheem | 96.374 | 84.346 | Leader |
| 2 | 18 | Owen Kelly | Toyota | Tunity | 95.877 | 84.784 | –0.438 |
| 3 | 22 | Ryan Blaney | Ford | Discount Tire | 95.739 | 84.906 | –0.560 |
| 4 | 1 | Elliott Sadler | Chevy | OneMain | 95.675 | 84.963 | –0.617 |
| 5 | 19 | Daniel Suarez | Toyota | Arris | 95.613 | 85.018 | –0.672 |
| 6 | 20 | Erik Jones | Toyota | DEWALT FLEXVOLT | 95.351 | 85.251 | –0.905 |
| 7 | 3 | Ty Dillon | Chevy | WESCO | 95.249 | 85.343 | –0.997 |
| 8 | 16 | Ryan Reed | Ford | Lilly Diabetes | 95.232 | 85.358 | –1.012 |
| 9 | 98 | Nelson Piquet Jr | Ford | Carroll Shelby Engine Co. | 95.181 | 85.404 | –1.058 |
| 10 | 6 | Darrell Wallace Jr | Ford | Roush Performance | 95.164 | 85.419 | –1.073 |
| 11 | 7 | Justin Allgaier | Chevy | Brandt | 95.162 | 85.421 | –1.075 |
| 12 | 62 | Brendan Gaughan | Chevy | South Point | 94.966 | 85.597 | –1.251 |
| 13 | 11 | Blake Koch | Chevy | LeafFilter | 95.078 | 85.496 | –1.150 |
| 14 | 51 | Jeremy Clements | Chevy | RepairableVehicles.com | 95.008 | 85.559 | –1.213 |
| 15 | 90 | Andy Lally | Chevy | 3Dimensional.com | 94.823 | 85.726 | –1.380 |
| 16 | 42 | Justin Marks | Chevy | Katerra | 94.727 | 85.813 | –1.467 |
| 17 | 48 | Brennan Poole | Chevy | DC Solar | 94.725 | 85.815 | –1.469 |
| 18 | 88 | Kenny Habul | Chevy | SunEnergy1 | 94.681 | 85.855 | –1.509 |
| 19 | 33 | Brandon Jones | Chevy | Jeld-Wen / Menards | 94.139 | 86.349 | –2.003 |
| 20 | 44 | J.J. Yeley | Toyota | Zachry | 93.850 | 86.615 | –2.269 |
| 21 | 4 | Ross Chastain | Chevy | teamjdmotorsports.com | 93.832 | 86.631 | –2.285 |
| 22 | 40 | Alon Day | Dodge | FLWaterfront.com | 93.816 | 86.646 | –2.300 |
| 23 | 39 | Ryan Sieg | Chevy | RSS Racing | 93.782 | 86.678 | –2.332 |
| 24 | 01 | Ryan Preece | Chevy | teamjdmotorsports.com | 93.709 | 86.745 | –2.399 |
| 25 | 10 | Jeff Green | Toyota | TBD | 93.423 | 87.011 | –2.665 |
| 26 | 28 | Dakoda Armstrong | Toyota | Winfield Be Greater | 93.233 | 87.188 | –2.842 |
| 27 | 15 | Stanton Barrett | Ford | Lilly Trucking | 93.117 | 87.297 | –2.951 |
| 28 | 97 | T.J. Bell | Chevy | Vroom Brands | 92.417 | 87.958 | –3.612 |
| 29 | 25 | Ryan Ellis | Chevy | Bachtel Excavating | 91.810 | 88.539 | –4.193 |
| 30 | 14 | Mike Bliss | Toyota | Arthritis Foundation | 91.740 | 88.607 | –4.261 |
| 31 | 70 | Timmy Hill | Chevy | E-hydrate | 91.615 | 88.728 | –4.382 |
| 32 | 93 | David Starr | Chevy | Massimo Motors | 91.423 | 88.914 | –4.568 |
| 33 | 07 | Ray Black Jr | Chevy | ScubaLife | 91.408 | 88.929 | –4.583 |
| 34 | 13 | Tim Cowen | Ford | Cowen Logistics | 90.682 | 89.641 | –5.295 |
| 35 | 77 | Jordan Anderson | Chevy | Vroom Brands | 89.931 | 90.389 | –6.043 |
| 36 | 0 | Garrett Smithley | Chevy | teamjdmotorsports.com | 89.637 | 90.686 | –6.340 |
| 37 | 52 | Joey Gase | Chevy | Donate Life Ohio | 89.459 | 90.866 | –6.520 |
| 38 | 78 | B J McLeod | Ford | TBD | 89.441 | 90.884 | –6.538 |
| 39 | 74 | Roger Reuse | Dodge | Alabama Controls | 87.138 | 93.287 | –8.941 |
| 40 | 92 | Mario Gosselin | Chevy | BuckedUp Apparel | 78.972 | 102.933 | –18.58 |