Denny Hamlin Scores First Road Course Victory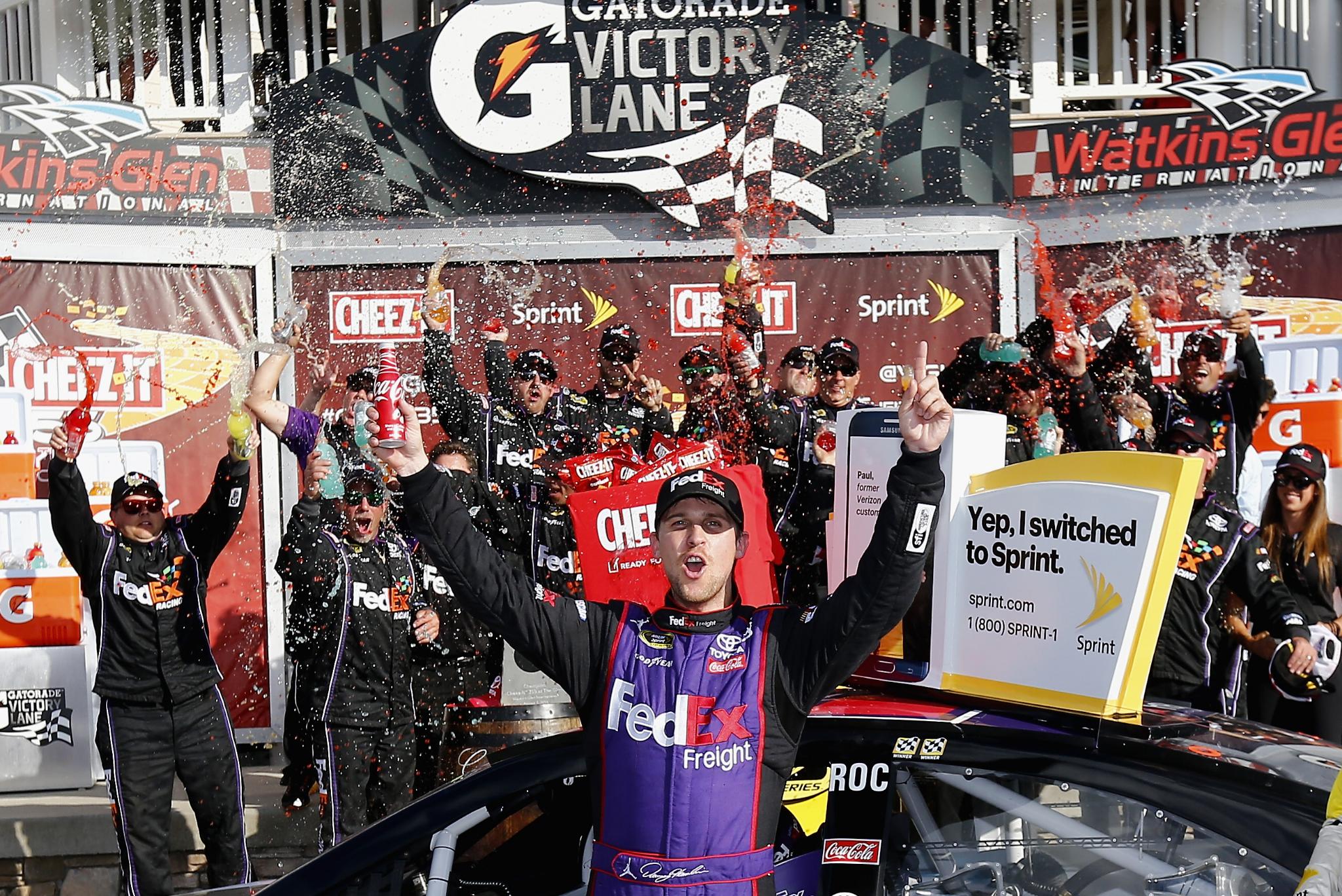 Denny Hamlin in Victory Lane at Watkins Glen
Jonathan Ferrey/NASCAR via Getty Images
In 10 career Sprint Cup Series starts at Watkins Glen, Denny Hamlin had never led a single lap, but on Sunday, Hamlin found himself being handed the top spot and took full advantage to lead his first laps at the 2.5-mile road course and land his first-career road course victory.
Hamlin benefited from some hard racing up front between Brad Keselowski and Kyle Busch in the closing laps that left an opening for Hamlin to take the lead with ten laps to go and then held on through a final four-lap shootout for his second win of the season.
Hamlin stretched his fuel for a remarkable 41 laps thanks to six caution flags over the final 40 laps that helped him secure the win in a race that more resembled a restrictor-plate race with more than 15 torn up race cars in the garage.
Joey Logano finished second after Keselowski ran over Martin Truex, Jr. in the final turn trying to make a move on Hamlin for the lead. Keselowski recovered take third, followed by A.J. Allmendinger and Tony Stewart.
Sunday's victory was redemption of sorts for Hamlin, who had the checkered flag in his sights at Sonoma Raceway back in June when Stewart passed him for the lead in the final turn.
[adinserter name="GOOGLE AD"] "I can't tell you how disappointed I was we didn't win the first one (at Sonoma)," said Hamlin, who also won the second-opening Daytona 500. "I just tried the best I could and overshot the corner and I didn't want to do it this time and so I probably under drove and let those guys be a little closer than I should've.
"It was just about hitting my marks and making sure that I didn't give those guys a chance like I gave Tony (Stewart) a chance at Sonoma. You know, really proud of this effort. This is a great sign of things to come. I feel like we'll be a good threat in the Chase."
Sunday's race started off like a typical road course race for the 50 laps including a few debris cautions, but all that changed following a restart on lap 52 when Ricky Stenhouse, Jr. spun in turn five, touching off a frightening wreck that collected Greg Biffle and Jimmie Johnson and brought out the red flag.
Up front, the Joe Gibbs stable of Carl Edwards, Kyle Busch and Truex, Jr. traded the top spot before the Team Penske power duo of Keselowski and Logano worked their way back to the front, with Keselowski leading a race-high 28 laps.
A restart following a caution on lap 80 set the stage for the final rundown as Keselowski and Kyle Busch overcooked it going into turn one and barely managed to get back in line before Hamlin powered through the corner to take over the top with Keselowski falling back to second and Busch back to fifth.
Another quick caution flag bunched the field back up for yet another restart and again Keselowski and Kyle Busch sailed into turn one – falling back to fifth and sixth – respectively while Logano and Truex, Jr. moved up behind Hamlin.
With five laps to go, Kevin Harvick got spun coming out of the bus stop into the inner loop, triggering an eight-car crash that brought out the red flag yet again.
Coming to the final restart with four to go, Hamlin got a good enough jump as Truex, Jr. and Keselowski powered past Logano to try and chase down the leader.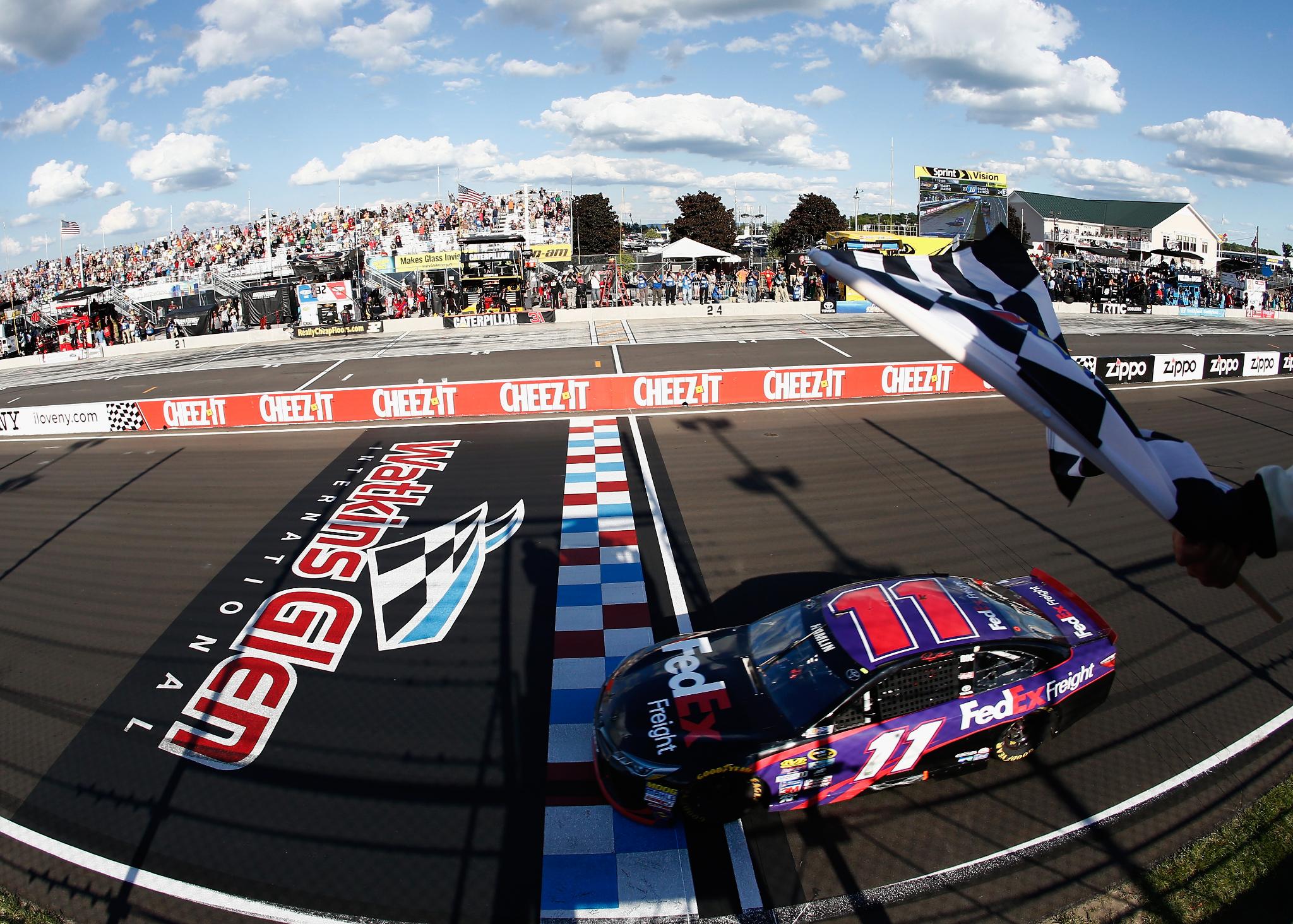 Denny Hamlin crosses the finish line at Watkins Glen
Jeff Zelevansky/NASCAR via Getty Images
Hamlin ran the final four laps to perfection as Truex closed in, but in the final turn, Truex looked to make a move on the outside and ended up getting turned by Keselowski, opening the door Logano to move up to take second. By then, Hamlin was safely away as he cruised to the checkered flag.
Keselowski, for his part, was contrite about the incident with Truex, and immediately approached him after the race to take responsibility.
"It was obviously my fault when you run into the back of somebody," said Keselowski. "I saw the 11 (Hamlin) was blocking low and thought the 78 (Truex) would get in behind and rub up the 11 and I wanted to be outside to make a cross-over and see if I couldn't get both. At the last minute he came back up and I was already committed. I didn't think he would come back up.
"You make a commitment before you know what is going to happen and I made a commitment and it didn't work out. He got the bad end of it. I hit him from behind and that is my fault. Luckily with the way this Chase is, he probably won't want to hear it, but it doesn't hurt him too bad."
[adinserter name="GOOGLE AD"]Truex, Jr. ended the seventh behind Kyle Busch. He wasn't the only driver who got bit in the final turn, as Kyle Larson got spun off the bumper of Allmendinger while battling for fourth place coming to the finish.
The incident with Larson marred an otherwise amazing comeback for Allmendinger, who rallied from 36th place after getting nabbed for speeding on pit road on lap 26.
"Our last corner there, racing with Kyle (Larson) I just… I can't sorry enough," said Allmendinger. "It doesn't help the case, I spun him out. I didn't mean to spin him out.
"He was turning to come back down, but it was my fault. For fourth place it would be different if we were battling for the win, but I just hate it for him. It's not going to help to say sorry, I know, I would be pissed off. He should be. I was going to be okay with that until that."
Jamie McMurray, Trevor Bayne and Matt Kenseth rounded out the top 10.
Points leader Kevin Harvick ended the day in the garage after his crash on lap 85 and dropped to second in points behind Keselowski.
Results
| | | | | | | | |
| --- | --- | --- | --- | --- | --- | --- | --- |
| POS. | CAR # | DRIVER | MAKE | START | LAPS | LED | STATUS |
| 1 | 11 | Denny Hamlin | Toyota | 6 | 90 | 10 | Running |
| 2 | 22 | Joey Logano | Ford | 7 | 90 | 8 | Running |
| 3 | 2 | Brad Keselowski | Ford | 12 | 90 | 28 | Running |
| 4 | 47 | AJ Allmendinger | Chevy | 9 | 90 | 0 | Running |
| 5 | 14 | Tony Stewart | Chevy | 3 | 90 | 0 | Running |
| 6 | 18 | Kyle Busch | Toyota | 5 | 90 | 4 | Running |
| 7 | 78 | Martin Truex Jr | Toyota | 14 | 90 | 1 | Running |
| 8 | 1 | Jamie McMurray | Chevy | 10 | 90 | 0 | Running |
| 9 | 6 | Trevor Bayne | Ford | 32 | 90 | 0 | Running |
| 10 | 20 | Matt Kenseth | Toyota | 4 | 90 | 0 | Running |
| 11 | 41 | Kurt Busch | Chevy | 17 | 90 | 3 | Running |
| 12 | 13 | Casey Mears | Chevy | 20 | 90 | 0 | Running |
| 13 | 24 | Chase Elliott | Chevy | 16 | 90 | 0 | Running |
| 14 | 88 | Jeff Gordon | Chevy | 21 | 90 | 0 | Running |
| 15 | 19 | Carl Edwards | Toyota | 1 | 90 | 25 | Running |
| 16 | 31 | Ryan Newman | Chevy | 8 | 90 | 0 | Running |
| 17 | 95 | Michael McDowell | Chevy | 11 | 90 | 0 | Running |
| 18 | 15 | Clint Bowyer | Chevy | 28 | 90 | 0 | Running |
| 19 | 21 | Ryan Blaney | Ford | 19 | 90 | 0 | Running |
| 20 | 5 | Kasey Kahne | Chevy | 23 | 90 | 0 | Running |
| 21 | 10 | Danica Patrick | Chevy | 31 | 90 | 11 | Running |
| 22 | 27 | Paul Menard | Chevy | 33 | 90 | 0 | Running |
| 23 | 38 | Landon Cassill | Ford | 40 | 90 | 0 | Running |
| 24 | 32 | Boris Said | Ford | 37 | 90 | 0 | Running |
| 25 | 44 | Brian Scott | Ford | 27 | 90 | 0 | Running |
| 26 | 30 | Josh Wise | Chevy | 39 | 90 | 0 | Running |
| 27 | 43 | Aric Almirola | Ford | 34 | 90 | 0 | Running |
| 28 | 98 | Cole Whitt | Toyota | 22 | 90 | 0 | Running |
| 29 | 42 | Kyle Larson | Chevy | 2 | 89 | 0 | Running |
| 30 | 34 | Chris Buescher | Ford | 25 | 89 | 0 | Running |
| 31 | 3 | Austin Dillon | Chevy | 18 | 89 | 0 | Running |
| 32 | 4 | Kevin Harvick | Chevy | 15 | 83 | 0 | Accident |
| 33 | 23 | David Ragan | Toyota | 26 | 83 | 0 | Accident |
| 34 | 83 | Matt DiBenedetto | Toyota | 35 | 83 | 0 | Accident |
| 35 | 7 | Regan Smith | Chevy | 29 | 77 | 0 | Running |
| 36 | 55 | Alex Kennedy | Chevy | 36 | 76 | 0 | Engine |
| 37 | 46 | Michael Annett | Chevy | 38 | 74 | 0 | Running |
| 38 | 17 | Ricky Stenhouse Jr | Ford | 30 | 52 | 0 | Accident |
| 39 | 16 | Greg Biffle | Ford | 24 | 52 | 0 | Accident |
| 40 | 48 | Jimmie Johnson | Chevy | 13 | 52 | 0 | Accident |
[adinserter name="GOOGLE AD"]