Todd, Force, Anderson, Tonglet Win at Sonoma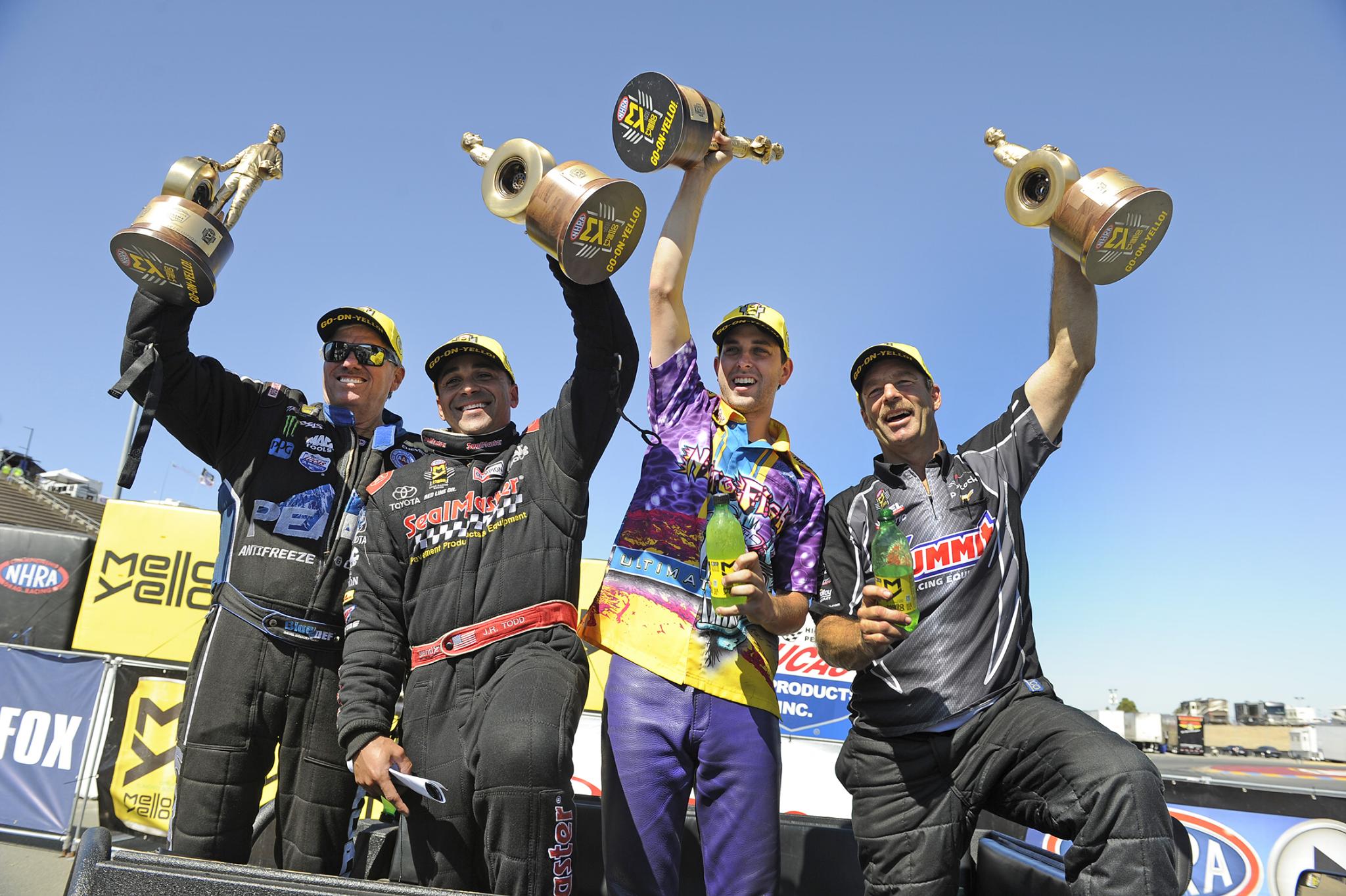 (L-R) John Force, J.R. Todd, LE Tonglet, Greg Anderson
John Force continues his mid-season surge and raced to his second consecutive Funny Car win of the year in front of a sold-out crowd at the Toyota NHRA Sonoma Nationals.
J.R. Todd (Top Fuel), Greg Anderson (Pro Stock) and LE Tonglet (Pro Stock Motorcycle) were winners of the 15th NHRA Mello Yello Drag Racing Series event of the season in Sonoma, Calif.
Force secured his 145th career victory in the category when he defeated Ron Capps in his NAPA Auto Parts Dodge Charger R/T in a tightly contested race. Force powered his Realtree Peak Antifreeze Camaro to a winning pass of 3.948 seconds at 324.59 mph to the losing run of Capps at 3.960 at 320.13.
"We won Denver and that got me motivated," said Force. "My daughter (Courtney Force) and Robert (Hight) were outrunning me in Denver but we got the win. We knew it was going to be a different animal here. We got down here and I was amazed."
This is his second win in the daunting three race stretch of the Western Swing which concludes next weekend in Seattle. In 1994, Force became the only Funny Car in NHRA history to sweep all three events.
Capps who raced to his third runner-up finish on the season, along with his category leading four wins, retains his points lead in Funny Car. Capps, along with Courtney Force of John Force Racing who is second in the points, become the first two Funny Car competitors to earn berths in the NHRA Mello Yello Countdown to the Championship.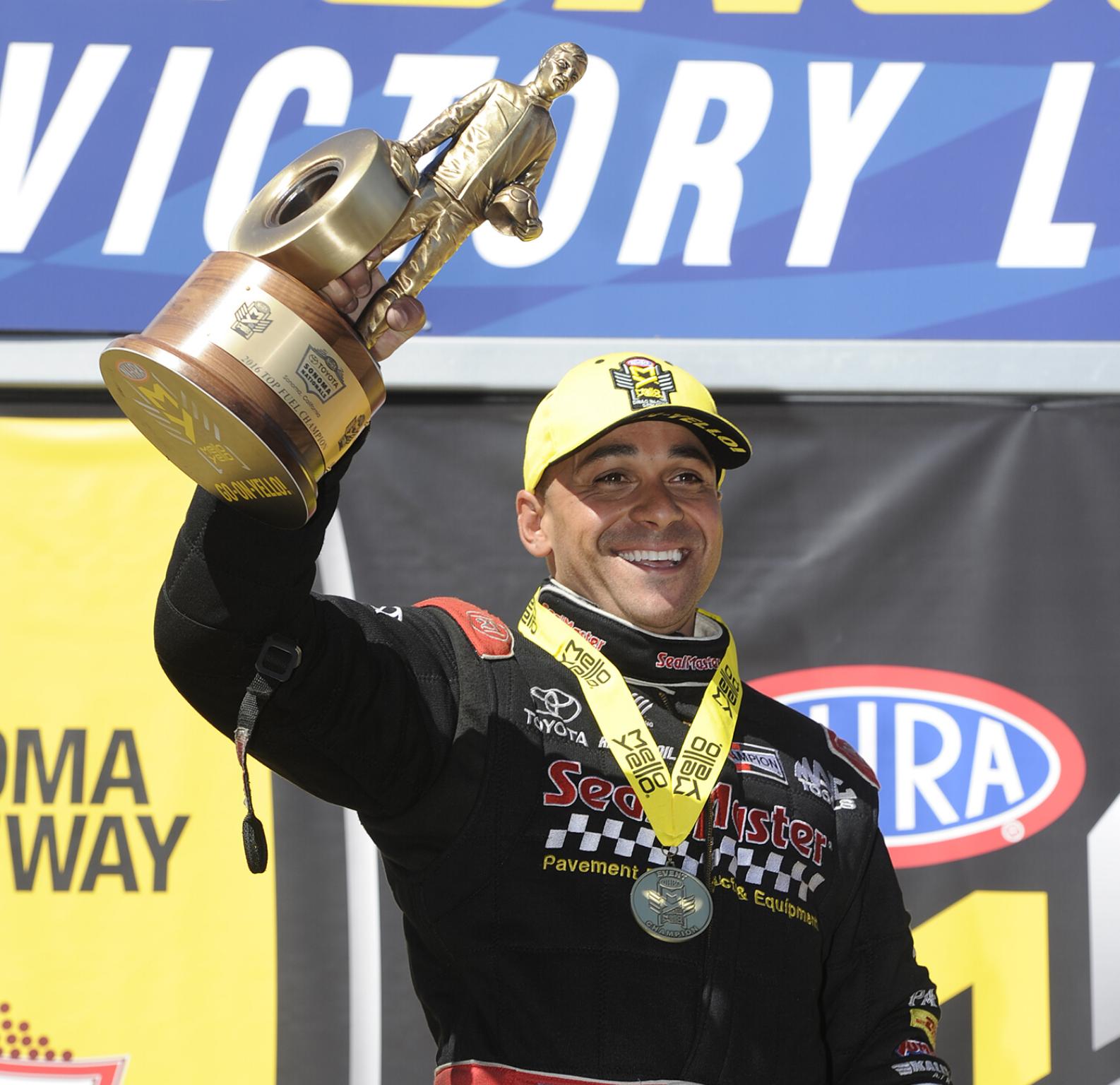 J.R. Todd
Todd piloted his SealMaster Top Fuel dragster to his first win in nearly a year when he defeated Richie Crampton in the final. His winning run of 3.745 at 324.83 to the losing effort of Crampton at 3.806 at 313.07 earned Todd his ninth career Top Fuel victory. This was the first win for Todd since he defeated Shawn Langdon in Seattle last season.
"It has been a long time coming for these SealMaster boys," said Todd. "We have been to a few finals and haven't been able to close the deal. I had all the faith and confidence in Connie Kalitta and Rob Flynn and they made the right calls all day."
Steve Torrence, the No. 1 qualifier who raced to a semifinal appearance and Brittany Force who has two wins on the season also gained entry in the Countdown to the Championship on Sunday.
In Pro Stock, Anderson continued his dominating season in his Summit Racing Equipment Chevy Camaro when he defeated his KB Racing teammate Bo Butner for his seventh win of the season. Anderson, who notched his 85th win, raced to victory with a pass of 6.580 at 210.54 to the trailing run of 6.622 at 210.70 by Butner.
The win ties Anderson with Bob Glidden as the second winningest Pro Stock racer in history behind Warren Johnson with 97 victories. This is the fifth career win at Sonoma for Anderson and he is the Pro Stock points leader.
"This track has been magical to KB Racing, not just to me but Jason Line too," said Anderson. "This place is special to me and magical. It is everything a Pro Stock racer wants. It is a great racetrack, great weather conditions, and full grandstands. You don't get any better than that. It cranks us up and gives us a lot of energy."
Butner retains his third place position in the points and joins Anderson and Jason Line as the first three racers in Pro Stock to lock in a position in the NHRA Mello Yello Countdown to the Championship.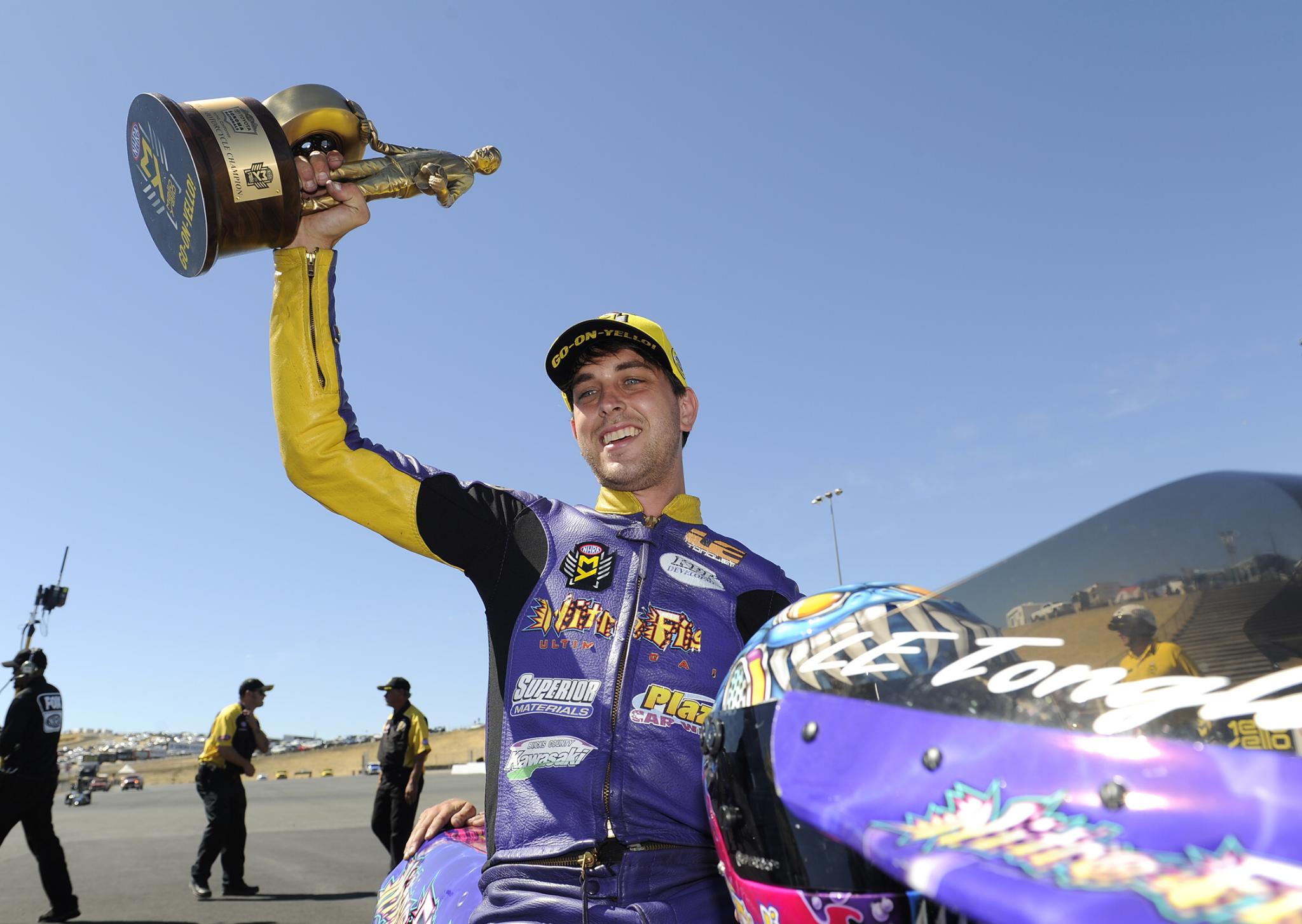 LE Tonglet
Pro Stock Motorcycle racer Tonglet won his first race since the Brainerd event in 2011, defeated Andrew Hines in the final. Tonglet, who is the 2010 Pro Stock Motorcycle world champion, had the winning run of 6.813 at 196.73 to the losing run of 6.864 at 194.52. Tonglet faced Katie Sullivan, Hector Arana, Eddie Krawiec and Hines to secure the win.
"It has been five years since we have won and to bring home the Wally after beating Andrew and Eddie back to back is just huge for our team," said Tonglet. "We just come out here to have fun and it wasn't getting fun. We had to change somethings up and started getting round wins and it is just great."
The NHRA Mello Yello Drag Racing will resume Aug. 5-7 with the Protect the Harvest NHRA Northwest Nationals, in Seattle.
QUOTES
FUNNY CAR WINNER JOHN FORCE, JOHN FORCE RACING, PEAK ANTIFREEZE CHEVROLET CAMARO SS:
John Force collects another Funny Car trophy
YOU BEAT ROBERT HIGHT IN THE SECOND ROUND, COURTNEY FORCE IN THE SEMIS AND RON CAPPS IN THE FINAL. THAT'S THREE TOUGH DRIVERS TO BEAT
"You are right, I took on the toughest out there. Taking out Robert … his car just stumbled a bit and I got him. He is a great driver. Then Courtney. Got her last week and she wasn't going to give it up this week but she dropped a cylinder on the hit. Sometimes luck is a big part of it. But if you work hard and you feed off the energy of the fans like I did every time, you start getting tired and then I get out at that hospitality with PEAK and Monster Energy and that brings me to life. I thought it was going to wear me out, but its bringing me new life. So I am excited about it. Then we get Ron Capps in the final and the rest is history."
PRO STOCK WINNER GREG ANDERSON, KB RACING, SUMMIT RACING EQUIPMENT CHEVROLET CAMARO SS:
THIS MUST BE A SPECIAL DAY TO TIE BOB GLIDDEN FOR SECOND IN CAREER WINS?
"I looked to him for many years. I never dreamt of this day. Absolutely never even thought I could achieve anything like this. It's beyond dreaming for me. It will take a while to sink in. KB Racing is just bad to the bone. Everybody absolutely has closed the gap on us; they're getting tougher every weekend. We're finding a way to pick it up and be the fastest car on Sunday."
[adinserter name="GOOGLE AD"]