Brad Keselowski Scores First Daytona Victory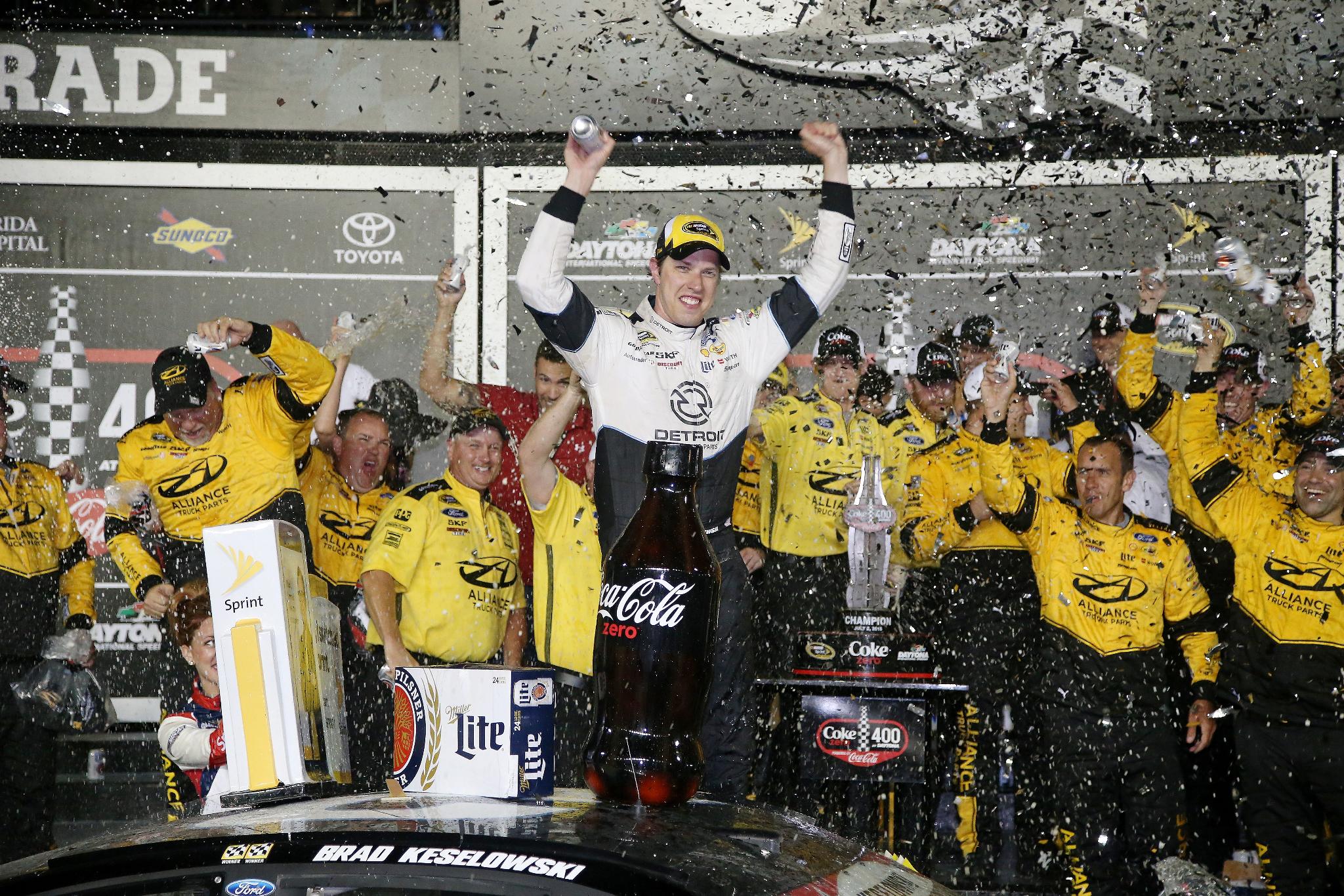 Brad Keselowski
Sean Gardner/NASCAR via Getty Images
Brad Keselowski racked up another restrictor-plate victory and added yet another milestone to his Sprint Cup career with his first-ever Daytona International Speedway victory in Saturday night's Coke Zero 400.
Keselowski led a race-high 115 laps including all three laps of a final, green-white-checkered finish to beat out Kyle Busch and Trevor Bayne for this third win of the season. Joey Logano and Ricky Stenhouse, Jr. rounded out the top five.
Saturday night's win was the 20th-career Sprint Cup victory for Keselowski and more than a quarter of them have come at restrictor-plate tracks – four at Talladega and now one at Daytona. It also marks the 100th Sprint Cup win for Team Penske, who are current celebrating their 50th anniversary.
"There's a lot of numbers. Let me see if I can get them all right," Keselowski said following the race. "This is my 250th start, year 50 for Team Penske, 100th Cup win for Team Penske, my 20th win, and we finished first. I like that number the best. But really happy and proud for our team to be in victory lane tonight. It was a good effort for us for sure.
"Not being able to win here has been a kick in the you-know-what. I got down on myself here. We came down here for the 500 and quite honestly we ran like dog crap, but my team worked on it. I didn't give up on them. I don't care if it's not the 500. It's Daytona. This is huge. I love this place and here we are in Victory Lane."
Keselowski credited his victory to a timely assist from his Team Penske teammate and defending Daytona 500 winner Joey Logano, who restarted third behind Keselowski for the final three-lap shootout.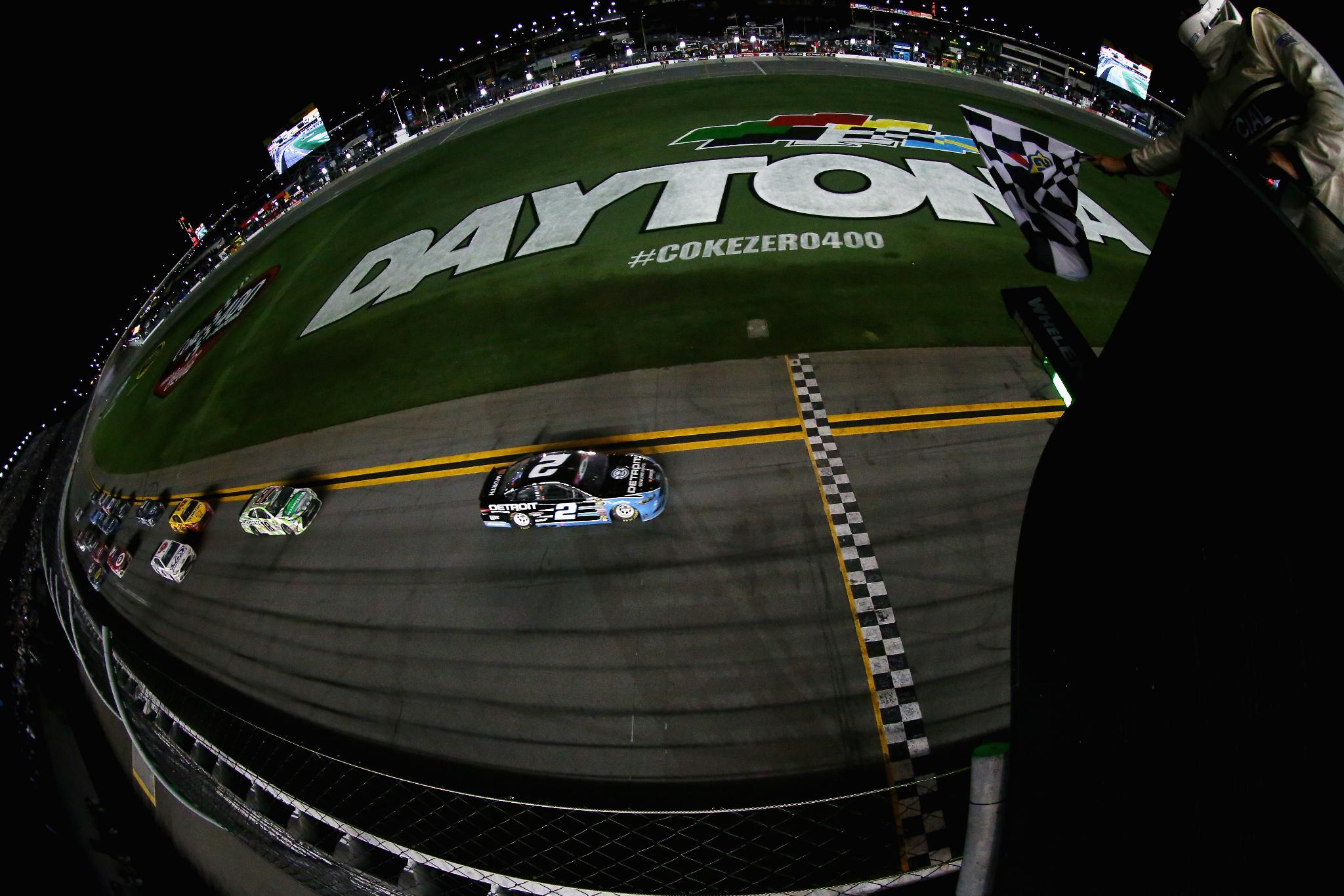 Brad Keselowski (2) beats out Kyle Busch (18) to the finish at Daytona
Sarah Crabill/NASCAR via Getty Images
"Joey was a huge part of this today," said Keselowski. "We had two great cars here with Team Penske and worked together really well. Joey has won here and he's really a pro, especially on that restart. He gave me that push I need to get to the front and here we are at Daytona in Victory Lane."
Saturday night's race was relatively incident free for much of the first half of the race before "The Big One" broke out on lap 91. The sheet-metal crunching wreck collected more than half the field – 22 cars – including Kevin Harvick, Jimmie Johnson and Regan Smith, all of whom were done for the night.
With a quarter of the field in the garage and even more running wounded on the racetrack, the stage was set for the two Penske drivers to prove they had the cars to beat, with Logano taking the lead on the restart before Keselowski pulled ahead on lap 105 to re-gain the lead.
For the next 40 laps, Keselowski duked it out with Kyle Busch for the top spot – trading the lead five times before Keselowski out his no. 2 Ford Fusion out in front for good on lap 145.
With just four laps to go, the caution waved for the fifth and final time for a crash involving Carl Edwards and Bobby Labonte, setting up a three-lap shootout to the finish.
Keselowski restarted on the outside of Kurt Busch and got a huge push from Logano to power ahead of Kurt Busch and his brother Kyle, who were working together on the inside line. Logano would get shuffled to the high side and out of line, ending up three wide for third place with Kyle Larson and Kyle Busch.
As the field came to the white flag, the first four were nose to tail before breaking out into tandems with Kyle Busch and Bayne working the high side and Kurt Busch and Logano down low.
Coming out of turn four on the final lap, Kurt Busch spun off the bumper of Logano, sending Kurt sliding through the infield grass as Kyle tried to make a run at Keselowski, but came up about two car-lengths short.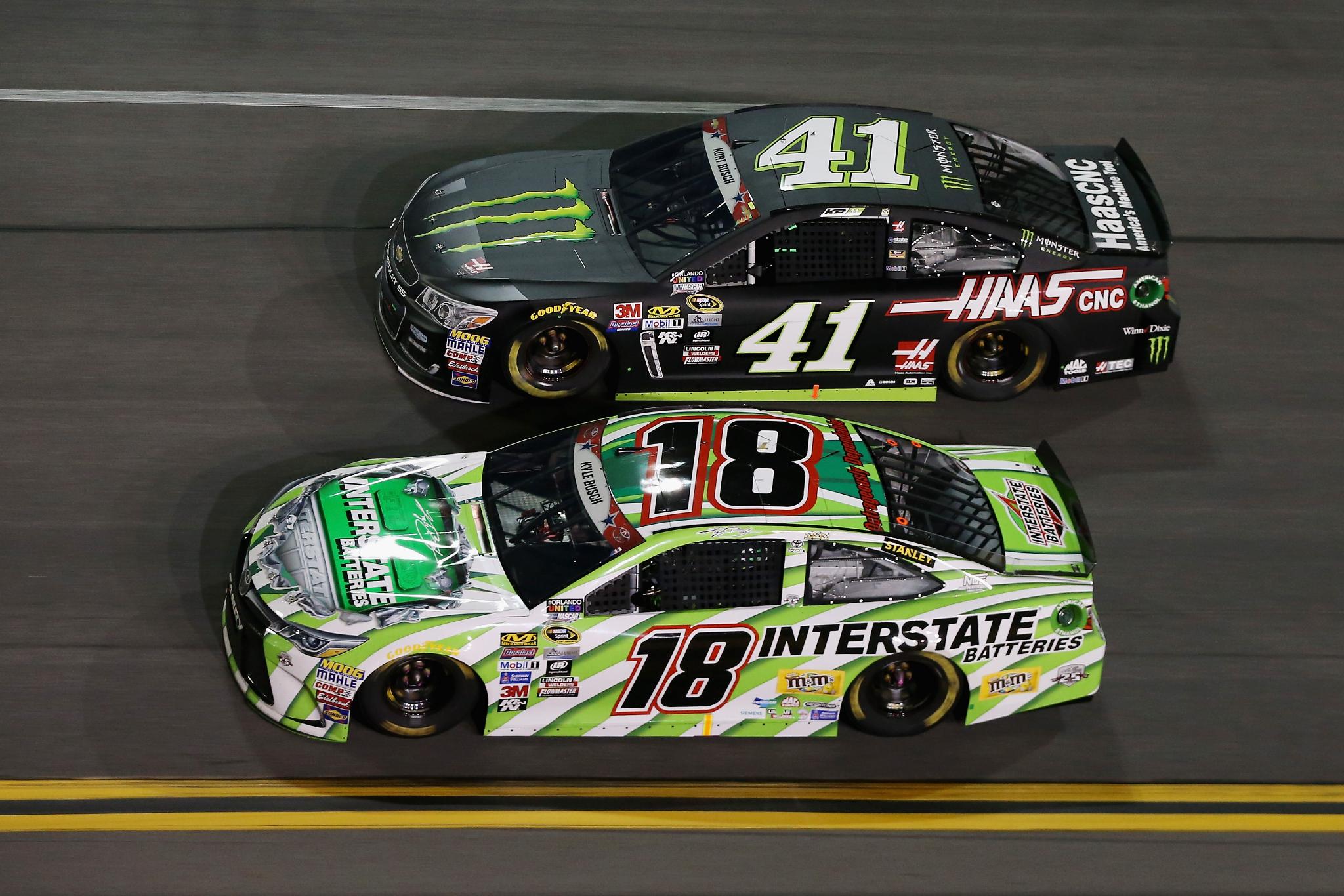 Kyle Busch (18) spent much of the final laps battling his brother Kurt Busch (41)
Sean Gardner/NASCAR via Getty Images
Kyle Busch had to come from the back to the front after starting the race in a backup car following a crash in practice on Friday, and ended with his second runner-up finish to Keselowski this season, having finished second at Talladega back in April.
"It was a tough night but, man, you had to have a whole lot of help to get by that 2 (Brad Keselowski) car. He was just so strong today. Strong at Talladega too, we finished second to him there," said Kyle Busch. "There was just so much going on and there wasn't enough of a run that I could get in order to get enough alongside of him or pin him down or pin him up – whichever way it might have been. He could make his car really, really wide and hold us off.
"I can't say enough about this Interstate Batteries team from where we came from a couple days ago and where we're at and finishing second. It feels good to get that finish like that."
Trevor Bayne's third place finish was his second top-five of the season and his best since his victory in the Daytona 500 back in 2011.
I owe the guys behind me that were pushing me. I had a lot of help," said Bayne. "We weren't able to continue pushing there down the front stretch. But to have a topâ€'three finish today, it's really a great day for us."
Kyle Larson crossed the finish line in sixth place, followed by Austin Dillon, Greg Biffle, Clint Bowyer and Michael McDowell.
Harvick was credited with a 39th-place finish but still retains the points lead by 14 points over Keselowski, who moved up two spots in the standings. Kurt Busch, Logano ad Edwards make up the rest of the top five in points.
Race Results
| | | | | | | | | |
| --- | --- | --- | --- | --- | --- | --- | --- | --- |
| Pos. | # | Driver | Make | Start | Laps | Led | Status | Points |
| 1 | 2 | Brad Keselowski | Ford | 5 | 161 | 115 | Running | 45 |
| 2 | 18 | Kyle Busch | Toyota | 3 | 161 | 16 | Running | 40 |
| 3 | 6 | Trevor Bayne | Ford | 13 | 161 | 0 | Running | 38 |
| 4 | 22 | Joey Logano | Ford | 11 | 161 | 6 | Running | 38 |
| 5 | 17 | Ricky Stenhouse Jr | Ford | 4 | 161 | 0 | Running | 36 |
| 6 | 42 | Kyle Larson | Chevy | 17 | 161 | 0 | Running | 35 |
| 7 | 3 | Austin Dillon | Chevy | 6 | 161 | 0 | Running | 34 |
| 8 | 16 | Greg Biffle | Ford | 1 | 161 | 1 | Running | 34 |
| 9 | 15 | Clint Bowyer | Chevy | 31 | 161 | 1 | Running | 33 |
| 10 | 95 | Michael McDowell | Chevy | 37 | 161 | 0 | Running | 31 |
| 11 | 98 | Cole Whitt | Toyota | 35 | 161 | 0 | Running | 30 |
| 12 | 13 | Casey Mears | Chevy | 20 | 161 | 2 | Running | 30 |
| 13 | 47 | AJ Allmendinger | Chevy | 26 | 161 | 0 | Running | 28 |
| 14 | 21 | Ryan Blaney | Ford | 12 | 161 | 0 | Running | 27 |
| 15 | 43 | Aric Almirola | Ford | 14 | 161 | 0 | Running | 26 |
| 16 | 23 | David Ragan | Toyota | 38 | 161 | 1 | Running | 26 |
| 17 | 11 | Denny Hamlin | Toyota | 9 | 161 | 7 | Running | 25 |
| 18 | 31 | Ryan Newman | Chevy | 23 | 161 | 0 | Running | 23 |
| 19 | 35 | David Gilliland | Ford | 28 | 161 | 0 | Running | 22 |
| 20 | 46 | Michael Annett | Chevy | 33 | 161 | 0 | Running | 21 |
| 21 | 88 | Dale Earnhardt Jr | Chevy | 16 | 161 | 0 | Running | 20 |
| 22 | 55 | Reed Sorenson | Toyota | 39 | 161 | 0 | Running | 19 |
| 23 | 41 | Kurt Busch | Chevy | 10 | 161 | 0 | Running | 18 |
| 24 | 32 | Bobby Labonte | Ford | 32 | 160 | 0 | Running | 17 |
| 25 | 19 | Carl Edwards | Toyota | 2 | 155 | 8 | Accident | 17 |
| 26 | 14 | Tony Stewart | Chevy | 19 | 148 | 1 | Accident | 16 |
| 27 | 10 | Danica Patrick | Chevy | 22 | 130 | 0 | Running | 14 |
| 28 | 20 | Matt Kenseth | Toyota | 7 | 127 | 0 | Running | 13 |
| 29 | 78 | Martin Truex Jr | Toyota | 15 | 127 | 1 | Running | 13 |
| 30 | 5 | Kasey Kahne | Chevy | 18 | 122 | 0 | Running | 11 |
| 31 | 38 | Landon Cassill | Ford | 34 | 119 | 0 | Running | 10 |
| 32 | 24 | Chase Elliott | Chevy | 24 | 113 | 0 | Running | 9 |
| 33 | 83 | Matt DiBenedetto | Toyota | 36 | 108 | 0 | Running | 8 |
| 34 | 1 | Jamie McMurray | Chevy | 29 | 91 | 0 | Accident | 7 |
| 35 | 48 | Jimmie Johnson | Chevy | 8 | 89 | 0 | Accident | 6 |
| 36 | 27 | Paul Menard | Chevy | 27 | 89 | 0 | Accident | 5 |
| 37 | 44 | Brian Scott | Ford | 30 | 89 | 0 | Accident | 4 |
| 38 | 7 | Regan Smith | Chevy | 40 | 89 | 1 | Accident | 4 |
| 39 | 4 | Kevin Harvick | Chevy | 21 | 89 | 1 | Accident | 3 |
| 40 | 34 | Chris Buescher | Ford | 25 | 89 | 0 | Accident | 1 |
[adinserter name="GOOGLE AD"]