NASCAR Post-Race Press Conference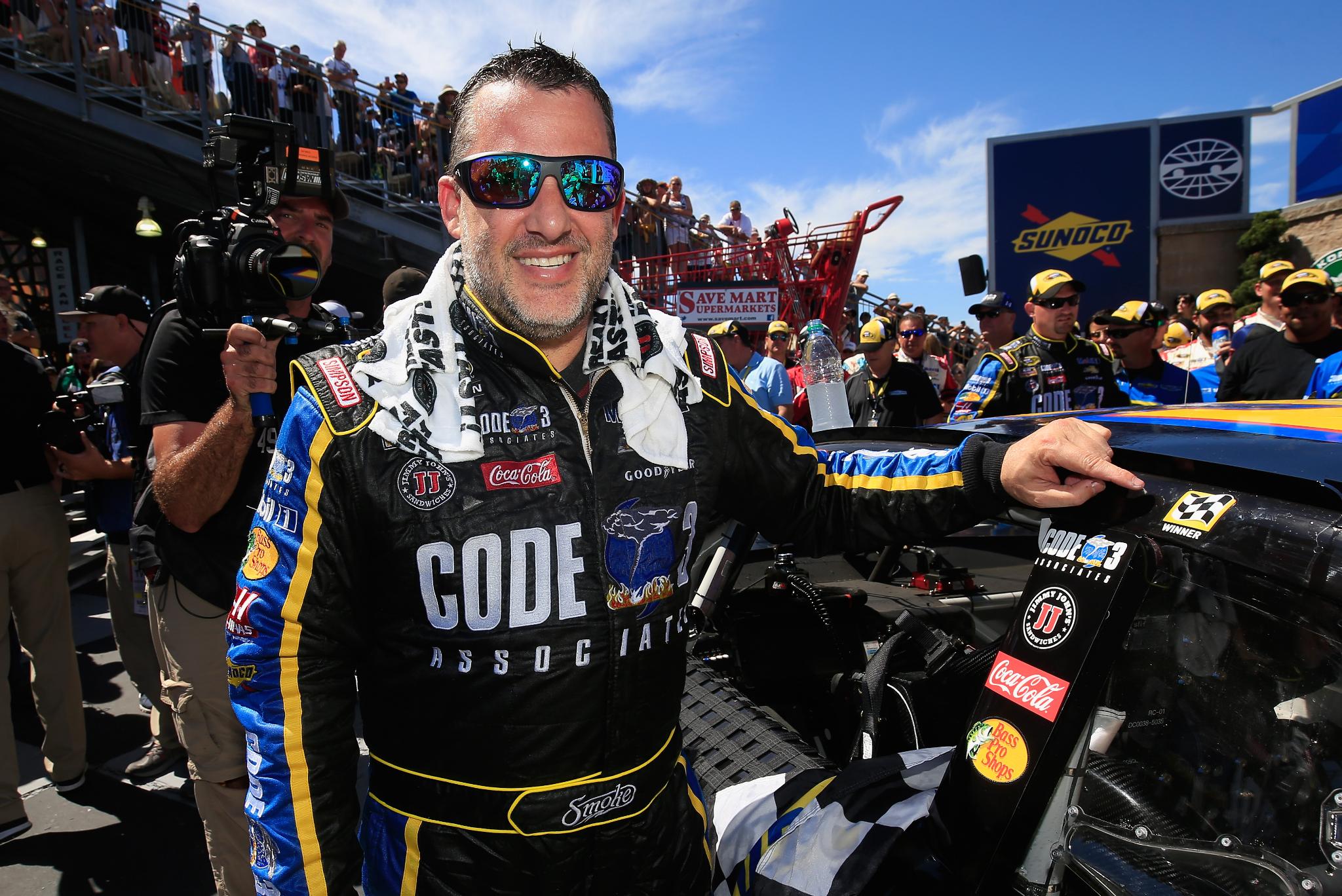 Tony Stewart adds a winner's decal to his no. 14 Chevrolet
Chris Trotman/NASCAR via Getty Images
Participants:
Tony Stewart (Driver & Team Co-Owner)
Mike Bugarewicz (Crew Chief)
Gene Haas (Team Co-Owner)
THE MODERATOR: We're joined in the Sonoma raceway media center by Tony Stewart driver of the No. 14 Code 3 Associates Mobil 1 Chevrolet. We will start by opening it up to the media. Questions, please.
Q. Tony, that last lap, could you just talk us through that, what that was like for you?
TONY STEWART: Well, I'll go back a lap before because I think that set up the last lap, to be honest. When I went down in 7 the second-to-last lap, I wheel hopped it pretty big and Denny got right to us there. We held him off through the rest of the lap and the first half of the last lap, and then he was really close to us off of 4, enough that I knew I couldn't help but cheat the corner. I gave him the whole outside. If he wanted to go around me on the outside, I was going to give him all the room he wanted but I wasn't going to give him the inside. But I went down and wheel hopped it again, and he saw it from the lap before and he knew he needed to take advantage of that. I assume he did. He got us there. But when he went by us, that was probably the one thing I was most proud of is I didn't panic and jump in the gas and spin the tires real hard trying to stay with him and just trying to get off the corner like I had and just tried to stay with him through the corner there and get through 10 and thought maybe we could stay close enough that we could have a shot back at him.
When he went into 11 I was probably more surprised than anybody. I couldn't believe – as good as he was braking into 11 all day, I couldn't believe he missed the corner. They said he wheel hopped it, but I was shocked that the door was open like that. You can't crack the door open with me on the last corner of the last lap and expect me to not take it. I'll kick the door in or drive a bulldozer through it to keep it open. When you're in a scenario like that, I don't know if I'm going to get another scenario or opportunity to win another race the rest of the year. We're going to try, but knowing that that could be the difference between making the Chase or not making the Chase, I wasn't going to be cordial in the exit of the corner and I roughed him up pretty good. If it has been a street fight, he'd have had two black eyes after that. I used him up pretty hard. Probably one of the best parts and one of the parts I'll probably remember most about this race was before I got to victory lane and Denny leaning in there and the first thing he says is I'm so damned proud of you. That meant the world to me. I mean, I told him right after that, and I said, you know I had to do that, and he goes, I know.
So that just shows what kind of guys we're racing with and the respect we all have for each other. You know what's on the line, you know what's at stake, and you know especially at a place like this when it comes down to Turn 11, that's where all the action is anyway. I couldn't believe how clean a race it was. Where is that race been for the last eight years we've been coming here? Normally you get guys driving through each other and over each other and running each other off the road and everything. We just didn't see a lot of that today.
[adinserter name="GOOGLE AD"] Even if we finished 16th or 17th where we were running before, when Mike made the call to come in on the pit stop, I had fun all day, and that was our goal. We struggled all day on Friday and all four of our cars kind of fought the same problem, and I still don't know what it is, but we still fought it. Felt like the first two runs of the day we were respectable, and then it seemed like guys got better, and I couldn't match the pace anymore and the harder I ran it the more I made my problem worse.
It was a matter of – I think Mike and I either way thought 17th was – that's just kind of where we were and that's kind of where we were speed-wise, I think, at that time. But it was like, you know, we had talked about four different scenarios before the race and not knowing how much tires were going to fall off, and that's the thing – I've had some awesome crew chiefs, but that's something I'm really proud of, that Mike, he will sit there the night before the race, he won't go out, he won't go with me to dirt races and he won't go play when we took crew guys to Six Flags last night and he stayed home and did homework. We all waved out the window and said bye to him and stopped, hey, you forgot to give us money for the amusement park. He pointed at me and said I was pointing at the wrong guy.
But he stayed and did his homework, and that's what I'm really proud of him at how he does that. He's so detail oriented on that, and all my crew chiefs have been, but they all have their own different style, and that's something about Mike that I really respect and appreciate.
I got in this morning, and best thing for me to do the night before the race is forget about the race and just go have fun with my guys, and that's what I did. Then we got here this morning, we talked about literally four different scenarios for how we could run the race, and we knew – kind of figured by lap 15 of the first stint kind of have a direction which one of those four avenues we were going to go. We were kind of in the middle of two of them, and then we got kind of shuffled back, and it seemed like when I could run my own pace and run the track the way I want to run it, I can run respectable, but then when restarts and we got kind of jumbled up in the middle there a couple times, and then you've got to fight and you've got to claw and scratch and everything else to get positions there.
I got fighting with Denny – not Denny but Brad Keselowski and Newman, and that's two guys that'll make you earn everything you get. I drove like an idiot because I told them on the radio, I told them, I'm driving like an A-hole out here, and I was. I was overdriving my car. I was trying to do everything I could to get as much position early in the run as I could so I could try to run my pace and try to do the things to help save my tires, but I couldn't keep the pace doing it, and I wasn't going to leave anything on the table.
Like I said, Mike was the one that made that call, and then for the caution to come out on our out lap, it was a perfect scenario for us and gave us the opportunity.
But I still didn't even feel like we had a shot then. I thought, well, we might be able to hang on to a top 10 out of this, and that was going to be pretty respectable, I thought. The great thing was after the restart there, Denny was behind us right away, and then first couple laps we kind of had a nice little margin, and just kind of held it. And then Truex got by him, and that gave us a little bit of ground back, and vice versa, whoever it was. That gave me the chance to run the track the way I wanted, and that's where I make speed if I can do it the way I like to do it and know to do it, and I was able to take care of it.
When Denny got back ahead of Martin, the laps were winding down and he's gaining ground in a hurry. It's use everything you've got. If I left anything on the table and ran second and felt like I left anything out there, I was going to be a miserable A-hole the rest of the ride home, too. I would have got it on both ends.
I was vulnerable in 7. I needed to be able to adjust my brakes for 7 and then make a different adjustment on my brakes for Turn 11. To reach off the steering wheel and make an adjustment sometimes is a distraction, and I felt like I could manage it, and when I made that mistake coming to the white, that's what set that whole last lap up.
Did I get everything? (Laughter.) I think I talked about everything but what I had for breakfast this morning.
Q. You went three wide, you didn't get pissed off at anybody in the race, and you just said the F word. Is this what fun is for you?
TONY STEWART: Which F word did I say?
Q. You said fun.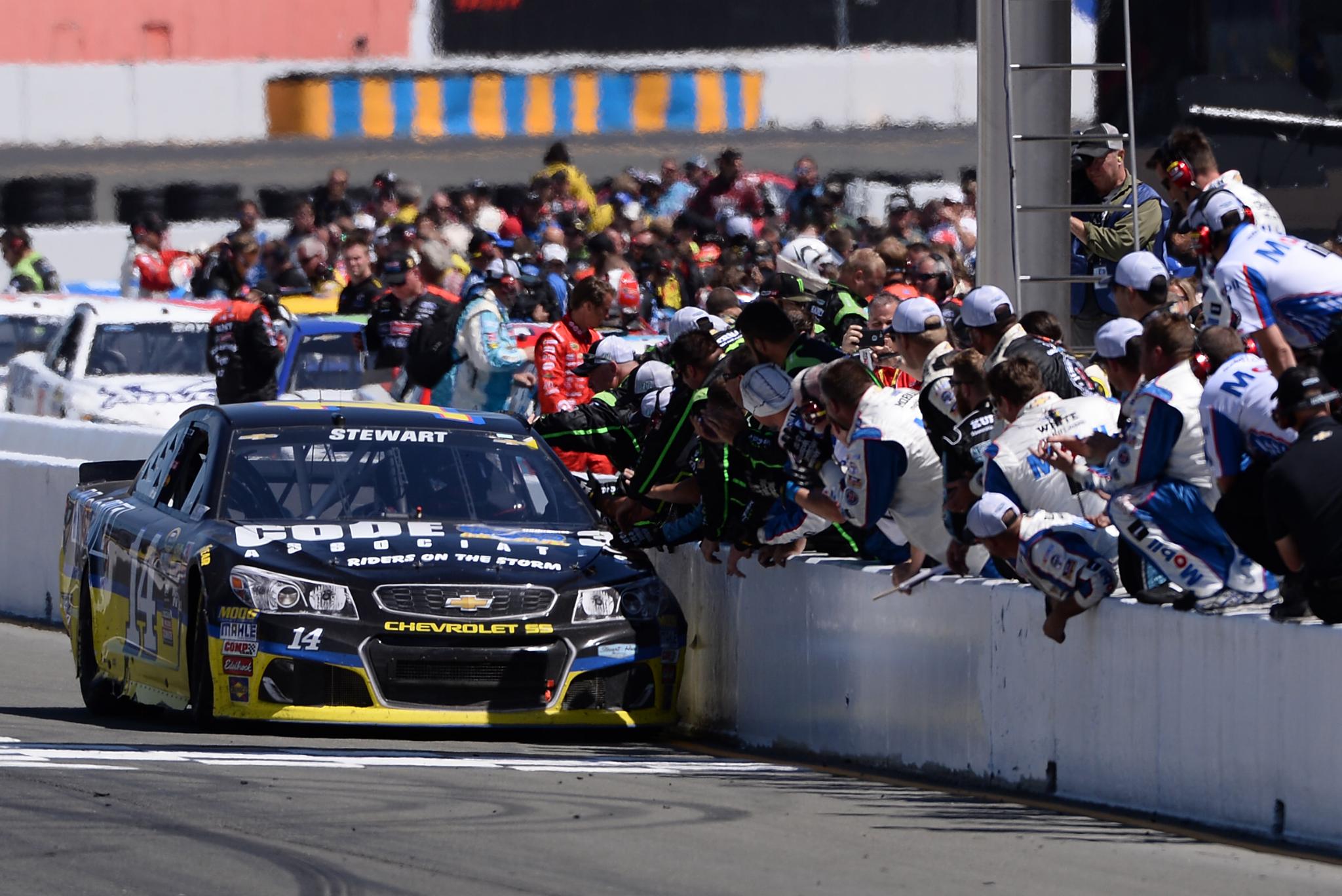 Stewart celebrates with his crew after winning the Toyota/Save Mart 350
Blaine Ohigashi/Getty Images
TONY STEWART: I'm like, man, I almost made it through the whole day without getting fined. I will say this, I can't wait for Tuesday because I told Mike Helton I've been waiting for this day for a long time to see how much you get fined for a fight. He laughed at me. I said, well, look at it this way, I've got a lot of scores to settle with people and I've only got six months to do it. I've just got to figure out if it's economically feasible to do it, so I'm waiting to see what – I'll be the one by 5:00 on Tuesday reading every social media thing out there. But I'm going to go to Zaxby's and eat chicken all week just in support of John Wes. Hey, I'm all for it. I'm glad to see somebody had some emotion and actually did something with it. I'm going to live my life through him for this week. At least I did last night. We all went to the amusement park and we went to a restaurant and they had it on the TV and we all got up from the table and walked over to the bar area and we finally pressured everybody at the bar to turn one of the TVs on where we could watch it. That made my whole day last night was watching the truck race. I was ecstatic to see one of our buddies Christopher Bell and I was checking on my buddy Rico and had no idea that John Wes Townley was going to make my top 5 hero list of all time. I'm following him on social media now. (Laughter.)
Did I even answer your question?
Q. Was this fun?
TONY STEWART: Yeah, it was great. I sat there and I took the checkered flag and Buga's telling me how great everything was and I'm looking in the mirror. I'm thinking I'm about to get destroyed by Denny, so when he waved on the way by, I'm look, all right, I can take a break. So yes, we're having fun now.
Q. We've heard you here before talk about how much you hate blocking and get annoyed when drivers do that. You spent the last 22 laps in the lead. What was your approach during that time, and what's acceptable and what's not for the leader in that situation?
TONY STEWART: Well, especially when it came to Denny, lap 5 he blocked me. I thought, well, okay, it's a little early. But I'm in a little different scenario than the rest of these guys. I mean, this was my last chance, and I still don't like it. The thing I was doing was when I came off the corner I went to that line right away and I made my intentions known that I was going to the inside on the entry of the corner. I gave him the outside. The ones you don't like is when you make a move and a guy makes a move and tries to run you down even further.
You know, I don't know. I'm confused myself on when it started being acceptable. I start seeing it on – listening to sports car races on TV and they're talking about defending their position, and I always thought defending your position was getting off the corner fast enough to not give the guy an opportunity to do something. But I'm not a big fan of it, but I've got two road course races left in my career, and if I've got to play ball like they play ball to do it, I'm going to do it.
Especially last five laps, you know, this may be our only opportunity to get in the Chase, to get a win this year. I believe in etiquette and I believe in racing guys the way that I want to be raced, and that's not the way I like to race those guys, but Denny knew what was at stake for us and what the opportunity for us was. Most of those guys did. I thought it was a great race. Like I said, we didn't see guys shoving each other off the racetrack. It was good racing all day.
[adinserter name="GOOGLE AD"] I followed guys that blocked, but I didn't see anything that – normally by the time you leave here you're so mad at everybody, and all I do, I go back and I sit in the transporter and take a shower in there and sit for a half hour because I don't want to see them at the helicopter pad because I'm so mad at a dozen guys, and I'm like, I can't whip them all at once. I can take them one at a time. There's a couple of them I might be able to take at the same time. Not a lot of them like that. You can pick which ones they are. You're pretty savvy on that. It's not exactly the way you want to do it by any means, but still, I didn't see what was going on behind us and didn't get to see any of that all day, but we had a debris caution was the first caution. We never get a debris caution here. Normally we have five cautions in the last 10, 15 laps. We had one, and it was for a car that was stopped off the side. It wasn't even for a wreck. I would say it was probably a pretty good race. Pretty clean race from that standpoint.
What was Bowyer's deal? Glad he got out of that. It would be really hard to listen to him next year. He's hard enough to hear on the radio as it is because he's ADD anyway. It takes five people, and it's like, every breath somebody picks a different part of the sentence to understand. It's like a game show. It's like Clint Bowyer for 600, please. (Laughter.)
Q. Harvick said this maybe gives you a little bit of closure for three years of frustration and your dad said that no matter kind of what happens the rest of the year, it's now a good year. I'm kind of curious how you feel, what you feel this win means in your final season.
TONY STEWART: You know, somebody else asked because I was thinking more of my guys than me. I'm excited for Mike to get his first win and proud that I could get him a win before the end of the year. Excited for this team. My guys have been through this whole disastrous roller coaster the last three or four years and never backed down. They've never quit on me. There's days I've quit on myself and they're the guys that send you text messages and call you when you get home like hey, this isn't over. I'm proud for them, and it meant more for me to get it for them than for myself.
I guess the one thing that I did think about is in this day of social media where everybody is a cricket, a lot of people are crickets. On social media, they sit there and chirp, chirp, chirp, chirp until they've got to be in front of you and then they don't say a damned word, and listening to people say I'm old and washed up, I know how old I am, I know I haven't ran good for the last three years, but I've felt like if we got things right that it was still there, and like I was telling Don Hawk after the race, we had a restart with 14 laps to go on an 11-turn track and I missed three corners. I don't know how many corners that is, doing the math, but it's, what, 160 corners, 150 some odd corners and I screwed up three of them, and the rest of the time I felt like I was the Tony Stewart that has won here and led laps here in the past.
I don't feel like I have to prove anything to myself. I'm happy doing what I'm doing. I'm still happy about my decision to make the change I'm making next year, but after Jeff set the bar pretty high last year winning a race in the clutch to get to the last race at Homestead, just to be able to be in the Chase, if we can make it – I mean, we're still not out of the woods yet. We've still got work to do, and Daytona next week can be – we're nine out right now. We can be 39 out by the time we leave Daytona, so there's a lot that can happen still. But I'm proud of where we are. For two guys, for a brand new crew chief and driver combination, didn't get a chance to work with each other until the ninth or tenth race, I feel like we're gaining ground here, and I'm proud of those guys. I'm really proud of what they're doing.
Q. And you're happy racing the Sprint Cup car?
TONY STEWART: Today. Check with me. Most likely when Daytona starts on Friday, not so much. We all know how I feel about restrictor plate racing.
Q. You were talking earlier about – I'm going to use the word grit that you and Jeff Gordon have, and with you all exiting the racing, what do you see ahead for NASCAR racing?
TONY STEWART: You see Ryan Blaney and Chase Elliott, there's two guys right there that are filling seats that got this under control. Brian France, I got in trouble – well, I started to say I got in trouble once with Brian France. That's a lie. I got in trouble a lot with Brian France, but I got in trouble enough one day that I got invited to fly down to Daytona Beach, Florida, and go to his office where I sat in the lobby for 30 minutes waiting on him and then I was only in there for 10 minutes and then I got to drive back and fly home.
But I remember him telling me, and I'm only saying this because it's the truth, he was right, and it was something that resonated. He was like, you're not bigger than the sport. You're a star in the sport, but there were stars before you and there's stars coming after you. With Jeff and I leaving, Chase Elliott is going to win a championship, and if the Wood Brothers keep going the way they are, Ryan Blaney is going to win a lot of races, too, and potentially win championships. There's plenty of stock coming along that's got the opportunity to have fantastic finishes and make big names for themselves and 10 years down the road Gordon and I will be like – the new people watching the sport are going to be, who are these old guys? I'm going to go this is the guy who took me to the sand dunes and broke my back. He'll probably do it again. But we'll have fun. The sport is healthy, trust me. There's plenty of good drivers.
I'm meeting new drivers every day that are in the wings that are running K&N cars. The hard part for us is you used to read about them in the paper because they were winning a late model race here or there. These are 16-year-old kids that just got out of – they're not even out of high school so it's hard to know who they are. I didn't know who William Byron was and the kid wins a truck race. I'm like, how did that happen. Then he won another one. There's plenty of talent that's coming along. They won't miss us in about 10 years.
Q. Hamlin said on Thursday that when you guys were in a similar situation at Watkins Glen he was afraid to knock you out of the way because you would have kicked his ass afterwards.
TONY STEWART: He was right. (Laughter.) See, if you do a good enough job and get that engrained in their head, that is a powerful tool in a race. Smart. That's strategy. Go ahead.
Q. You think there's been that fear factor that screw with me and –
TONY STEWART: No. No. Especially somebody like Denny. We were teammates, and when he – I said in my head when I felt him nudge me in 7, I'm like, well done, because he didn't just knock me off the racetrack or anything. He saw what happened the lap before, and then when I got down there again, I got myself in that same position and he took advantage of it. He could have been a lot rougher with it, he could have knocked me off the track, he could have spun me, whatever, and won the race. You know, he went on, and I went on. Like I said, you don't see him make mistakes like that very often, but he made a mistake and gave me the opportunity.
I'm not sure I could have got to him. I'm not sure he had enough of a gap that I'm not sure I could have got to him and roughed him up any other way. But when he missed the corner, it gave me a big opportunity to get there, the gap that I needed was available to get the rest of the way. But no, I mean, we respect each other a lot.
[adinserter name="GOOGLE AD"] 90 percent of the guys in the field I have a ton of respect for, and there's five, six percent of them that I'd knocked them over the grandstands if that's what it took to win a race. I wouldn't have cared. But Denny is not one of those guys. Denny is one I really respect. In 2011, the year we won the championship, the race at Martinsville that we won, I was racing him really hard to stay on the lead lap and he cut me a break a couple times, and that was key. That was what helped us win the championship and give us the points that we needed. We've got a lot of respect for each other. I sat there as soon as they threw the checkered, I didn't slow down right away because I'm like, the faster I go, the less of a running start he's going to have to plow into me. But he pulled up, he saw me and thumbs up, and I'm like, great, I didn't want to have to fight today.
Q. You brought up 2011. Do you feel like you or your team is in a position where you could catch fire the way you did that magical season and go into the Chase and just balls out until the end?
TONY STEWART: I like the way you put it. (Laughter.) I'm going to be that way when I get home tonight but nobody is going to know because I'm going to be by myself in the house, which is great. I'm going to go with the same approach we had before. I told them, I think we're gaining on it. I think it's a scenario where you crawl before the walk, you walk before you jog, jog before you run, run before you sprint. It's phases that we're going through. I felt like Michigan and Pocono we got jogging, and we're getting closer to being where we need to be. We're not there yet, but we've still got time to get there, and we've gained a bunch of ground in a short amount of time, and if we can keep making that ground and keep getting better, who knows.
I mean, you know how I am. I sat there the whole media day in '11 and said, I'm wasting my time and all your time being here because I'm not going to be a factor in this thing, and then we went out and won the first two races and won five of them. I'm not that smart, obviously, so don't ask me, I don't know. We'll see. We've got to get there first, though. Daytona is going to be a big hurdle. As much as you want to go win that thing, it's crisis management more than anything, I think, because I think if we can get through that, I feel like our performance is good enough to get us the rest of the way there. We've just got to take care of ourselves to get through there.
Q. When you were recovering and getting ready to come back, a lot of people, a lot of fans were trying to – wanted to convince you to put off your retirement for a year and you were adamant that this was it and we're going to continue on with that. When you came back to the actual track for the first time, did you come with any expectations or any idea what might be possible this season, and did you even think that something like today would be possible?
TONY STEWART: You really don't know. That's the hard thing. I'm starting the season with a new crew chief that I hadn't worked with. I think the best thing that happened was doing – going against doctor's orders. They wanted me to stay at home, and going to the track and being on the pit box and having a radio on and listening to him communicate, I think it made it easier for me to learn him, but he didn't get a chance to learn me.
To know – the way we were hoping the season would start obviously was totally derailed, and you really don't know what to expect out of it. But it's a learning process with him. Like I say, I think he's doing a great job. I mean, he takes an approach I've never seen anybody else do, and he studies – I can't remember what race it was. We flew out together maybe to California or Phoenix or something, and he was watching the entire race and writing notes down off of the previous race there.
You know, I don't know that I really had any expectations. It's hard to know until you can get out there and get a baseline. Once you get a baseline, then you can kind of say this is what I expect for the year, but I said after Michigan, I'm like, we're starting to gain momentum here. Pocono we were gaining momentum, I just got buried on a restart there, and I lost it. Plain and simple, I just lost it.
But the car was pretty good. I felt like we gained ground there, and then we went and gained and built off of that at Michigan and gained even more ground. So I feel like we're going the right direction, we've just got to keep clawing at it.
Q. After today's win, is it possible to say where this ranks in comparison to your other Sprint Cup victories if possible?
TONY STEWART: Definitely exciting for sure. I don't know, Jim or somebody, you guys would probably have to help me out, I don't know that it's really came down to a last corner pass for us here among the wins that we had at this track. I don't think it has. But especially in your last year, I mean, that means a lot. And this has always been one of my favorite tracks, but I've always told people, this is one of those tracks that it's either you leave here happy or you leave here so mad you can't see straight, and normally the restarts and the chaos on the restarts make you mad. We didn't have that today.
I told him – he asked me before the restart, he goes, are you having fun? I said, yeah, I'm not even mad at anybody yet, and that's pretty amazing to be within 15 laps of the finish and I'm not mad at anybody. I was at least hopeful that that was going to continue, I just didn't know that we were going to have a chance to win the race with it.
Q. I was in your pits for the final few laps, and when you won, it was a very emotional moment for a lot of people in the pits. It really tugged on some hearts. You seemed to be very matter of fact and business about it right now, but how emotional is it for you to get this done?
TONY STEWART: With about eight to go was the first time I thought, hey, we might actually have a shot to hold onto this, and I actually got a little bit emotional thinking about it while I was driving. But you stay so focused and you have to. That was when they got racing each other and there was a bit of a gap and I had a little bit of a breather there to kind of think that once Denny got closing in, it was back to business. You didn't have time to think about wine and flowers and ponies and all that stuff. I had to get back to business. But it was nice.
I got the flag at the flag stand, and I thought, well I'll turn and come back down pit road backwards. And then I was like, this is my last time here. I want to go one more lap, and I went one more lap. I didn't just drive the lap, I drove up there and where the crowd was, I did burnouts and revved the motor onto the chip. I'm sure Hendrick is going to love that.
But it just was fun to say, hey, thanks. This place has meant a lot to me. It's nice to – if I don't win another one, it's cool to win the last one here. If it doesn't happen again, it's cool. I'll be all right if this is the last place I win one. I'm going for more, just for the record. I see pens going crazy. I'm not saying I'm laying down, I'm saying if that's the only one I get this year, then I'll be content. But I don't think – I think you've known me long enough, you guys know that I don't lay down for anything. All you've got to do is just give me that little bit of hope, and I'll run with it.
THE MODERATOR: Tony, thanks for coming in.
THE MODERATOR: We have car owner Gene Haas with us. He's car owner with the No. 14 Code 3 Associates Mobil 1 Chevrolet at Stewart-Haas Racing, and Gene, congratulations. I know you've had a lot of wins in your storied racing career, but this has to be one that ranks right up there with Tony Stewart, winning here at Sonoma. Talk about the thrill of this victory here today.
GENE HAAS: Well, you know, I think when that last caution came out, I know that pit strategy was to come in a few laps earlier because there's always a caution somewhere in the last 20 or 30 laps. They were saying, well – I think he was ranked 22nd at the time, and it was like, well, we're not going to do anything back here, so it was – when I heard them discussing that strategy, it was kind of like Tony was saying, well, what do we got to lose here. Might as well go for it. So they said, okay, we'll pit this lap, and I think that was with like 25 laps to go.
So they came in, they got tires, and then immediately I think within a lap, the caution came out. So that left – Tony was going to be up front when everybody else came in to get their tires, and his tires only had like two laps on them. Those are the kind of strategies that you just can't make happen. You just have to be lucky. So the luck was on our side today, and that put Tony out front. Once the caution was over, I think we restarted with – around 22 laps to go. 22 laps is a long time here at Sonoma. We know that. The tires wear out after about 10 laps, you're off a second and a half on the laps. So anything can happen.
[adinserter name="GOOGLE AD"] Watching the restart, Tony got away. He was getting a little bit of a lead there. But right behind him was the 78 car, and behind him was the 11 and the 18 and so on and so forth. You know the cars in back are going to try to catch Tony, so what they ended up doing was they ended up overdriving a little bit because that's what you have to do. So you wind up burning up your tires a little bit, and I think Tony knows that so he's going to drive as hard as he can do to that. So a little bit of strategy there I think on Tony's part to know he has to maintain that lead and also make the competitors behind him use up their tires trying to catch him. If you watch him carefully, you could see how he goes into the turns, kind of gives them a little bit of room and then moves out in front of them and basically makes them use up their tires, and that really worked well.
Then he started to pull ahead. With about 10 laps to go, I started thinking that now everybody's tires are dropping off, the drivers behind him, their tires are a little bit used up, so now he has a better chance of pulling ahead.
But like anything else, his tires were like three laps older, so here we come, we're getting down to the last five laps or so, then they start to catch him. So now all of a sudden the worry goes to how much better are their tires than Tony's tires.
I think as you saw the race unwind, Tony basically, he was running out of tires. Denny Hamlin was a little bit better. Martin Truex had burned up his tires. And I think obviously Denny Hamlin and Tony Stewart are great drivers. They drove it hard in the last few turns, and Denny Hamlin came out ahead, but in true Tony Stewart fashion, he – you just know when he came into Turn 11 he wasn't going to use his brakes. Whatever was in front of him was going to either get punted off the track or run over or whatever. That was going to be his bumper stop.
But actually when you watched it, he did a great masterful job. He slid around, got on the inside. I think Denny overdrove it, a little bit of a mistake, and the result was that Tony won the race, which I think was an incredibly exciting race, and I think everybody at Stewart-Haas Racing is very proud of him. We have to thank that winning strategy of bringing Tony in with like 25 laps to go. That was probably the key today.
THE MODERATOR: Let's hear from our winning crew chief, and that's Mike Bugarewicz. Congratulations –
MIKE BUGAREWICZ: Thank you. I appreciate it.
THE MODERATOR: – on this win today. Maybe just talk about what Gene alluded to, to win a race like this sometimes you have to make some decisions, some gut decisions. Talk about your decision there as Gene mentioned to come in and pit a little earlier than everybody else, and then as the laps were going, what was racing through your mind before the final lap there?
MIKE BUGAREWICZ: Yeah, I mean, early in the race, we were running fairly well, and basically pitting according to the strategy we laid out the night before. We kind of lost some track position there on pit road, and it's tough to pass. People get strung out and it makes it difficult. As we were running there I noticed we weren't passing people. We were still going to be a lap short on fuel unless we saved, which we had that in our plan, but at the end of the day we weren't going to have an opportunity to win just doing what everybody else did, so we had to take a chance here and pit early in hopes that we would get a caution, and we heard NASCAR talking about the debris a little bit, so you know, at that point it's about winning this year, especially for us in the situation we're in. We had to take a chance, and it could have worked out not in favor of us, and we could have lost points today. But instead it worked out, and I'm thankful for that.
Q. Did you have an opportunity to ask him if he's having fun now, because it has not been a lot of fun for Tony the last couple years. If both of you can kind of address that; how do you make it fun for him for the remaining time that he has left, because clearly it's not as fun as it once was for Stewart.
MIKE BUGAREWICZ: I did not remember to ask him that, I just assumed by the look of his face that he was enjoying it. One thing I will say, no matter what, every week, it's the last thing I say to him before I leave the car and he actually reminded me of that today. He said, If I get angry and start yelling at you today, just remind me to have fun. I said, yeah, I know how that'll work out for me. But no, we always talk about that. What's most important for all of us is just enjoy it, take it in. You have to do that.
GENE HAAS: Well, you know, racing is a tough sport. 39 of the competitors go home losers. We're on that side most of the time, so we all know what it's like to, okay, you just kind of hang your head, you pack up your equipment and you head home. I think every racer realizes that's just part of the sport, and most of us that's what we do every weekend is we go home losers.
[adinserter name="GOOGLE AD"] Once in a blue moon when you do win a race, it's phenomenal. Like I can't remember the last time we won here, but it just happens so seldom. When it does happen, it's very addictive. It makes you feel renewed, and I know from Tony's standpoint, I'm sure this is a great motivator. Tony knows when he gets out in front that he has the ability to compete with anybody. He's one of the greatest racers in NASCAR of all time. He's smooth. He doesn't make mistakes. He's fast. You haven't seen that in a few years, and I'm sure that that grates on him. But this is just a vindication that he has a natural talent, and that talent is something that is still there. You can see it. And I think he feels great, and I hope this day lasts for the rest of the year.
Q. Gene, what does it mean now that Stewart pretty much has a chance to win the title in his final season? And no matter what happens after today, what do you think this win means for his final season?
GENE HAAS: You know, this is a big win. I guess I compare it to Jeff Gordon when he won a race and got into the Chase. I think it's great for the sport. It's great for the fans. It brings excitement to the sport. I can't think of any negatives whatsoever.
Last year we lost this championship by half a second, and that was a very, very difficult pill to swallow. I think if we could have three cars in the Chase now, that would be phenomenal, and we will do everything we can to correct the errors of last year.
Q. About the timing of the pit stop, did you know there was already debris? Did you figure out that they were going to call the caution, or was it just by luck that it happened when it did?
MIKE BUGAREWICZ: We heard them talking about it, but we didn't know for sure if they'd throw it or not. Kind of just assumed with a rag laying on the track earlier and they threw a caution, I figured, well, if there's anything similar to a rag or larger, they're going to throw the caution again. Again, it was just a chance that we took, a chance to get a win. Running 17th, finishing 17th wasn't really going to do us much good, so we had to try something.
Q. How often does gambling pay off, and how sure were you that it was going to actually work out today?
MIKE BUGAREWICZ: Not sure at all. Again, I think almost every race that's won here basically on a strategy deal is just a lucky call by anybody. You know, if it's 10-lap shootout and everybody has tires, then the best guy earns it. But when it comes down to something like what happened today, I just was fortunate.
Q. Mike, Tony kind of has a reputation of a guy that's really hard to pass, especially in a crucial situation. Were you surprised at all when he got passed in Turn 7 and what do you think was running through his mind after that happened?
MIKE BUGAREWICZ: No. I mean, I actually was surprised how long he kept the gap to the 11 and the 78 car. They were very, very competitive cars today, and track position for us I think helped our car a little bit, and then of course having a three-time champion who knew he had an opportunity today is a big thing. At the end of the day, we only won because of his desire and his drive and his want. I truly believe that with these competitors and how good all the cars are and these top-tier drivers, that's all it is. It's a matter of who wants it more at the end of the day in most cases. Today Tony wanted it more.
Q. Mike, can you walk us through that last lap and kind of maybe tell us what Tony was telling you over the radio or if you were verbal over the radio, especially that last lap?
MIKE BUGAREWICZ: I stayed pretty quiet. The spotter was keeping in touch with him. He didn't say much, either. In those situations I just like to let him concentrate and let him do his thing. He's got a lot going on, especially at a place like this, so we just let him focus.
Q. When you did bring him in, I heard y'all on the radio, you were talking about don't tell him until he gets to 5. What was the strategy of that? You said half a lap earlier that you were thinking about bringing him in, but why wait so long until he got right there to the end to make that decision?
MIKE BUGAREWICZ: Just because I didn't know how many other people were listening to NASCAR at the time to see if they were hearing that they were talking about debris or not, so I kind of didn't want to give anybody an extra couple seconds to think about pitting with us or anything. So I wanted to wait until we were going down the esses there to let him know that we needed to come.
Q. Can you just talk about what this means to win your first Cup race as a crew chief, to have that opportunity, because you worked as a team engineer and such, and this was no small task, what you were asked to do, first working with a couple of other drivers until Tony could get back, just what this season, how it's unfolded and what it's meant to you to finally get to victory lane?
MIKE BUGAREWICZ: Yeah, in some senses, it really hasn't sunk in about being my first win, but I can't thank Gene, Tony, Greg Zipadelli, Brett Frood, all of them enough for the opportunity. They believed in me. I've only worked at Stewart-Haas, this is my third year, two years with Kevin as his engineer. Every win is sweet whether I'm a race engineer or crew chief or whatever, it's all great. But yeah that part of it hasn't sunk in yet that it was my first, but our goal from the beginning of the year was to get Tony back in victory lane and I'm just so glad that we could get him there.
Q. Gene, I don't know if you heard Tony's comments from Friday where he said I want to race things that make me happy again. How seriously should we take that, and how happy is he when you normally see him?
GENE HAAS: You know, I think Tony is a really well-balanced individual. He doesn't seem to get too excited either one way or the other. You know, I'm sure if he could go on, if he could keep winning, he would want to keep racing. But it's hard. It's a hard sport. You have almost 40 races a year, and it takes a toll. I think he's looking to some new adventures. He told me he bought an airplane, a Cirrus airplane, wants to become a little bit of a pilot. I think it opens doors to do other things. Tony likes to do a lot of things, that's for sure. I think we all know that. And whether it's off-road racing or Sprint Cup racing, he has a lot of hobbies to occupy him.
So I think that even though certainly I hate to see him go from NASCAR, we have a great lineup for next year, and I think Tony is going to be perfectly happy pursuing new adventures.
THE MODERATOR: Mike and Gene, congratulations on this big win, and good luck the rest of the season.