Tony Stewart Beats Hamlin For First Win Since 2013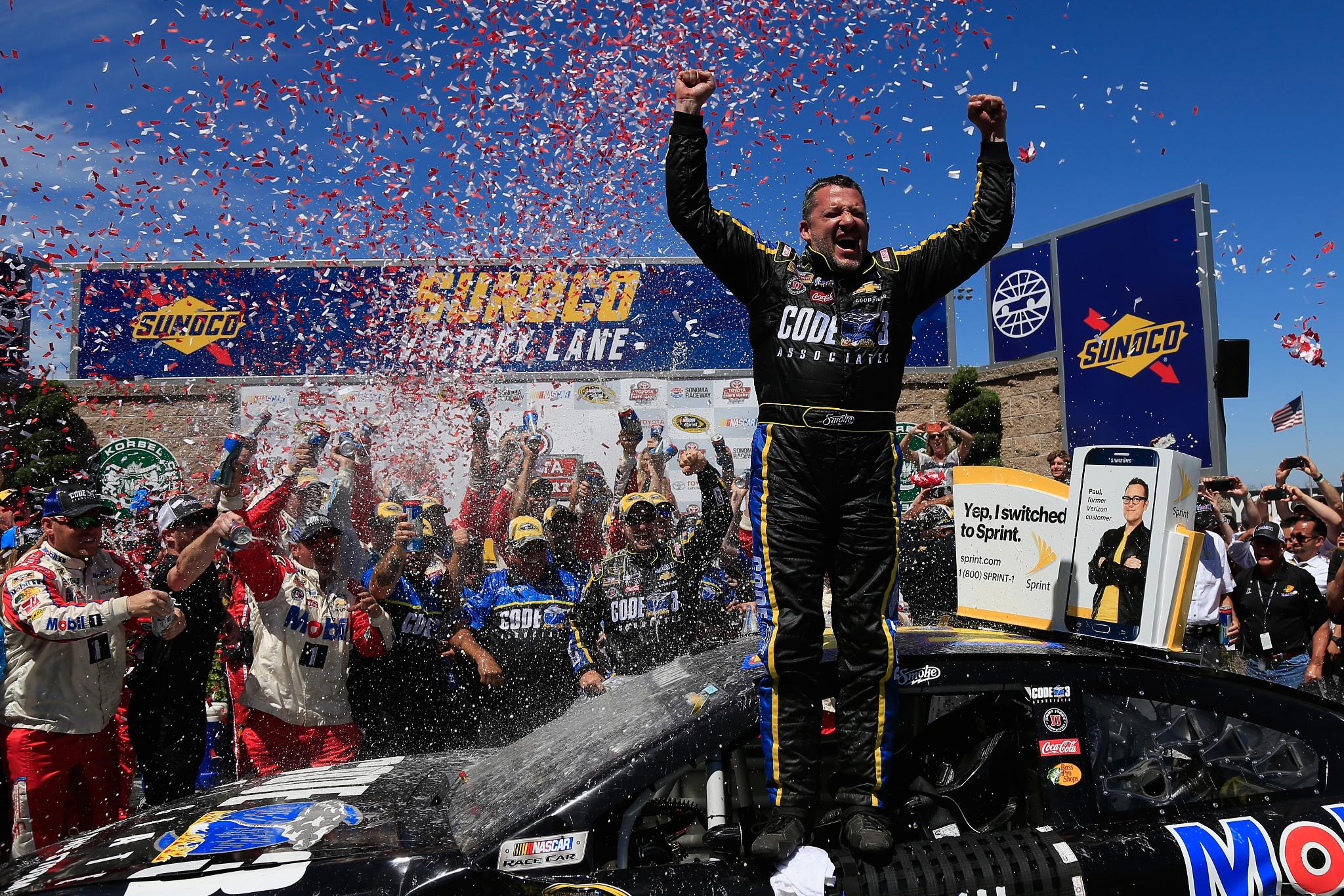 Tony Stewart
Chris Trotman/NASCAR via Getty Images
Just five months ago, no one was sure if Tony Stewart would even be able to get back in race car, let alone make a bid for the Sprint Cup title is what was supposed to be his final season.
Now, after a grueling effort to get back in the driver's seat, Stewart is back in Victory Lane with a shot to make the Chase for the Sprint Cup field and secure himself a fourth Sprint Cup championship.
Stewart beat out Daytona 500 winner Denny Hamlin with a last-lap, last-turn pass to win Sunday's Toyota/Save Mart 350 to snap an 84-race winless streak and clear a huge hurdle in his effort to make in into the Chase field and finish out his Sprint Cup career as a champion.
Joey Logano was third, followed by polesitter Carl Edwards and Martin Truex, Jr.
Stewart's victory was his first since winning at Dover back in June of 2013, and marked his eighth career road-course victory – tops among active drivers.
"They're all good; it doesn't matter where you get them," said Stewart his victory in his final start at Sonoma. "Especially at a place you're going to for the last time, it means a bunch. It's special, trust me.
[adinserter name="GOOGLE AD"] "I made mistakes the last two laps. I had just a little bit too much rear brake for Turn 7, and wheel-hopped it two laps in a row. But, I felt a nudge when I got down there and (Hamlin) knew where it was and he did the right thing doing it there; but if I could get to him, he knew what was coming. He told me he was proud of me. He knows what it means. We were teammates for a long time and we respect each other a lot."
The victory capped a tumultuous couple of seasons for "Smoke" where is seemed everything was aligned against him.
First, there was the broken leg he suffered in a sprint car crash in August of 2013 that out him out of action for the remainder of the season, and then missed several races toward the end of the 2014 season after another sprint car incident that caused the death of follow driver Kevin Ward, Jr.
Then, last September, Stewart announced he planned to retire from Sprint Cup competition after a 17-year career – hoping to make the Chase and go out on top in his final season.
But then in January, Stewart suffered a fractured vertebra in his back after landing hard driving a dune buggy with friends out in the California desert, forcing Stewart to sit out the first eight races of the season.
With Stewart out of action, it seemed unlikely he'd be able to compete for another title in 2016, but Stewart defied the odds and was back in the car after just three months – making his return at Richmond in April.
NASCAR also granted Stewart a medical exemption for the Chase, making him eligible to make a run for the title – if, Stewart could win a race and climb into the top 30 in points.
After Sunday, at least one part was out of the way.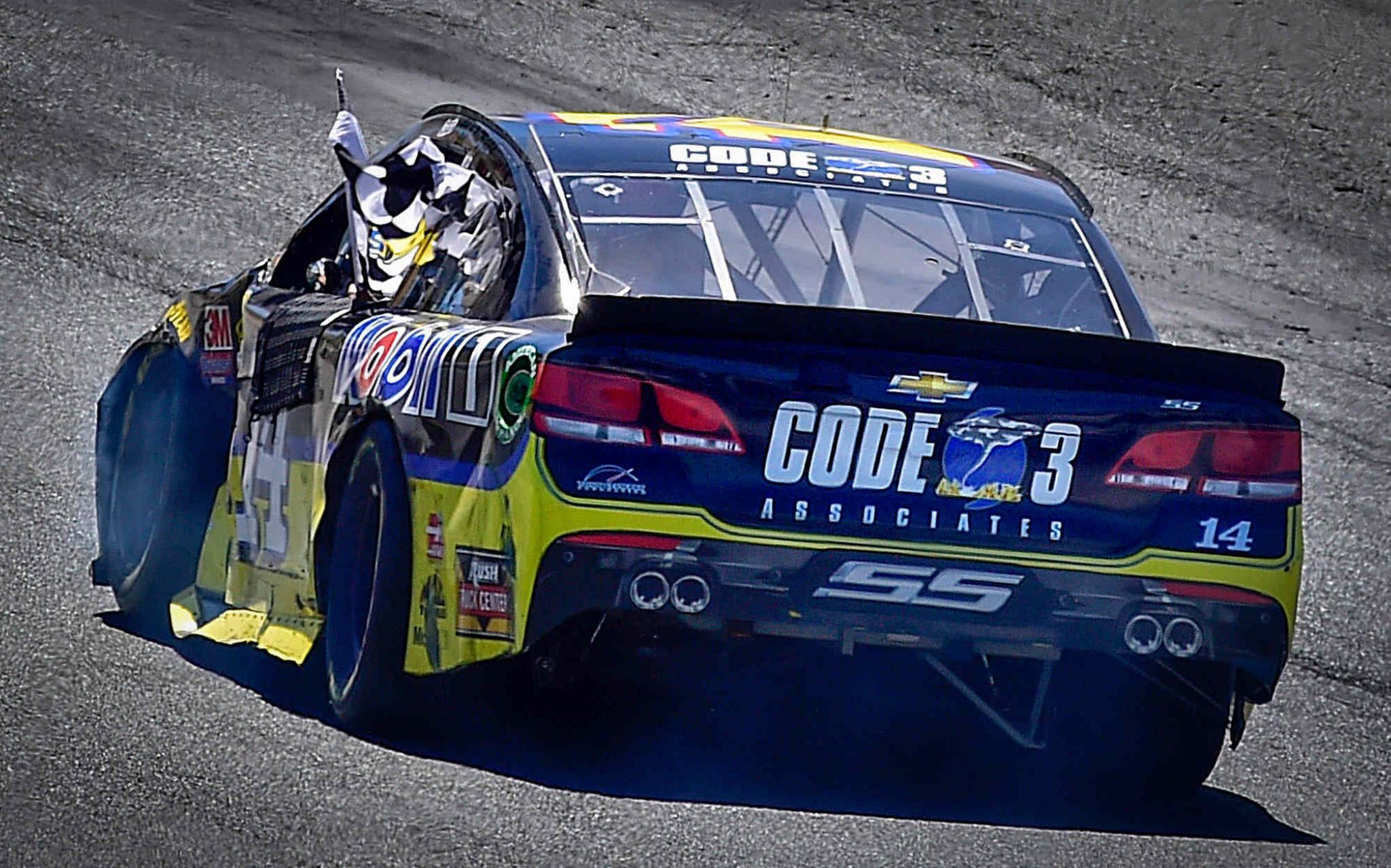 Stewart drives his battered Chevy to victory lane
Rusty Jarrett for Chevy Racing
"You can't crack the door open with me on the last corner of the last lap and expect me to not take it," said Stewart of the pass on the final turn. "I'll kick the door in or drive a bulldozer through it to keep it open. When you're in a scenario like that, I don't know if I'm going to get another scenario or opportunity to win another race the rest of the year.
"Knowing that that could be the difference between making the Chase or not making the Chase, I wasn't going to be cordial in the exit of the corner and I roughed him up pretty good. If it has been a street fight, he'd have had two black eyes after that."
Much like his remarkable recovery form his back injury and his return to the driver's seat, Stewart's win in Sunday's race seemed just as unlikely.
Having started tenth in the 40-car field, Stewart was not an odds-on favorite to win, and struggled throughout the early stages of the event – falling as far back as 25th.
Realizing he was losing ground quickly on old tires, Stewart and his crew chief Mike Bugarewicz took a chance and pitted under green with 25 laps to go just to keep from getting lapped and to salvage a decent finish.
It turned out to be the move that won Stewart the race.
Just two laps later, the caution waved debris, bringing the field to pit race and moving Stewart to the head of the field for a restart with 20 laps to go.
[adinserter name="GOOGLE AD"] With Hamlin looming in his mirrors, Stewart tried to open up some distance, but was cut short when the final yellow flag of the day waved with 17 laps to go to give Hamlin another shot at Stewart.
Once under green again, Hamlin soon had his hands full with Truex, Jr., who passed Hamlin on the reatart to take second and quickly cloed the gap on Stewart.
Despite a fast Toyota, Truex, Jr. was never able to make a move past Stewart, and with eight laps to go Hamlin battled back and squeezed past coming through the esses to regain the second spot.
The race was on as Stewart saw his lead slowly slip away until the white flag lap, where his Chevrolet slipped slightly coming out of turn seven, allowing Hamlin to get by for the lead.
Seeing his only chance for a Chase berth slipping through his finger, Stewart poured it on and closed back in on Hamlin, and dived to the inside coming through the hairpin turn 11. The two made contact as Hamlin locked the front wheels trying to make the turn, fishtailing into the outside wall as Stewart powered back out in front and across the stripe the victory.
After the race, Hamlin admitted he was looking at his mirrors instead of looking ahead coming into the final turn.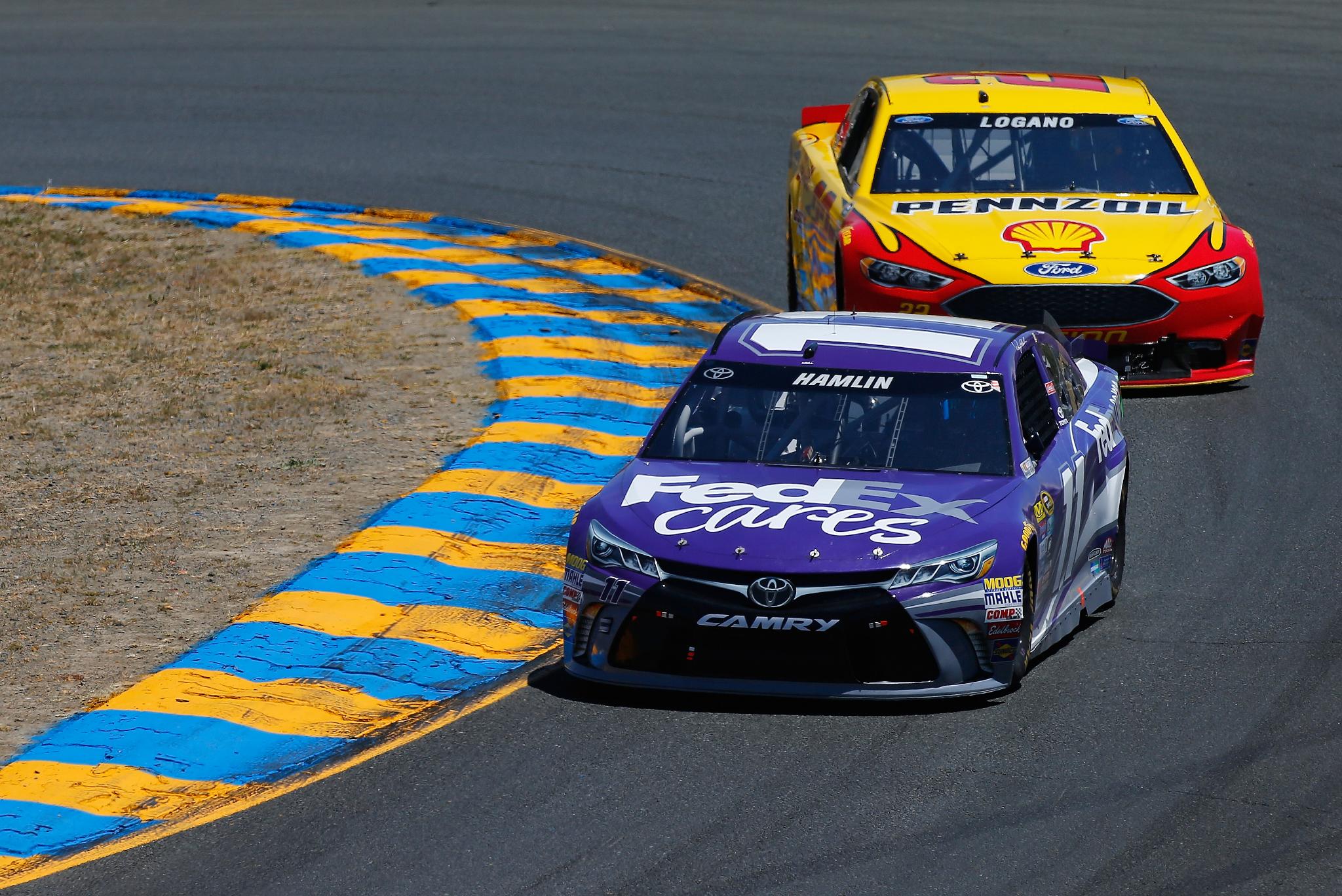 Denny Hamlin led a race-high 33 laps at Sonoma on Sunday
Jonathan Ferrey/Getty Images
"I was looking rearview more than looking out front," said Hamlin, who led a race-high 33 laps. "I still got in there with a wheel hop, I was just a little bit in the middle and needed to get a good run. Once he (Tony Stewart) had the inside position, we weren't going to drag race it out. I knew he was going to put me into the wall. He was doing what he had to do and we did what we had to do in turn. All is fair in love and war.
"This is definitely a step in the right direction on the road course, but man utterly disappointed."
Point's leader Kevin Harvick finished sixth, followed by Kyle Busch, Ryan Newman, Kasey Kahne and Kurt Busch.
Race Results
| | | | | | | | | |
| --- | --- | --- | --- | --- | --- | --- | --- | --- |
| Pos. | # | Driver | Make | Start | Laps | Led | Status | Points |
| 1 | 4 | Tony Stewart | Chevy | 10 | 110 | 22 | Running | 44 |
| 2 | 11 | Denny Hamlin | Toyota | 6 | 110 | 33 | Running | 41 |
| 3 | 22 | Joey Logano | Ford | 7 | 110 | 0 | Running | 38 |
| 4 | 19 | Carl Edwards | Toyota | 1 | 110 | 24 | Running | 38 |
| 5 | 78 | Martin Truex Jr | Toyota | 3 | 110 | 0 | Running | 36 |
| 6 | 4 | Kevin Harvick | Chevy | 25 | 110 | 3 | Running | 36 |
| 7 | 18 | Kyle Busch | Toyota | 8 | 110 | 2 | Running | 35 |
| 8 | 31 | Ryan Newman | Chevy | 17 | 110 | 0 | Running | 33 |
| 9 | 5 | Kasey Kahne | Chevy | 19 | 110 | 0 | Running | 32 |
| 10 | 41 | Kurt Busch | Chevy | 4 | 110 | 0 | Running | 31 |
| 11 | 88 | Dale Earnhardt Jr | Chevy | 13 | 110 | 0 | Running | 30 |
| 12 | 42 | Kyle Larson | Chevy | 5 | 110 | 0 | Running | 29 |
| 13 | 48 | Jimmie Johnson | Chevy | 15 | 110 | 0 | Running | 28 |
| 14 | 47 | AJ Allmendinger | Chevy | 2 | 110 | 20 | Running | 28 |
| 15 | 2 | Brad Keselowski | Ford | 12 | 110 | 0 | Running | 26 |
| 16 | 27 | Paul Menard | Chevy | 9 | 110 | 3 | Running | 26 |
| 17 | 1 | Jamie McMurray | Chevy | 21 | 110 | 0 | Running | 24 |
| 18 | 16 | Greg Biffle | Ford | 32 | 110 | 0 | Running | 23 |
| 19 | 10 | Danica Patrick | Chevy | 11 | 110 | 3 | Running | 23 |
| 20 | 20 | Matt Kenseth | Toyota | 23 | 110 | 0 | Running | 21 |
| 21 | 24 | Chase Elliott | Chevy | 16 | 110 | 0 | Running | 20 |
| 22 | 3 | Austin Dillon | Chevy | 24 | 110 | 0 | Running | 19 |
| 23 | 21 | Ryan Blaney | Ford | 26 | 110 | 0 | Running | 18 |
| 24 | 13 | Casey Mears | Chevy | 14 | 110 | 0 | Running | 17 |
| 25 | 6 | Trevor Bayne | Ford | 28 | 110 | 0 | Running | 16 |
| 26 | 17 | Ricky Stenhouse Jr | Ford | 27 | 110 | 0 | Running | 15 |
| 27 | 43 | Aric Almirola | Ford | 29 | 110 | 0 | Running | 14 |
| 28 | 7 | Regan Smith | Chevy | 31 | 110 | 0 | Running | 13 |
| 29 | 38 | Landon Cassill | Ford | 37 | 110 | 0 | Running | 12 |
| 30 | 34 | Chris Buescher | Ford | 36 | 110 | 0 | Running | 11 |
| 31 | 83 | Matt DiBenedetto | Toyota | 33 | 110 | 0 | Running | 10 |
| 32 | 23 | David Ragan | Toyota | 30 | 110 | 0 | Running | 9 |
| 33 | 44 | Brian Scott | Ford | 22 | 110 | 0 | Running | 8 |
| 34 | 98 | Cole Whitt | Toyota | 35 | 110 | 0 | Running | 7 |
| 35 | 93 | Dylan Lupton | Toyota | 38 | 110 | 0 | Running | 0 |
| 36 | 46 | Michael Annett | Chevy | 40 | 109 | 0 | Running | 5 |
| 37 | 32 | Patrick Carpentier | Ford | 34 | 108 | 0 | Running | 4 |
| 38 | 30 | Josh Wise | Chevy | 39 | 97 | 0 | Engine | 3 |
| 39 | 95 | Michael McDowell | Chevy | 20 | 91 | 0 | Rear Gear | 2 |
| 40 | 15 | Clint Bowyer | Chevy | 18 | 5 | 0 | Electrical | 1 |
[adinserter name="GOOGLE AD"]