Langdon, Johnson, Jr., Line Winners at Bristol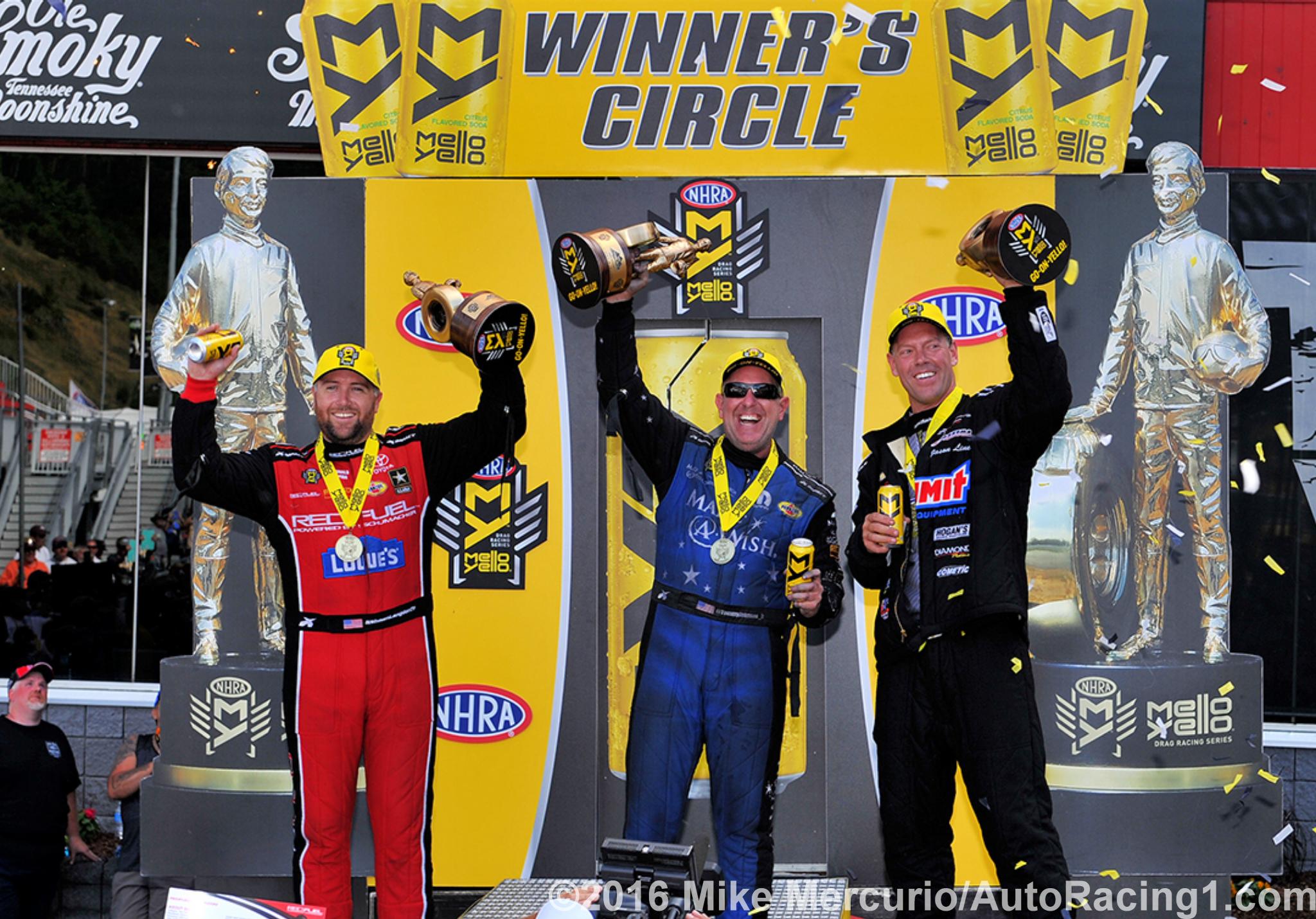 (L-R) Shawn Langdon, Tommy Johnson, Jr. and Jason Line
Mike Mercurio/AR1
Funny Car driver Tommy Johnson, Jr. collected his first win of the season in classic drag-racing duel with his teammate Matt Hagan to win Sunday's 16th annual NHRA Mello Yellow Drag Racing Series Thunder Valley Nationals at Bristol Dragway.
Shawn Langdon also scored his first 2016 victory in the Top Fuel final, while Pro Stock point leader was a winner for the sixth time this season.
All three finals in Top Fuel, Funny Car and Pro Stock were team affairs, as Don Schumacher Racing and KB Racing swept the semi-finals to put their drivers in the final rounds.
The Funny Car final was an all-DSR showdown as Johnson, Jr. bested Hagan for his 13th-career NHRA victory and his first since last August at Seattle.
Johnson, Jr. beat Cruz Pedregon, Robert Hight and Alexis DeJoria to advance to just his second final round of the season – a loss to fellow DSR teammate Ron Capps – and his fourth of his career against Hagan.
[adinserter name="GOOGLE AD"] In the final, both drivers managed to get a clean jump at the start and ran nearly line breast the entire distance, but Johnson, Jr. made it to the finish first, edging Hagan by a fender-length to win on a holeshot, posting a 4.308 at 313.22 mph over Hagan's quicker – but losing – 4.030, 317.57.
The victory also qualified Johnson, Jr. for the eighth and final spot in the $100,000 Traxxas Nitro Shootout at be held at the U.S. Nationals in Indianapolis on Labor Day weekend.
"We missed our first shot at making the Shootout, they made the mistake of giving us a second shot, we gotta go get it, and we did it – the guys just stepped up to the plate and made great calls all that day," said Johnson, Jr. "Getting in (the Shootout) takes a lot pf the pressure off. You really want to get the Shootout, it's a big race with a lot of money on the table. I'm sure the boss is happy that we're in it."
Johnson, Jr. advanced two spots in the Countdown to the Championship points standings, now sitting seventh in points, now 166 behind Capps
"We hope we're just a little bit better than we were last year, because we had a great season last year – finished third and made a really great charge late. Kinda had the same slow start – we were runner-up at Epping and that kind of set the tone for the rest of our year. We're not an aggressive team, we just race the racetrack."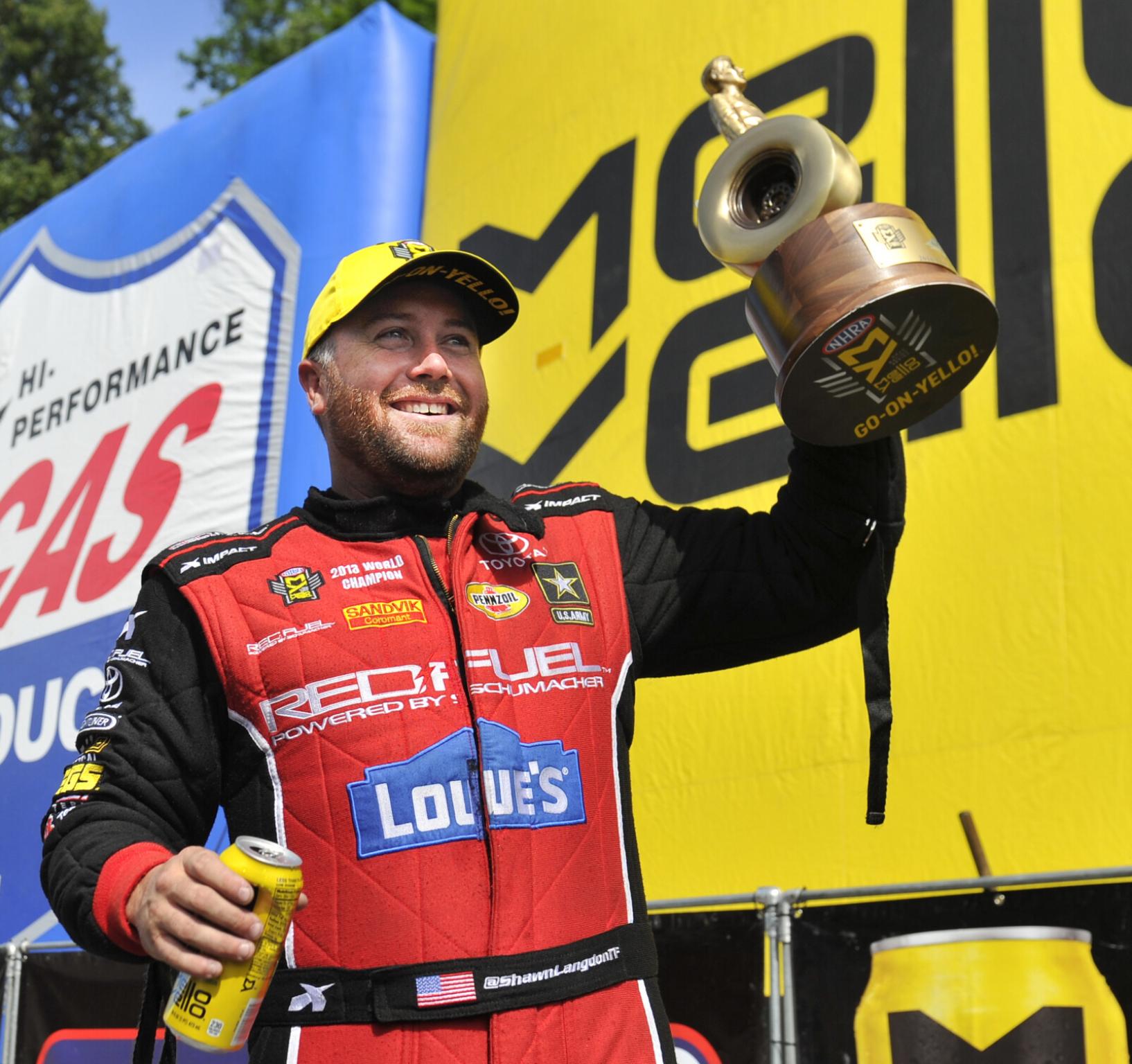 Shawn Langdon
In Top Fuel, it was another all-DSR final as Langdon beat out his teammate Tony Schumacher to score his first win of the season and 12th of his career.
Langdon defeated Terry McMillen, Brittany Force and Doug Kalitta to reach his 19th-career final round and his first of the 2016 season, taking on Schumacher for the fourth time in his career.
Both drivers were side by side until about the halfway point when Schumacher lost a cylinder, allowing Langdon to pull away and flash to the finish for the victory by over Schumacher, running 3.838 at 322.19 mph.
"Tony's record speaks for itself, he's one of the best out there, if not THE best, so I knew I had to step my game up. They were making great runs today, we were a tick behind the majority of the day. When they made that big run in the semis and we smoked the tires, I kind of told myself if we have any chance, I need to try to get a little off the starting line.
"We really did struggle at the beginning of the year. Everybody at Don Schumacher Racing came together and everybody there helped out; it's a big team. I have to thank all the other crews and our Red Fuel crew. This is a big win for us and we are excited."
Langdon also earned a spot in the Traxxas Nitro Shootout, while jumping three spots to sixth in the points standings.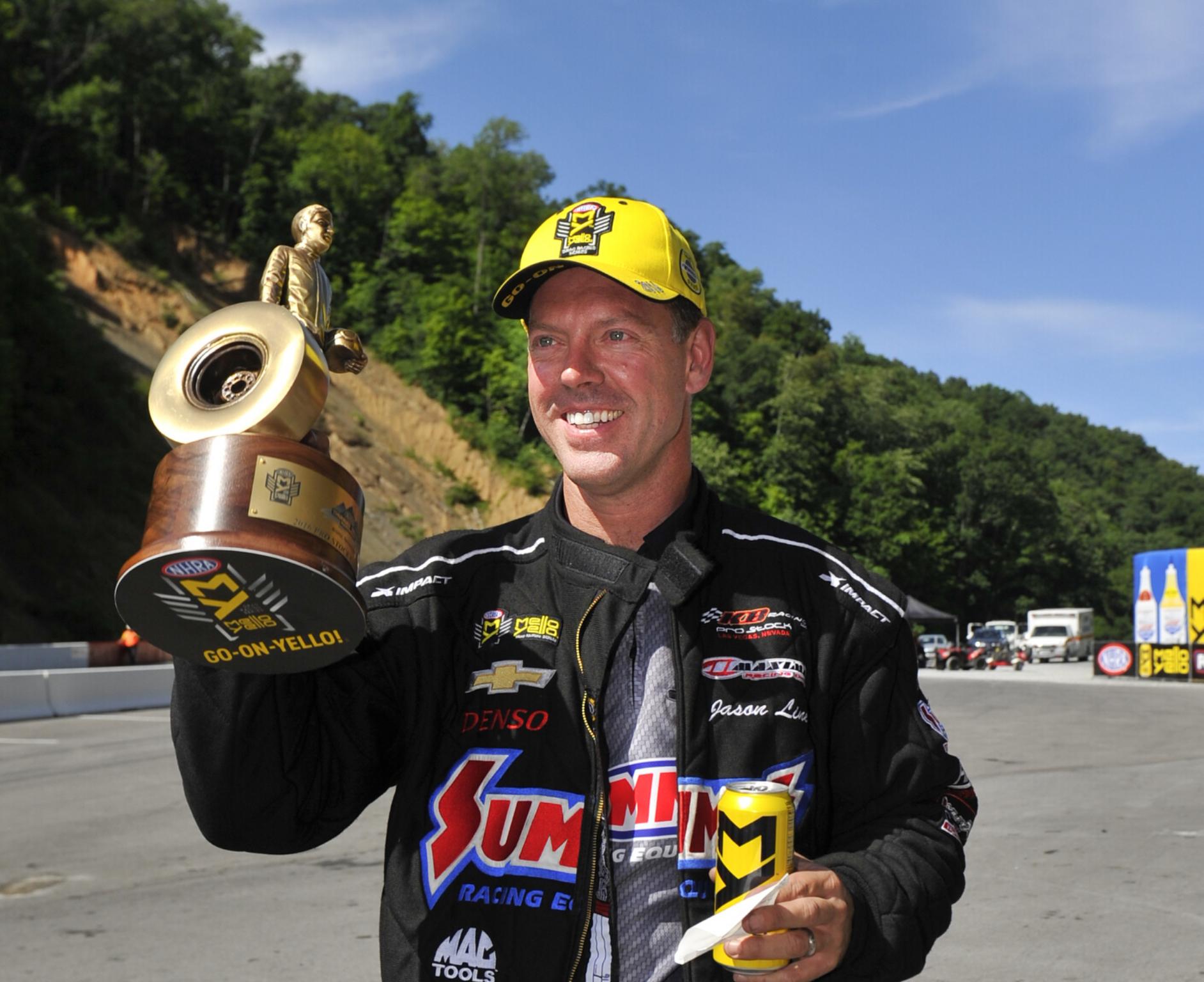 Jason Line
Pro Stock points leader Jason Line collected his sixth victory of the season with a win over his KB Racing teammate Greg Anderson to give team owner Ken Black his 11th-straight victory this year.
Line swept the entire weekend after leading both days of qualifying to earn the top qualifier honors, then rolled through the earlier rounds with victories over David River and drew Skillman to move onto his series-leading 10th final round appearance.
The final round shootout marked the seventh time this season Line and Anderson had met in the finals this year and fifth time in the last six events, with the edge going to Anderson with four victories.
The two drivers staged at exactly the same moment, which seemed to throw off both drivers as their reaction times were in the .10-second range, but Line still managed to get the jump at the start and led the entire distance to beat out Anderson by just under a car length, posting a 6.668 at 207.59 mph over Anderson, who ran 6.694, 207.62, giving Line his first Bristol victory since 2006.
"We didn't do a very good job there, it was a little bit strange," said Line of the reaction time at the start of the final, "but anytime you're up here (in the Winner's Circle) it's a great day."
Line's victory extended KB Racing's remarkable win streak, collecting victories in all but two rounds and sweeping the finals nine times. Line also padded his lead in the points standings to 93 over Anderson.
"We're going to get beat eventually – the longer (the streak) goes, the better the odds are that we're going to get beat. It's going to happen, it's just a matter of time," said Line. "We've been in 40 rounds of racing and we've only missed one, it' really crazy. Something's going to happen, something's going to break and somebody's going to beat us. The fact that it's gone on this long is really unfathomable to me. But, at the same time, it's exciting for me to be a part of it."
[adinserter name="GOOGLE AD"]