FireKeepers Casino 400 Post-Race Press Conference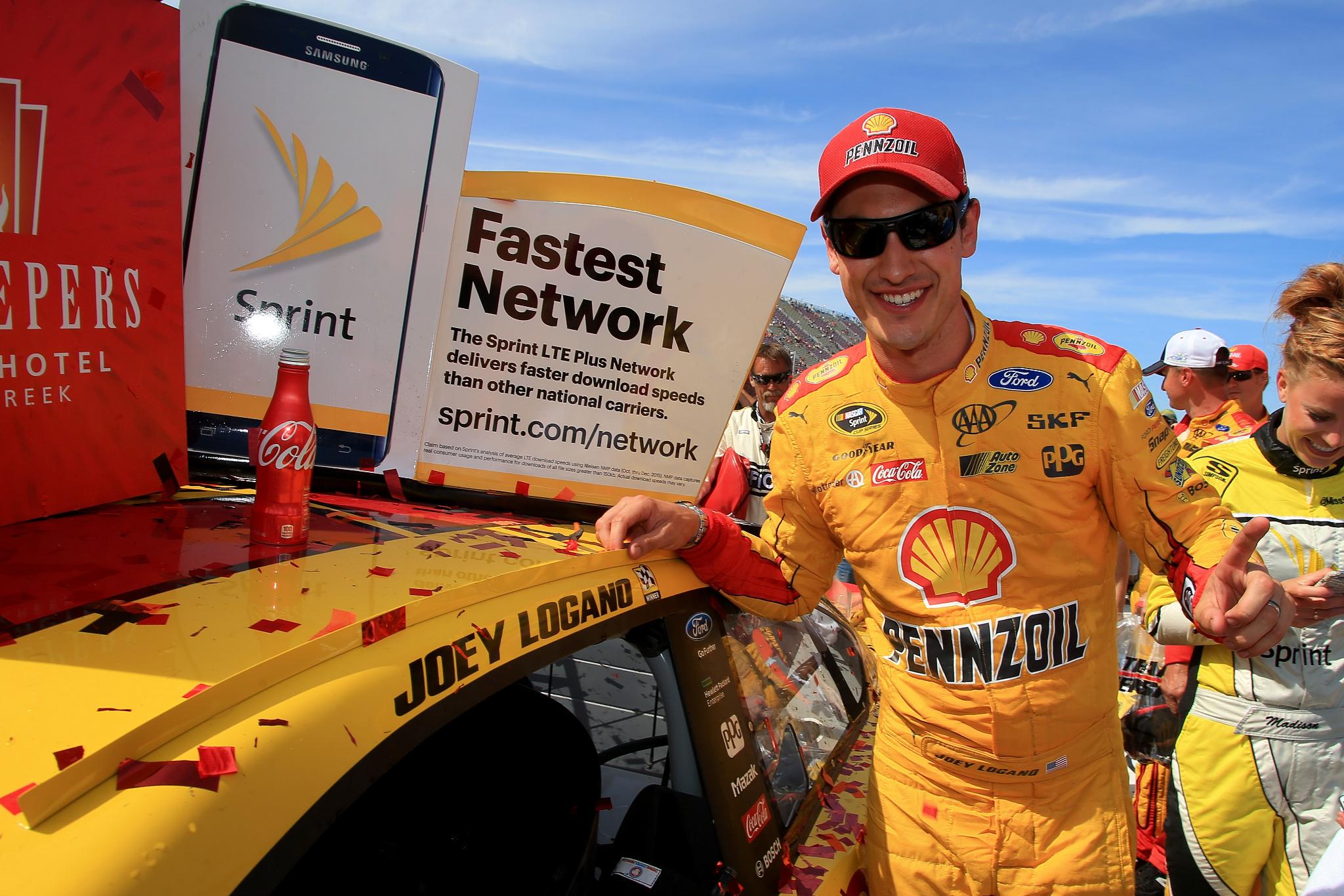 Joey Logano scored his first win of 2016 Sunday at Michigan
Daniel Shirey/NASCAR via Getty Images
THE MODERATOR
: We are now going to continue our media availability after the 48th Annual FireKeepers Casino 400, and we are joined now by the winning crew chief and winning car owner of the race. We have Walt Czarnecki, executive vice president, Penske Corporation, vice chairman of Team Penske, and also Todd Gordon, crew chief of the No. 22 Shell-Pennzoil Ford.
We'll start with Walt; it's always good to win in Ford's backyard, I'm sure, if you're Team Penske. Just walk us through today's race and the excitement that you had in victory lane.
WALT CZARNECKI: Well, this is really a home game for us because our corporate offices are in suburban Detroit, and of course as a company we have such history here at MIS, so it's always special. I guess a couple of things happened today that made it even more extraordinary. Obviously it's our 50th anniversary which we're celebrating, so to win at home is important to us. This was Roush Yates' someone told me 100th victory as an engine builder for Ford, so we were happy to deliver that for them. And really happy for the Shell-Pennzoil team, Todd and Joey, because they've been so close all season long. They've been executing well, and things just didn't go their way in some of the previous races.
But today it was a flawless race from my perspective.
Someone asked me outside about the racing with this new package. I don't profess to be an expert other than the fact that I thought the spectators really got their money's worth today. It'll be interesting to see what the critics say and what the observers say here in the coming days, but I really think we're on the right track with this package.
All in all, a good day for Team Penske, and especially happy for Todd, Joey and our Shell-Pennzoil Ford team.
THE MODERATOR: Todd, this has been a long time coming for you guys this season. It seems like you guys have been right on the edge of getting to victory lane and now you finally seal the deal. Run us through those thoughts today.
TODD GORDON: Yeah, definitely pretty proud of this whole Shell-Pennzoil team, and execution. You know, it's a different package, which brings opportunity, and I think when we've had different packages and new packages, our whole Team Penske operation has done a great job of getting us prepared to come to the racetrack and have an idea what we need to work on, and you know, I really say kind of status quo weekend. We showed up with all right speed and had a bullet list of things to work through, executed on Friday with – pretty proud of everybody executing there, and that really gets the weekend off to a kick, and then we kind of hammered through practice yesterday and knew what we needed to put together for today, and I think from the drop of the green flag Joey was pretty happy with where we were.

Q. Todd, did you guys – they predicted that corner speeds would be down about 10 miles per hour. Were you able to tell during the race if that was kind of what happened, and then also considering you're two for two with no rear skew, does that fit into Joey's style or is that just coincidence?
[adinserter name="GOOGLE AD"] TODD GORDON: I like that rhyme. That's pretty cool right there. You know, it's a – I don't get any information on the lap time during the race, so I can't speak for mid-corner speeds, but I would say that given lap time and what we saw in practice that we did lose center corner speed, picked up on the straightaway speed a little bit. I know in talking to Joey after practice, definitely felt the speed loss, the transition. I think when I was re-watching the broadcast, we saw like 40 miles an hour from top speed to mid-corner minimum speed deviation, which is huge compared to what we've been in the past.
Definitely made the guys lift a lot, which I think is good for racing.
And to the question of the no skew piece, I think when we get new packages that our group, the whole group that we've got at Team Penske and especially the Shell-Pennzoil team, they're pretty diligent in understanding what we need to do to come to the track and have speed, and we did that at the All-Star Race, and I think we performed that again this weekend.
THE MODERATOR: We are now joined on the stage by the winner of the 48th Annual FireKeepers Casino 400. That is Joey Logano, age 26, driver of the No. 22 Shell-Pennzoil Ford for Team Penske. This is his 15th victory. 15th victory, in 271 NASCAR Sprint Cup Series races. His first victory and ninth top 10 in 2016, and it's his second victory and 10th top 10 in 16 races at Michigan International Speedway.
You're a young guy, but you're a veteran at this track. Just walk us through the exciting race that you put together today.
JOEY LOGANO: First off, I didn't win, we won as a team. You know, it was an amazing team effort from Friday or when we unloaded with this rules package. You don't know what you're up against when you barrel down into Turn 1 the first time, and you say, oh, my God, they weren't kidding about that small spoiler on the back of it, and you start to – everyone started working on the car, able to put the thing on the pin to start the race and be able to stay up in the top two the whole race. It goes to show that not only did we have a fast race car, you've seen a lot of times a fast race car doesn't win the race all the time, you've got to execute throughout it. Seeing the strategy that Todd had, the execution of the pit crew to keep us up front, the way the restarts went and able to maintain the lead and keep that clean air, everyone did their job the way we were supposed to. It feels good to be able to do that.
When you lead that many laps, it's more of a relief when you win than anything because you feel like you're supposed to when you have a car that good.
It felt really good to pull our car into victory lane, get that win. I consider it our second win of the season. I know you guys don't. But I think we've celebrated twice this year, so it's nice to be able to know that we're locked into the Chase and we can race even harder than we do now.
Q. You're the first winner younger than 30 to win this year, and a few young guys were up front. Can you talk about, I guess, the day of youth and if that was any factor with the package or otherwise or coincidence?
JOEY LOGANO: Probably a coincidence. Those guys have been fast all year, but it's cool to see the future is here. And it's fun for me. Shoot, I'm usually the youngest guy by a longshot, so it's fun to be racing for the win with some guys that are close to my age up there racing for the win.
The future of NASCAR is present, and it's going to be big. It's amazing you see some of those guys that are coming in how good they are, and particularly with Chase today and Larson, as well, here recently how fast he's been. Their wins here are obviously right around the corner. You can see that. I'm glad we got ours first. But it's definitely – they're some strong competitors. I'm going to be racing against those two at least for the rest of my life. I know that, and I'm excited about it.
Q. Does it kind of feel strange to be the grizzled veteran in the top three today? As you said, you were the kid, and when you came up there just weren't that many young guys, and now it seems like there's a lot of young guys in the sport.
[adinserter name="GOOGLE AD"] JOEY LOGANO: Yeah, it's neat to kind of see how it's come along. You know, for me I think it's my eighth season or something like that. I think I'm eight years into this thing. I've been doing it for a while, which it definitely plays into my hand at this point, going through the struggles and maybe getting thrown into a situation too young and too soon and when I wasn't prepared for it, and going through all that has really changed me as a person and helped me kind of look at every race situation maybe a little bit different than I used to. And I wouldn't change that for anything because now I'm able to use that for my advantage and I'm still only 26 years old. I've still got plenty of time left, and Todd is going to be here with me and Walt and we're all going to be up there in victory lane winning a bunch more.
Q. Can you just kind of give us the seat-of-the-pants feel that you had with the new aero package because it seemed like if anybody went three wide it was a recipe for disaster.
JOEY LOGANO: Yeah. That's what it was like. You know, I went down into Turn 1 the first lap, and I thought I was King Kong. I drove down in there and about crashed. That didn't work out so well. So I learned a lot from that one.
You know, it's just the cars are out of control. No doubt, they are out of control crazy, and it makes it a lot of fun, but you've got to think if you're in that pack a little bit, you're going faster down the straightaways, you're getting a huge draft when cars are side-by-side in front of you, and you have no downforce at all, and especially when you're three wide and your angles are off going into the corner and you're trying to clear them, everyone is racing hard. It's a recipe for disaster for sure, but I haven't re-watched it and haven't seen much, but I thought the race was I think pretty good. There was a lot of natural cautions out there and a lot of things that happened, and I think that's a good sign. Without watching it, I know it's better than the package we ran here last time, so I'm excited about that.
It's definitely – you can make mistakes from inside the car. There's plenty of times that I went down into a corner and drove in a little bit too hard and chased it up the racetrack and had to work inside the car and really had to manage your tires and which tires you're using and all that and there was more falloff than what there's been here in the past, so I think all that together is good, is directionally correct for racing.
Q. Todd, on TV you referenced the mistake on the restart on lap 117 when Chase got the lead, and that you had subsequently fixed it. What was the mistake, and how did you correct it?
TODD GORDON: We can't answer all those questions. Yeah, we know where that went, and we'll talk about that internally. But that's the great thing about Joey and restarts; he's a master of it. I'd put him against anybody in this field, and I think we kind of shuffled things around, and you could see that the 24 and 42 could definitely work together on restarts, and we put them in a position there. I'm not going to speak for the rest of it, though.
Q. Joey, getting the win here today in Ford's backyard with 1,400 of their employees here, just how special does that make this victory for you and where does it rank among your 15 career Cup victories?
JOEY LOGANO: Yeah, I think it's great. You know, it's also the 100th victory for Roush Yates, I believe, as well, the engine department. So it's big for everybody to be able to win here at Michigan.
I know how much it means when you see everybody show up at the racetrack here in the drivers' meeting earlier and they're introducing themselves, like this would be big if everybody can be celebrate in victory lane. Not only being in Ford's backyard but being in Team Penske's backyard up here. You know, Roger built this place, so it's cool to be able to be in victory lane. This is where I got – Todd and I got our first Cup win together with Team Penske. So it's been a special place for us. It's been a good racetrack for us ever since then, but it's nice to be able to break through once again.
Q. Joey, what is it about how race car drivers are wired that something can be out of control, a recipe for disaster, but you love it and you want more of it?
[adinserter name="GOOGLE AD"] JOEY LOGANO: I don't know how smart we are (laughing). You know, I think that thrill, the adrenaline that you get by controlling something that's out of control. A lot of times being right on that edge of backing it in the fence when we seen it happening in qualifying and you're just right on that edge. I remember after qualifying I was walking into the media center here and I was signing an autograph and my hand was shaking. I couldn't even write my name. That's cool. That's how on edge you have to be to go fast, and it was like that for 400 miles today, you know, that you're just right on that ragged edge, and that's awesome. We don't want to – I don't want to drive slow. That ain't no fun. That's the sport part of this. It should be a challenge. It should be on the edge. It shouldn't be easy, and at this level it definitely isn't.
Q. Joey, you've won both the races with no rear skew, so would you hope for that to be implemented right away?
JOEY LOGANO: Yeah. You know, I think the skew thing is – yeah, we talk about directional with things, and we talk about today obviously with the really small spoiler and the splitter and all that, but I think having the skew out was a good thing for Charlotte if you look at All-Star Race compared to 600 and the different in those races, I thought the race was better. I might be biased so maybe I shouldn't be talking about it, but I thought the All-Star Race was a better race and more passing, and it was also a night race, as well. I think there's a lot of other things that kind of probably can add up to make more difference there, but I think having the skew out is a good thing, at least for tire wear and all that, as well.
Q. You talk about the car being out of control and being on the ragged edge. Does that – do you feel that fits your style any more than anybody else?
JOEY LOGANO: I guess so. I wasn't sure to be quite honest with you. You know, early in my career when I first started Cup racing there wasn't much downforce on the race cars, and I didn't run very well. I guess I was a little bit – I don't want to say worried. That's not the right word for it, but I was cautious and thinking about it a lot and how this low downforce is going to be kind of going back to – this is obviously less than we've ever had, so kind of going back towards that, how that was going to be.
But apparently I learned something over the last eight years that I can drive the race cars now and able to explain I think what I need a lot better to Todd to help him make the right decisions in practice and make sure our car is good for the race.
Q. Todd and also Joey, you guys clearly have been very competitive all season and had circumstances or had opportunities to have won. What was that final hurdle in your opinion that you crossed today? I know Joey has mentioned execution before, but what would you consider it to be?
TODD GORDON: I mean, that's a word we talk about a lot is execution, and I think you've got 40 race teams that all have the ability to be very successful. It's how you execute against each other. You can't make mistakes. We aren't good enough to – the field is so strong, you can't make mistakes and be successful.
I think execution and having a game plan and understanding what you need, and yeah, we've had opportunities that we've been strong with that just haven't come all the way through, but not getting down over those pieces and knowing that we're continuing to build speed and work forward I think got us to the point where we were today. We're not in any anxiety at this point. We had a terrible month of May with accidents that really weren't of our cause and were just victims of. The great part is this whole team doesn't – they don't ever give up. I used to talk about that, never give up was the hashtag that they had a couple years ago. They're still that way. We've got a bunch of level-headed people that aren't totally emotionally driven, and they see the big picture, that we've got speed, we just need to keep doing the things that we do and execute, not make mistakes, and we can be successful, no differently than last year. I think we did an awesome job of that through the whole year last year, and we just – we're getting back to that point.
Q. Joey, do you feel like execution is up this year?
JOEY LOGANO: Yeah, it takes everything. I don't feel like we're in a much different spot than we were at this point last year. I feel like as a team we stick together, and I think this team is the definition of team in my opinion, which is a team that doesn't point fingers at somebody when things go wrong. And obviously it's easy to say win as a team, lose as a team, but actually doing that is a challenge. We don't single people out. We're all in it together. We're going to make decisions together and we're going to stand behind each other on those, and we know we're going to make mistakes, and we talk about learning from them and not making them again, and I talk a lot about how mistakes aren't a bad thing as long as you learn from them and you don't do it again.
So I think this team is – it's foundation is very strong, and I think the way we handle situations as leaders from Walt and Roger's side, from Todd's to myself and how we handle situations throughout our race team, not only the 22 team but throughout Team Penske is well thought out and methodical, and the way we make our decisions, and I think we see a reward with that.
Q. Joey, with the cars being out-of-control crazy today, how is it going to be at Kentucky Speedway next month with the new pavement and tighter quarters?
JOEY LOGANO: Well, I'll be there tomorrow, so I don't think I should give an answer to that yet because I haven't been there, but being the first car on the racetrack – well, we're going to try not to be the first car on the racetrack, but we're going to be the first group of cars on the racetrack, and there's no telling what's going to happen. I remember going to Pocono right after the repave, and it's funny because Todd was there but we weren't working together at the time, and how out of control the cars were the first few cars that were on the racetrack. It was ice. I think eventually it's going to rubber in and it's going to change up, but I know they've done some different things up there to try to weather the track in and try to age it a little bit quicker, and I'm interested to see how that's going to be and how it's going to look, and obviously that place used to be really bumpy so where that's going to be now. We definitely have some stuff to learn, so not too much partying tonight. We've got to go to work tomorrow.
Q. Walt, have you heard from Roger? What has he said about this victory today, because I know he likes to talk about these wins.
WALT CZARNECKI: Yeah, we did speak from victory lane. He's down in Texas, where they're, I guess, in a rain delay. But this is very important. Like I said earlier, this place, first of all, MIS has such a special meaning and such a special place in the history of our company, so to win here, it means a lot, and he was pretty excited, and in fact I told him, I really think the performance today was flawless by the team, and he absolutely agreed. When he had the chance to watch it, he said, I watched the last part of it, and he was very excited. But really grateful for what happened for the job these guys are doing for sure.
THE MODERATOR: Gentlemen, congratulations again on the victory, and good luck during the off week and into Sonoma.