Joey Logano Scores First 2016 Victory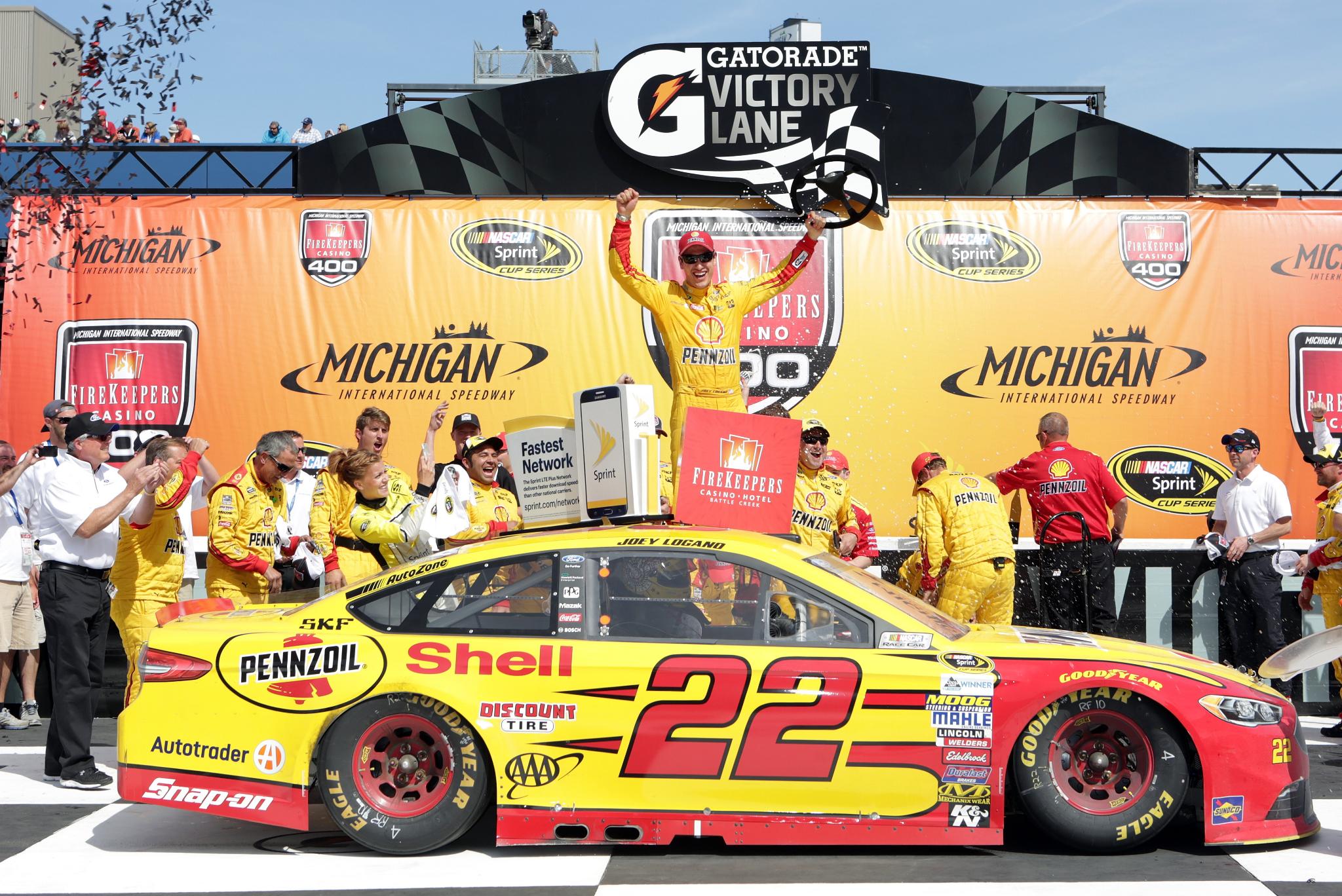 Joey Logano
Kena Krutsinger/Getty Images
After two weeks of strong starts only to see victory slip away, Joey Logano finally broke through to put one in the win column with a record-setting performance in Sunday's FireKeepers Casino 400 at Michigan International Speedway.
Logano led a race-high 138 of the scheduled 200 laps in the no. 22 Ford Fusion and cruised to his first victory of the season over rookie contender Chase Elliott – pulling away clean on a final restart with seven laps to go to pick up his 15th-career victory.
Kyle Larson, Brad Keselowski and Kevin Harvick rounded out the top five.
Logano's Michigan win – in the shadow of Fords headquarters in Dearborn – was the 100th victory for Roush Yates Engines and the 50th Sprint Cup win under the Ford banner for team owner Roger Penske. He now joins teammate Brad Keselowski with a guaranteed spot in the field for the Chase for the Sprint Cup.
[adinserter name="GOOGLE AD"] "To win here in Roger's back yard and Ford's back yard, this is always a big win for us here," said Logano. "What a fun race, racing with Chase (Elliott) and Kyle Larson. It is fun to see the young guys up there racing. I am not alone up there as a young guy anymore. I have guys up there younger than me racing for a win."
Logano's first victory of the 2016 season comes just four weeks after winning the Sprint All Star Race at Charlotte Motor Speedway – another race where he faced a tough battle with one of NASCAR's up-and-coming young guns, Kyle Larson.
"It felt really good to pull our car into victory lane, get that win," said Logano. "I consider it our second win of the season. I know you guys don't. But I think we've celebrated twice this year, so it's nice to be able to know that we're locked into the Chase and we can race even harder than we do now.
"We've been knocking on the door for a win here all season. We got that All-Star win, but it's nice to get that win and lock ourselves into the Chase."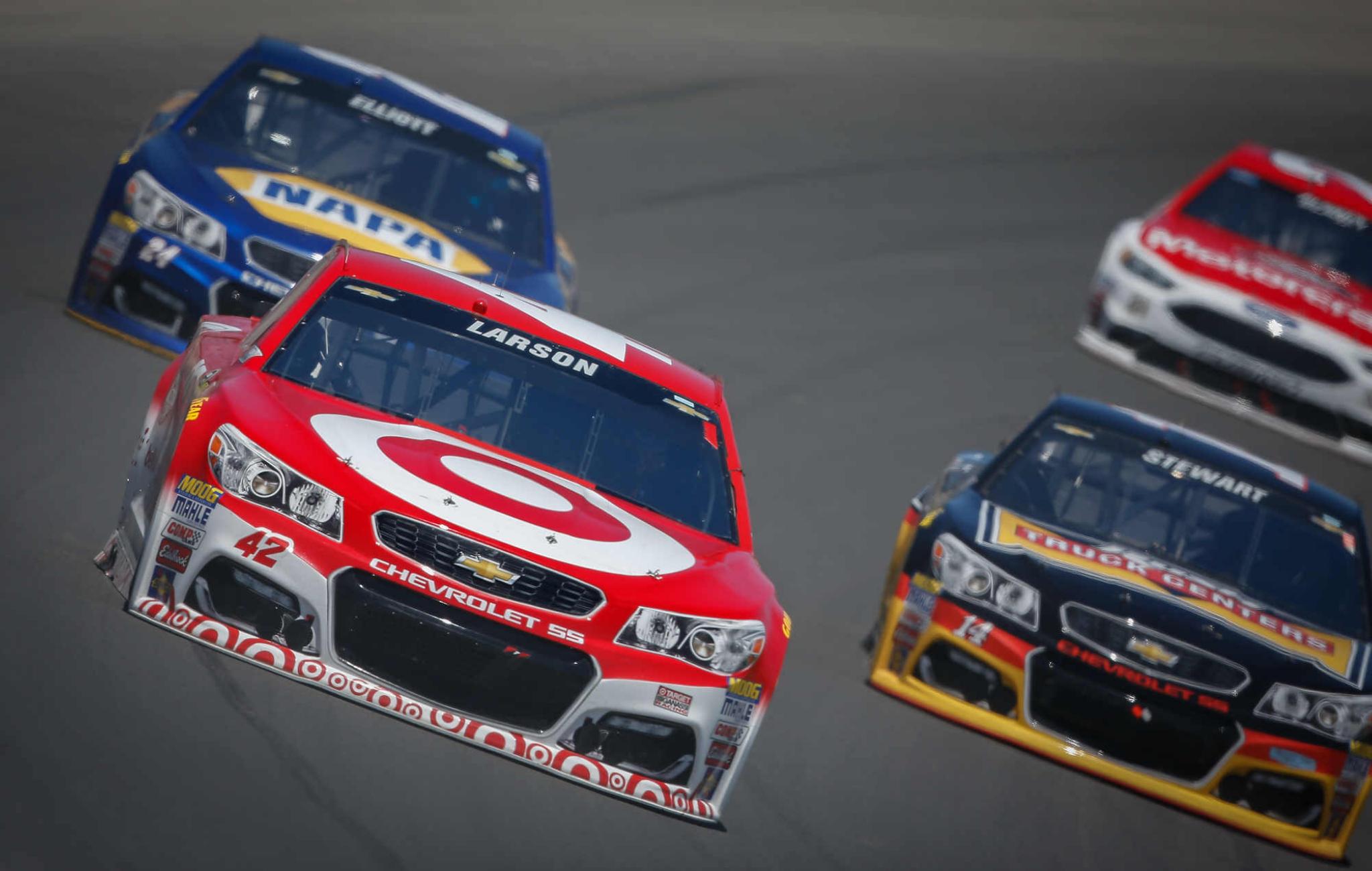 Kyle Larson
Andrew Coppley for Chevy Racing
Much like the All-Star race and the race that proceeded it at Dover, the best battle on the track was between the youngsters Elliott and Larson, who duked it out in the top five for much of the race.
Elliott himself finally managed to wrestle the lead away from Logano following a restart on lap 117 and led for 32 laps before trading the lead again with Logano during a round of pit stops in lap 150.
But on the ensuing restart, Elliott missed a shift, allowing Logano to pull ahead and regain the top spot – this time for good.
A late caution flag with seven laps to go gave Elliott one last shot, but Logano pulled away right at the drop of the green flag and cruised to the finish by .889 seconds.
Elliott's runner-up finish was his sixth top-five of the season and his fourth in the last six races, propelling him to sixth in points – highest among drivers without a victory so far this season. And in solid positions for a Chase bid.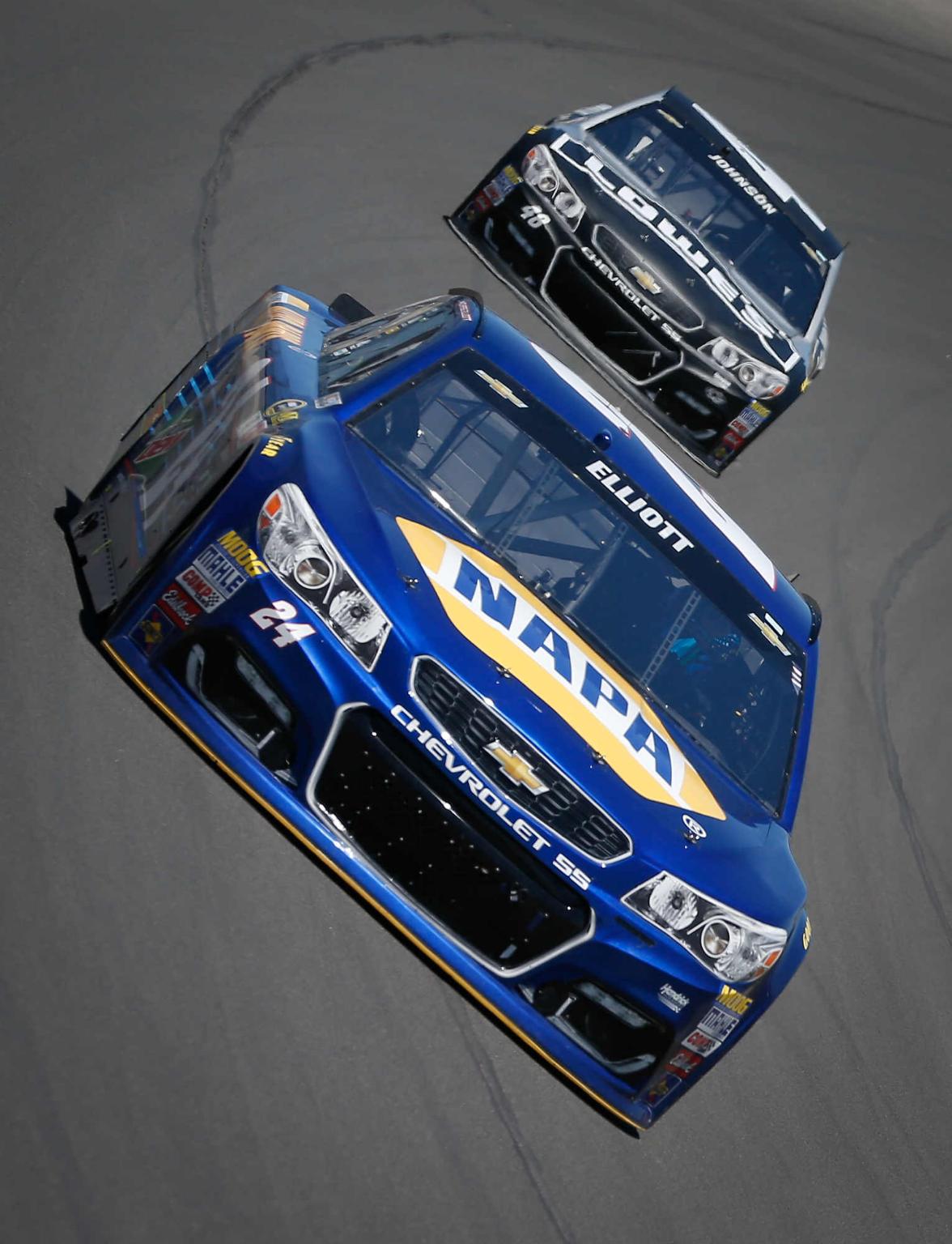 Chase Elliott posted his sixth top-five finish of the season
Andrew Coppley for Chevy Racing
"You can't do dumb stuff and win these races," said Elliott of his miscue on the restart. Completely my fault. The guys gave me a great car today. This whole NAPA group has been working so hard these past few weeks, and that one was on me.
"Like I said, you can't do dumb stuff to win these things and I did today. I think we had a fantastic opportunity today, and I think I messed one up."
Sunday's race was the first test of NASCAR's new low-downforce aero package, which yielded varying results, but mostly positive reviews from the drivers following the race.
"I love it. I absolutely love it," said Tony Stewart. "The package is good. The aero package is starting to catch up now. The whole equation to this to make it all where everybody wants it to be are tires and aero. Up to this point Goodyear has been way ahead of NASCAR. NASCAR is finally catching up. I don't know what everybody else is going to say, but I thought it was pretty good. It may not be perfect yet, but it is more than definitely going in the right direction for sure."
Dale Earnhardt, Jr. – who finished 39th after a crash on lap 61 – was among those unimpressed by the changes, claiming the new rules package was "not a whole lot different than the other package."
Earnhardt wasn't the only casualty among the top contenders, with Denny Hamlin and Jimmie Johnson both finding the wall during Sunday's race, while Kyle Busch finished dead-last after an engine failure for his third DNF in the last four events.
Race Results
| | | | | | | | | |
| --- | --- | --- | --- | --- | --- | --- | --- | --- |
| Pos. | # | Driver | Make | Start | Laps | Led | Status | Points |
| 1 | 22 | Joey Logano | Ford | 1 | 200 | 138 | Running | 45 |
| 2 | 24 | Chase Elliott | Chevy | 10 | 200 | 35 | Running | 40 |
| 3 | 42 | Kyle Larson | Chevy | 7 | 200 | 1 | Running | 39 |
| 4 | 2 | Brad Keselowski | Ford | 15 | 200 | 10 | Running | 38 |
| 5 | 4 | Kevin Harvick | Chevy | 29 | 200 | 0 | Running | 36 |
| 6 | 19 | Carl Edwards | Toyota | 11 | 200 | 0 | Running | 35 |
| 7 | 14 | Tony Stewart | Chevy | 3 | 200 | 0 | Running | 34 |
| 8 | 3 | Austin Dillon | Chevy | 8 | 200 | 0 | Running | 33 |
| 9 | 1 | Jamie McMurray | Chevy | 14 | 200 | 0 | Running | 32 |
| 10 | 41 | Kurt Busch | Chevy | 17 | 200 | 0 | Running | 31 |
| 11 | 31 | Ryan Newman | Chevy | 6 | 200 | 1 | Running | 31 |
| 12 | 78 | Martin Truex Jr | Toyota | 2 | 200 | 10 | Running | 30 |
| 13 | 5 | Kasey Kahne | Chevy | 23 | 200 | 0 | Running | 28 |
| 14 | 20 | Matt Kenseth | Toyota | 19 | 200 | 0 | Running | 27 |
| 15 | 6 | Trevor Bayne | Ford | 13 | 200 | 0 | Running | 26 |
| 16 | 48 | Jimmie Johnson | Chevy | 16 | 200 | 4 | Running | 26 |
| 17 | 21 | Ryan Blaney | Ford | 5 | 200 | 0 | Running | 24 |
| 18 | 27 | Paul Menard | Chevy | 32 | 200 | 1 | Running | 24 |
| 19 | 16 | Greg Biffle | Ford | 18 | 200 | 0 | Running | 22 |
| 20 | 34 | Chris Buescher | Ford | 22 | 200 | 0 | Running | 21 |
| 21 | 10 | Danica Patrick | Chevy | 25 | 200 | 0 | Running | 20 |
| 22 | 23 | David Ragan | Toyota | 35 | 200 | 0 | Running | 19 |
| 23 | 15 | Clint Bowyer | Chevy | 34 | 200 | 0 | Running | 18 |
| 24 | 95 | Ty Dillon | Chevy | 21 | 200 | 0 | Running | 0 |
| 25 | 38 | Landon Cassill | Ford | 28 | 200 | 0 | Running | 16 |
| 26 | 43 | Aric Almirola | Ford | 30 | 200 | 0 | Running | 15 |
| 27 | 55 | Cole Whitt | Chevy | 36 | 200 | 0 | Running | 14 |
| 28 | 46 | Michael Annett | Chevy | 39 | 200 | 0 | Running | 13 |
| 29 | 17 | Ricky Stenhouse Jr | Ford | 12 | 199 | 0 | Running | 12 |
| 30 | 30 | Josh Wise | Chevy | 37 | 197 | 0 | Running | 11 |
| 31 | 98 | Reed Sorenson | Chevy | 40 | 194 | 0 | Running | 10 |
| 32 | 13 | Casey Mears | Chevy | 24 | 189 | 0 | Running | 9 |
| 33 | 11 | Denny Hamlin | Toyota | 4 | 188 | 0 | Accident | 8 |
| 34 | 83 | Matt DiBenedetto | Toyota | 31 | 185 | 0 | Running | 7 |
| 35 | 7 | Regan Smith | Chevy | 33 | 179 | 0 | Running | 6 |
| 36 | 44 | Brian Scott | Ford | 26 | 154 | 0 | Accident | 5 |
| 37 | 32 | Jeffrey Earnhardt | Ford | 38 | 101 | 0 | Accident | 4 |
| 38 | 47 | AJ Allmendinger | Chevy | 20 | 62 | 0 | Accident | 3 |
| 39 | 88 | Dale Earnhardt Jr | Chevy | 27 | 61 | 0 | Accident | 2 |
| 40 | 18 | Kyle Busch | Toyota | 9 | 52 | 0 | Engine | 1 |
[adinserter name="GOOGLE AD"]