Charlotte to build a road course (2nd Update)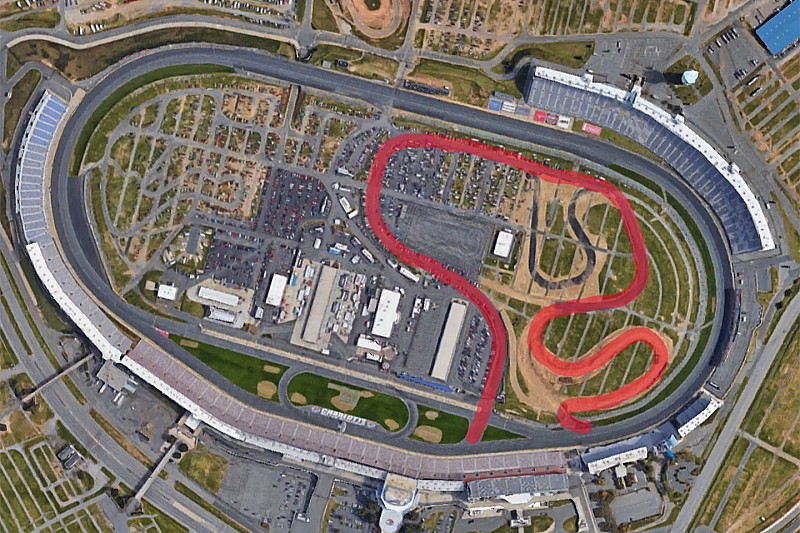 Charlotte Road Course
UPDATE Right turns in the Cup Series at Charlotte Motor Speedway are on hold for 2017.
Multiple sources within the NASCAR industry told NBC Sports that the 1.5-mile track will hold its Oct. 7 race on its oval after exploring the concept of using the road course.
It's likely the track's road course will be used in the 2018 playoffs. The track will be making upgrades to the infield circuit, which uses all but a few hundred feet of the oval. NBC Sports
01/20/17 Added photo of Charlotte Road Course.
01/20/17
Could a road course race be in Charlotte Motor Speedway's future? Last Friday, AJ Allmendinger tested on what was roughly a 2.3-mile circuit similar to Daytona International Speedway that incorporates both the infield in Turns 1 and 2 and the regular 1.5-mile oval according to multiple sources. The test was a collaboration between Charlotte Motor Speedway and NASCAR.
Sources said Charlotte could incorporate the road course as early as the All-Star Race, which is scheduled for May 20. It's more likely the road course would be used for the fall Chase race on Oct. 7. Fans have been clamoring for a road course in NASCAR's playoffs and Charlotte could offer the perfect solution. Certainly, if the Charlotte plan comes to fruition, transitioning to a road course could be an option at other facilities. Indianapolis Motor Speedway and Kansas Speedway, for instance, already feature road courses as part of their landscape. Motorsport