MotoGP: Bagnaia bags first Sprint Race of 2023
–by Mark Cipolloni–
Marc Marquez was on pole after a miraculous qualifying lap for the Portuguese GP, but in the race his Honda is no match for the HP advantage the Ducati riders enjoy.
New for 2023 is a half – distance sprint race on Saturday's after qualifying  – a copy of what F1 has done the last couple of years.
Marquez led the opening lap of the Sprint race today, but the Ducati riders had enough of that and at the start of the second lap of 12, Bagnaia and Martin used their HP advantage and blasted past Marquez to demote him to third on the run into Turn 1.
And that is how they finished, although Martin led for a bit, but on the final lap, Martin ran wide under braking for Turn 5 which allowed Bagnaia to pass and take the checkered flag for the first sprint race.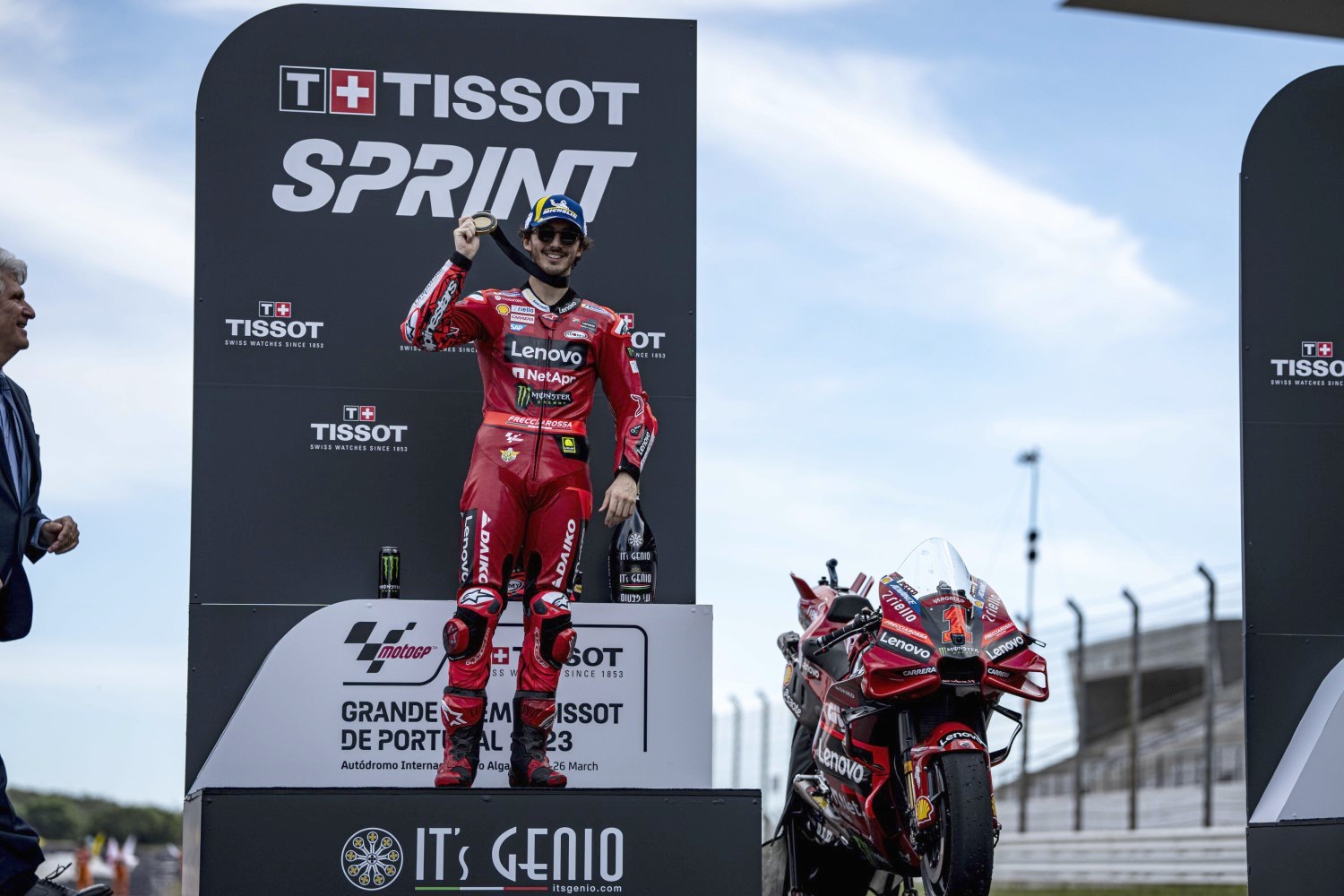 Portugal Sprint Race Results
| | | | | | | |
| --- | --- | --- | --- | --- | --- | --- |
| Pos | No. | Rider | Bike | Laps | Behind | Gap |
| 1 | 1 | Francesco Bagnaia | Ducati | 12 | 0.000s | 0.000s |
| 2 | 89 | Jorge Martin | Ducati | 12 | 0.307 | 0.307 |
| 3 | 93 | Marc Marquez | Honda | 12 | 1.517 | 1.210 |
| 4 | 43 | Jack Miller | KTM | 12 | 1.603 | 0.086 |
| 5 | 12 | Maverick Viñales | Aprilia | 12 | 1.854 | 0.251 |
| 6 | 41 | Aleix Espargaro | Aprilia | 12 | 2.106 | 0.252 |
| 7 | 88 | Miguel Oliveira | Aprilia | 12 | 2.940 | 0.834 |
| 8 | 5 | Johann Zarco | Ducati | 12 | 5.595 | 2.655 |
| 9 | 73 | Alex Marquez | Ducati | 12 | 5.711 | 0.116 |
| 10 | 20 | Fabio Quartararo | Yamaha | 12 | 5.924 | 0.213 |
| 11 | 25 | Raúl Fernández | Aprilia | 12 | 8.160 | 2.236 |
| 12 | 33 | Brad Binder | KTM | 12 | 8.384 | 0.224 |
| 13 | 42 | Alex Rins | Honda | 12 | 11.288 | 2.904 |
| 14 | 21 | Franco Morbidelli | Yamaha | 12 | 17.138 | 5.850 |
| 15 | 30 | Takaaki Nakagami | Honda | 12 | 18.128 | 0.990 |
| 16 | 49 | Fabio Di Giannantonio | Ducati | 12 | 21.235 | 3.107 |
| DNF | 72 | Marco Bezzecchi | Ducati | 2 | 10 Laps | 10 Laps |
| DNF | 23 | Enea Bastianini | Ducati | 1 | 11 Laps | 1 Lap |
| DNF | 10 | Luca Marini | Ducati | 1 | 11 Laps | 0.412 |
| DNF | 36 | Joan Mir | Honda | 0 | | |
| DNF | 37 | Augusto Fernandez | GASGAS | 0 | | |