NASCAR: Byron wins Cup pole at COTA
William Byron of Hendrick Motorsports won the Busch Light Pole Award in the NASCAR Cup Series on Saturday at Circuit of The Americas in Austin, Texas.
Byron turned a lap of 93.882 mph around the 3.41-mile road course, putting him on the pole for Sunday's EchoPark Automotive Grand Prix (3:30 p.m. ET, FOX, PRN, SiriusXM NASCAR Radio). This was his ninth pole in 186 Cup Series races.
Tyler Reddick of 23XI Racing will join Byron on the front row after posting a speed of 93.783 mph in Saturday's session. Austin Cindric, Jordan Taylor and Daniel Suárez rounded out the top five qualifiers.
Alex Bowman, AJ Allmendinger, Erik Jones, Kyle Busch and Noah Gragson completed the top 10 spots.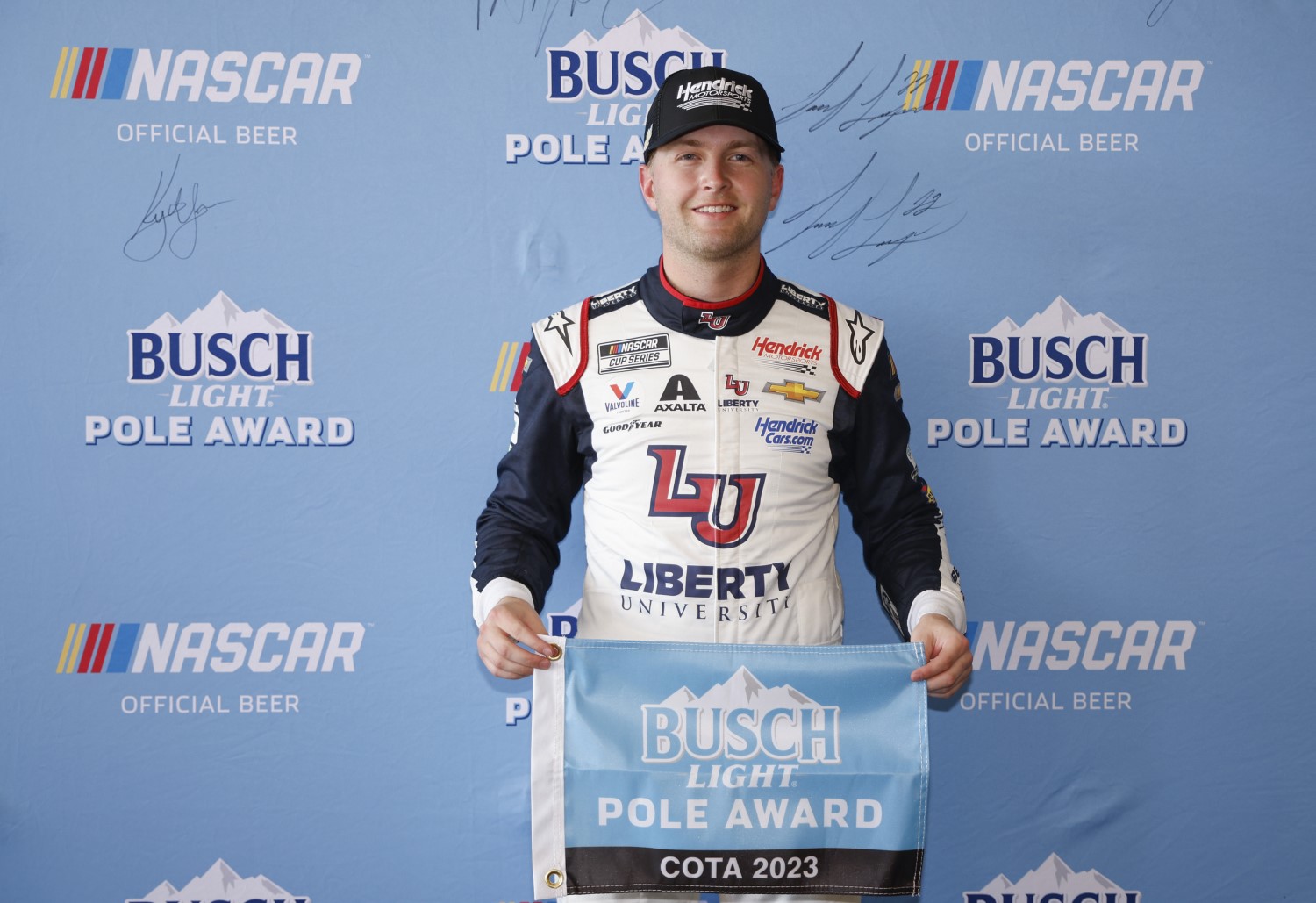 Starting Lineup
| | | | | | |
| --- | --- | --- | --- | --- | --- |
| Pos | No. | Driver | Team | Time | Speed |
| 1 | 24 | William Byron | Liberty University Chevrolet | 130.760 | 93.882 |
| 2 | 45 | Tyler Reddick | Monster Energy Toyota | 130.898 | 93.783 |
| 3 | 2 | Austin Cindric | Discount Tire Ford | 131.352 | 93.459 |
| 4 | 9 | Jordan Taylor | UniFirst Chevrolet | 131.754 | 93.174 |
| 5 | 99 | Daniel Suarez | Freeway Insurance Chevrolet | 131.905 | 93.067 |
| 6 | 48 | Alex Bowman | Ally Chevrolet | 132.127 | 92.911 |
| 7 | 16 | AJ Allmendinger | Farmsmart Chevrolet | 132.228 | 92.840 |
| 8 | 43 | Erik Jones | Allegiant Chevrolet | 132.230 | 92.838 |
| 9 | 8 | Kyle Busch | Netspend Chevrolet | 132.459 | 92.678 |
| 10 | 42 | Noah Gragson # | Black Rifle Coffee Company Chevrolet | 133.162 | 92.188 |
| 11 | 23 | Bubba Wallace | MoneyLion Toyota | 131.498 | 93.355 |
| 12 | 1 | Ross Chastain | Worldwide Express Chevrolet | 131.562 | 93.310 |
| 13 | 5 | Kyle Larson | HendrickCars.com Chevrolet | 132.039 | 92.973 |
| 14 | 20 | Christopher Bell | DeWalt Toyota | 132.112 | 92.921 |
| 15 | 22 | Joey Logano | Shell Pennzoil Ford | 132.125 | 92.912 |
| 16 | 21 | Harrison Burton | Motorcraft/Quick Lane Ford | 132.219 | 92.846 |
| 17 | 54 | Ty Gibbs # | He Gets us Toyota | 132.323 | 92.773 |
| 18 | 47 | Ricky Stenhouse Jr. | Kroger/Blue Buffalo Chevrolet | 132.359 | 92.748 |
| 19 | 14 | Chase Briscoe | Mahindra Tractors Ford | 132.401 | 92.718 |
| 20 | 34 | Michael McDowell | Love's Travel Stops Ford | 132.498 | 92.650 |
| 21 | 11 | Denny Hamlin | Interstate Batteries Toyota | 132.500 | 92.649 |
| 22 | 91 | Kimi Raikkonen | Onx Homes/iLOQ Chevrolet | 132.526 | 92.631 |
| 23 | 31 | Justin Haley | Celsius Chevrolet | 132.539 | 92.622 |
| 24 | 15 | Jenson Button | Mobil 1 Ford | 132.559 | 92.608 |
| 25 | 19 | Martin Truex Jr. | Bass Pro Shops Toyota | 132.575 | 92.597 |
| 26 | 41 | Ryan Preece | HaasTooling.com Ford | 132.629 | 92.559 |
| 27 | 7 | Corey LaJoie | OpTic Gaming Chevrolet | 132.756 | 92.470 |
| 28 | 3 | Austin Dillon | Get Bioethanol Chevrolet | 132.781 | 92.453 |
| 29 | 4 | Kevin Harvick | Mobil 1 Ford | 132.869 | 92.392 |
| 30 | 6 | Brad Keselowski | Wyndham Rewards Ford | 132.929 | 92.350 |
| 31 | 84 | Jimmie Johnson | Club Wyndham Chevrolet | 132.938 | 92.344 |
| 32 | 17 | Chris Buescher | Fifth Third Bank Ford | 133.218 | 92.150 |
| 33 | 78 | Josh Bilicki(i) | Zeigler Auto Group Chevrolet | 133.274 | 92.111 |
| 34 | 77 | Ty Dillon | Ferris Commercial Mowers Chevrolet | 133.567 | 91.909 |
| 35 | 50 | Conor Daly | BitNile.com Chevrolet | 133.792 | 91.754 |
| 36 | 38 | Todd Gilliland | Ruedebusch Ford | 134.038 | 91.586 |
| 37 | 51 | Cody Ware | PublicSq Ford | 134.858 | 91.029 |
| 38 | 12 | Ryan Blaney | Menards/Knauf Ford | 140.865 | 87.147 |
| 39 | 10 | Aric Almirola | Smithfield Ford | 182.392 | 67.306 |