Formula E: Mitch Evans wins Sao Paulo e-Prix
–by Mark Cipolloni–
Jaguar Racing's Mitch Evans held off Envision Racing's Nick Cassidy to win the Sao Paulo e-Prix by 0.284s in the 35-lap race.
Sam Bird was 3rd in the #10 Jaguar entry.  The top-3 were separated by just 0.5s in a race that was slowed by two Safety Car periods.
The top-3 cars were all Jaguar powered.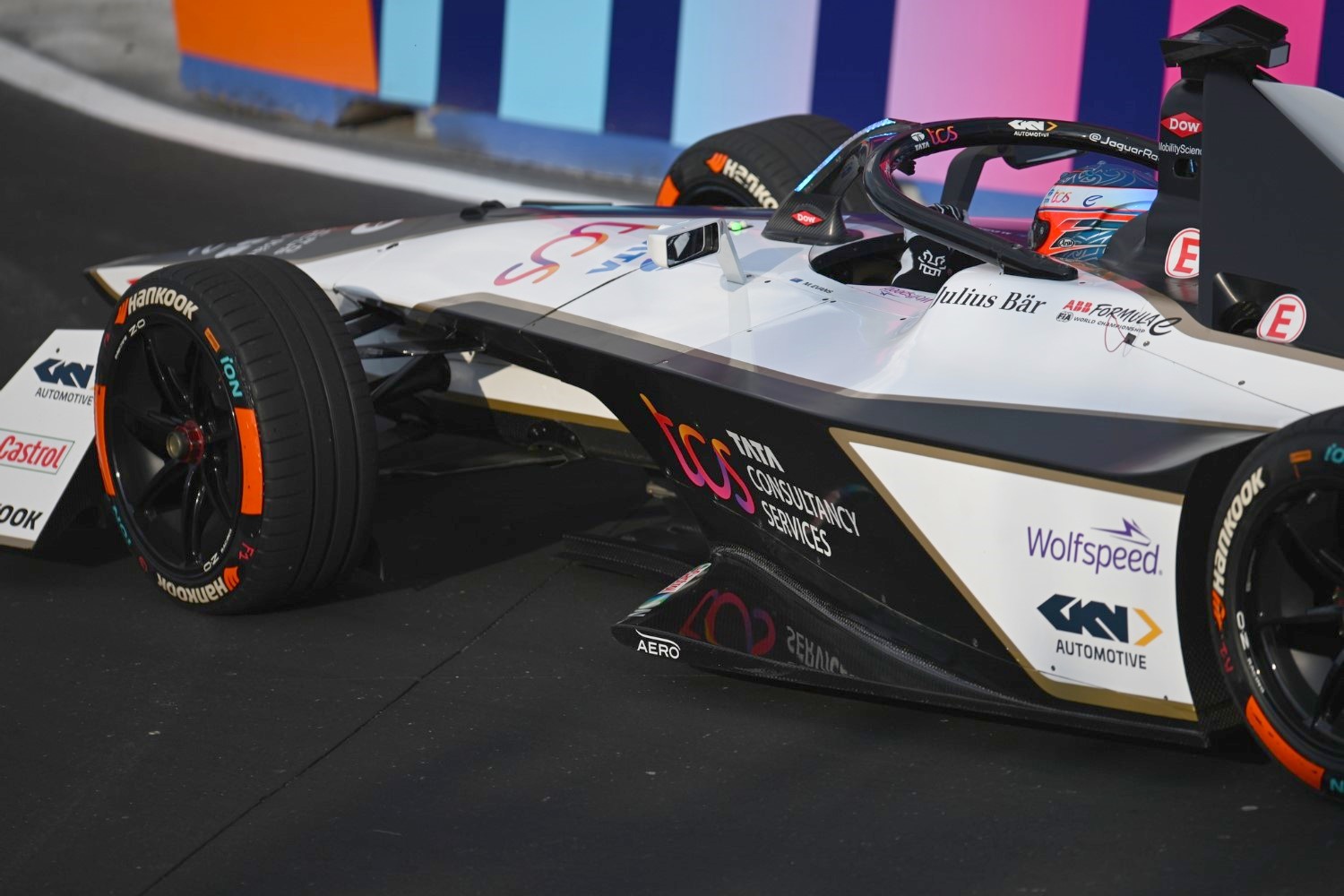 Antonio da Costa finished a distant 4th for Porsche, while Jean-Eric Vergne rounded out the top-5 for DS Penske.
4 laps were added to the race distance because of the slow energy saving Safety Car laps.
It was a flat out push to the finish at the rapid 11-turn Sao Paulo Street Circuit, with Evans managing to navigate his way through constant position changes up-and-down the pack to take the checkered flag first from third on the grid. The New Zealander took the initiative and the race lead from his compatriot Cassidy as the race headed into four TAG Heuer Added Laps.
His move on Lap 32 proved to be decisive, with neither Cassidy nor Evans' teammate Bird able to undo the leader's defensive driving – despite Bird having collected a couple of extra percentage points of useable energy during his climb from 10th on the grid at the start. Cassidy had led the race more than once, but will be more than satisfied to score three podiums on the spin for the first time in his Formula E career.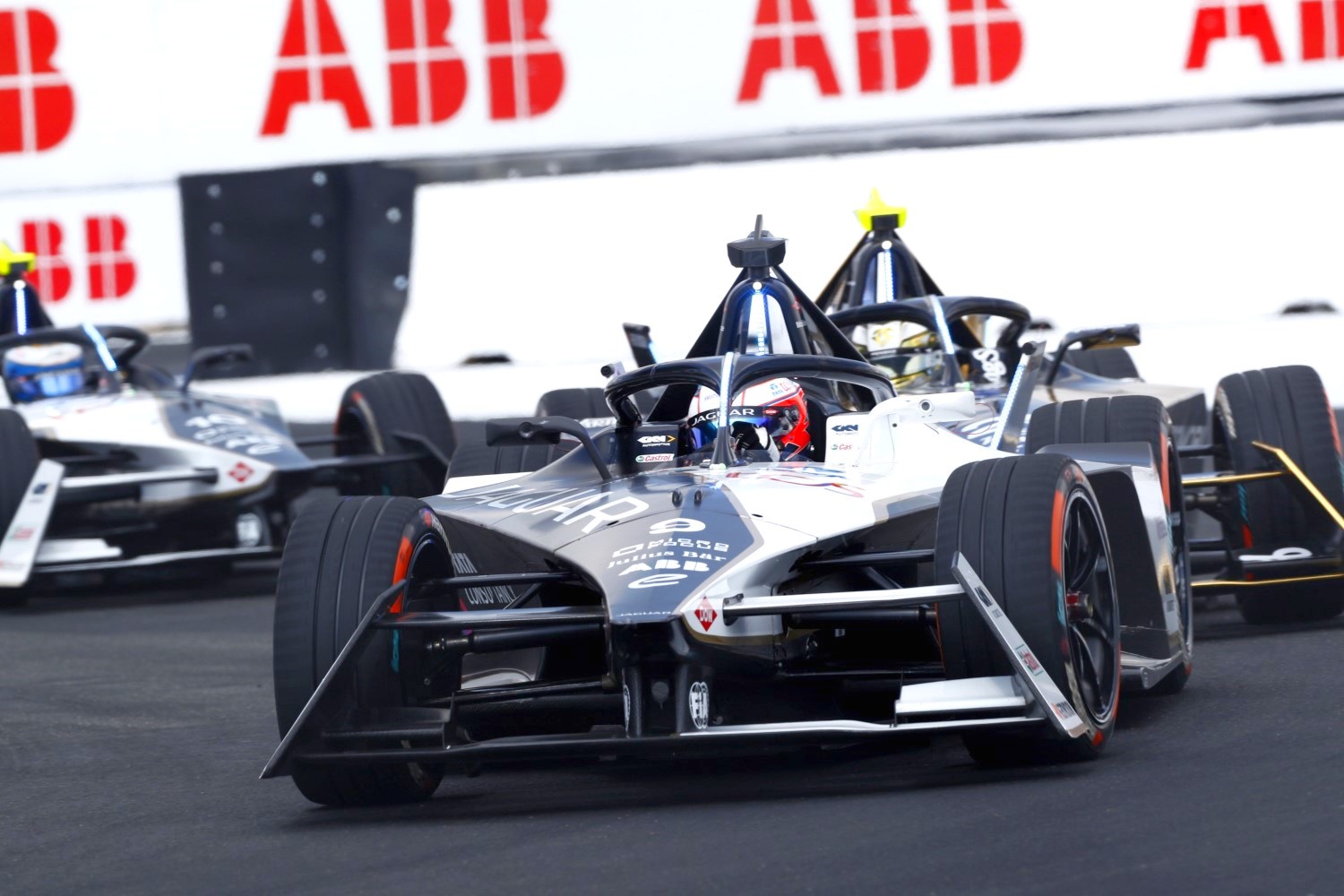 Polesitter Stoffel Vandoorne (DS PENSKE) had led the way early on, fending off Porsche's Antonio Felix da Costa during the first round of ATTACK MODE activations until the race reached its half-way stage, with the lead impossible to keep track of on Lap 14 – three or four changes over that tour alone and Cassidy coming out on top. The Belgian would end up sixth after struggling for usable energy from his time out-front. Da Costa had slipped to fourth and briefly made designs on the podium but wound up settling for that berth just outside the podium positions. Jean-Eric Vergne headed his teammate home for an eventual fifth spot.
Standings leader Pascal Wehrlein had it all to do from 18th on the grid and sliced his way through the pack to 11th position at the checkered flag with Jake Hughes finishing eighth, just ahead of teammate Rast in ninth – Sebastien Buemi (Envision Racing) rounding out the top 10. Meanwhile, Jake Dennis (Avalanche Andretti) suffered another non-finish after contact from Dan Ticktum's NIO 333 saw his 99X Electric shoved into Wehrlein's Porsche.
All that saw Wehrlein keep a hold of his Drivers' World Championship lead on 86 points from Dennis' 62, while Cassidy clambered into third just a point behind the Brit. TAG Heuer Porsche heads Envision Racing 144 points to 103 with Jaguar TCS Racing third on 83 points.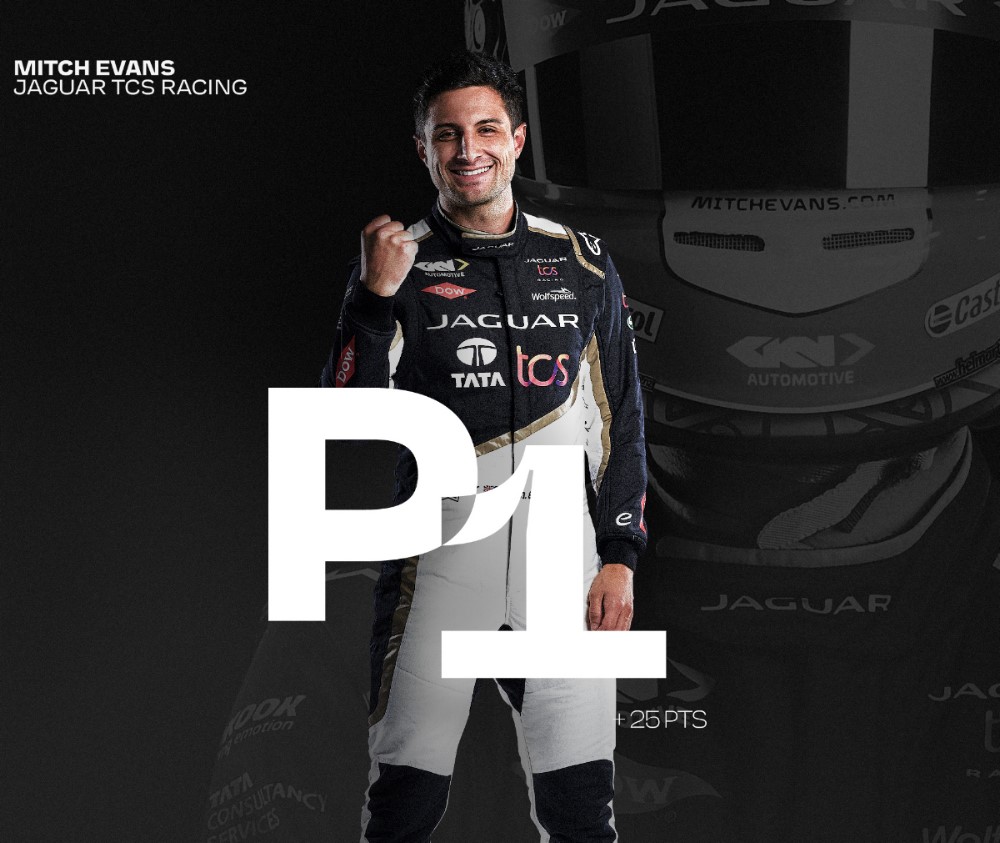 Quotes
Mitch Evans, No. 9, Jaguar TCS Racing, said:
"This has come at the perfect time. We had a tough start but the car has been quick so to finally get the victory and some points is incredible. A Jaguar 1-2-3. Nick pushed me all the way – we pushed each other – both teams executed brilliantly. This is down to a lot of hard work, there is a lot of graft that goes in with simulations, to try and put these races together regarding strategy is not easy. I wouldn't have wanted it much closer than that.
"We obviously thought about track position and where you want to be at certain phases in the races. I had a good energy advantage from quite early on, but it was just about trying to find the right time to use the energy advantage. I thought I maybe went a bit too early, once Nick got behind me he was able to accumulate some energy and he was able to stick to my toe, but we got the victory so we obviously managed to do the right job. Super happy to get some big points on the board."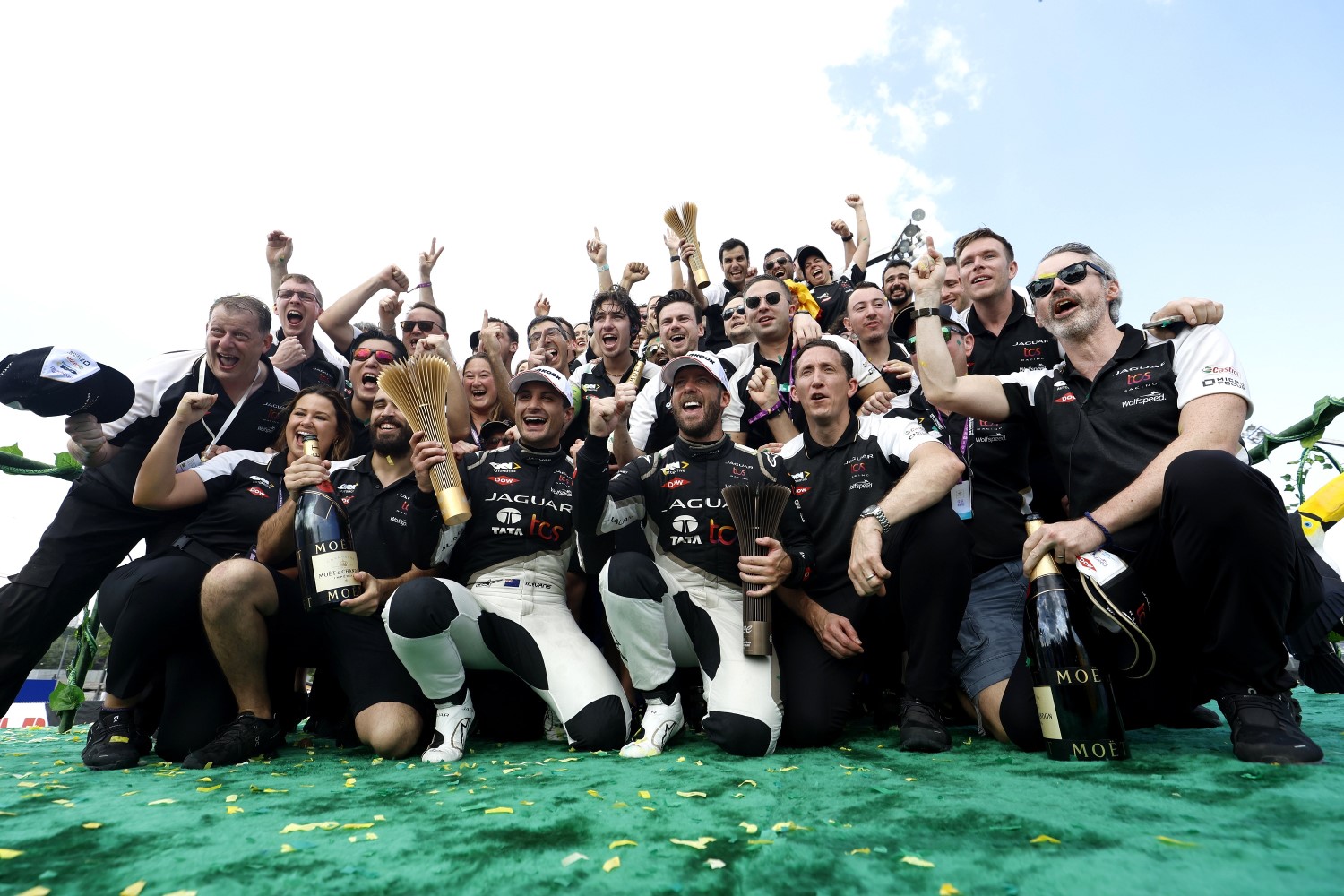 Nick Cassidy, No. 37, Envision Racing, said:
"I am super happy with the podium today, with a race like that you can't not be happy right – that was Formula E at its best, so much fun in the car, I hope it was a good watch. Very strategic, Sam did a great job as well. 1-2-3 Jaguar, pretty cool. I knew [how much energy Sam Bird had], that was a lot of the reason for getting Mitch to go on. I knew to get the win would be pretty difficult and that I would have to do something special on Mitch to turn that round, but I was at a high risk of finishing third.
"We all want to win, I tried my best to win. But that's the way the cookie crumbled, and I think we got one of the best outcomes."
Sam Bird, No. 10, Jaguar TCS Racing, said:
"Amazing day for Jaguar TCS Racing and Jaguar globally as a group to get the podium locked out. I am not sure whether that has been done before, so a massive hats off to everyone here and back at the base, it's a brilliant result. I am super stoked for the team and for myself. I am a little bit disappointed because I rocked up to the back of the lead with 2% more energy, but I had repercussions of India going on in my head, so I thought to settle in and not do anything silly and just bring home the points, I think I got fastest lap as well. It is good points for the team, we roll onto Berlin."
Race Results
| | | | | | | |
| --- | --- | --- | --- | --- | --- | --- |
| Pos | No. | Driver | Team | Laps | Behind | Gap |
| 1 | 9 | M. Evans | Jaguar TCS Racing | 35 | 0.000s | 0.000s |
| 2 | 37 | N. Cassidy | Envision Racing | 35 | 0.284s | 0.284s |
| 3 | 10 | S. Bird | Jaguar TCS Racing | 35 | 0.507s | 0.223s |
| 4 | 13 | A. Da Costa | Tag Heuer Porsche Formula E Team | 35 | 3.487s | 2.980s |
| 5 | 25 | J. Vergne | DS Penske | 35 | 4.042s | 0.555s |
| 6 | 1 | S. Vandoorne | DSs Penske | 35 | 4.576s | 0.534s |
| 7 | 94 | P. Wehrlein | Tag Heuer Porsche Formula E Team | 35 | 5.659s | 1.083s |
| 8 | 5 | J. Hughes | Neom Mclaren Formula E Team | 35 | 6.141s | 0.482s |
| 9 | 58 | R. Rast | Neom Mclaren Formula E Team | 35 | 7.403s | 1.262s |
| 10 | 16 | S. Buemi | Envision Racing | 35 | 7.976s | 0.573s |
| 11 | 7 | M. Günther | Maserati Msg Racing | 35 | 15.192s | 7.216s |
| 12 | 36 | A. Lotterer | Avalanche Andretti Formula E | 35 | 15.345s | 5.153s |
| 13 | 11 | L. Di Grassi | Mahindra Racing | 35 | 19.247s | 3.902s |
| 14 | 33 | D. Ticktum | Nio 333 Racing Fe Team | 35 | 19.398s | 9.849s |
| 15 | 4 | R. Frijns | Abt Cupra Formula E Team | 35 | 20.751s | 6.353s |
| 16 | 8 | O. Rowland | Mahindra Racing | 35 | 26.465s | 5.714s |
| 17 | 3 | S. Sette Câmara | Nio 333 Racing Fe Team | 35 | 31.514s | 10.049s |
| 18 | 51 | N. Müller | Abt Cupra Formula E Team | PIT | 19 | NR |
| 19 | 48 | E. Mortara | Maserati Msg Racing | OUT | 19 | NR |
| 20 | 27 | J. Dennis | Avalanche Andretti Formula E | OUT | 13 | NR |
| 21 | 23 | S. Fenestraz | Nissan Formula E Team | OUT | 6 | NR |
| 22 | 17 | N. Nato | Nissan Formula E Team | PIT | 0 | |