Martin Truex, Jr. Wins Pole For Coca Cola 600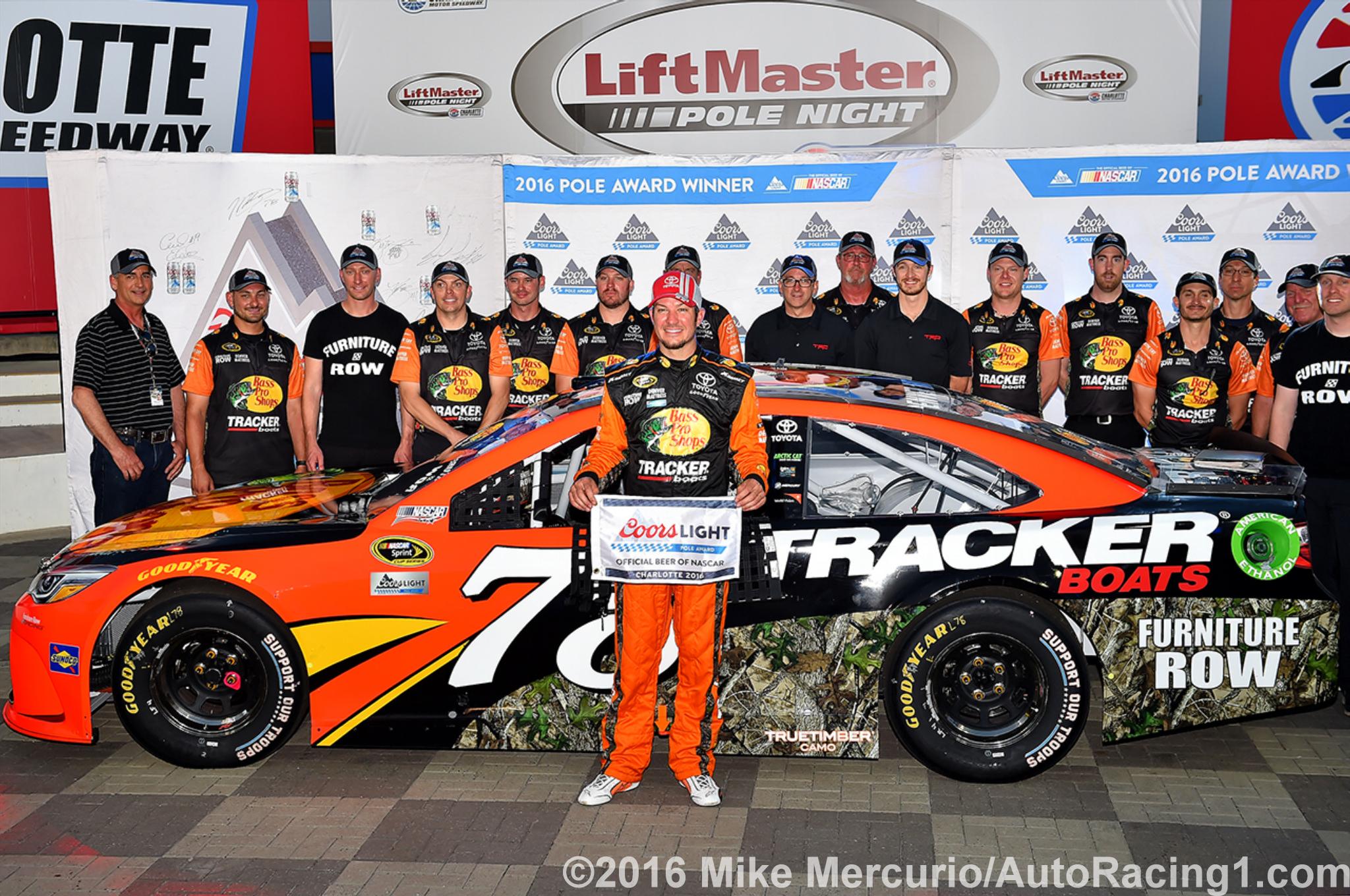 Martin Truex, Jr.
Mike Mercurio/AR1

Martin Truex, Jr, scored his first-career Charlotte Motor Speedway pole after topping Thursday night's qualifying session for Sunday's 57th running of the Coca Cola 600.
Truex, Jr rocketed to the top spot with a lap of 192.328 mph (28.077 seconds) to knock Joey Logano from the top spot in the final round of knockout qualifying to secure his second pole of the season and ninth of his Sprint Cup career.
Logano held off Ricky Stenhouse, Jr. to take second. Denny Hamlin and Brad Keselowski rounded out the top five qualifiers.
Truex, Jr. is still searching for his first win of the season – the lone driver running Joe Gibbs Racing chassis without a win so far – and has yet to score another top five finish since coming home second in the season-opening race at Daytona.
Truex, Jr. led a race-high 131 laps in last year's Coca-Cola, but the pit stops didn't fall his way and he ended up fifth after giving up the lead to pit for fuel.
"I liked what I felt last year and I've been thinking about this race a lot since then. We had a really good car that day and thought we were going to go to victory lane and got beat on fuel mileage," said Truex, Jr. "We just need to continue what we've been doing, we've been so good and we've really had a great season. We don't have a lot to show for it, but we've got a lot of confidence and a lot of momentum and fast race cars. Hopefully we can get to victory lane here soon.
"We've had a lot of strong points this year, a lot of good moments, we've led a lot of laps and this is our second pole. It's obvious that our speed wasn't just a come and go type of thing, we've been fast everywhere every week. We obviously feel like we've let a few wins slip away so I wouldn't say this is the high point, but it's definitely a good feeling."
[adinserter name="GOOGLE AD"] Truex's pole-winning run spoiled what was shaping up to be a big night for the Ford teams, with all both Team Penske entries and all three Roush-Fenway Racing drivers advancing to the final round.
Logano and Ryan Blaney put their Fords in the front row following the opening round of qualifying, with Ford taking six of the top eight spots. Logano then went onto lead the second round with Greg Biffle running second, this time four swept the top four spots.
In the final round, was among the first drivers back out on the track and laid down his fastest lap of the day at 192.007 mph. to grab the initial pole, before Truex, Jr. came around to bump him from the top spot. Stenhouse, Jr. crossed the line a minute later but came up short with a speed of 191.428 mph.
Logano, who won himself a cool million dollars with a win in last Saturday night's Sprint All Star Race, said his team is carrying a lot of momentum from last week they hope will carry over inti Sunday. The team will also get the second-pick for the all-important pit stall selection.
"This is a great start for us," said Logano. "You look at 600 miles and you may say qualifying doesn't matter much, but we're gonna to spend a lot of time on pit road in this race, so the pit stall is gonna mean a lot for us. We'll have a good one. We won't have as good of a one as if we were able to get the pole, but we'll get the second-best stall in our opinion.
"Overall, our car has speed. It's transferred over from last weekend, at least in qualifying trim. We'll see what happens when we get back here on Saturday and get back in race trim, but overall our Shell/Pennzoil Ford is so fast."
Stenhouse Jr.'s third-place effort was his best starting position of the season and his best start since winning the pole at Atlanta in September of 2013. Thursday marked the first time all three RFR Fords had reached the final round of qualifying since Michigan in August of 2014.
"Being in the top four in every session there was really big for us," said Stenhouse, Jr. "I feel like our simulation has gotten better. The engineers that we've brought in and the leadership that we have in each department has been better. The way the shop is run. We changed everything this off-season and I feel like so far everything is for the better and we're trending in the right direction. We still have a long ways to go, but I'm definitely encouraged with how everything has been so far this year."
Three teams were penalized after receiving their fourth warnings for failing pre-qualifying inspection. Aric Almirola's Richard Petty Motorsports picked up two warnings for failing inspection twice on Thursday, while the Hendrick Motorsports teams of Jimmie Johnson and Dale Earnhardt, Jr. each received one warning for failing inspection.
All three teams will have to pick last during pit stall selection on Saturday and will likely get the last three stalls on pit road.
Qualifying Results
| | | | | | | | |
| --- | --- | --- | --- | --- | --- | --- | --- |
| Pos. | # | Driver | Make | Sponsor | Lap | Time | Behind |
| 1 | 78 | Martin Truex Jr | Toyota | Bass Pro Shops | 192.328 | 28.077 | Leader |
| 2 | 22 | Joey Logano | Ford | Shell Pennzoil | 192.007 | 28.124 | –0.047 |
| 3 | 17 | Ricky Stenhouse Jr | Ford | Fastenal | 191.428 | 28.209 | –0.132 |
| 4 | 11 | Denny Hamlin | Toyota | FedEx Freight | 191.388 | 28.215 | –0.138 |
| 5 | 2 | Brad Keselowski | Ford | Miller Lite | 190.968 | 28.277 | –0.200 |
| 6 | 16 | Greg Biffle | Ford | Cheez-It | 190.503 | 28.346 | –0.269 |
| 7 | 48 | Jimmie Johnson | Chevy | Lowe's Patriotic | 190.282 | 28.379 | –0.302 |
| 8 | 4 | Kevin Harvick | Chevy | Jimmy John's | 190.268 | 28.381 | –0.304 |
| 9 | 19 | Carl Edwards | Toyota | Subway | 189.853 | 28.443 | –0.366 |
| 10 | 6 | Trevor Bayne | Ford | Advocare | 189.587 | 28.483 | –0.406 |
| 11 | 27 | Paul Menard | Chevy | Knauf / Menards | 189.162 | 28.547 | –0.470 |
| 12 | 24 | Chase Elliott | Chevy | NAPA Auto Parts | 187.963 | 28.729 | –0.652 |
| 13 | 41 | Kurt Busch | Chevy | Monster Energy | 190.114 | 28.404 | –0.327 |
| 14 | 31 | Ryan Newman | Chevy | Whelen | 189.927 | 28.432 | –0.355 |
| 15 | 47 | AJ Allmendinger | Chevy | Harris Teeter | 189.853 | 28.443 | –0.366 |
| 16 | 18 | Kyle Busch | Toyota | M&M's RWB | 189.820 | 28.448 | –0.371 |
| 17 | 13 | Casey Mears | Chevy | GEICO | 189.820 | 28.448 | –0.371 |
| 18 | 21 | Ryan Blaney | Ford | Motorcraft | 189.807 | 28.450 | –0.373 |
| 19 | 10 | Danica Patrick | Chevy | Nature's Bakery | 189.527 | 28.492 | –0.415 |
| 20 | 43 | Aric Almirola | Ford | U.S. Air Force | 189.274 | 28.530 | –0.453 |
| 21 | 14 | Tony Stewart | Chevy | Mobil 1 | 189.188 | 28.543 | –0.466 |
| 22 | 34 | Chris Buescher | Ford | CSX – Play It Safe | 188.673 | 28.621 | –0.544 |
| 23 | 1 | Jamie McMurray | Chevy | Cessna/McDonald's | 188.508 | 28.646 | –0.569 |
| 24 | 42 | Kyle Larson | Chevy | Target | 187.931 | 28.734 | –0.657 |
| 25 | 88 | Dale Earnhardt Jr | Chevy | Nationwide | 188.851 | 28.594 | –0.517 |
| 26 | 15 | Clint Bowyer | Chevy | 5-Hour Energy | 188.659 | 28.623 | –0.546 |
| 27 | 20 | Matt Kenseth | Toyota | DeWalt | 188.534 | 28.642 | –0.565 |
| 28 | 3 | Austin Dillon | Chevy | Cheerios | 188.515 | 28.645 | –0.568 |
| 29 | 5 | Kasey Kahne | Chevy | LiftMaster | 188.376 | 28.666 | –0.589 |
| 30 | 44 | Brian Scott | Ford | Twisted Tea | 188.016 | 28.721 | –0.644 |
| 31 | 7 | Regan Smith | Chevy | Nikko RC | 187.480 | 28.803 | –0.726 |
| 32 | 95 | Michael McDowell | Chevy | Thrivent Financial | 187.266 | 28.836 | –0.759 |
| 33 | 38 | Landon Cassill | Ford | MDS Transport | 187.201 | 28.846 | –0.769 |
| 34 | 83 | Matt DiBenedetto | Toyota | Hope for the | 186.955 | 28.884 | –0.807 |
| 35 | 23 | David Ragan | Toyota | Bubba Burger | 186.780 | 28.911 | –0.834 |
| 36 | 98 | Cole Whitt | Chevy | VYDOX Plus | 185.586 | 29.097 | –1.020 |
| 37 | 30 | Josh Wise | Chevy | Curtis Key Plumbing | 183.181 | 29.479 | –1.402 |
| 38 | 46 | Michael Annett | Chevy | Pilot Flying J | 183.088 | 29.494 | –1.417 |
| 39 | 32 | Jeffrey Earnhardt | Ford | Can – Am | 180.717 | 29.881 | –1.804 |
| 40 | 55 | Reed Sorenson | Chevy | World Record Striper Co | 179.432 | 30.095 | –2.018 |
[adinserter name="GOOGLE AD"]