Whincup tops the time sheets in final Newcastle practice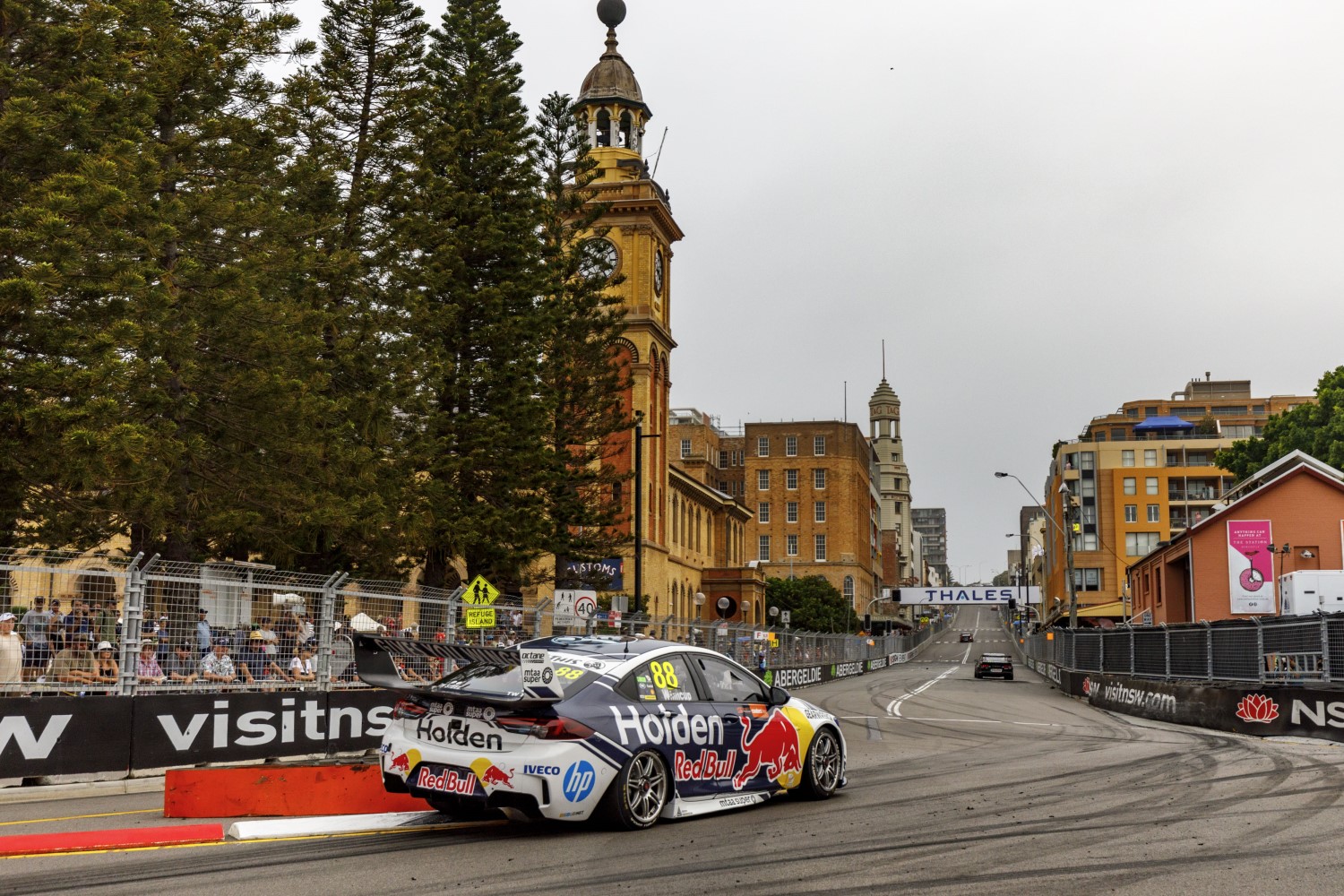 Jamie Whincup
Jamie Whincup has led a tightly contested Practice 2 session at the Coates Hire Newcastle 500, edging out Mustang driver Cameron Waters.
It marks a strong start to the weekend for Whincup, whose Red Bull Holden Racing Team is gunning for the teams' title against Shell V-Power Racing.
Just 116 points separate the powerhouse squads ahead of the Coates Hire Newcastle 500 season finale, with Whincup and Shane van Gisbergen running one-three in practice.
"My car didn't feel that flash then on good tires, but it's clearly quick," noted Whincup.
"I think our drive is okay, we're just struggling with a bit of turn.
"We'll work on getting them to turn through that change of direction a little bit faster.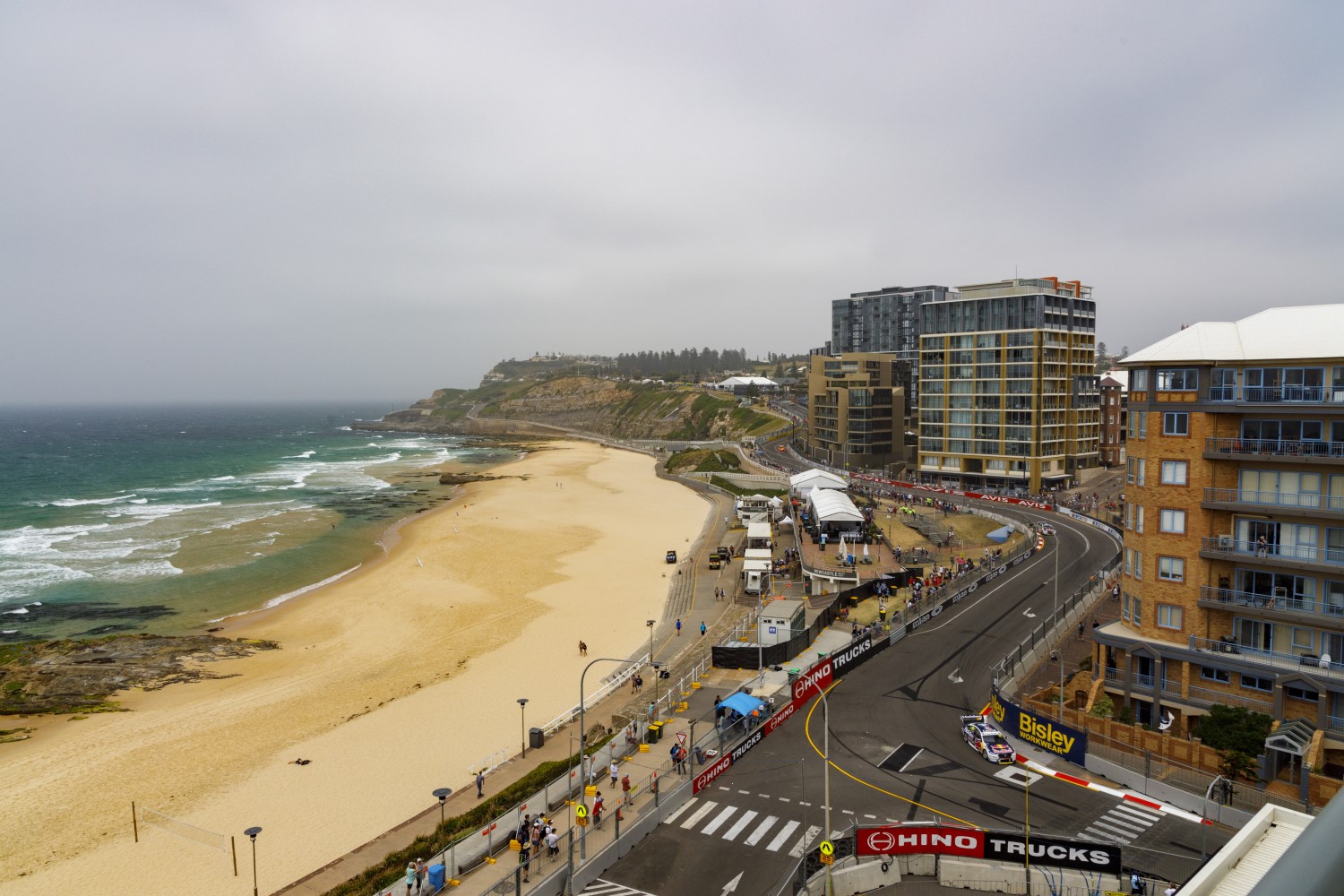 A street course by the ocean, just like Surfers
"If we can do that, I think we'll improve for tomorrow.
Waters was pleased with second, on a track that has previously proven troublesome for Tickford Racing.
"We had a pretty good swing at it between sessions and just kept chipping away at it, which is really good," he said.
"Traditionally it's been a track which hasn't suited our cars and that's probably the best car I've had around here. Hopefully it translates to tomorrow."
The top 23 drivers were split by less than eight tenths in a show of the competitiveness down pitlane.
Scott McLaughlin joined Waters and van Gisbergen in being within a tenth of the pace setting #88 Commodore.
David Reynolds, Mark Winterbottom, James Courtney, Fabian Coulthard, Todd Hazelwood and Lee Holdsworth rounded out the top 10, with Chaz Mostert down in 13th.
Several drivers overstepped the limits in the search for ultimate pace ahead of ARMOR ALL Qualifying at 10:50am Saturday.
Friday Results
| | | | | | |
| --- | --- | --- | --- | --- | --- |
| POS | # | DRIVER | TEAM | BEST LAP | LAPS |
| 1 | 88 | Whincup | Red Bull Holden Racing Team | 1:10.317 | 17 |
| 2 | 6 | C. Waters | Monster Energy Racing Team | 1:10.323 | 15 |
| 3 | 97 | Van Gisbergen | Red Bull Holden Racing Team | 1:10.378 | 15 |
| 4 | 17 | McLaughlin | Shell V-Power Racing Team | 1:10.384 | 18 |
| 5 | 9 | Reynolds | Penrite Racing | 1:10.424 | 16 |
| 6 | 18 | Winterbottom | Irwin Racing | 1:10.425 | 15 |
| 7 | 22 | Courtney | Mobil 1 Racing | 1:10.446 | 12 |
| 8 | 12 | Coulthard | Shell V-Power Racing Team | 1:10.447 | 17 |
| 9 | 35 | T. Hazelwood | Bigmate Racing | 1:10.528 | 14 |
| 10 | 5 | Holdsworth | The Bottle-O Racing Team | 1:10.572 | 18 |
| 11 | 99 | A. de Pasquale | Penrite Racing | 1:10.574 | 13 |
| 12 | 8 | Percat | Timken Racing | 1:10.606 | 17 |
| 13 | 55 | Mostert | Supercheap Auto Racing | 1:10.632 | 17 |
| 14 | 14 | Slade | Freightliner Racing | 1:10.695 | 15 |
| 15 | 7 | Heimgartner | Plus Fitness Racing | 1:10.705 | 15 |
| 16 | 33 | R. Stanaway | Boost Mobile Racing | 1:10.772 | 13 |
| 17 | 15 | R. Kelly | Castrol Racing | 1:10.824 | 15 |
| 18 | 23 | Davison | Milwaukee Racing | 1:10.889 | 14 |
| 19 | 3 | G. Jacobson | RABBLE.club Racing | 1:10.906 | 17 |
| 20 | 21 | M. Jones | Team CoolDrive | 1:10.920 | 14 |
| 21 | 2 | W. Luff | Mobil 1 Racing | 1:11.069 | 18 |
| 22 | 19 | J. Le Brocq | Truck Assist TEKNO Racing | 1:11.102 | 17 |
| 23 | 78 | S. De Silvestro | Team Harvey Norman | 1:11.102 | 15 |
| 24 | 34 | J. Golding | Boost Mobile Racing | 1:11.431 | 15 |