Ford vs Ferrari opens at #1 at Box Office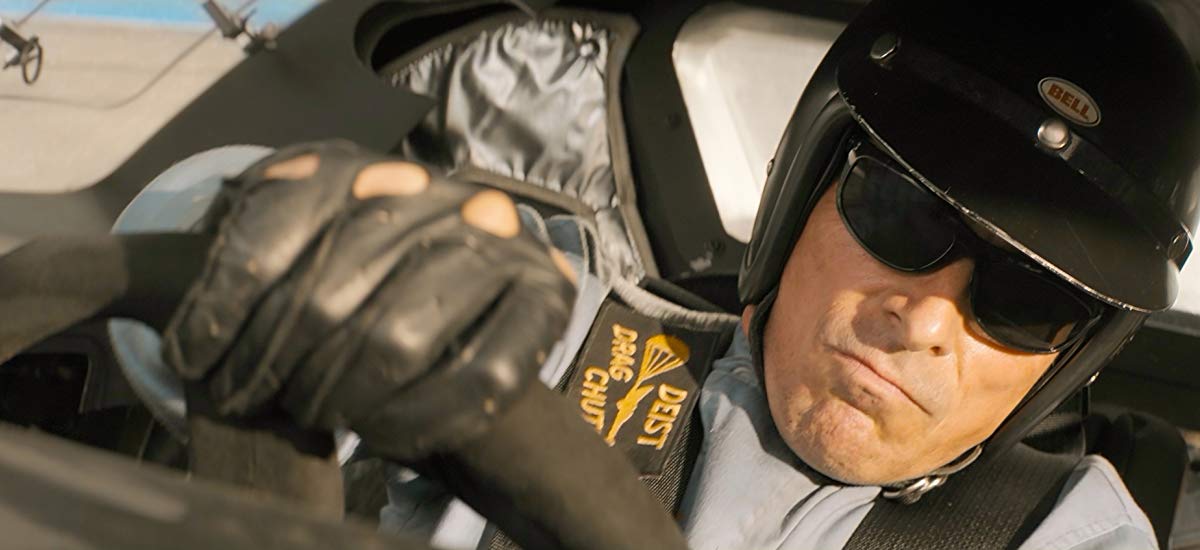 Christian Bale plays Ken Miles
"Ford v Ferrari" is number one at this weekend's box office. The racing drama starring Christian Bale and Matt Damon brought in $31 million in its debut weekend. "Ford v Ferrari" tells the true story of Ford's automotive team as they build a race car to try to beat the legendary Ferrari in the Le Mans.
Internationally, Ford v Ferrari brought in $21.4 million from 41 markets for a $52 million global debut, enjoying #1 openings in several including Russia, which serves as the film's top international market with a $3.2 million debut. Additional openings include the UK ($2.3m), France ($2.3m), Australia ($1.7m), Italy ($1.3m), Mexico ($1.1m) and Germany ($1.0m). Upcoming releases include a December 5 release in Korea followed by Japan on January 10. Box Office results below.
AutoRacing1.com staff took in the movie this weekend – we highly recommend. We know you will like it. If the Dolby Sound edition is available at your theater, we highly recommend it. Your seat will vibrate at times when the cars are at speed, making the experience very realistic. Box Office results below.
Hollywood Box Office Results (Weekend of Nov. 16-18, 2019)
| | | | | |
| --- | --- | --- | --- | --- |
| Rank | Release | Distributor | USA Gross | Theaters |
| 1 | Ford v Ferrari | Twentieth Century Fox | $31,037,000 | 3,528 |
| 2 | Midway | Lionsgate | $8,750,000 | 3,242 |
| 3 | Charlie's Angels | Sony Pictures Releasing | $8,600,000 | 3,452 |
| 4 | Playing with Fire | Paramount Pictures | $8,550,000 | 3,185 |
| 5 | Last Christmas | Universal Pictures | $6,700,000 | 3,454 |
| 6 | Doctor Sleep | Warner Bros. | $6,181,000 | 3,855 |
| 7 | The Good Liar | Warner Bros. | $5,656,000 | 2,439 |
| 8 | Joker | Warner Bros. | $5,635,000 | 2,337 |
| 9 | Maleficent: Mistress of Evil | Walt Disney Studios Motion Pictures | $5,247,000 | 2,549 |
| 10 | Harriet | Focus Features | $4,780,000 | 2,011 |
| 11 | Terminator: Dark Fate | Paramount Pictures | $4,375,000 | 2,477 |
| 12 | Jojo Rabbit | Fox Searchlight Pictures | $2,818,000 | 995 |
| 13 | Zombieland: Double Tap | Sony Pictures Releasing | $2,010,000 | 1,407 |
| 14 | Parasite | Neon | $1,935,000 | 620 |
| 15 | Countdown | STX Entertainment | $1,230,000 | 946 |
| 16 | Black and Blue | Screen Gems | $950,000 | 558 |
| 17 | Motherless Brooklyn | Warner Bros. | $500,000 | 611 |
| 18 | The Lighthouse | A24 | $391,770 | 290 |
| 19 | Abominable | Universal Pictures | $339,000 | 299 |
| 20 | Downton Abbey | Focus Features | $305,000 | 303 |
| 21 | Pain & Glory | Sony Pictures Classics | $214,221 | 226 |
| 22 | Honey Boy | Amazon Studios | $210,617 | 17 |
| 23 | Arctic Dogs | Entertainment Studios Motion Pictures | $210,000 | 356 |
| 24 | Jay and Silent Bob Reboot | Saban Films | $168,993 | 10 |
| 25 | Waves | A24 | $144,562 | 4 |
| 26 | Gemini Man | Paramount Pictures | $119,000 | 176 |
| 27 | No Safe Spaces | Atlas Distribution Company | $82,383 | 55 |
| 28 | Everybody's Everything | Gunpowder & Sky | $61,281 | 29 |
| 29 | The Lion King | Walt Disney Studios Motion Pictures | $53,000 | 116 |
| 30 | The Current War: Director's Cut | 101 Studios | $46,443 | 143 |
| 31 | Rambo: Last Blood | Lionsgate | $44,000 | 84 |
| 32 | Ad Astra | Twentieth Century Fox | $39,000 | 78 |
| 33 | Housefull 4 | FIP | $35,000 | 25 |
| 34 | Toy Story 4 | Walt Disney Studios Motion Pictures | $33,000 | 70 |
| 35 | The Kingmaker | Greenwich Entertainment | $14,000 | 8 |
| 36 | My Dear Liar | CMC Pictures Holdings | $12,147 | 3 |
| 37 | Mickey and the Bear | – | $9,523 | 1 |
| 38 | Frankie | Sony Pictures Classics | $8,709 | 15 |
| 39 | American Dharma | – | $6,763 | 8 |
| 40 | Immortal Hero | Freestyle Releasing | $1,389 | 5 |