Verschoor upstages Vips for Macau GP win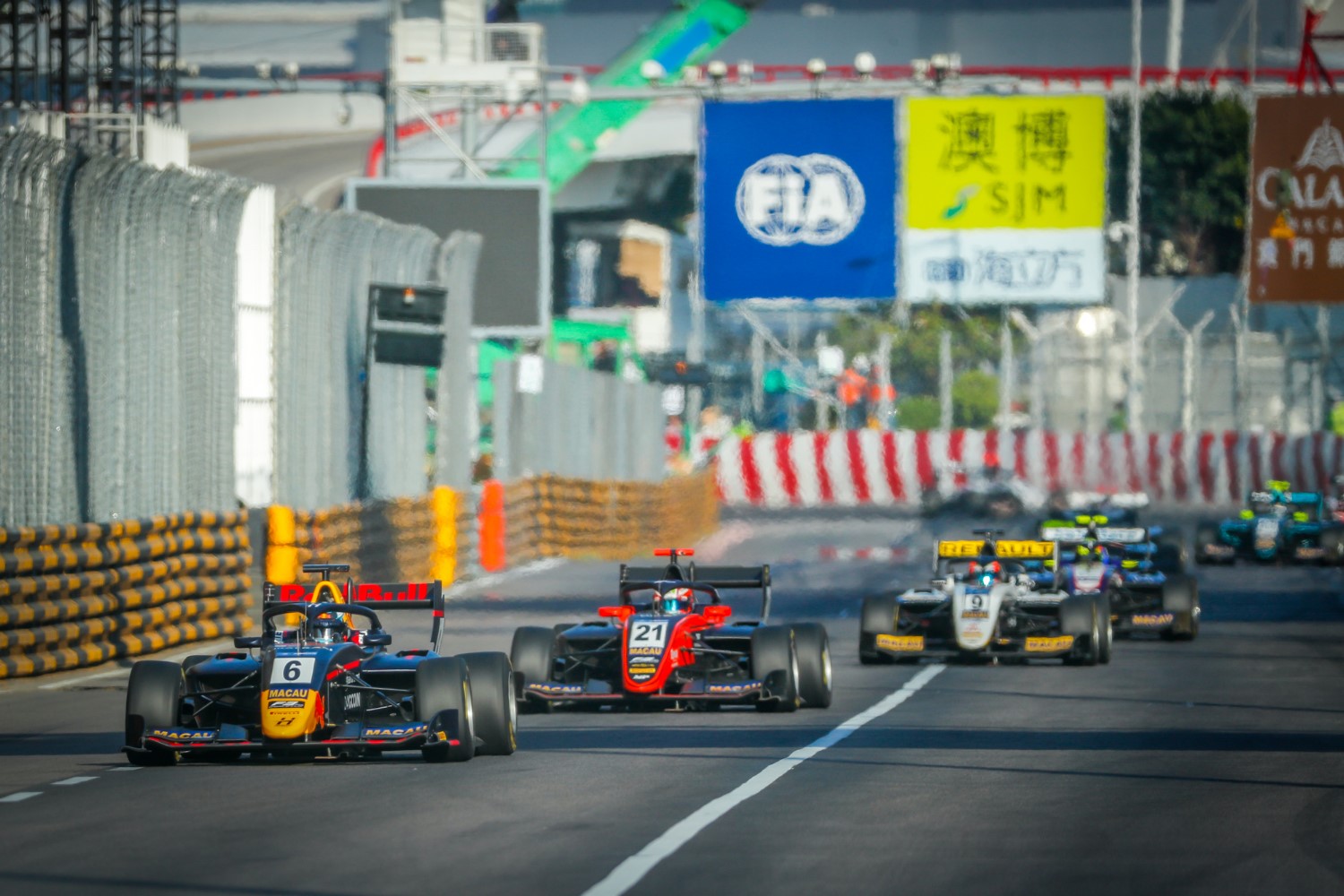 Vips leads Verschoor early
Macao rookie Richard Verschoor upset the form book by holding off pre-race favourite Jüri Vips to secure a sensational victory in the Suncity Group Formula 3 Macau Grand Prix – FIA F3 World Cup.
The race got off to a dramatic start, front-row starter Robert Shwartzman out of the running before getting to Lisboa Bend on the opening lap. The Russian's undoing was light contact with Christian Lundgaard on the way into Mandarin, the resulting front-right puncture ending his day on the spot.
That left polesitter Vips out front, as Verschoor snuck up the inside of Lundgaard into Lisboa to snatch second place.
Vips found the best part of two seconds over Verschoor on the opening lap alone, but his early advantage disappeared when Ferdinand Habsburg crashed on his way out of the Solitude Esses on the third lap, bringing out the Safety Car.
The Lap 8 restart proved to be bad news for Vips. The Estonian was powerless to stop Verschoor from getting a run through the first two corners, his Dutch rival sweeping into the lead at Lisboa Bend.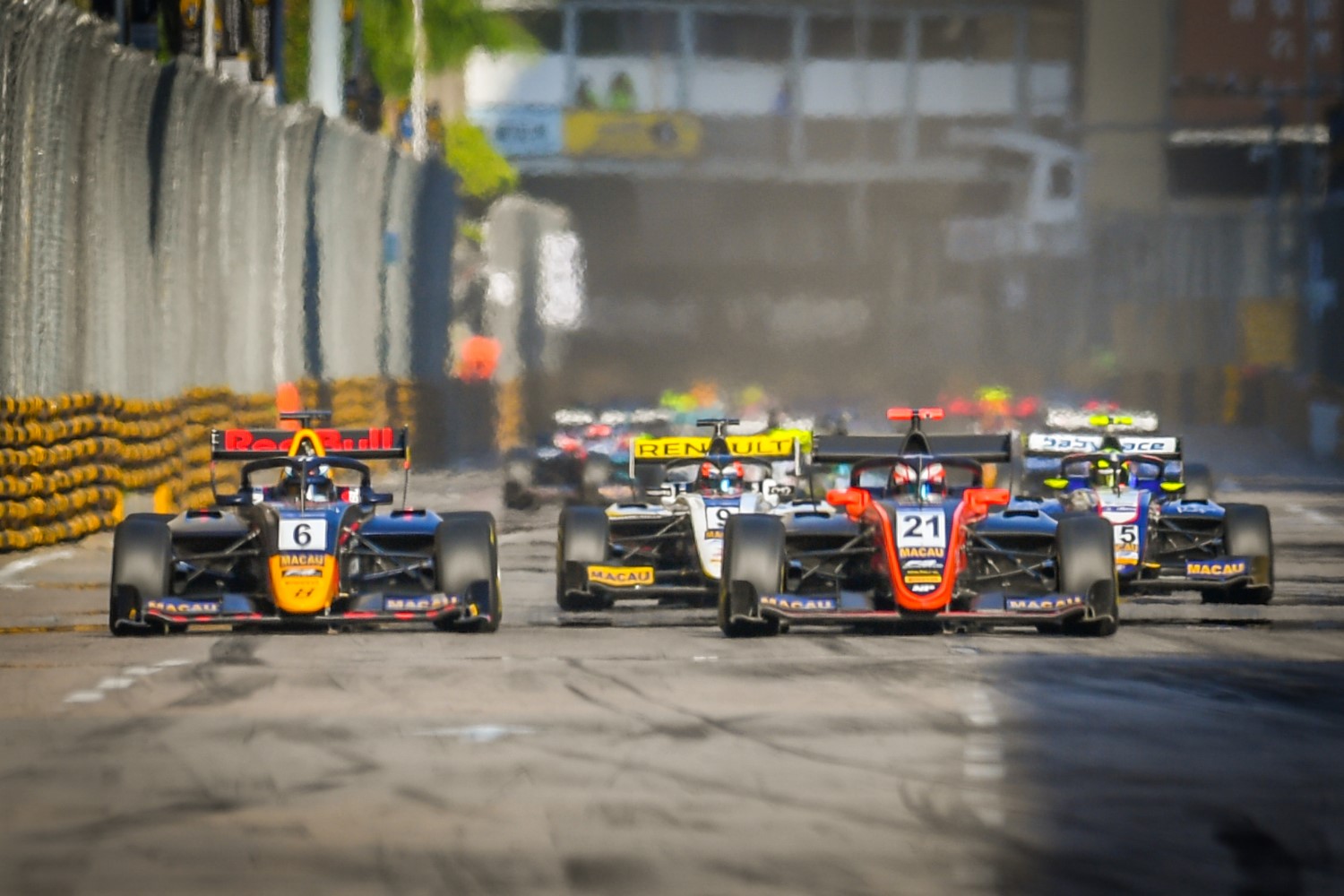 Verschoor passes Vips for the lead
Hopes of a quick fightback were dashed when Sophia Floersch rolled to a stop on the way into Mandarin, the recovery requiring a short Virtual Safety Car intervention.
When the race went green and DRS was enabled Vips piled pressure on the leader, even getting next to Verschoor into Lisboa on Lap 11. But he couldn't find a way past, Verschoor holding on to become the first Dutch driver to win the Macau Grand Prix.
"To be honest I can't really believe it just yet," he said. "It was such a hectic race and I was under a lot of pressure. I think we had really good pace, but to be honest Jüri was a bit too fast for me. I didn't expect to be able to keep him behind. I saw he tried to do one big move and then I had a big gap, but he still closed the gap. I thought for those last two laps he'd be able to fight me. So I made sure I had a good sector three and sector four so I could have a big enough gap to not get overtaken."
Vips, meanwhile, was left devastated by missing out on victory after a near-flawless weekend. "I'm just disappointed," he said. "I feel like it was a perfect weekend, minus the Safety Car restart. I don't really know what happened there, I think I picked up something on my tyres. I don't know if it was debris from the crash. But that's how Richard got close to me and passed me. Then I ruined my tyres by taking a risk. In the end I had big flat spots, I don't know how I managed to keep Richard under pressure in the middle sector because my tyres were finished."
Logan Sargeant made it two Macao rookies on the podium, the Carlin driver sealing a fine third thanks to a fast start from sixth on the grid, followed by a Lap 9 move at Lisboa Bend on Lundgaard.
"I had a decent-enough start," said the American. "I got a good run through Mandarin and I think I picked up a couple of positions. And then it was just picking them off one by one and trying to catch the leaders. The VSC was a bit of a shame. I felt like after that I really lost the confidence in the grip I had in the tyres. But I'm happy, we'll be back next year to try and win."
Lundgaard came home fourth ahead of Alessio Lorandi and Callum Ilott, as Liam Lawson capped off a brilliant day for MP Motorsport with a charge from 20th on the grid to seventh.
Fellow Kiwi Marcus Armstrong was another hard charger, turning a 17th grid slot into eighth, as David Beckmann and Frederik Vesti rounded out the top 10.
Final Lap
Race Result
| | | | | | |
| --- | --- | --- | --- | --- | --- |
| POS | NO. | DRIVER | TEAM | LAPS | GAP |
| 1 | 21 | Richard Verschoor | MP Motorsport | 15 | 0.000s |
| 2 | 6 | Juri Vips | Hitech Grand Prix | 15 | 0.792s |
| 3 | 28 | Logan Sargeant | Carlin Buzz Racing | 15 | 1.540s |
| 4 | 9 | Christian Lundgaard | ART Grand Prix | 15 | 2.241s |
| 5 | 15 | Alessio Lorandi | Trident Motorsport | 15 | 5.020s |
| 6 | 25 | Callum Ilott | Sauber Junior Team by Charouz | 15 | 5.922s |
| 7 | 20 | Liam Lawson | MP Motorsport | 15 | 8.594s |
| 8 | 2 | Marcus Armstrong | SJM Theodore Racing by Prema | 15 | 9.365s |
| 9 | 14 | David Beckmann | Trident Motorsport | 15 | 13.239s |
| 10 | 3 | Frederik Vesti | SJM Theodore Racing by Prema | 15 | 13.633s |
| 11 | 8 | Yuki Tsunoda | Hitech Grand Prix | 15 | 15.717s |
| 12 | 17 | Keyvan Andres | HWA Racelab | 15 | 18.665s |
| 13 | 30 | Dan Ticktum | Carlin Buzz Racing | 15 | 19.230s |
| 14 | 19 | Lukas Dunner | MP Motorsport | 15 | 20.498s |
| 15 | 11 | Sebastian Fernandez | ART Grand Prix | 15 | 21.705s |
| 16 | 27 | Enzo Fittipaldi | Sauber Junior Team by Charouz | 15 | 26.174s |
| 17 | 16 | Jake Hughes | HWA Racelab | 15 | 26.294s |
| 18 | 7 | Max Fewtrell | Hitech Grand Prix | 15 | 28.690s |
| 19 | 23 | Charles Leong | Jenzer Motorsport | 15 | 33.792s |
| 20 | 24 | Andreas Estner | Jenzer Motorsport | 15 | 34.400s |
| 21 | 26 | David Schumacher | Sauber Junior Team by Charouz | 15 | 35.894s |
| 22 | 32 | Enaam Ahmed | Campos Racing | 15 | 36.521s |
| 23 | 22 | Arjun Maini | Jenzer Motorsport | 15 | 37.184s |
| 24 | 29 | Felipe Drugovich | Carlin Buzz Racing | 15 | 37.621s |
| 25 | 31 | Alessio Deledda | Campos Racing | 15 | 53.135s |
| DNF | 18 | Sophia Florsch | HWA Racelab | 8 | DNF |
| DNF | 10 | Ferdinand Habsburg | ART Grand Prix | 3 | DNF |
| DNF | | Leonardo Pulcini | Campos Racing | 3 | DNF |
| DNF | 12 | Olli Caldwell | Trident Motorsport | 3 | DNF |
| DNF | 5 | Robert Shwartzman | SJM Theodore Racing by Prema | 0 | DNF |