NASCAR President Talks Moving '20 Finale To ISM Raceway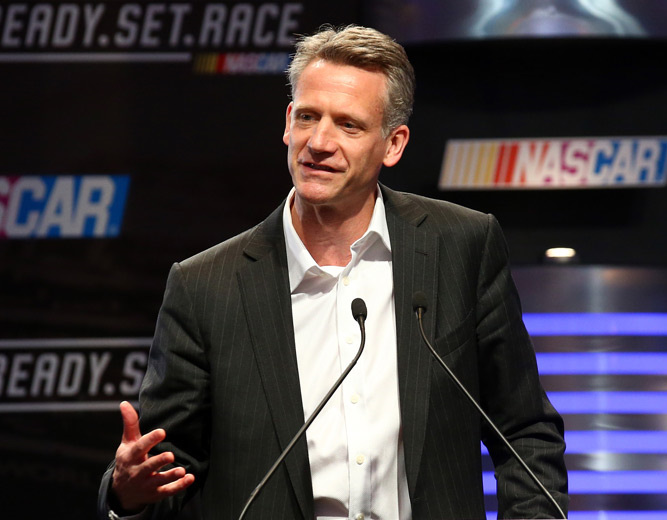 Steve Phelps
NASCAR President Steve Phelps said that Phoenix' history of "hosting successful big-time events — Super Bowl, NCAA Final 4, football championships and Waste Management Phoenix Open — was a factor in the decision to bring its championship weekend to ISM Raceway" next year, according to Michael Knight of the ARIZONA REPUBLIC.
Phelps yesterday "re-emphasized" ISM Raceway President Julie Giese's "stated intent to spread the NASCAR message throughout the Valley." Those opportunities could include "fan-participation exhibits, car displays, driver autograph sessions, viewing parties and other interactive events." Phelps said that he "didn't have any specific events to reveal yet."
He added, "We've [been] having those discussions with Julie and her team about what what those activities are going to look like and what involvement the state and Valley will have in this. The governor has been very supportive, which is fantastic." Phelps said ISM Raceway's $178M rebuilding made it a "world-class facility to have a championship."
While there are no guarantees the track will host the finale in '21, Phelps made a "self-imposed deadline" next year on April 1 to reveal the '21 schedule.
Phelps: "What places are selling out? What cities are hosting them? What's the racing look like? That's the lens we're looking through for 2021." Knight notes during yesterday's Bluegreen Vacations 500 at ISM Raceway, the estimated total attendance was "more than 50,000" with "all 42,000 grandstand seats sold, plus several thousand more combined in the INfield suites and a record number of campers" ARIZONA REPUBLIC