AF Corse loses Shanghai win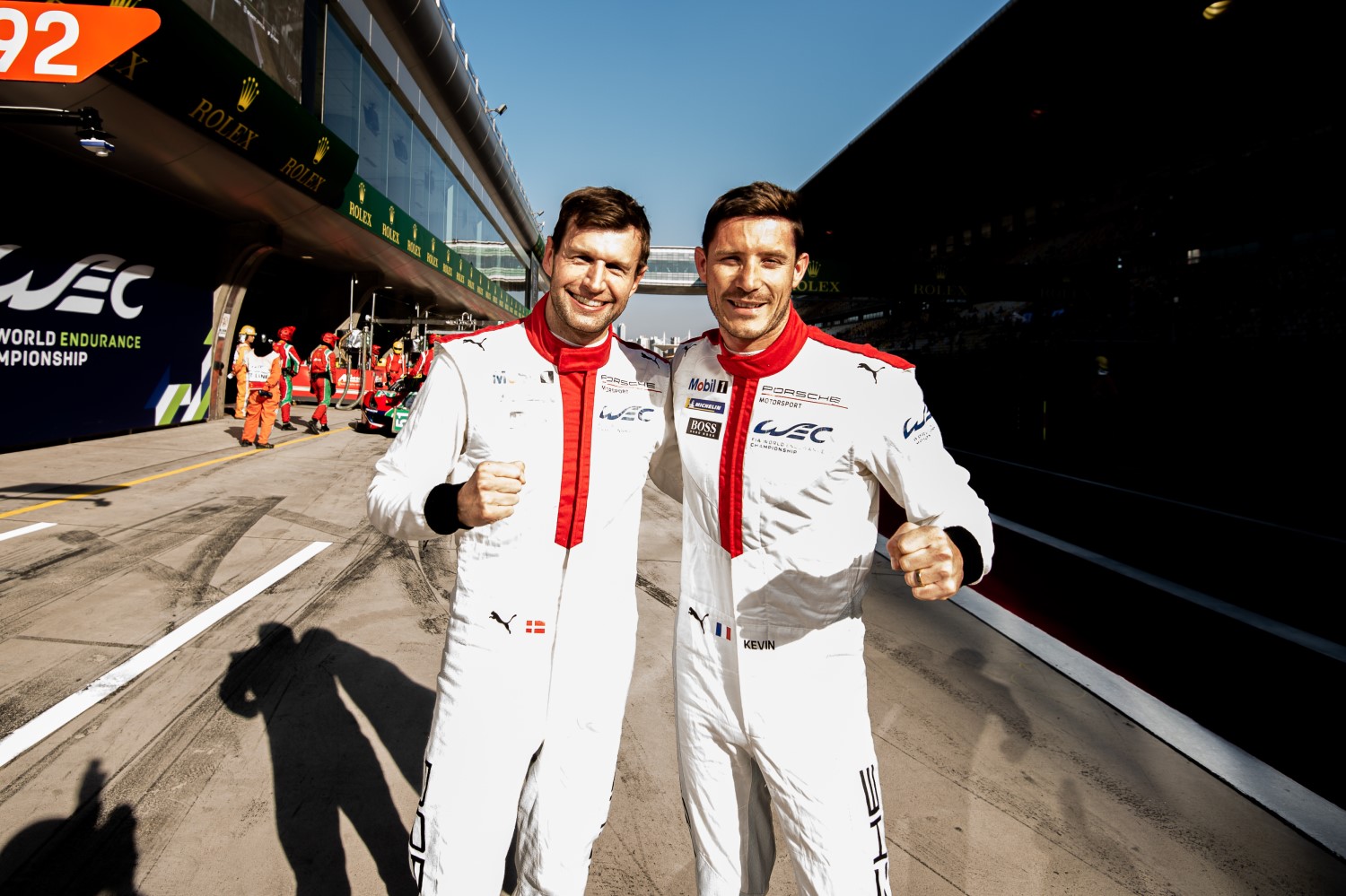 Estre and Christensen declared LMGTE Pro winners
Porsche have been promoted to winners of the LMGTE Pro category at today's FIA WEC 4 Hours of Shanghai after the No. 51 AF Corse 488 GTE Evo was disqualified following post-race technical checks.
Ferrari was set to take its first ever LMGTE Pro victory on Chinese soil but the No. 51 car was in breach of the WEC Technical Regulations after the minimum ground clearance was found lower than 50mm.
Kevin Estre and Michael Christensen's victory in the Porsche 911 RSR sees Porsche GT Team extend its points lead over Aston Martin by 17 points in the standings.
The class runner-up in Shanghai was the No.91 Porsche 911 RSR with Gimmi Bruni and Richard Lietz at the wheel. The No.97 and No. 95 Aston Martin Racing Vantage AMR cars finished third and fourth respectively while the No. 71 AF Corse entry rounded out the top five.
Revised Standings
| | | | | | | |
| --- | --- | --- | --- | --- | --- | --- |
| Pos | No./Team | Drivers | Car | Class | Laps | Behind/Gap |
| 1 | 1 Rebellion Racing | B. Senna / G. Menezes / N. Nato | Rebellion R13 – Gibson | LMP1 | 125 | 0.000s/0.000s |
| 2 | 8 Toyota Gazoo Racing | S. Buemi / K. Nakajima / B. Hartley | Toyota TS050 – Hybrid | LMP1 H | 125 | 1:06.984/1:06.984 |
| 3 | 7 Toyota Gazoo Racing | M. Conway / K. Kobayashi / J. Lopez | Toyota TS050 – Hybrid | LMP1 H | 124 | 1 Lap 1 Lap |
| 4 | 5 Team LNT | J. King / B. Hanley / E. Orudzhev | Ginetta G60-LT-P1-AER | LMP1 | 124 | 1 Lap 1:10.783 |
| 5 | 6 Team LNT | C. Robertson / M. Simpson / G. Smith | Ginetta G60-LT-P1-AER | LMP1 | 123 | 2 Laps 1 Lap |
| 6 | 38 JOTA | R. Gonzalez / A. Da Costa / A. Davidson | Oreca 07 – Gibson | LMP2 | 121 | 4 Laps 2 Laps |
| 7 | 37 Jackie Chan DC Racing | H. Tung / G. Aubry / W. Stevens | Oreca 07 – Gibson | LMP2 | 121 | 4 Laps 17.090 |
| 8 | 22 United Autosports | P. Hanson / F. Albuquerque / P. Di Resta | Oreca 07 – Gibson | LMP2 | 121 | 4 Laps 4.637 |
| 9 | 36 Signatech Alpine ELF | T. Laurent / A. Negṛo / P. Ragues | Alpine A470 РGibson | LMP2 | 120 | 5 Laps 1 Lap |
| 10 | 29 Racing Team Nederland | F. Van Eerd / G. Van Der Garde / N. De Vries | Oreca 07 – Gibson | LMP2 | 120 | 5 Laps 2.744 |
| 11 | 33 High Class Racing | M. Patterson / K. Yamashita / A. Fjordbach | Oreca 07 – Gibson | LMP2 | 120 | 5 Laps 35.863 |
| 12 | 47 Cetilar Racing | R. Lacorte / A. Belicchi / G. Sernagiotto | Dallara P217 – Gibson | LMP2 | 119 | 6 Laps 1 Lap |
| 13 | 92 Porsche GT Team | M. Christensen / K. Estre | Porsche 911 RSR – 19 | LMGTE Pro | 115 | 10 Laps 4 Laps |
| 14 | 91 Porsche GT Team | G. Bruni / R. Lietz | Porsche 911 RSR – 19 | LMGTE Pro | 115 | 10 Laps 13.428 |
| 15 | 97 Aston Martin Racing | A. Lynn / M. Martin | Aston Martin Vantage AMR | LMGTE Pro | 115 | 10 Laps 8.527 |
| 16 | 95 Aston Martin Racing | M. Sorensen / N. Thiim | Aston Martin Vantage AMR | LMGTE Pro | 115 | 10 Laps 6.205 |
| 17 | 71 AF Corse | D. Rigon / M. Molina | Ferrari F488 GTE EVO | LMGTE Pro | 115 | 10 Laps 10.198 |
| 18 | 90 TF Sport | S. Yoluc / C. Eastwood / J. Adam | Aston Martin Vantage AMR | LMGTE Am | 113 | 12 Laps 2 Laps |
| 19 | 57 Team Project 1 | B. Keating / L. Ten Voorde / J. Bleekemolen | Porsche 911 RSR | LMGTE Am | 113 | 12 Laps 16.251 |
| 20 | 98 Aston Martin Racing | P. Dalla Lana / D. Turner / R. Gunn | Aston Martin Vantage AMR | LMGTE Am | 113 | 12 Laps 12.210 |
| 21 | 83 AF Corse | F. Perrodo / E. Collard / N. Nielsen | Ferrari 488 GTE EVO | LMGTE Am | 113 | 12 Laps 15.305 |
| 22 | 56 Team Project 1 | E. Perfetti / D. Heinemeier-Hansson / M. Cairoli | Porsche 911 RSR | LMGTE Am | 112 | 13 Laps 1 Lap |
| 23 | 88 Dempsey – Proton Racing | A. Negro / W. Bamber / T. Preining | Porsche 911 RSR | LMGTE Am | 112 | 13 Laps 31.553 |
| 24 | 70 MR Racing | M. Ishikawa / O. Beretta / K. Cozzolino | Ferrari 488 GTE EVO | LMGTE Am | 112 | 13 Laps 13.799 |
| 25 | 54 AF Corse | T. Flohr / F. Castellacci / G. Fisichella | Ferrari 488 GTE EVO | LMGTE Am | 112 | 13 Laps 18.582 |
| 26 | 86 Gulf Racing | M. Wainwright / A. Watson / B. Barker | Porsche 911 RSR | LMGTE Am | 112 | 13 Laps 14.079 |
| 27 | 62 Red River Sport | B. Grimes / J. Mowlem / C. Hollings | Ferrari 488 GTE EVO | LMGTE Am | 112 | 13 Laps 35.782 |
| 28 | 77 Dempsey – Proton Racing | C. Ried / R. Pera / M. Campbell | Porsche 911 RSR | LMGTE Am | 111 | 14 Laps 1 Lap |
| DNF | 42 Cool Racing | N. Lapierre / A. Borga / A. Coigny | Oreca 07 – Gibson | LMP2 | 30 | – |
| DQ | 51 AF Corse | J. Calado / A. Pier Guidi | Ferrari F488 GTE EVO | LMGTE Pro | 115 | – |