Lowndes ends dominant day for Holdens at Wet and Wild Sandown 500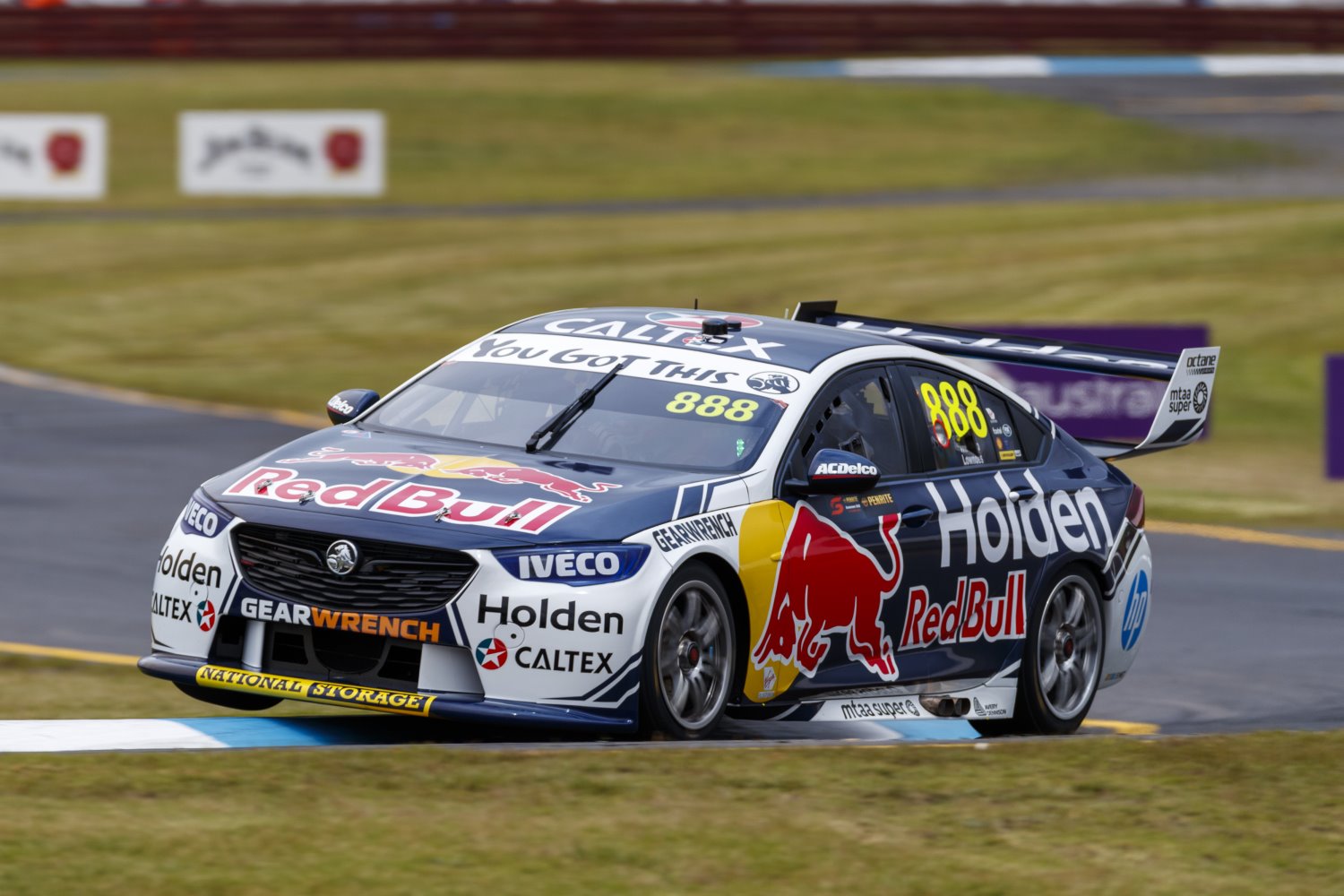 Craig Lowndes
Craig Lowndes has completed a dominant day of practice for Holden drivers at the Penrite Oil Sandown 500, topping Friday's third and final session.
Lowndes' time marked the second best of the day, only slower than the record lap that put David Reynolds quickest in Practice 2.
Next best was Shell V-Power Ford's Tony D'Alberto, six hundredths back, while Dale Wood took a surprise third for Kelly Racing in the Nissan Altima.
The five-time Sandown 500 winner said he's enjoyed his first full campaign as a co-driver alongside Jamie Whincup.
"I just love the driving – you never lose that side of it," Lowndes said.
"I remember talking to Skaife and Brock and everyone, you never lose that desire of driving – it's all the other stuff that goes on, the fitness and all that just takes up and consumes most of your life – the driving part is the easiest part."
It backed up Wood's third in opening practice in what has been a promising day for the Nissan squad.
Wood's effort earned praise from his co-driver and Kelly Racing co-owner Rick Kelly.
"Unreal job. He was third in his session, then I was 15th and now he's back in the top three. Quite clearly the problem is me!" said Kelly.
"He's done an awesome job for the last three rounds. It's a good start to the weekend.
"We expected a fair bit more wet weather today so we're pretty happy to have been able to tune it in three dry sessions."
Practice 1 leader Garth Tander was fourth in Shane van Gisbergen's Commodore, ahead of Jack Perkins for Walkinshaw Andretti United.
Ash Walsh, Will Brown, James Moffat, Alex Premat and Thomas Randle ran sixth through 10th.
Michael Caruso was one spot further back.
The session started 50-minute behind schedule, after a crash in Toyota 86 qualifying required extensive barrier repairs.
Once underway, Practice 3 ran smoothly, with a late spin for Moffat at Turn 4 the only moment of note.
Earlier today, last year's pole position winner at Sandown, Penrite Racing's David Reynolds was the quickest of the Virgin Australia Supercars Championship drivers in P2.
Drivers will have one more practice session tomorrow morning at 10:40am before qualifying and the two sprint races which will decide the grid for Sunday's Penrite Oil Sandown 500.
Friday Results
| | | | | |
| --- | --- | --- | --- | --- |
| Pos | # | DRIVERS | BEST LAP | GAP |
| 1 | 888 | Lowndes Whincup | 01:07.8 | 0.000s |
| 2 | 12 | T. D'Alberto Coulthard | 01:07.9 | 0.06 |
| 3 | 15 | Wood R. Kelly | 01:07.9 | 0.099 |
| 4 | 97 | Tander Van Gisbergen | 01:08.0 | 0.118 |
| 5 | 22 | J. Perkins Courtney | 01:08.0 | 0.143 |
| 6 | 14 | Walsh Slade | 01:08.0 | 0.193 |
| 7 | 99 | W. Brown A. de Pasquale | 01:08.0 | 0.194 |
| 8 | 55 | Moffat Mostert | 01:08.0 | 0.212 |
| 9 | 17 | A. Premat McLaughlin | 01:08.1 | 0.239 |
| 10 | 5 | T. Randle Holdsworth | 01:08.1 | 0.296 |
| 11 | 6 | Caruso C. Waters | 01:08.2 | 0.331 |
| 12 | 2 | W. Luff S. Pye | 01:08.2 | 0.403 |
| 13 | 7 | B. Fullwood Heimgartner | 01:08.3 | 0.431 |
| 14 | 9 | L. Youlden Reynolds | 01:08.3 | 0.432 |
| 15 | 23 | A. Davison Davison | 01:08.3 | 0.486 |
| 16 | 34 | R. Muscat J. Golding | 01:08.4 | 0.58 |
| 17 | 18 | S. Richards Winterbottom | 01:08.4 | 0.605 |
| 18 | 33 | C. Pither R. Stanaway | 01:08.5 | 0.623 |
| 19 | 3 | D. Fiore G. Jacobson | 01:08.5 | 0.673 |
| 20 | 35 | J. Smith T. Hazelwood | 01:08.6 | 0.765 |
| 21 | 8 | Blanchard Percat | 01:08.6 | 0.778 |
| 22 | 56 | J. Kostecki B. Kostecki | 01:08.7 | 0.878 |
| 23 | 21 | D. Canto M. Jones | 01:08.8 | 0.985 |
| 24 | 19 | J. Webb J. Le Brocq | 01:08.8 | 1.01 |
| 25 | 78 | A. Rullo S. De Silvestro | 01:08.9 | 1.099 |