NASCAR Las Vegas postscript
Keselowski leads Logano – the racing was good
Getty Images for NASCAR
Let's give credit where credit is due.
As was the case for last season's midsummer race at Kentucky Motor Speedway, the new 'low downforce' aero package for the NASCAR Sprint Cup Series seemed to result in solid shows the last two weekends at Atlanta and Las Vegas. In both races, drivers could be seen struggling with the wheel and moving around the track to find the ideal line. While tires would wear over long runs, they still provided enough durability to let drivers race.
Similarly, the tire wear ratio seemed to allow for different options when it came to strategy. At Atlanta, we saw crew chief Chad Knaus call in Jimmie Johnson early to give him some fast laps on fresh tires while leader Kevin Harvick was out on older tires. This move vaulted Johnson to the lead and ultimately victory lane.
Sunday, the team Team Penske pair of Joey Logano and Brad Keselowski gambled that they could go the distance on fuel and stayed out when most of the leaders came to pit road for their final stop. The gamble worked as Keselowski and Logano finished 1-2 with light fuel loads and older tires.
Ultimately, it seems NASCAR has found a good blend of elements that make for quality, enjoyable racing at their intermediate tracks. While we will see how the package works as the season progresses, my hope is NASCAR and other racing series take notice of what in my opinion is a very obvious lesson from the last two weeks: less downforce = better racing.
Kudos to NASCAR for making the move. Early returns indicate it was the correct one.
TV
[adinserter name="GOOGLE AD"]Of course, the suits in Daytona Beach would probably feel better about the technical package if the television viewership were better. While Sunday's Las Vegas overnight rating was up slightly from last year, Atlanta was down an alarming 27% and Daytona 15% over 2015. This represents a continuation of an overall downward trend over the last 8-9 years.
Johnson leads the pack
To be fair, part of NASCAR's declining metrics can be interpreted as a reversion to the mean of sorts. In hindsight, the growth of the late 1990s-early 2000s was something of a bubble, which was not going to be sustained. Further, NASCAR's "problems" are those many racing series would love to have. And the Vegas race was the most-watched sports television program of the weekend.
Also, a sports entertainment property aside from outliers such as the NFL and MMA with declining ratings does not make NASCAR unique. The truth is all sports are in a highly competitive, saturated market and competing for eyeballs.
Still, the slow, gradual downward trend has to be a point of concern in Daytona Beach. Further, with other factors such as an aging fan base, declining interest in cars, and stars such as Dale Earnhardt Jr. likely to join an already-retired Jeff Gordon and the retiring after 2016 Tony Stewart, it could be that the bottom has yet to be found.
While the above elements represent bigger picture issues without clear answers, I'll offer something else that may help explain the early-season decline we've seen thus far in 2016.
The races don't really matter
You might remember last season the series champion missed the first 11 races due to a broken leg. To be clear, I'm not criticizing Kyle Busch, as his return to form was quite impressive. Rather I am criticizing the flaws in the system Busch exposed. And if, as Busch showed, there is little to nothing on the line in the early part of the season does NASCAR really expect people's time and emotional investment?
This is a slippery slope NASCAR needs to be wary of with The Chase. If too much of a premium is placed on The Chase (I would say this is already the case) NASCAR runs the risk of making its product disproportionately "post-season heavy," as is the case with college basketball and the NHL.
Another thing that won't help matters…
[adinserter name="GOOGLE AD"]As you likely know, last week, drivers David Ragan, Chase Elliott and Ryan Newman joined NASCAR Hall of Famer Bill Elliott and NASCAR chairman & CEO Brian France in endorsing Republican Presidential candidate Donald Trump. Now, it should be noted that in response to some of the inevitable backlash that came from their support of the controversial Trump, NASCAR said that the endorsement by the five men was personal and not a sanction endorsement. That may be, but the fact is three current drivers and a former one took the same stage as the CEO and clearly identified themselves as from NASCAR. Is NASCAR really surprised the measure was interpreted in such a way?
Anyway, this isn't to say that I believe anyone opts to watch or not watch a race because of whom NASCAR does or does not endorse. While I didn't think the move was sound from a public relations standpoint, my biggest takeaway had little to do with the merits of the endorsement itself. Rather, it seemed NASCAR and France once again showed a delusional sense of self-importance by interjecting the sanction into a public debate.
You might remember France displayed such arrogance last summer during the Confederate Flag debate in South Carolina. While I wrote at the time that France's stated goal to remove the flag from NASCAR events was well intentioned, the timing was strange and I didn't see what France was trying to accomplish. I likewise thought NASCAR, which sanctions and promotes automobile races, was not a legitimate entity to speak on a state political issue.
Further, throwing itself onto the fire of a very explosive topic was in my opinion lousy public relations. After all, what possible good was going to come from France casting the spotlight on NASCAR with respect to that issue?
The Trump issue appears similar. Perhaps France saw a PR opportunity to capitalize on the lightning rod of coverage that is currently, The Donald.
If so, very lame. NASCAR has real problems which need real solutions. And France arrogantly interjecting the sport into political issues to gain a few cheap headlines isn't going to solve them.
A Note on Daytona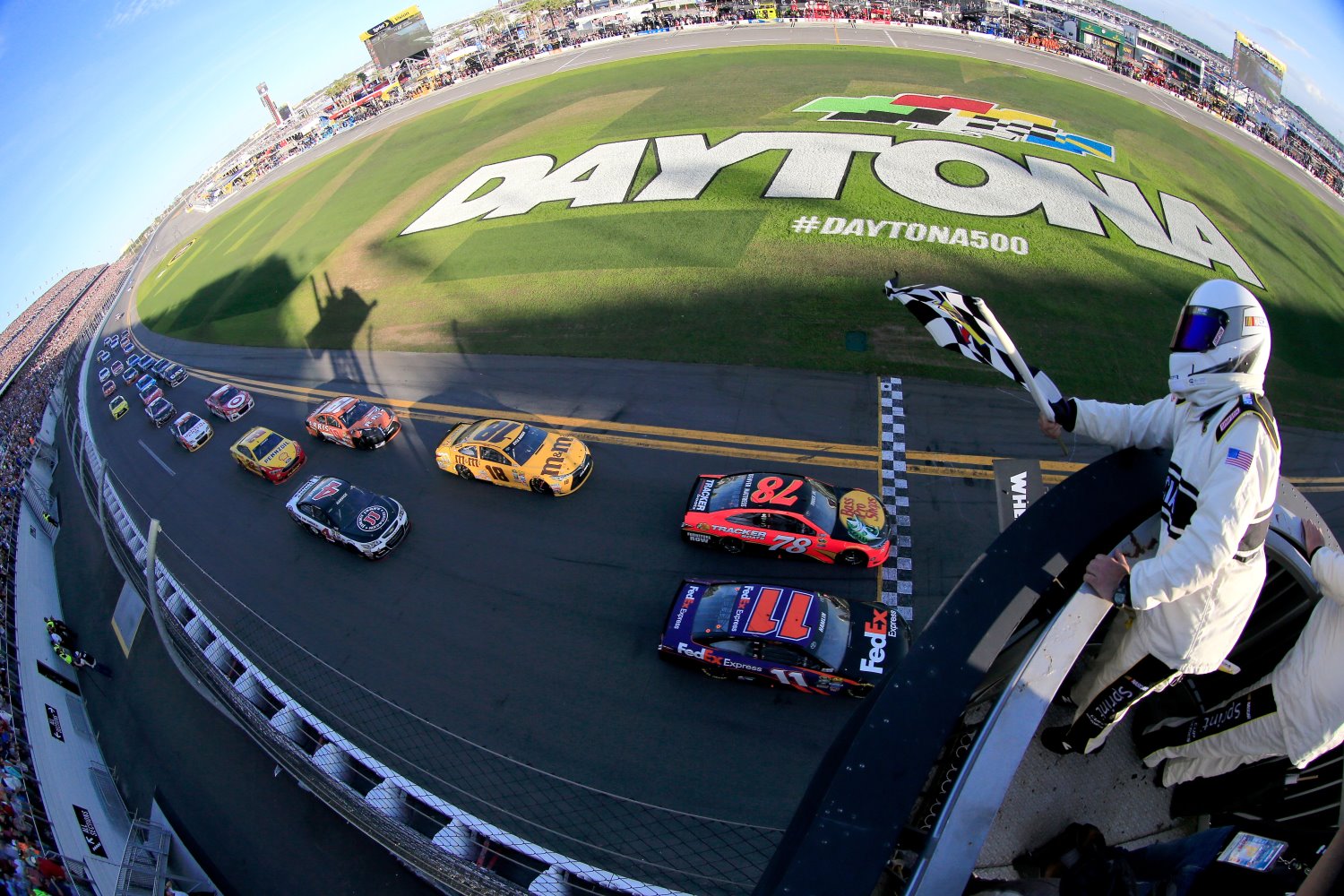 Truex wins by inches
I haven't written since before the Daytona 500 so forgive me if this is somewhat old news. However, what follows is an opinion I have not yet seen offered on the finish of the 58th running of The Great American Race.
Of course, Joe Gibbs Racing and Toyota held a dominant position most of the day with multiple JGR cars and JGR-affiliated Martin Truex running out front and wisely Toyota protecting the inside-line of the track. While a host of contenders tried to challenge on the outside, they were for whatever reason unable to break the JGR/Toyota brigade.
This remained the case in the closing laps as Matt Kenseth led Truex, Kyle Busch and Denny Hamlin. And I was wondering who run the risk of getting out of line, and perhaps more specifically when they would try it?
After all, if Truex, Busch or Hamlin stepped out of line too early they ran the risk of opening the door for a Kevin Harvick or Joey Logano to spoil the race for the JGR/Toyota brigade. If they waited too long, then Kenseth would cruise to victory.
Who would step out of line, and perhaps more importantly, when?
Not surprisingly, that person was Hamlin, and his timing turned out to be perfect. Entering turn 1, Hamlin moved to the high side with a head of steam. A push from Kevin Harvick got him past Matt Kenseth, who moved to block. The driver of the #11 FedEx Camry then beat Truex to the line by inches.
Yes, a driver has to go for the win in that instance. But in this case, Hamlin had numerous factors to consider. And he timed his run to perfection.
Brian Carroccio is a senior columnist for AutoRacing1 and a credentialed member of both the Verizon IndyCar Series and NASCAR Sprint Cup Series media.