Verstappen nips Vettel to top final USGP practice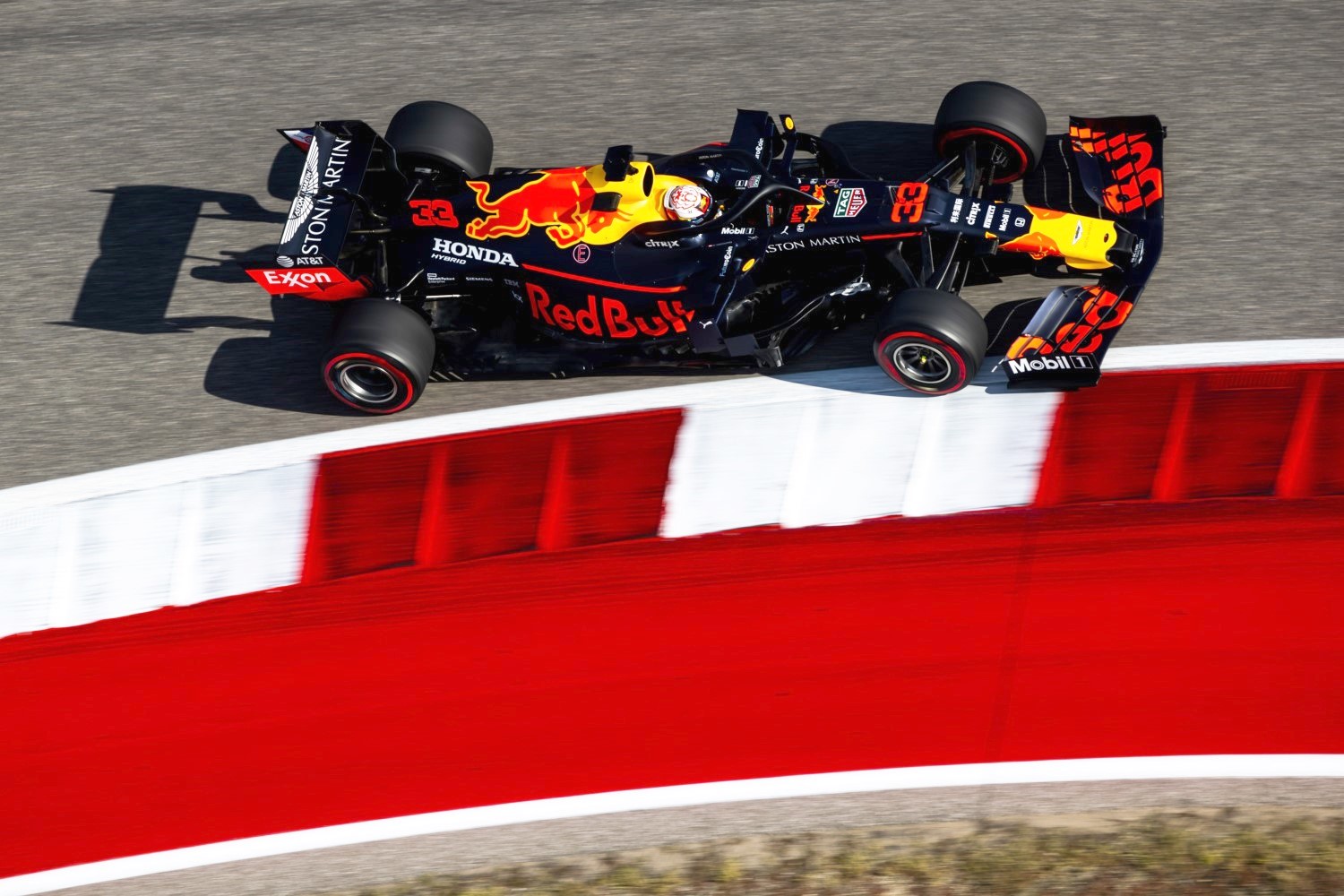 Max Verstappen
Red Bull's Max Verstappen left it till late and turned the fastest lap of the weekend so far to top final practice for the USGP at COTA in Austin Texas.
The Dutchman's lap of 1m33.305s was 0.218s faster than Sebastian Vettel in the #5 Ferrari.
The real surprise was Lando Norris turning the 3rd best time 0.513s back.
Rounding out the top-5 were the two sandbagging Mercedes of Valtteri Bottas and Lewis Hamilton.
The Ferraris are competitive but are suffering from reliability woes, with Leclerc missing the entire session with a power unit issue.
Practice 3 Times
| | | | | | | |
| --- | --- | --- | --- | --- | --- | --- |
| POS | NO | DRIVER | CAR | TIME | GAP | LAPS |
| 1 | 33 | Max Verstappen | Red Bull Racing Honda | 1:33.305 | +0.000s | 13 |
| 2 | 5 | Sebastian Vettel | Ferrari | 1:33.523 | +0.218s | 17 |
| 3 | 4 | Lando Norris | McLaren Renault | 1:33.818 | +0.513s | 14 |
| 4 | 77 | Valtteri Bottas | Mercedes | 1:33.904 | +0.599s | 17 |
| 5 | 44 | Lewis Hamilton | Mercedes | 1:33.923 | +0.618s | 16 |
| 6 | 23 | Alexander Albon | Red Bull Racing Honda | 1:33.983 | +0.678s | 14 |
| 7 | 55 | Carlos Sainz Jr. | McLaren Renault | 1:34.408 | +1.103s | 15 |
| 8 | 7 | Kimi Raikkonen | Alfa Romeo Racing Ferrari | 1:34.513 | +1.208s | 18 |
| 9 | 10 | Pierre Gasly | Scuderia Toro Rosso Honda | 1:34.517 | +1.212s | 14 |
| 10 | 3 | Daniel Ricciardo | Renault | 1:34.774 | +1.469s | 11 |
| 11 | 27 | Nico Hulkenberg | Renault | 1:34.784 | +1.479s | 11 |
| 12 | 18 | Lance Stroll | Racing Point Bwt Mercedes | 1:34.792 | +1.487s | 14 |
| 13 | 8 | Romain Grosjean | Haas Ferrari | 1:34.849 | +1.544s | 17 |
| 14 | 26 | Daniil Kvyat | Scuderia Toro Rosso Honda | 1:35.129 | +1.824s | 16 |
| 15 | 20 | Kevin Magnussen | Haas Ferrari | 1:35.305 | +2.000s | 14 |
| 16 | 99 | Antonio Giovinazzi | Alfa Romeo Racing Ferrari | 1:35.956 | +2.651s | 15 |
| 17 | 63 | George Russell | Williams Mercedes | 1:36.256 | +2.951s | 15 |
| 18 | 88 | Robert Kubica | Williams Mercedes | 1:36.628 | +3.323s | 17 |
| 19 | 11 | Sergio Perez | Racing Point Bwt Mercedes | 1:38.426 | +5.121s | 22 |
| 20 | 16 | Charles Leclerc | Ferrari | No Time | No Time | 1 |