Verstappen nips Vettel in opening USGP practice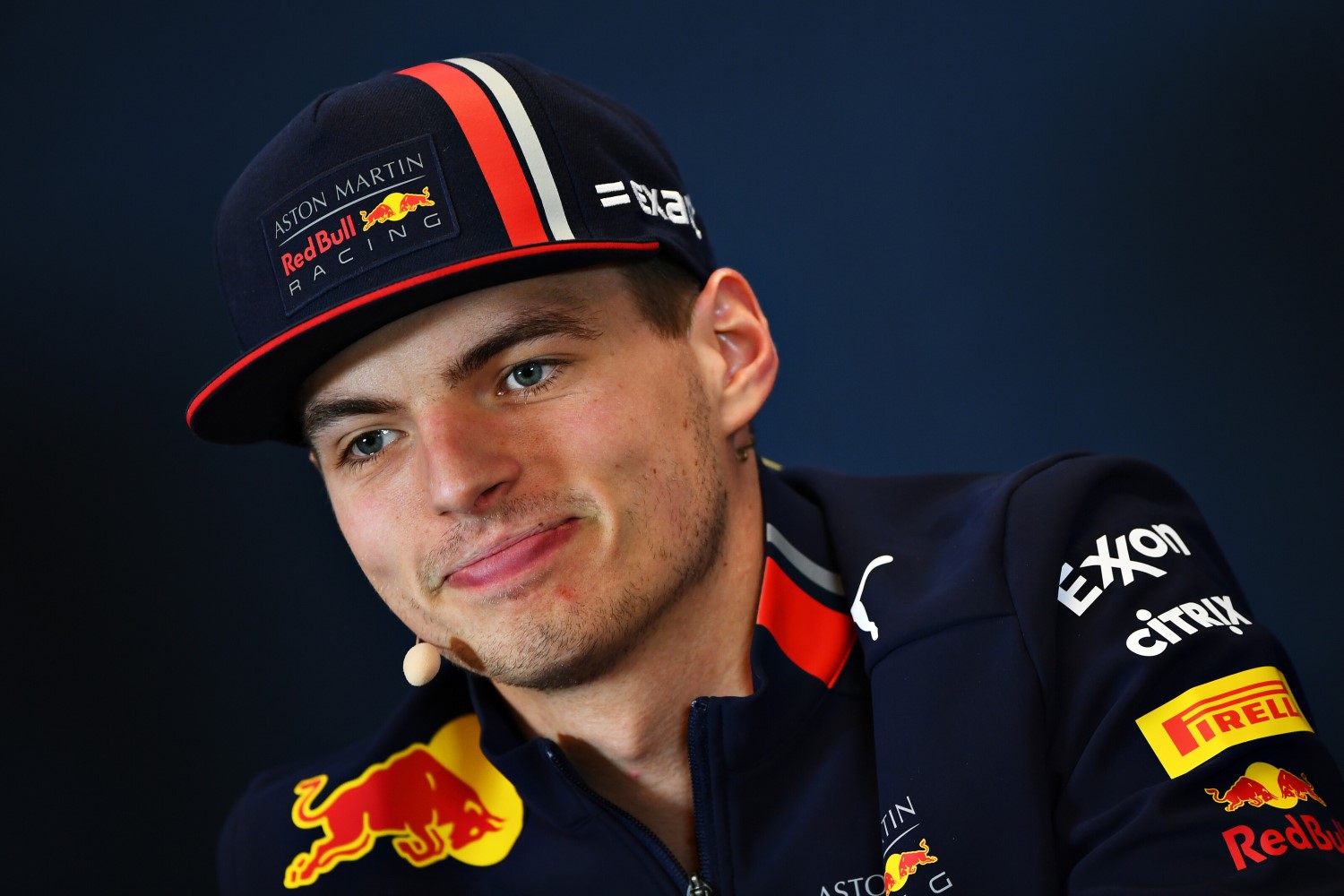 Max Verstappen
While the Mercedes team was straddled with testing the 2020 slow as a dog Pirelli tires and not competitive laps in, Max Verstappen topped opening practice for the USGP at COTA with a time of 1m34.057s in his Red Bull Honda.
2nd quick was Sebastian Vettel's Ferrari 0.169s back while Verstappen's Red Bull teammate Alex Albon was third quick 0.259s back.
Pierre Gasly and Daniel Ricciardo rounded out the top-5 for Toro Rosso and Renault.
Hamilton finally bolted on a set of 2019 tires and went 8th quick, 1.3s behind.
The temperatures were quite cold for this session (fans bring a jacket Saturday morning!) and the drivers were complaining about the bumps, especially on the pit straight heading toward Turn 1.
Slowest was Canadian F2 driver Nicholas Latifi in the Williams, 7-seconds off the pace, but he only completed 7 laps after a gearbox issue put an end to his day.
Practice 1 Results
| | | | | | | |
| --- | --- | --- | --- | --- | --- | --- |
| POS | NO | DRIVER | CAR | TIME | GAP | LAPS |
| 1 | 33 | Max Verstappen | Red Bull Racing Honda | 1:34.057 | +0.000s | 26 |
| 2 | 5 | Sebastian Vettel | Ferrari | 1:34.226 | +0.169s | 30 |
| 3 | 23 | Alexander Albon | Red Bull Racing Honda | 1:34.316 | +0.259s | 28 |
| 4 | 10 | Pierre Gasly | Scuderia Toro Rosso Honda | 1:35.008 | +0.951s | 32 |
| 5 | 3 | Daniel Ricciardo | Renault | 1:35.263 | +1.206s | 29 |
| 6 | 8 | Romain Grosjean | Haas Ferrari | 1:35.356 | +1.299s | 24 |
| 7 | 16 | Charles Leclerc | Ferrari | 1:35.380 | +1.323s | 23 |
| 8 | 44 | Lewis Hamilton | Mercedes | 1:35.439 | +1.382s | 32 |
| 9 | 18 | Lance Stroll | Racing Point Bwt Mercedes | 1:35.586 | +1.529s | 31 |
| 10 | 20 | Kevin Magnussen | Haas Ferrari | 1:35.659 | +1.602s | 23 |
| 11 | 26 | Daniil Kvyat | Scuderia Toro Rosso Honda | 1:35.661 | +1.604s | 31 |
| 12 | 55 | Carlos Sainz | McLaren Renault | 1:35.723 | +1.666s | 26 |
| 13 | 7 | Kimi Raikkonen | Alfa Romeo Racing Ferrari | 1:35.854 | +1.797s | 22 |
| 14 | 11 | Sergio Perez | Racing Point Bwt Mercedes | 1:35.971 | +1.914s | 29 |
| 15 | 99 | Antonio Giovinazzi | Alfa Romeo Racing Ferrari | 1:36.037 | +1.980s | 26 |
| 16 | 27 | Nico Hulkenberg | Renault | 1:36.124 | +2.067s | 24 |
| 17 | 77 | Valtteri Bottas | Mercedes | 1:36.159 | +2.102s | 40 |
| 18 | 4 | Lando Norris | McLaren Renault | 1:36.263 | +2.206s | 23 |
| 19 | 88 | Robert Kubica | Williams Mercedes | 1:37.948 | +3.891s | 28 |
| 20 | 40 | Nicholas Latifi | Williams Mercedes | 1:41.112 | +7.055s | 7 |