Joey Logano Wins In Wild Finish at Talladega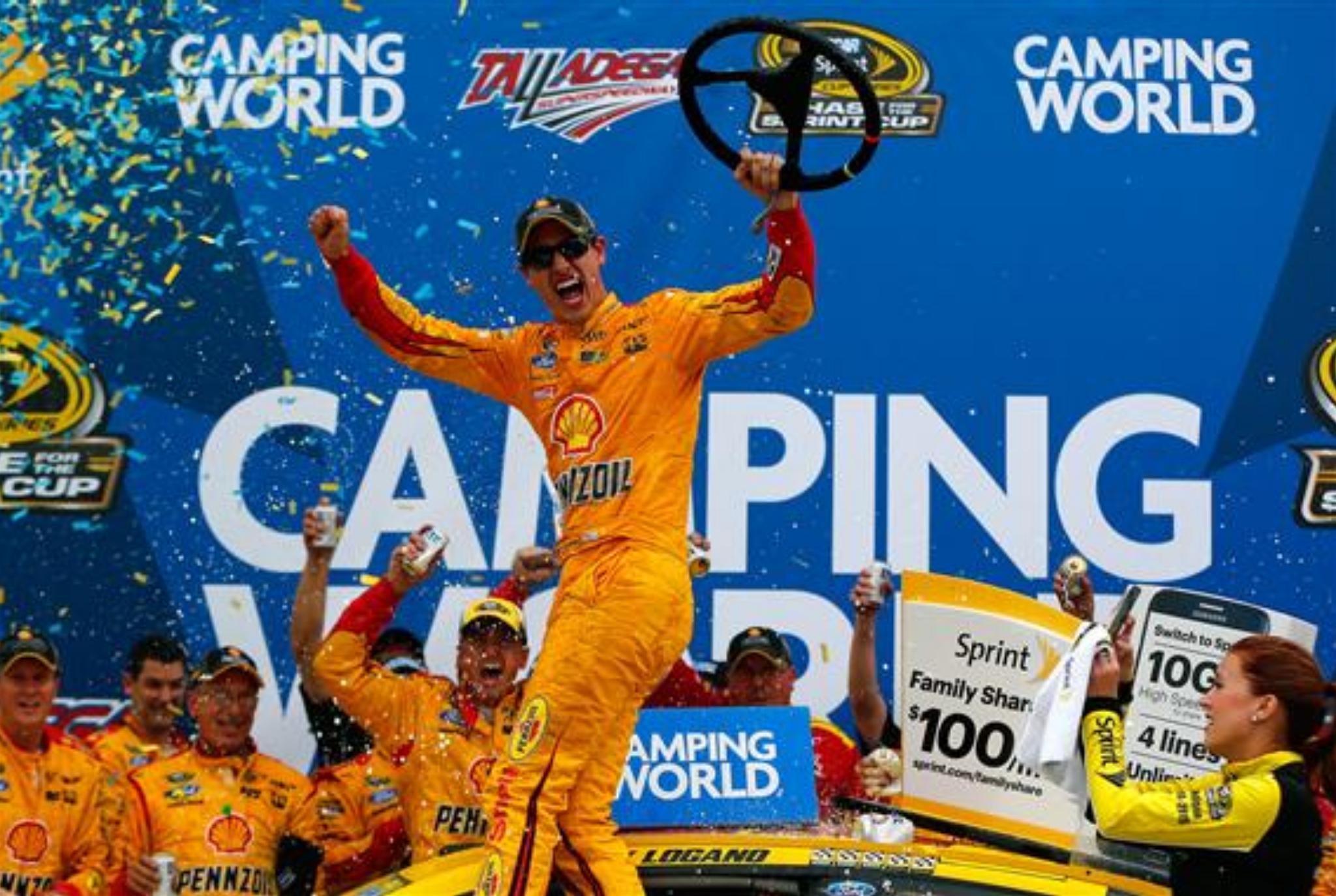 Joey Logano celebrates in Victory Lane
Jonathan Ferrey/NASCAR via Getty Images
Joey Logano collected his third straight win to sweep all three races of the "Contender Round" of the Chase for the NASCAR Sprint Cup in a wild controversial finish in Sunday's CampingWorld.com 500 at Talladega Superspeedway.
Logano was declared the winner following an attempt at a green-white-checkered finish that ended in a crash just after NASCAR put out the green flag, bringing out a caution that ended the race with Logano ending up being scored just ahead of Dale Earnhardt, Jr.
NASCAR had waved off an earlier green-white-checkered attempt after Jimmie Johnson spun before the field made it to the start/finish line.
Jeff Gordon was scored in third place, followed by Brad Keselowski and Carl Edwards.
Logano, who had already locked up a spot in the "Eliminator Round" of the Chase, earned his sixth win of the season and 14th of his career, while Earnhardt, Jr. joined Ryan Newman, Denny Hamlin and Matt Kenseth as the four drivers who will not advance to the next round.
Three in a row in unbelievable. I don't even know what to say. I am speechless," said Logano. "I saw the (caution) lights come on when I was still in the lead and I thought we had it. It is all about how the timing loops are and the camera to make sure that is what happened. It is such a crazy race. To pull it into victory lane here at Talladega is so cool.
"It is amazing. Dreams come true I guess. We have to keep this dream rolling. We have a long way to go. We are back to zero going into Martinsville so we need to make something happen in the next three races."
With the victory, Logano becomes the first drive to sweep all three races of a round in the Chase, but for the second week in a row is embroiled in a controversial finish.
[adinserter name="GOOGLE AD"]"When you come to Chase time everyone is bringing their A-game, bringing everything they've got, the best they can – not only with their race cars, but every driver is trying to find that extra little bit," said Logano. "To see what this 22 team has done coming into the Chase and being able to have some very good finishes in the first round, click off three wins here in the Contender Round, it sets a statement and that's what we tried to do."
The confusing and controversial ending marred what was otherwise an exciting race that saw only two caution flags over the first 133 laps and no major multi-car incidents.
Sunday's race was do or die for Earnhardt, Jr., who came into the weekend second to last ahead of Kenseth among the 12 drivers vying to be one of the eight to advance to the next round.
Needing nothing less than a win to advance, Earnhardt, Jr. did exactly what he's been famous for – getting out in front at Talladega and staying there.
After getting the lead on lap three, Earnhardt, Jr. spent 42 of the opening 79 laps in the lead before a pit-road penalty on lap 119 put him back deep in the field.
Up front, Logano kept his no. 22 Ford locked in the top 10 while Earnhardt, Jr. fought his way back to the front. By lap 150, Earnhardt had worked his way all the way back from 26th to retake the lead.
Lap 170 brought the leaders to pit road for green-flag stops, but Earnhardt locked up his tires getting slowed down to pit road speed, forcing his crew to change from fuel-only to a two-tire stop, putting Earnhardt, Jr. back in 14th.
Greg Biffle stayed out to take over the lead with Logano and Keselowski running second and third. Earnhardt, Jr. would fight his way back again and moved into third behind Logano.
The second caution flag of the day for Jamie McMurray's engine expiring with five laps to go changed the entire outcome of the race, setting up a single three-lap shootout to the finish.
Logano regained the lead after Biffle gave up the lead to pit, and led the field to the green flag for the three-lap dash to the finish, but Jimmie Johnson got collected as the field bunched up prior to the green flag, forcing NASCAR to throw the yellow.
Since the field had yet to cross the starting line to take the green flag, NASCAR ruled the previous start did not count as an attempt at a green-white-checkered, and lined the field up again.
[adinserter name="GOOGLE AD"]On the next attempt, the leader got a clean start but back in 10th place, Kevin Harvick failed to come up to speed after an engine problem, and as the field stacked up Harvick made contact with Trevor Bayne, touching off a crash that collected Kenseth, Hamlin, Danica Patrick and Austin Dillon.
The crash brought out the yellow flag and effectively ended the race, with Logano scored just ahead of Earnhardt, Jr. when the caution came out.
Earnhardt, Jr. finished second, but it wasn't enough to keep him in the Chase.
"Per the rules we run second. I can live with that." said Earnhardt, Jr. "Another 100 yards I would have been in the lead, but NASCAR makes the calls. They are the governing body and I have 100 percent faith in the choices that they make. I'm not going to be too upset about it. I did everything I could. I'm proud of myself. I'm proud of my team."
Logano will enter the next round of the Chase with the no. 1 seed, along with Carl Edwards, Gordon, Kurt Busch, Keselowski, and Martin Truex, Jr.
Harvick survived to post a 15th-place finish and barely stayed alive in the Chase, just three points ahead of Kyle Busch in eighth.
JOEY LOGANO PRESS CONFERENCE
JOEY LOGANO – No. 22 Shell/Pennzoil Ford Fusion – "We got momentum, that's for sure. This team has just been firing all eight right now. It's amazing. All these different types of race tracks we've been able to win at this season and how hard everyone keeps fighting. We want the big trophy at the end of the year. We want to win every trophy in-between, but we want the big one at the end of the season. What we've shown here this last round is a big deal, but the fact of the matter is we're back to zero again. What we do have going for us that other teams don't have is a lot of confidence, we've got momentum and we're relaxed. We've shown that we know how to do it. We've just got to keep going out there and doing what we know how to do."
CAN YOU TAKE US THROUGH THE ONLY GREEN-WHITE-CHECKER THAT COUNTED? "You know there's gonna be some back-and-forth, for sure, on what was gonna happen. When you're lining up against the best at superspeedway racing, and with a very fast car, he proved that throughout the whole day that his car was very fast, and also proved the 24 was really fast throughout the day as well. I wanted to have that 24 behind me to push. I felt like he was really good on restarts. I saw that earlier in the race, so I felt like that's what I had to do. I had to get around those guys. I wanted to split them up for one. I thought those two together would be too strong to beat, so I felt like I had to split them up. I felt the top lane was the lane of choice that I felt like we needed to have and was able to make the run and get out ahead enough before the caution came out."
DID YOU HAVE TO STEER THROUGH ANY DEBRIS AFTER WINNING THE RACE? "I was aiming for them. I was thirsty. I was aiming for everything. It's kind of a cool explosion when you hit beer cans and stuff. It explodes all over the place. It's kind of a shame they were throwing their beers full. I feel bad. They probably should have drank them (laughing). It was kind of interesting. Usually there's one or two, but that was kind of like it was raining out there, so it was kind of a new thing but that's OK. Everyone is passionate about their driver and that's what makes our sport great. I appreciate the passion that our fans have and I think that's something that's really cool to see about the way that people act for their driver. It is what it is. It doesn't hurt my race car. Our race cars are built strong, so they can hit a lot of stuff and keep on rolling."
THOUGHTS ON SWEEPING THIS ROUND. "I didn't think it was possible, I can tell you that much. When you come to Chase time everyone is bringing their A-game, bringing everything they've got, the best they can – not only with their race cars, but every driver is trying to find that extra little bit and to see what this 22 team has done coming into the Chase and being able to have some very good finishes in the first round, click off three wins here in the Contender Round, it sets a statement and that's what we tried to do. We were in situations throughout this Chase that maybe we didn't have to win, but our job is to win. That's what Roger Penske expects from us. He expects excellence. He expects us to win a lot of races and I want to produce. It's a performance business and we've got to go out there and if there's a trophy, we're supposed to get it. That's our job and we just need to able to do that."
JOEY LOGANO CONTINUED — COULD YOU HAVE HELD OFF JUNIOR IF THE CAUTION DIDN'T COME OUT AND HAVE YOU SEEN ANY REPLAYS WITH THE HARVICK WRECK? "I didn't see how the crash started or what happened yet. I have no clue what's going on. I guess there has been some talk of things, but I have no clue. I am out of the loop right now, which is a good thing for a change. It's nice to be able to not really know what's going on here, but I think as far as the last restart and what concerned me, racing the 88 obviously he was very fast, like I said. He had a very fast race car. Could we have held him off? Yeah, of course. We did earlier in the race. We were fighting him hard. Was it gonna be easy? No, it was gonna be very challenging. It was gonna be very hard. We were racing against the best speedway racer that we know. He's won a ton of these speedway races and I look at him as one of the elite speedway racers and to race against him for a win was not gonna be easy, but to be able to come out with the checkered flag meant a lot."
CAN YOU GO THROUGH THE CONVERSATION YOU HAD WITH TODD ABOUT SPLITTING UP THE HENDRICK CARS AT THE END? "I felt like just kind of going off what I learned earlier in the race, that's what you've got to look at. The 24 car was obviously the fastest car on the race track. He proved that throughout the race. Every time he got shuffled out he drove all the way back up. Obviously, he's a great race car driver, but he had a fast race car as well. We saw it in qualifying as well how fast his car was. I know the 88 was fast. He led a lot of laps and ran around him all day as well. I know what the 2's got, the same thing as me, and I thought if those two Hendrick cars team up, it would be very, very hard to beat them no matter how great Brad and I always work together, it was gonna be hard to beat them. That just goes to show we have a lot of work to do still. We still have to be better, but the strategy of splitting them up and getting the push from the 24, I felt like it was my best bet."
WAS THERE A POINT WHERE HE WAS IN FRONT OF YOU ON THE RESTART? "That's definitely when it decided it. I was in front of him the whole time and then the caution light came out and it's over, we lift. It's kind of a moot point after that what's gonna happen because the cars behind you lift, you lose your pushes, so you don't know what's gonna happen after that. I know we had a good start. Being that control car was a big deal. Having the 24 to push me getting up to second and third gear gave us enough of a lead that as he started pulling us back on the inside, he definitely had momentum as he started to catch us and was probably gonna be in the lead at some point. I don't know if he would have cleared us, but we would have been side-by-side off of two most likely, so it's hard to say what would have happened, but the fact of the matter is they're crashing behind you. You've got to throw the caution because they crashed and we weren't gonna be able to go through there again."
SO AS FAR AS YOU KNOW HE NEVER GOT IN FRONT OF YOU? "No, he wasn't – not that I know of – and I probably had the best view of anyone. I think the two of us could probably see that the best."
Results
| | | | | | | | |
| --- | --- | --- | --- | --- | --- | --- | --- |
| Pos | # | Driver | Manufacturer | Start | Laps | Led | Status |
| 1 | 22 | Joey Logano | Ford | 10 | 196 | 20 | Running |
| 2 | 88 | Dale Earnhardt Jr | Chevrolet | 5 | 196 | 61 | Running |
| 3 | 24 | Jeff Gordon | Chevrolet | 1 | 196 | 8 | Running |
| 4 | 2 | Brad Keselowski | Ford | 11 | 196 | 0 | Running |
| 5 | 19 | Carl Edwards | Toyota | 15 | 196 | 0 | Running |
| 6 | 27 | Paul Menard | Chevrolet | 13 | 196 | 2 | Running |
| 7 | 78 | Martin Truex Jr | Chevrolet | 43 | 196 | 0 | Running |
| 8 | 15 | Clint Bowyer | Toyota | 29 | 196 | 2 | Running |
| 9 | 17 | Ricky Stenhouse Jr | Ford | 17 | 196 | 2 | Running |
| 10 | 41 | Kurt Busch | Chevrolet | 14 | 196 | 1 | Running |
| 11 | 18 | Kyle Busch | Toyota | 16 | 196 | 11 | Running |
| 12 | 31 | Ryan Newman | Chevrolet | 18 | 196 | 1 | Running |
| 13 | 98 | Michael Waltrip | Toyota | 33 | 196 | 3 | Running |
| 14 | 3 | Austin Dillon | Chevrolet | 26 | 196 | 0 | Running |
| 15 | 4 | Kevin Harvick | Chevrolet | 7 | 196 | 4 | Running |
| 16 | 43 | Aric Almirola | Ford | 25 | 196 | 0 | Running |
| 17 | 9 | Sam Hornish Jr | Ford | 21 | 196 | 0 | Running |
| 18 | 48 | Jimmie Johnson | Chevrolet | 3 | 196 | 34 | Running |
| 19 | 5 | Kasey Kahne | Chevrolet | 2 | 196 | 18 | Running |
| 20 | 16 | Greg Biffle | Ford | 19 | 196 | 18 | Running |
| 21 | 6 | Trevor Bayne | Ford | 6 | 196 | 0 | Running |
| 22 | 35 | Cole Whitt | Ford | 34 | 196 | 0 | Running |
| 23 | 32 | Bobby Labonte | Ford | 35 | 196 | 0 | Running |
| 24 | 42 | Kyle Larson | Chevrolet | 23 | 196 | 0 | Running |
| 25 | 14 | Tony Stewart | Chevrolet | 12 | 196 | 0 | Running |
| 26 | 20 | Matt Kenseth | Toyota | 4 | 196 | 3 | Running |
| 27 | 10 | Danica Patrick | Chevrolet | 20 | 196 | 0 | Running |
| 28 | 95 | Michael McDowell | Ford | 27 | 195 | 0 | Running |
| 29 | 34 | Josh Wise | Ford | 40 | 195 | 0 | Running |
| 30 | 55 | David Ragan | Toyota | 22 | 195 | 1 | Running |
| 31 | 13 | Casey Mears | Chevrolet | 28 | 195 | 0 | Running |
| 32 | 38 | David Gilliland | Ford | 38 | 194 | 2 | Accident |
| 33 | 7 | Alex Bowman | Chevrolet | 37 | 194 | 0 | Accident |
| 34 | 40 | Landon Cassill | Chevrolet | 41 | 194 | 0 | Running |
| 35 | 33 | Travis Kvapil | Chevrolet | 42 | 193 | 0 | Running |
| 36 | 47 | AJ Allmendinger | Chevrolet | 31 | 193 | 0 | Running |
| 37 | 11 | Denny Hamlin | Toyota | 8 | 192 | 5 | Accident |
| 38 | 26 | J.J. Yeley | Toyota | 30 | 192 | 0 | Running |
| 39 | 1 | Jamie McMurray | Chevrolet | 24 | 182 | 0 | Engine |
| 40 | 83 | Matt DiBenedetto | Toyota | 36 | 177 | 0 | Running |
| 41 | 62 | Timmy Hill | Ford | 32 | 168 | 0 | Electrical |
| 42 | 51 | Justin Allgaier | Chevrolet | 39 | 130 | 0 | Engine |
| 43 | 21 | Ryan Blaney | Ford | 9 | 84 | 0 | Engine |