Super Trucks race at Surfers while IndyCar goes dark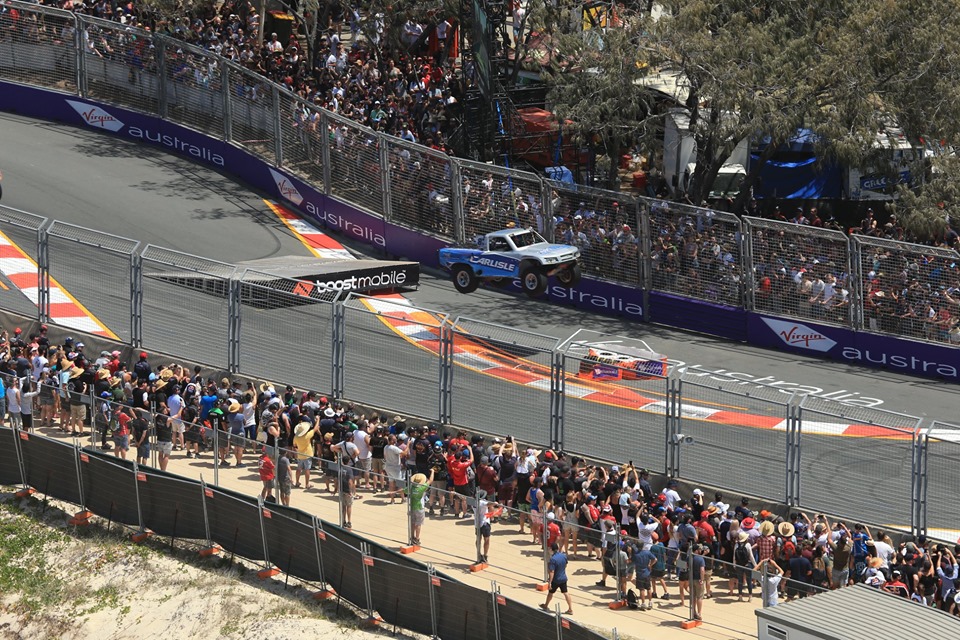 While the IndyCar set sat home out of sight, out of mind, the USA based Stadium Super Trucks raced before crowds 20-deep all around the circuit. Here Matt Brabham hits a jump
While IndyCar cannot get an overseas race deal done if its life depended on it, Robby Gordon's USA Stadium Super Trucks raced at Surfers Paradise before huge crowds.
Matt Brabham made a late last-lap pass on fellow Gold Coaster Paul Morris to clinch the Stadium Super Trucks finale at the Vodafone Gold Coast 600.
Brabham finished second in Saturday's opening event to Robby Gordon, but managed to avoid the late-race carnage to clinch Sunday's race and the overall round victory in a championship he has dominated this year.
"That was a crazy race today to cap off a crazy weekend," said Brabham.
"There was just so much going on, but I managed to stay out of major trouble and get by Paul on the final lap.
"It was terrific to get the win for all my family and friends here this weekend.
"While I live in the US, the Gold Coast is where I was born and bred and The Southport School where I went to school is just across the river.
"It is great to have the Stadium Super Trucks back at this event after a year off and it is great that an Australian championship has been announced for next year.
"I have to thank my full-time sponsors DeVilbiss and Head Strong for their support all year and Tony Longhurst from The Boat Works. It was cool to take the winner's trophy for them this weekend."