Penske Fords tops Martinsville practice sessions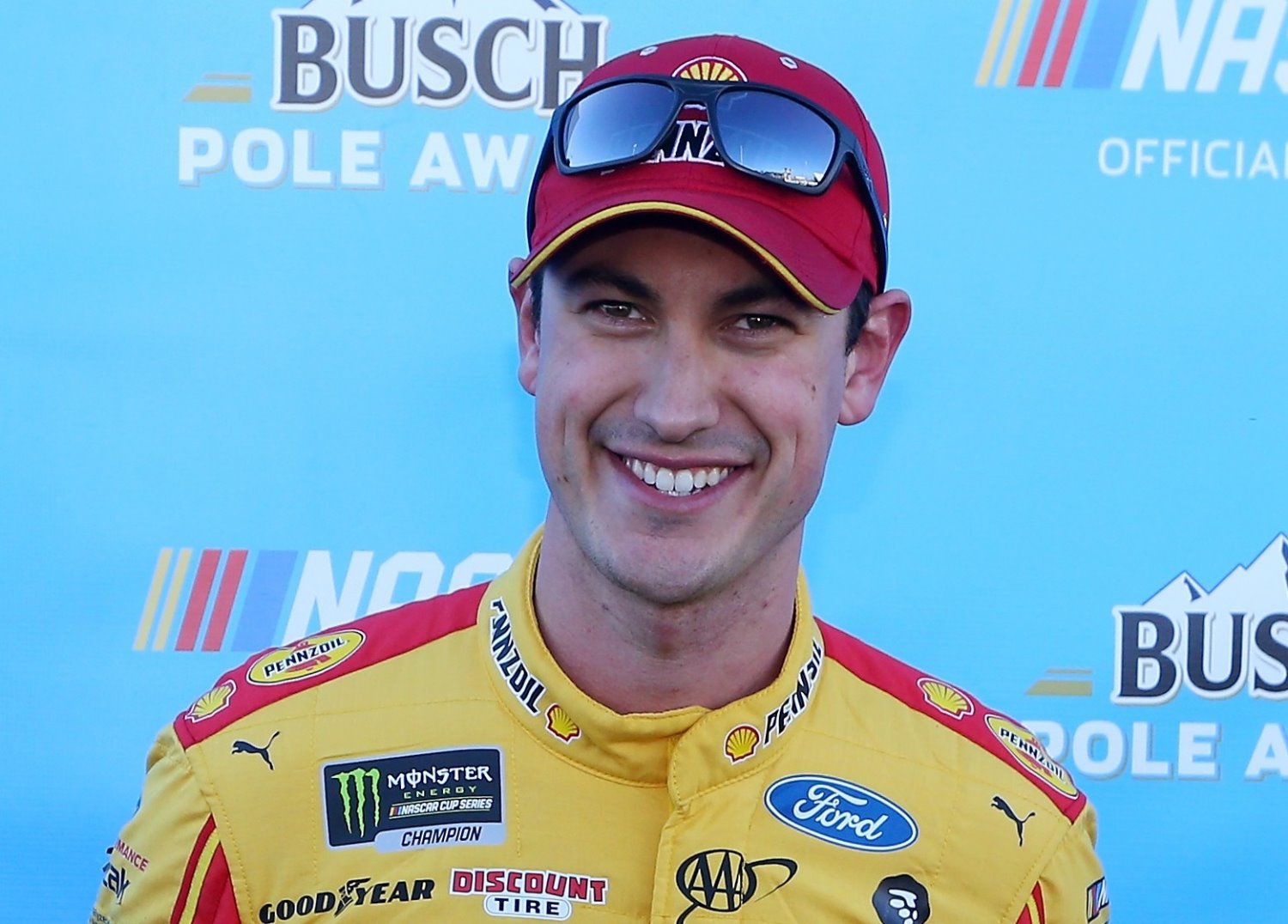 Can Logano win the pole again later today?
Trouble came early for playoff contender Chase Elliott at Martinsville Speedway as the Georgia native's engine failed just five laps into the weekend's first practice session. The No. 9 Chevrolet burst into flames on track as Elliott made his first run of the day, bringing out the red flag for fluid on the track. Elliott will start at the rear of the field on Sunday due to the change, a challenge at Martinsville where the leaders will catch the tail of the field very quickly.
While Elliott was waiting for the second practice and a fresh engine, defending race winner Joey Logano led the field in the first session, posting a top lap time of 19.591 seconds (96.656 mph). Martin Truex Jr. was second with a lap of 19.689 seconds. Five-time Martinsville winner Denny Hamlin was third, with Clint Bowyer and Kyle Busch rounding out the top five.
Chris Buescher, Ryan Blaney, Aric Almirola, Daniel Suarez and nine-time Martinsville winner Jimmie Johnson completed the top 10.
Other notables included title hopefuls Kevin Harvick (12th; docked 30 minutes of time from inspection issues in Kansas) and Kyle Larson (13th). Spring race winner Brad Keselowski finished the session in 21st.
Truck Series veteran Matt Crafton ran both sessions in the No. 36 Ford for regular driver Matt Tifft, who was taken to the hospital early Saturday from the infield care center for an undisclosed illness. Matt Crafton will race the No. 36 on Sunday.
Team Statement:
This morning, Matt Tifft was transported to a local hospital in Martinsville, Virginia for further evaluation and tests after suffering a medical condition at the track. Tifft was evaluated and released from the hospital and is returning home. Further updates will be sent when appropriate.
Keselowski hit the track in qualifying trim for the second session of the day and went straight to the top of the charts with a 19.667-second lap (96.283 mph). Teammate Blaney was second with a 19.774-second lap, best among the remaining playoff drivers. Kurt Busch, Daniel Hemric and Ryan Preece rounded out the top five.
Elliott, William Byron, Erik Jones, Clint Bowyer and Michael McDowell finished sixth-10th in the session.
Results were mixed in final practice for the playoff drivers, with some not electing to make mock qualifying runs. Kyle Busch was 15thth in the session, Hamlin 16th, Kevin Harvick 17th, Logano 18th, Truex 20th and Larson 21st.
The First Data 500 will run Sunday at 3:00 pm. Qualifying will take place Saturday at 4:45. Amy Henderson reporting for AR1.com
Practice 1 Results
| | | | | | | | |
| --- | --- | --- | --- | --- | --- | --- | --- |
| Pos | Car | Driver | Team | Time | Speed | -Fastest | -Next |
| 1 | 22 | Joey Logano (P) | Shell Pennzoil Ford | 19.591 | 96.657 | —.— | —.— |
| 2 | 19 | Martin Truex Jr (P) | Auto Owners Insurance Toyota | 19.689 | 96.176 | -0.098 | -0.098 |
| 3 | 11 | Denny Hamlin (P) | FedEx Freight Toyota | 19.732 | 95.966 | -0.141 | -0.043 |
| 4 | 14 | Clint Bowyer | BlueDEF Ford | 19.755 | 95.854 | -0.164 | -0.023 |
| 5 | 18 | Kyle Busch (P) | M&M's Halloween Toyota | 19.785 | 95.709 | -0.194 | -0.030 |
| 6 | 37 | Chris Buescher | Clorox Chevrolet | 19.811 | 95.583 | -0.220 | -0.026 |
| 7 | 12 | Ryan Blaney (P) | Menards/Richmond Ford | 19.853 | 95.381 | -0.262 | -0.042 |
| 8 | 10 | Aric Almirola | Smithfield Ford | 19.854 | 95.376 | -0.263 | -0.001 |
| 9 | 41 | Daniel Suarez | Haas Automation Ford | 19.881 | 95.247 | -0.290 | -0.027 |
| 10 | 48 | Jimmie Johnson | Ally Chevrolet | 19.884 | 95.232 | -0.293 | -0.003 |
| 11 | 20 | Erik Jones | Craftsman Toyota | 19.900 | 95.156 | -0.309 | -0.016 |
| 12 | 4 | Kevin Harvick (P) | Hunt Brothers Pizza Ford | 19.901 | 95.151 | -0.310 | -0.001 |
| 13 | 42 | Kyle Larson (P) | Clover Chevrolet | 19.908 | 95.118 | -0.317 | -0.007 |
| 14 | 9 | Chase Elliott (P) | Mountain Dew Chevrolet | 19.913 | 95.094 | -0.322 | -0.005 |
| 15 | 8 | Daniel Hemric # | Chevrolet Accessories Chevrolet | 19.914 | 95.089 | -0.323 | -0.001 |
| 16 | 88 | Alex Bowman | Llumar Chevrolet | 19.929 | 95.017 | -0.338 | -0.015 |
| 17 | 3 | Austin Dillon | American Ethanol Chevrolet | 19.947 | 94.932 | -0.356 | -0.018 |
| 18 | 95 | Matt DiBenedetto | Toyota Express Maintenance Toyota | 19.956 | 94.889 | -0.365 | -0.009 |
| 19 | 38 | David Ragan | MDS Transport Ford | 19.957 | 94.884 | -0.366 | -0.001 |
| 20 | 1 | Kurt Busch | Global Poker Chevrolet | 19.957 | 94.884 | -0.366 | -0.000 |
| 21 | 2 | Brad Keselowski | Alliance Truck Parts Ford | 19.961 | 94.865 | -0.370 | -0.004 |
| 22 | 21 | Paul Menard | Quick Lane Tire & Auto Center Ford | 19.973 | 94.808 | -0.382 | -0.012 |
| 23 | 24 | William Byron | Liberty University Chevrolet | 19.974 | 94.803 | -0.383 | -0.001 |
| 24 | 6 | Ryan Newman | Blue Bird Ford | 19.993 | 94.713 | -0.402 | -0.019 |
| 25 | 43 | Bubba Wallace | Victory Junction Chevrolet | 20.004 | 94.661 | -0.413 | -0.011 |
| 26 | 47 | Ryan Preece # | Kroger Chevrolet | 20.013 | 94.619 | -0.422 | -0.009 |
| 27 | 34 | Michael McDowell | A&W All American Foods Ford | 20.028 | 94.548 | -0.437 | -0.015 |
| 28 | 13 | Ty Dillon | GEICO Chevrolet | 20.040 | 94.491 | -0.449 | -0.012 |
| 29 | 32 | Corey LaJoie | CorvetteParts.net Ford | 20.042 | 94.482 | -0.451 | -0.002 |
| 30 | 17 | Ricky Stenhouse Jr | Fifth Third Bank Ford | 20.075 | 94.326 | -0.484 | -0.033 |
| 31 | 36 | Matt Crafton(i) | Surface Sunscreen/Tunity Ford | 20.247 | 93.525 | -0.656 | -0.172 |
| 32 | 15 | Ross Chastain(i) | VIPRacingExperience.com Chevrolet | 20.384 | 92.896 | -0.793 | -0.137 |
| 33 | *27 | Reed Sorenson | VIPRacingExperience.com Chevrolet | 20.651 | 91.695 | -1.060 | -0.267 |
| 34 | 77 | Timmy Hill(i) | Spire Motorsports Chevrolet | 20.702 | 91.469 | -1.111 | -0.051 |
| 35 | 00 | Landon Cassill(i) | Sea Deck/Units Chevrolet | 20.716 | 91.408 | -1.125 | -0.014 |
| 36 | 51 | BJ McLeod(i) | JACOB COMPANIES Chevrolet | 20.936 | 90.447 | -1.345 | -0.220 |
| 37 | 52 | Garrett Smithley(i) | RICH MAR FLORIST.COM Chevrolet | 21.027 | 90.056 | -1.436 | -0.091 |
| 38 | *53 | JJ Yeley(i) | GOTTA KILL IT TO HEAL IT Chevrolet | 21.042 | 89.991 | -1.451 | -0.015 |
Practice 2 Results
| | | | | | | | |
| --- | --- | --- | --- | --- | --- | --- | --- |
| Pos | Car | Driver | Team | Time | Speed | -Fastest | -Next |
| 1 | 2 | Brad Keselowski | Alliance Truck Parts Ford | 19.667 | 96.283 | —.— | —.— |
| 2 | 12 | Ryan Blaney (P) | Menards/Richmond Ford | 19.774 | 95.762 | -0.107 | -0.107 |
| 3 | 1 | Kurt Busch | Global Poker Chevrolet | 19.786 | 95.704 | -0.119 | -0.012 |
| 4 | 8 | Daniel Hemric # | Chevrolet Accessories Chevrolet | 19.809 | 95.593 | -0.142 | -0.023 |
| 5 | 47 | Ryan Preece # | Kroger Chevrolet | 19.833 | 95.477 | -0.166 | -0.024 |
| 6 | 9 | Chase Elliott (P) | Mountain Dew Chevrolet | 19.835 | 95.468 | -0.168 | -0.002 |
| 7 | 24 | William Byron | Liberty University Chevrolet | 19.925 | 95.036 | -0.258 | -0.090 |
| 8 | 20 | Erik Jones | Craftsman Toyota | 19.966 | 94.841 | -0.299 | -0.041 |
| 9 | 14 | Clint Bowyer | BlueDEF Ford | 19.968 | 94.832 | -0.301 | -0.002 |
| 10 | 34 | Michael McDowell | A&W All American Foods Ford | 19.996 | 94.699 | -0.329 | -0.028 |
| 11 | 13 | Ty Dillon | GEICO Chevrolet | 20.005 | 94.656 | -0.338 | -0.009 |
| 12 | 10 | Aric Almirola | Smithfield Ford | 20.014 | 94.614 | -0.347 | -0.009 |
| 13 | 88 | Alex Bowman | Llumar Chevrolet | 20.024 | 94.567 | -0.357 | -0.010 |
| 14 | 32 | Corey LaJoie | CorvetteParts.net Ford | 20.034 | 94.519 | -0.367 | -0.010 |
| 15 | 18 | Kyle Busch (P) | M&M's Halloween Toyota | 20.036 | 94.510 | -0.369 | -0.002 |
| 16 | 11 | Denny Hamlin (P) | FedEx Freight Toyota | 20.040 | 94.491 | -0.373 | -0.004 |
| 17 | 4 | Kevin Harvick (P) | Hunt Brothers Pizza Ford | 20.042 | 94.482 | -0.375 | -0.002 |
| 18 | 22 | Joey Logano (P) | Shell Pennzoil Ford | 20.046 | 94.463 | -0.379 | -0.004 |
| 19 | 41 | Daniel Suarez | Haas Automation Ford | 20.048 | 94.453 | -0.381 | -0.002 |
| 20 | 19 | Martin Truex Jr (P) | Auto Owners Insurance Toyota | 20.057 | 94.411 | -0.390 | -0.009 |
| 21 | 42 | Kyle Larson (P) | Clover Chevrolet | 20.063 | 94.383 | -0.396 | -0.006 |
| 22 | 48 | Jimmie Johnson | Ally Chevrolet | 20.127 | 94.083 | -0.460 | -0.064 |
| 23 | 17 | Ricky Stenhouse Jr | Fifth Third Bank Ford | 20.156 | 93.947 | -0.489 | -0.029 |
| 24 | 43 | Bubba Wallace | Victory Junction Chevrolet | 20.165 | 93.905 | -0.498 | -0.009 |
| 25 | 95 | Matt DiBenedetto | Toyota Express Maintenance Toyota | 20.166 | 93.901 | -0.499 | -0.001 |
| 26 | 37 | Chris Buescher | Clorox Chevrolet | 20.176 | 93.854 | -0.509 | -0.010 |
| 27 | 6 | Ryan Newman | Blue Bird Ford | 20.190 | 93.789 | -0.523 | -0.014 |
| 28 | 21 | Paul Menard | Quick Lane Tire & Auto Center Ford | 20.241 | 93.553 | -0.574 | -0.051 |
| 29 | 38 | David Ragan | MDS Transport Ford | 20.246 | 93.530 | -0.579 | -0.005 |
| 30 | 3 | Austin Dillon | American Ethanol Chevrolet | 20.247 | 93.525 | -0.580 | -0.001 |
| 31 | 36 | Matt Crafton(i) | Surface Sunscreen/Tunity Ford | 20.494 | 92.398 | -0.827 | -0.247 |
| 32 | 00 | Landon Cassill(i) | Sea Deck/Units Chevrolet | 20.832 | 90.899 | -1.165 | -0.338 |
| 33 | 51 | BJ McLeod(i) | JACOB COMPANIES Chevrolet | 21.043 | 89.987 | -1.376 | -0.211 |
| 34 | *53 | JJ Yeley(i) | GOTTA KILL IT TO HEAL IT Chevrolet | 21.088 | 89.795 | -1.421 | -0.045 |
| 35 | 52 | Garrett Smithley(i) | RICH MAR FLORIST.COM Chevrolet | 21.340 | 88.735 | -1.673 | -0.252 |