Overheard at St. Petersburg – Saturday (Update)
UPDATE
This report has been updated below.
Daly making the most out of the situation
03/12/16
It looks like the Chevy cars still have an advantage over the Hondas based on qualifying results today where Chevy ran 1-2-3-4-5. The Dale Coyne cars missed on the setup on Friday and both drivers struggled with grip, particularly front grip. It's not unusual for drivers to struggle with front grip on street circuits where the bumps could unload the front wheels just when the driver turns into the corner.
After Saturday morning practice both cars were at the bottom of the timesheets so apparently they still have not figured it out.
The Honda drivers are saying the car is driving better than last year. However, the Honda teams are still running the same engine they finished the season with at Sonoma.
IndyCar's engine regulations gave both manufacturers the freedom to make a number of component changes and redesigns within their 2.2-liter twin-turbo V6s for 2016. Chevy did it already but Honda is waiting for Indy to spring their surprises.
Chevy says it gave the "opportunity for the Chevy engineers and technical partners to design and implement upgrades to ports, camshafts, fuel system and installation – including a new, lighter exhaust system and a new [turbo] wastegate with improved actuator cooling and valve head design."
Castroneves Chevy
Dixon Chevy
We noticed that the Chevy cars were running different configurations of the ramp in front of the rear wheels whereas the Honda drivers all ran the same configuration. The way it works is that Honda and Chevy both have a body kit approved for the season. However, in certain areas there could be, for example, 5 pieces that makeup the kit within that box.
The teams can choose to run 1, 2, 3, 4 or all 5 pieces. Whereas Chevy has designed the area in front of the rear wheel to give the driver and engineer several aero configurations to work with. Honda's design pretty much gives the teams only 2 options to choose – a superspeedway configuration and a Street/Short oval configuration. Hats off to the Pratt Whitney guys who produced a Chevy kit that give the teams more flexibility.
According to Art St. Cyr (see yesterday's video) Honda has performed the most extensive aero updates in an effort to catch up – using both Rule 9.2 and 9.3 to make sweeping changes to its bodywork. Under 9.2, it replaced its front wing elements (that mount on top of the stock Dallara mainplane), and new rear wheel pods.
Through rule 9.3, which allows a manufacturer to modify components outside of the three smaller regions due to a performance shortcoming, IndyCar granted Honda's request to replace its sidepods and rear tire ramps (which are considered one unit by the series), and replaced its front wing endplates and its rear wing endplates.
It's become seemingly an annual tradition for Roger Penske to visit the Victory Circle monument at the Firestone Grand Prix of St. Petersburg.
Juan Pablo Montoya delivered the seventh Team Penske win on the streets of St. Petersburg in 2015, so he and Penske attended a ceremony Friday morning to affix Montoya's name to the monument's wall of winners.
Montoya joins Helio Castroneves (2006, 2007, 2012), Ryan Briscoe (2009) and Will Power (2010, 2014) as Penske drivers to win on the 1.8-mile, 14-turn temporary street circuit – all in the last 10 years.
"It's an honor to see all of these plaques representing wins by so many of our drivers," Penske said. "It's a great team effort. … Certainly this is a place where we have had a lot of success and we're hoping we can continue this weekend."
Not usually one to gush over ceremonies, Montoya could appreciate the significance of his name being placed alongside the other Penske drivers, as well as past winners Dan Wheldon (2005), Graham Rahal (2008) and James Hinchcliffe (2013). This year's Firestone Grand Prix of St. Petersburg will be the 13th edition of the popular event, dating to 2003 when Paul Tracy won the Champ Car-sanctioned race.
"You don't realize little things like (the wall of champions) go a long way for the future and it's cool," said Montoya, driver of the No. 2 Verizon Team Penske Chevrolet. "Now we've got to go back and focus on what we do. This year you want to keep it up and do the best you can. It doesn't mean you're going to go out there and win every race, but you still want to. We're going to try."
Rossi taking in the action
We spoke to Alexander Rossi to talk F1 and IndyCar. It was interesting to hear his perspective between the two cars. One areas is tires where the Firestone tires are a bit more durable. Of course the power units are totally different with the F1 units being hybrid and require a different driving approach.
Whereas the F1 cars are much lighter in qualifying trim they have to start the race with more fuel because there is no refueling allowed so at the start of a race an F1 car actually weighs more than an IndyCar but by the end of the race it is much lighter.
We talked about his new role as Manor F1 Reserve driver. The role means if one of the two regular Manor drivers (Wehrlein or Haryanto) cannot drive, Rossi will be called up. We asked Rossi which would take precedence, F1 or a race here in IndyCar if on the same weekend.
"I'm not sure," said Rossi, "we'll cross that bridge when it happens."
I asked whether he will get to test at Phoenix before the race weekend. "I think so," said Rossi, but no date has been set." Team owner Bryan Herta told me he definitely will test, but he wasn't sure what day yet.
Was he disappointed to not get the Manor F1 ride this year now that they have a much better chassis and a Mercedes engine?
"Last year was special, the fact that Manor even made it onto the grid was quite a feat," said Rossi. "Sure I would had loved to race for them this year."
We pressed Rossi on whether he would look to make a career in IndyCar if a F1 ride never materializes because of money. "I'm open to any possibility right now," said Rossi but you can tell for Rossi F1 remains unfinished business.
Rossi's blank sidepods
Although Rossi's sidepods are void of any sponsorship this weekend, team owner Bryan Herta said they do have sponsorship lined up for some of the races.
Herta said he was happy to be teamed up with Andretti this year. "It's nice to be hooked up with a big team. We're still running the GRC program out of our shop," said Herta.
I asked Bryan who would drive the #98 should Rossi get called away to F1.
"We'll cross that bridge when we come to it," said Herta. "I have no one signed up for that, but I still have Gabby's [Chaves] number."
Did you know that Jon Beekhuis is the only IndyCar TV personality that works for both ABC and NBC? He covers the first half of the year for ABC then switches to NBCSN once the ABC races are finished.
Don Prudhomme lives in San Diego, California. So what was he doing in the St. Petersburg paddock today?
"I'm hooked," Prudhomme said. "I'm a big IndyCar fan and I just love coming to the races. I'm also good friends with Chip Ganassi."
I pressed him on whether he plans to get involved with Chip again to field a car in the Indy 500.
"I have no plans, but I would love to do it if the opportunity arose."
Sticker honoring Brenda
My condolences to Honda's TE McHale who lost his wife Brenda recently. Many of the cars are running a sticker in honor of Brenda (see photo to right).
Brenda, 73, of Torrance, California, passed away peacefully at 4:53 Monday morning, February 22, at her daughter's home following a lengthy battle with cancer.
Anyone who had the pleasure of knowing or simply meeting Brenda knew exactly how she felt on any particular matter. She greatly enjoyed her multiple annual trips to Las Vegas, and traveled extensively with her husband to motorsports events throughout the country.
She leaves behind a wide spectrum of trackside friendships which encompassed drivers, team owners, media, photographers, and team personnel.
The outpouring of love and support from the racing community has overwhelmed her family. She would have been amazed at the love that has been shown and the lives that she touched.
Holly Wheldon is excited. When you use Google Maps and Apple Maps 'Dan Wheldon Way' now comes up.
Ran into Tristan Vautier who still does not have a ride for the Indy 500 but he is trying. Meanwhile he is driving in the Blancplan series.
Talked to James Davison, who is driving in the Pirelli World Challenge series but is trying hard to put together an Indy 500 deal.
Ran into Oriol Servia who looks pretty buff and in shape and is also trying to do an Indy 500 deal.
It looks like Dale Coyne will run four cars in the 500. Pippa Mann, Conor Daly and Bryan Clauson deals are done. We hear Luca Filippi is not yet signed for the 500 yet, but they are close.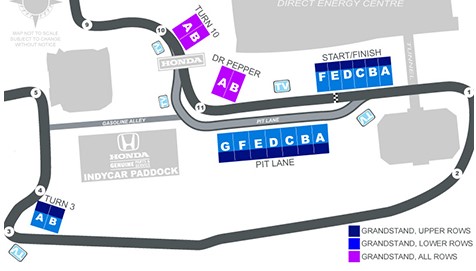 Previous Toronto configuration
Hotel under construction last year
Because of the new hotel (still under construction) behind the Toronto pit lane the Toronto street circuit has to be slightly reconfigured because the front of the hotel protrudes out into what was the pitlane.
Rumor has it that the pit lane will be moved (flipped) to the outside of the track instead of the inside.
That will probably mean that the grandstands that were on the outside of the track across from the pits, will now be added to the grandstands that were behind the pits before.
Mark C. and Lucille Dust reporting from St. Petersburg