Safety Again In The Spotlight After Daytona Crash
Austin Dillon flies at Daytona
Getty Images for NASCAR
Just days after a horrific crash that injured several fans at Daytona International Speedway, NASCAR officials have said they are looking at several ideas to help prevent such an occurrence in the future, while at the same time addressing the concerns of driver and teams about the unsafe speeds that directly resulted in the crash.
The no. 3 Chevrolet of Austin Dillon was catapulted into the catchfence in the tri-oval just past the finish line as a pack of nearly 25 cars came to the checkered flag on the final lap of Sunday's Coke Zero 400 Sprint Cup Series race, showering the front grandstand with debris.
As many as a dozen fans were injured and one was hospitalized. Dillon himself emerged from his destroyed race car bruised, but otherwise OK.
Dillon's crash was eerily similar to a crash involving Carl Edwards at Talladega in 2009, and more recently Kyle Larson's crash at Daytona in 2013 in which nearly 30 fans were injured.
Just like Dillon's crash, the cars got airborne and impacted the catchfence. The fence did its job, keeping the racecar from flying into the stands, but the cars should never have gotten airborne in the first place.
So once again, a superspeedway race ends in a shower of sparks and debris, and once again fans have to be stretchered out of the grandstand.
And, just like before, NASCAR says it's stepping up to insure it doesn't happen again.
Again.
Brian France
In an interview on Monday with SiriusXM NASCAR Radio, NASCAR Chairman and CEO Brian France said an investigation into the crash is already underway, and as far as any changes to make things better, "We're already on it."
"We live and breathe delivering the closest, tightest and safest competition in the world and when we have a problem, we solve it," said France. "We're sorting out what some of the best options we have in front of us with technology and innovation to make things better," France said. "And the work has already begun on that. That's job one at NASCAR — safe, tight, good competition.
"We learned a great deal after (Larson's accident) and reinforced the catchfence in different ways. We went from an engineering standpoint right to work and we'll do the same here. Our work in safety, whether it's the race car itself — which held up beautifully, thankfully — or certainly making or fans safe, that work, it never ends in auto racing. And in NASCAR, we take that responsibility at the top of our list and we'll all work on it."
[adinserter name="GOOGLE AD"]But Dillon's accident wasn't typical of the kind of racing we see at every track. It's was a product of "plate racing" that happens twice a year at Daytona and Talladega, and while it's exciting for the fans to watch, it's more dangerous for the drivers, and – in these three incidents – dangerous for the fans as well.
Following Sunday's latest incident, several drivers – particularly 2008 Daytona 500 winner Ryan Newman – were critical of the way NASCAR has been dealing with the issue.
"NASCAR got what they wanted. That's the end of it," Newman said in an interview with USA Today. "Cars getting airborne, unsafe drivers, same old stuff. They (NASCAR) just don't listen. They just don't pay attention to safety. Simple as that."
In a teleconference with the media on Tuesday, NASCAR executive vice president and chief racing development officer Steve O'Donnell disagreed with Newman's comments, and said the sanctioning body is always looking at ways to improve safety.
"I disagree with Ryan's comments," said O'Donnell. "We've got people up at the R&D Center who that's all they do is work on safety each and every day, 24 hours a day, and I'm proud of the work that they do. Our folks at the R&D Center are poring through the data from the incident data recorder and looking at what we can learn there. There will be some short-term things that we can learn, but I think longer term we'll look at how we can continue to look at some of the track-specific concepts, as well.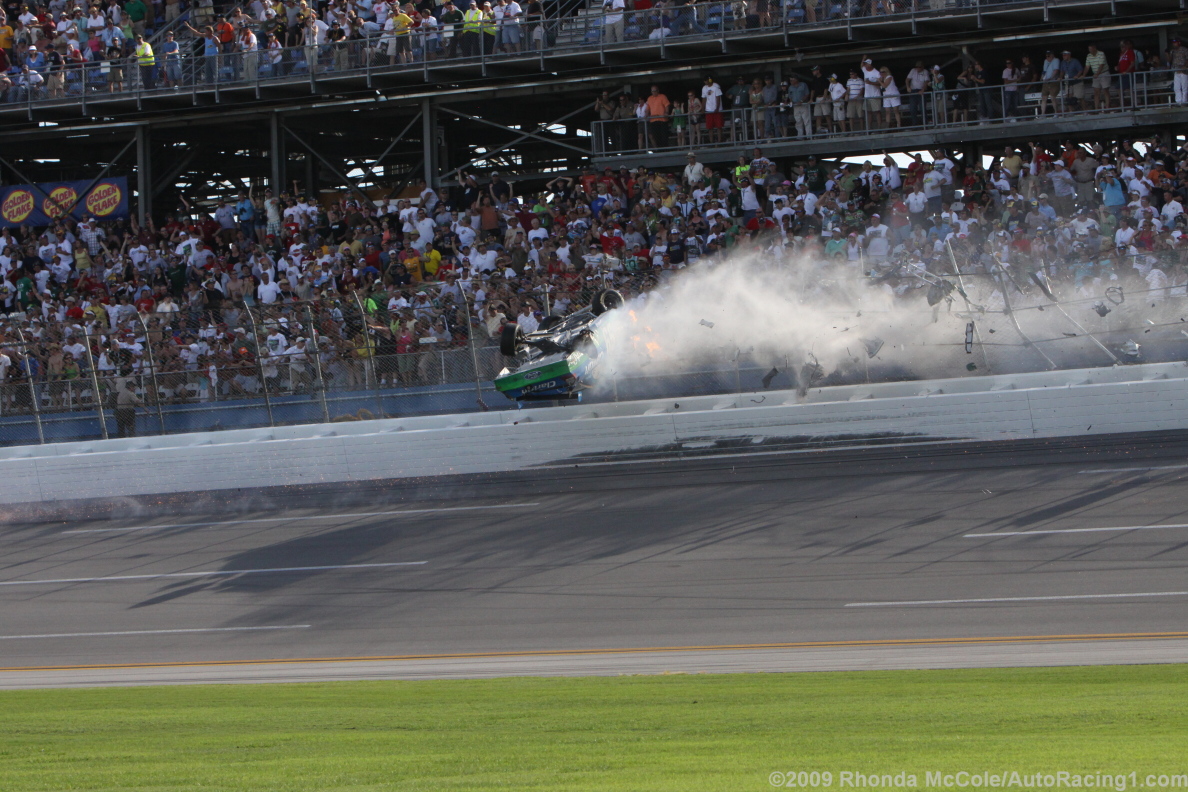 Carl Edwards in 2009 at Talladega – cars going 200 mph will fly – always have, always will
Rhonda McCole/AR1.com
"I think the catch fence, first and foremost, is there to obviously keep the car from going through, and I think it did that. There could be a lot of new technologies that we could look at collectively with the tracks to make some improvements in that area."
Among the other drivers who spoke out was Dillon himself, who believes one way NASCAR can improve safety is by slowing the cars down at the superspeedway tracks.
"We've got to figure out something. I think our speeds are too high, I really do," said Dillon. "I think everybody can get good racing with lower speeds, and we can work on that and then figure out a way to keep cars on the ground. That's the next thing. We're fighting hard to make the racing good. I hope fans enjoy all that. We don't, but it's what you put your — that's your job. You go out there and you hold it wide open to the end, checkers or wrecker, and hope you make it through.
"We are running 200 mph and pushing each other around out there and it's just bound to happen. No matter how safe we can make the sport, when you are going that amount of speed, things happen."
Ironically, NASCAR originally developed the restrictor plates used at Daytona at Talladega specifically to slow the cars down.
NASCAR first introduced the restrictor plate in 1987, following Bobby Allison's wreck at Talladega where his car got airborne and tore out a large section of fencing in the frontstretch, just missing the flag stand. The plates were designed to limit airflow to the engine, resulting in less horsepower.
The results were immediate – the pole speed for the 1988 Daytona 500 was more than 16 mph slower than the previous year – as were the unintended side effects.
With less horsepower, drivers were unable to pull away from the pack, resulting in groups of cars running three and four-wide and 12 rows deep, leading to several multi-car crashes that became so prevalent at these tracks they grew to be called "The Big One" and became as legendary as the tracks themselves.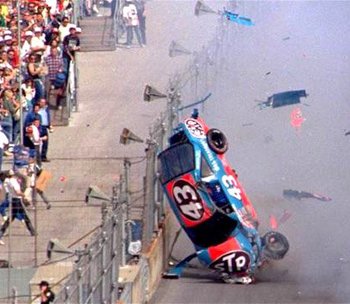 Richard Petty flies in 1988 – Race cars going 200 mph will fly – always have, always will
And slowing the cars down still didn't keep them for getting into the fence, as Richard Petty barrel-rolled along the frontstretch fence after getting spun on lap 106 in that season-opening race in 1988.
And so was born "plate racing". And this isn't the first time NASCAR has been under the gun to try and fix it.
In 2001, NASCAR implemented new aerodynamic changes, including a wickerbill on the rear spoiler and a strip across the roof, in an attempt to increase drag to slow the cars down further.
Four years ago, NASCAR tried again with new aerodynamic changes, and what they got was "tandem racing" consisting of a dozen or so two-car packs jockeying for position.
Fans called it boring, and blasted the new changes on social media. The following year, NASCAR tweaked the rules again, and also made a rule against two-car drafting.
Which leads us to Sunday's race, which featured 22 lead changes and four multi-car pileups involving no less than 30 cars.
And the fans loved it.
But the drivers, including race winner Dale Earnhardt, Jr. – not so much.
"It scared the s**t out of me," said Earnhardt after seeing Dillon's wreck. "I was near tears. I don't even know who it is, but you just don't want to see nobody get hurt. It's awful. It's an awful feeling."
For Earnhardt, Jr., Dillon's crash particularly hit home. His father, seven-time champion Dale Earnhardt, Sr., died in a final lap crash in the 2001 Daytona 500, driving for Dillon's grandfather, Richard Childress, in the famed no. 3
"I just think it's always been dangerous," said Earnhardt, Jr. "I think that's part of the appeal in a way that makes it exciting, but you hate to see it get to that extreme, but the potential is always there.
"These cars are going fast, and when you put them in odd, rare circumstances like that, they're going to go up in the air. It's just a product of going 200 miles an hour."
Four-time Sprint Cup champion Jeff Gordon, who is retiring at the end of the season, perhaps summed it up best for many drivers.
"I can't believe this is my final race here, but after going through that experience I'm glad I only have one more restrictor plate race left."
[adinserter name="GOOGLE AD"]