Hamilton over Leclerc in opening Mexican GP Practice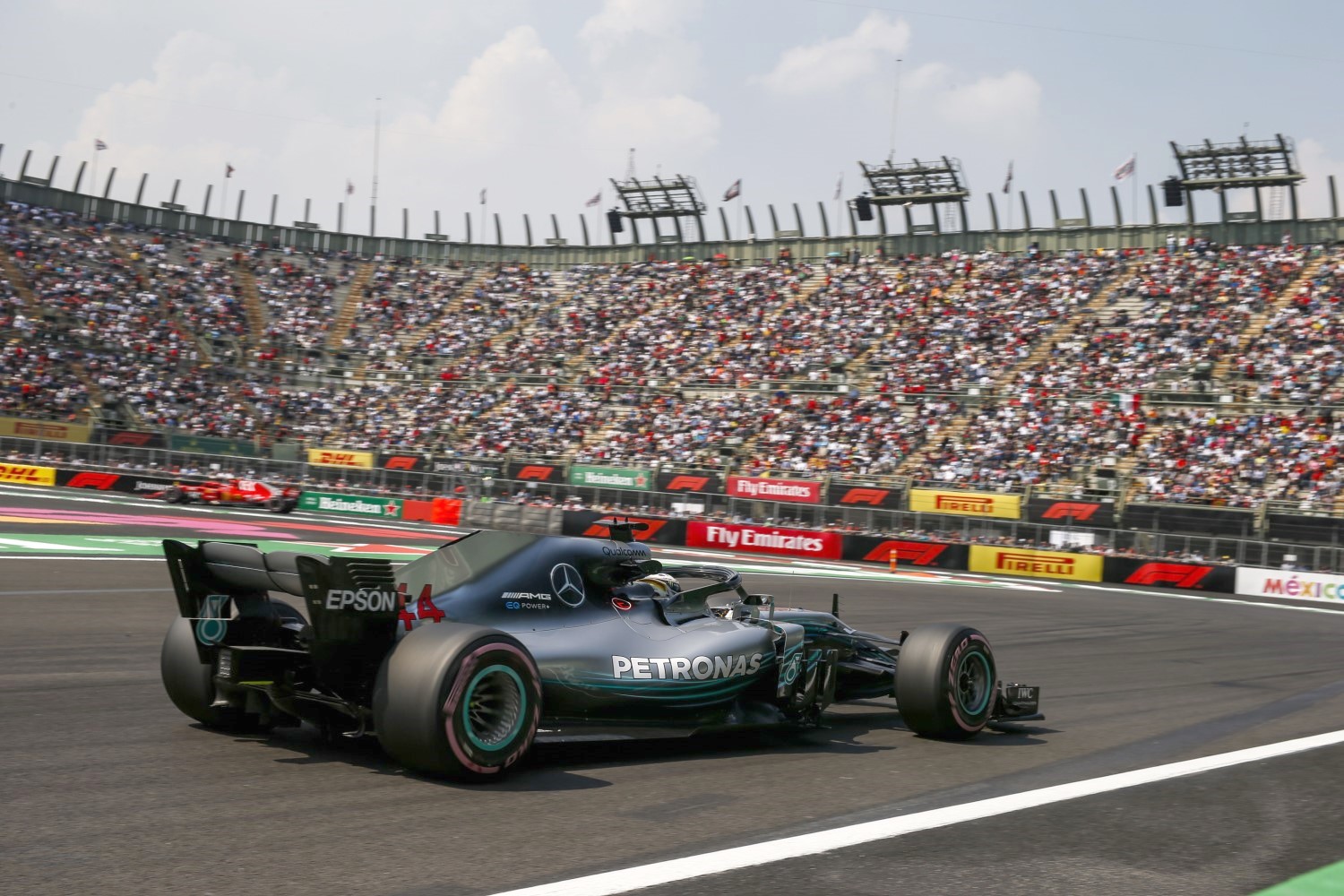 Hamilton in the stadium section
In a session that started wet and that saw no drivers venturing out early, when the track finally dried several drivers took turns at the top before Lewis Hamilton went quickest late in the session and stayed there with a lap of 1m17.327s in his Mercedes.
Charles Leclerc was 2nd quick for Ferrari 0.119s back and the winner the last two years here in Mexico City, Max Verstappen was close 0.134s behind Hamilton in his Red Bull.
Alexander Albon went 4th quick in the 2nd Red Bull followed by Valtteri Bottas and Sebastian Vettel in 5th and 6th.
On a weekend when the reigning world champion can seal another title, it is a pretty good start. But the Silver Arrows won't be celebrating wildly just yet, as they will be aware that Leclerc finished only 0.119s off their man, and on the much slower tire compound.
Racing Point's Lance Stroll wadded up his Racing Point. He crashed into the wall on the stadium exit and replays showed he just got out of shape on entry to the corner and slide sideways into the wall. No run off area there either.
Practice 1 Results
| | | | | | | |
| --- | --- | --- | --- | --- | --- | --- |
| POS | NO | DRIVER | CAR | TIME | GAP | LAPS |
| 1 | 44 | Lewis Hamilton | Mercedes | 1:17.327 | +0.000s | 25 |
| 2 | 16 | Charles Leclerc | Ferrari | 1:17.446 | +0.119s | 23 |
| 3 | 33 | Max Verstappen | Red Bull Racing Honda | 1:17.461 | +0.134s | 17 |
| 4 | 23 | Alexander Albon | Red Bull Racing Honda | 1:17.949 | +0.622s | 21 |
| 5 | 77 | Valtteri Bottas | Mercedes | 1:18.005 | +0.678s | 25 |
| 6 | 5 | Sebastian Vettel | Ferrari | 1:18.218 | +0.891s | 20 |
| 7 | 55 | Carlos Sainz Jr. | McLaren Renault | 1:18.401 | +1.074s | 21 |
| 8 | 10 | Pierre Gasly | Scuderia Toro Rosso Honda | 1:18.593 | +1.266s | 23 |
| 9 | 26 | Daniil Kvyat | Scuderia Toro Rosso Honda | 1:18.835 | +1.508s | 27 |
| 10 | 99 | Antonio Giovinazzi | Alfa Romeo Racing Ferrari | 1:18.959 | +1.632s | 22 |
| 11 | 27 | Nico Hulkenberg | Renault | 1:19.011 | +1.684s | 22 |
| 12 | 20 | Kevin Magnussen | Haas Ferrari | 1:19.013 | +1.686s | 22 |
| 13 | 7 | Kimi Raikkonen | Alfa Romeo Racing Ferrari | 1:19.205 | +1.878s | 22 |
| 14 | 4 | Lando Norris | McLaren Renault | 1:19.299 | +1.972s | 23 |
| 15 | 3 | Daniel Ricciardo | Renault | 1:19.499 | +2.172s | 23 |
| 16 | 18 | Lance Stroll | Racing Point Bwt Mercedes | 1:19.679 | +2.352s | 21 |
| 17 | 11 | Sergio Perez | Racing Point Bwt Mercedes | 1:19.717 | +2.390s | 23 |
| 18 | 8 | Romain Grosjean | Haas Ferrari | 1:19.850 | +2.523s | 22 |
| 19 | 63 | George Russell | Williams Mercedes | 1:20.548 | +3.221s | 26 |
| 20 | 40 | Nicholas Latifi | Williams Mercedes | 1:21.566 | +4.239s | 30 |