Mercedes-AMG Motorsport claims Blancpain GT World Challenge manufacturers' crown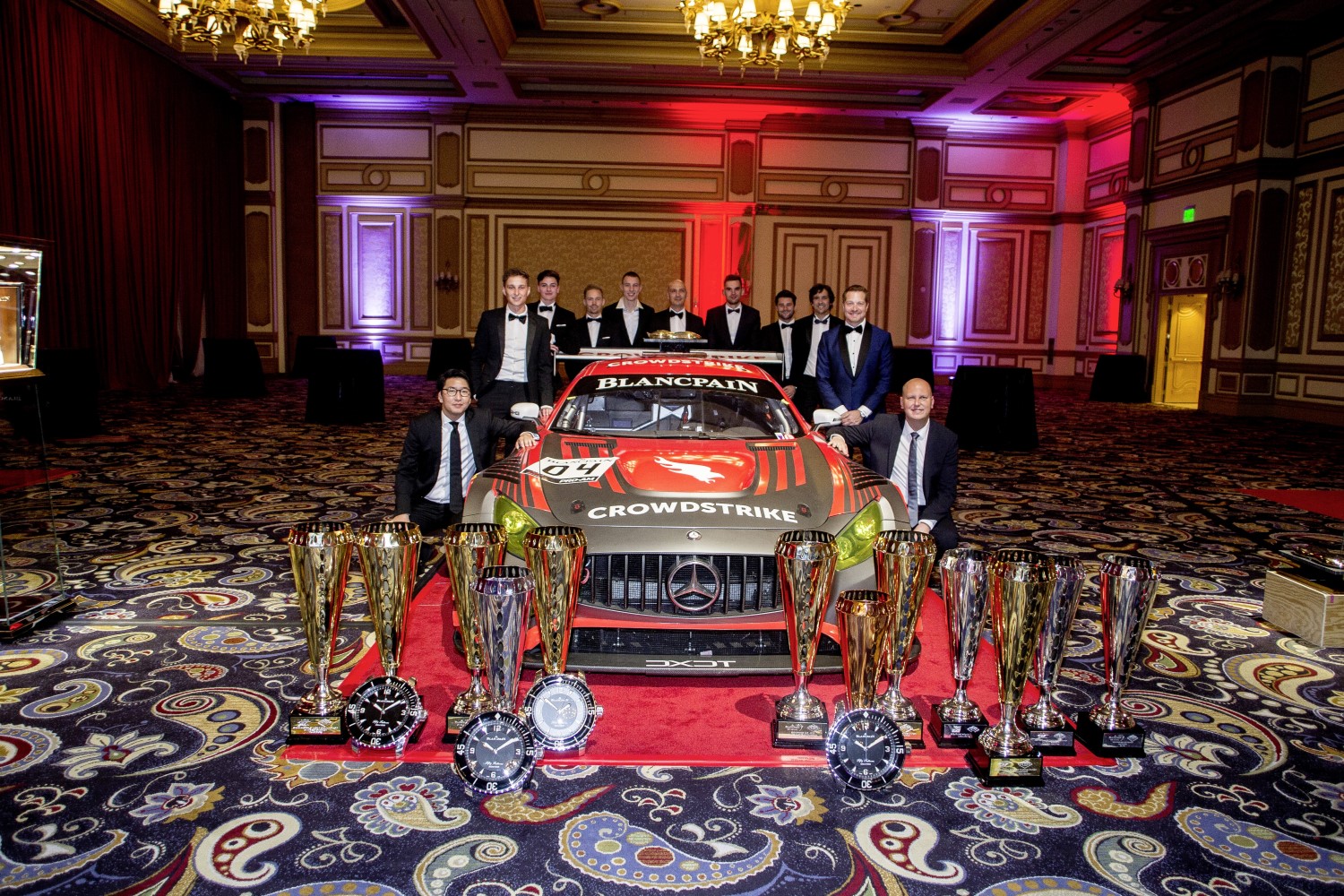 Trophies won by Mercedes-AMG Motorsport in the Blancpain GT World Challenge series' 2019
In the famous Bellagio Hotel in Las Vegas, it was officially confirmed on Sunday evening: during the SRO Awards Banquet, Stefan Wendl, head of Mercedes-AMG Customer Racing, accepted the trophy for the victory in the inaugural Blancpain GT World Challenge manufacturers' standings. In the combined classification of the three continental sprint race series in Europe, Asia and North America, Mercedes-AMG clearly beat the high-ranking sports car competition.
Under the lights at Las Vegas Motor Speedway, DXDT Racing drivers Colin Braun/George Kurtz (both USA) collected the final points of the season on Saturday evening local time.
Having started the 90-minute race from eleventh place on the grid, the duo finished tenth overall and seventh in the Pro-Am class. In the first race on Saturday morning, they had already scored points as well by virtue of their fifth-place finish in class with the #04 Mercedes-AMG GT3. With a total of four podium results in their class, DXDT Racing had already racked up valuable points for the constructors' standings in the previous Blancpain GT World Challenge America season rounds.
Next to Braun/Kurtz, David Askew (USA)/Ryan Dalziel (GBR) were also successful throughout the season with the sister car, even though they were unable to compete at Las Vegas.
The results in the Blancpain GT World Challenge Europe particularly stand out for Mercedes-AMG Motorsport: the series with two sprint races per weekend started and ended with a pair of wins for Mercedes-AMG. In the ten races in total, the eligible drivers Raffaele Marciello (ITA) and Thomas Neubauer (FRA) with the AKKA ASP Team as well as Luca Stolz (GER) with BLACK FALCON scored five victories. Jean-Luc Beaubelique and Mauro Ricci (both FRA) alternated for AKKA ASP Team and also added valuable championship points. Among others, Beaubelique scored a class win. In total, Mercedes-AMG Customer Racing Teams or Drivers scored three titles in the European series.
In the twelve races of the Blancpain GT World Challenge Asia, the eligible drivers Roelof Bruins (NED) with Solite Indigo Racing and Jeffrey Lee (TWN) with Craft-Bamboo Racing also secured five victories. On top of that, Bruins also sealed the drivers' title and the Silver Cup title. Next to him and Lee, Christina Nielsen (DEN) racked up a plethora of points for Craft-Bamboo Racing with several podium results. Anstone Racing's Xu Wei (CHN) also added points.
Stefan Wendl, head of Mercedes-AMG Customer Racing: "My sincere appreciation goes out to our Customer Racing Teams and Drivers for having enabled us to win this title with numerous achievements in the SRO series. This reflects the strength of our worldwide Customer Racing Program with the Mercedes-AMG GT3. Therefore, winning the Blancpain GT World Challenge manufacturers' title really means a lot to us. We are looking forward to taking on the challenge again next year and we will do our utmost to defend our title."