DHL Lines Up Special Paint Schemes For NHRA Team Kalitta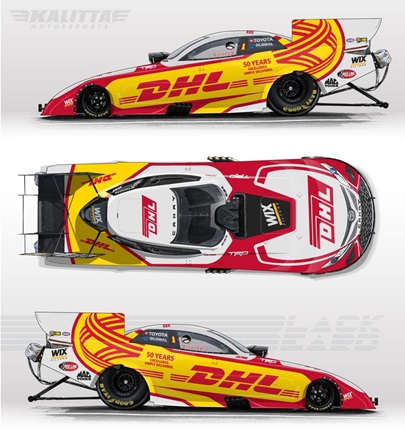 Special DHL livery
Global shipping/logistics company DHL is planning to run special paint schemes on NHRA team Kalitta Motorsports' cars for the final two races of the season to celebrate its 50th anniversary.
The company, which has been a sponsor of Kalitta since '07, will run a paint scheme on J.R. Todd's Toyota Funny Car and Richie Crampton's Top Fuel dragster that has both its current logo and its old one that is no longer used.
DHL has sponsorships in F1, IndyCar and NHRA.
DHL President of Global E&M Reg Kenney, who oversees the motorsports sponsorships, told THE DAILY, "The NHRA is unique in a way because we have this huge relationship with Kalitta Air and Kalitta Charters, and both are an important part of our global network."