Hi-Tide Boat Lifts Extends Road to Indy Partnership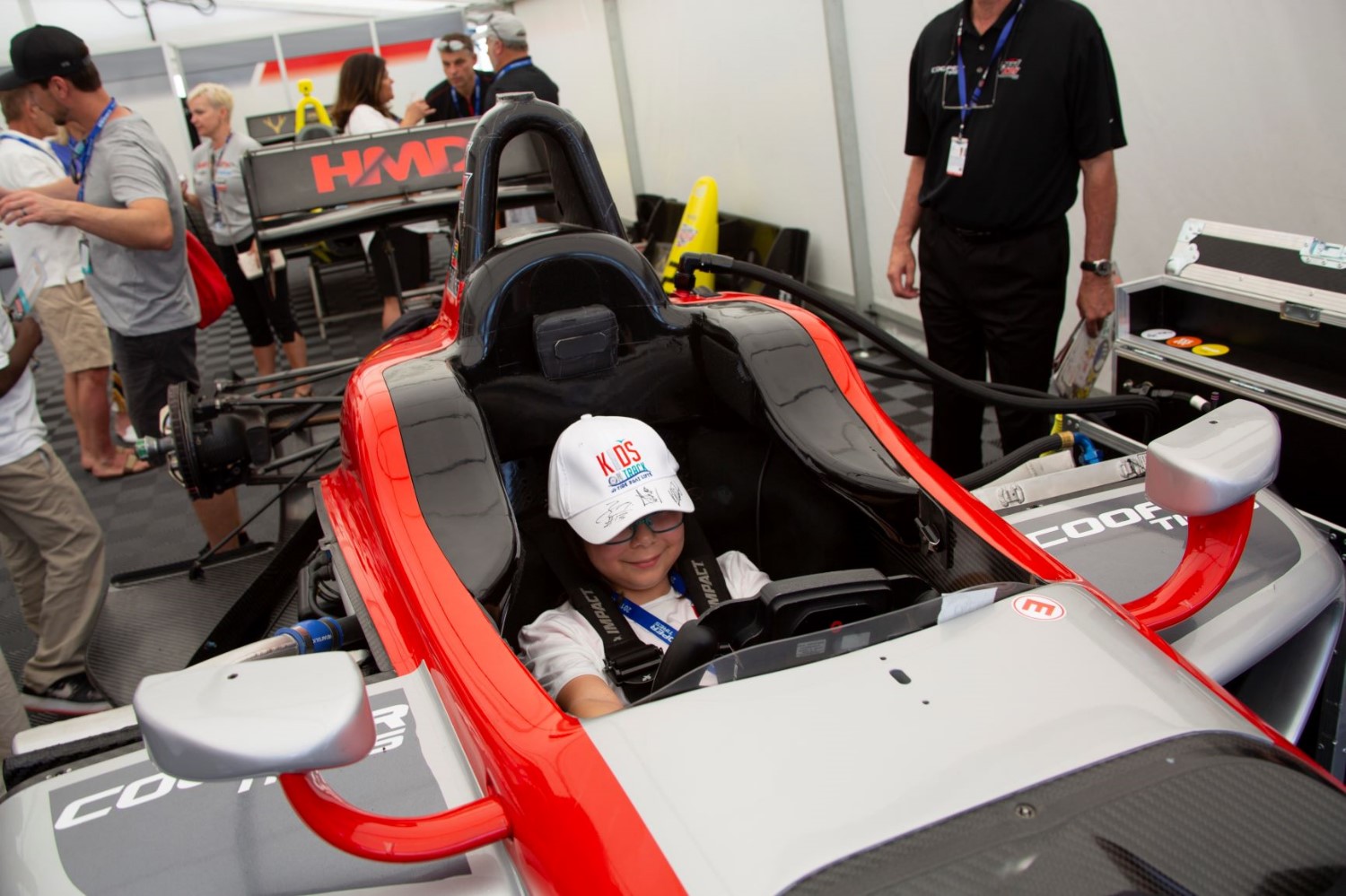 At-Track youth engagement
Andersen Promotions today announced that Hi-Tide Boats Lifts will continue its relationship as an Official Partner of the Road to Indy Presented by Cooper Tires through 2021, expanding an association with the Ft. Pierce, Fla.-based company which dates back to 2015. The partnership will also see the highly acclaimed Kids on Track program founded by Hi-Tide Boats Lifts enter its sixth season in 2020.
Hi-Tide Boat Lifts is a leader and pioneer in the boat lift manufacturing industry and operates one of the largest boat lift manufacturing facilities in the United States. The company has a dealer network of 240 professionals covering 21 states as well as Canada and the Caribbean. Founded in 1979, the family-owned and now second-generation company is led by Craig Wood, whose vision to inspire children to reach for their dreams resulted in the creation of the Kids On Track program in 2015.
Kids on Track, a 501(c)(3) non-profit, works with local charity organizations in each race market to grant children and their mentors free access to Road to Indy racing events which feature behind-the-scenes paddock tours, driver meet-and-greets, race car tours, trophy presentations and more with all three levels on the ladder system designed to create an unforgettable day at the track dedicated to lifting spirits and creating opportunities of inspiration.
Since its inception in 2015, more than 560 children and their mentors have been a part of the Kids on Track program. Hi-Tide has partnered with numerous organizations over the years including Big Brothers Big Sisters chapters, Ronald McDonald House Charities, Boys & Girls Clubs, The Peer Project and STARS Mentoring to name a few.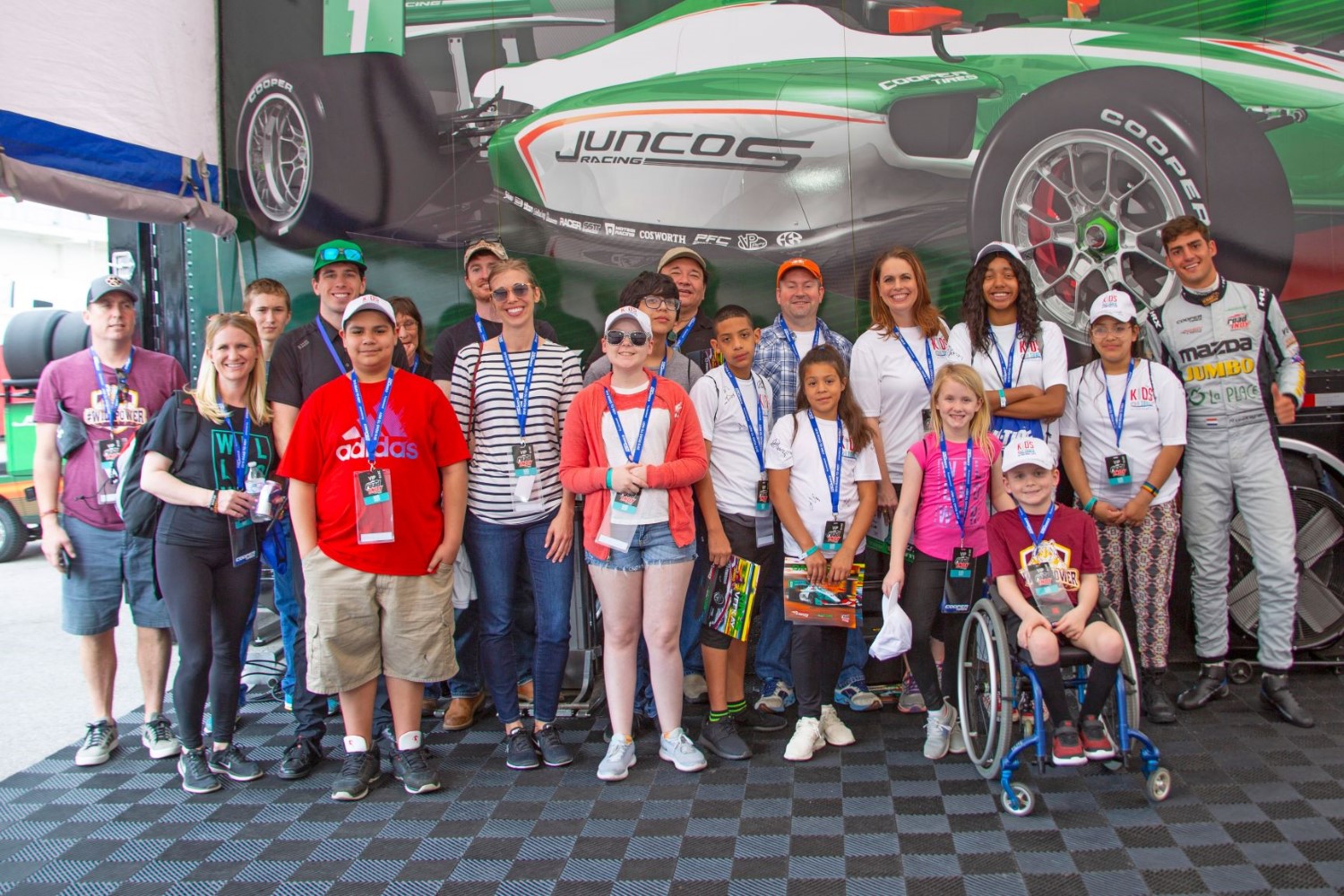 Youth group brought in by Hi-Tide
"I would like to thank God for his infinite blessings of the people he has surrounded me with," said Wood, Owner of Hi-Tide Boat Lifts. "Everyone in my family at Hi-Tide Boat Lifts, Andersen Promotions, Brothers' Construction Inc, and JDC Miller Motorsport have created inspiration and opportunities in my life. We are grateful for the opportunity to create inspiration for others through the Hi-Tide Boat Lifts Kids on Track program for years to come."
In addition to its commitment to today's youth, Hi-Tide Boat Lifts also focuses on inspiring the next generation of racing drivers with its annual Hi-Tide Boat Lifts Spirit Award, a season-ending prize money and award by Hi-Tide presented to a driver in each of the three series – Indy Lights Presented by Cooper Tires, the Indy Pro 2000 Championship Presented by Cooper Tires and the Cooper Tires USF2000 Championship – who embodies "the heart of a champion" as they aspire to reach their goals.
The 2019 Hi-Tide Spirit Award winners were Rinus VeeKay (Indy Lights), Parker Thompson (Indy Pro 2000) and Cameron Shields (USF2000).
"While he seeks to inspire others, Craig [Wood] is truly an inspiration as well," said Dan Andersen, Owner and CEO of Andersen Promotions. "I have seen the smiles his Kids on Track program has produced over the years and will continue to produce, and we are proud to have Craig and Hi-Tide as a partner. Our paddock has fully embraced the Kids on Track program and have welcomed the children and their mentors with open arms to create special experiences. We look forward to continuing to spread Craig's message of inspiration and the pursuit of dreams for many years to come."
To learn more about the Hi-Tide Boat Lifts Kids on Track program, visit https://hi-tide.com/kids-on-track/.