NASCAR Officially Closes On ISC; New Role For France Kennedy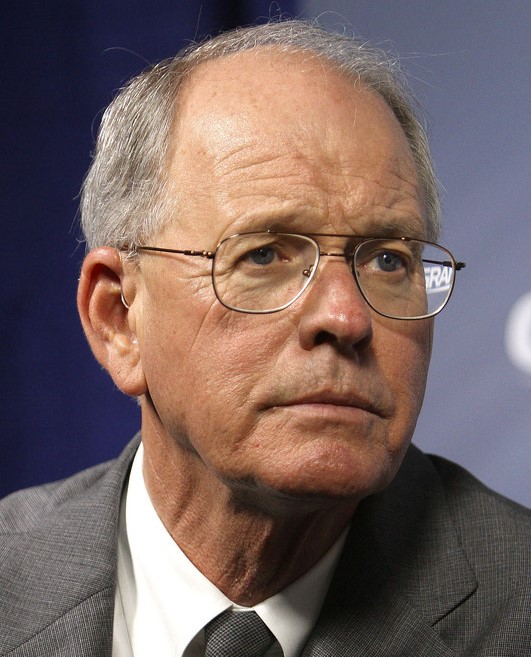 Jim France will lead the new combined company
NASCAR on Friday confirmed that it closed its acquisition of ISC, making the track promoter a fully private subsidiary of the sanctioning body. The combined company, which is 100% owned by the France family, will remain based in Daytona Beach. Jim France and Steve Phelps will continue in their roles as Chair & CEO and President, respectively.
Lesa France Kennedy, formerly CEO of ISC, becomes NASCAR Exec Vice Chair. ISC President John Saunders, who Sports Business Journal has reported could leave the company in the months after the deal closes, has moved to a senior advisor role for NASCAR alongside Vice Chair Mike Helton.
Longtime exec Daryl Wolfe has had his title changed to Exec VP & Chief Operations & Sales Officer, and track presidents will now report to him. Track presidents previously reported to ISC COO Joie Chitwood III, who is staying on through the transitional period of the next couple weeks but leaving the company Nov. 25.
Lesa France Kennedy Steps down to an advisor Role
BOARD MAKE-UP: The NASCAR BOD will be Jim France, Lesa France Kennedy, Helton and Exec VP, Chief Administrator & Chief Legal Officer Gary Crotty. Phelps' direct reports will be Exec VP & Chief Administration Officer Ed Bennett; Exec VP and CMO Jill Gregory; Exec VP & Chief Innovation & Development Officer Craig Neeb; Exec VP & Chief Racing Development Officer Steve O'Donnell; and Wolfe.
As part of the merger agreement, the France family bought former Chair & CEO Brian France out of his ownership shares. Jim France in a statement said, "The merger of NASCAR and ISC represents a historic moment for our sport. There is much work ahead of us, but we're pleased with the progress made to position our sport for success.
Delivering for our race fans and partners is job number one and we look forward to doing that better than ever for years to come." The closing of the deal had long been anticipated and is no surprise, but the industry's attention will now turn to the France family's unrevealed plans to shake up the sport, which is now easier with its tracks being fully private. Sources have said in recent months that major changes will come closer to 100 days in than the first day. Adam Stern/SBD