Max Guenther tops Friday Formula E times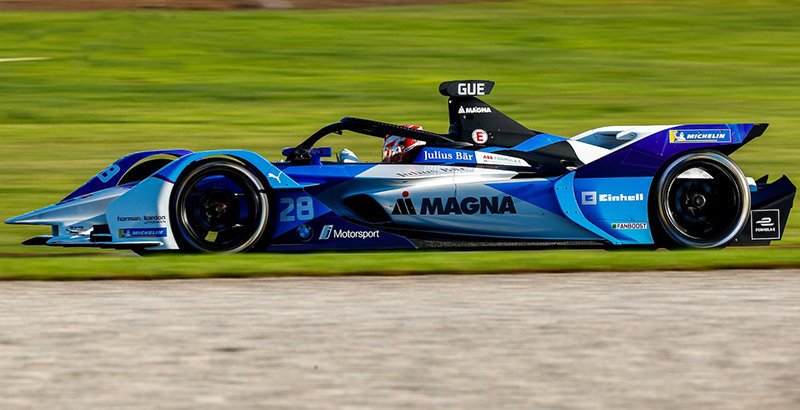 Maximilian Guenther
BMW's Maximilian Guenther set the fastest time of the week to top the abortive final session of Formula E testing at Valencia, as Sebastian Buemi 'won' the simulated race.
Setting a 1m15.087s lap just after the second hour of running, Guenther beat Pascal Wehrlein's time from the morning by a tenth.
A learning experience for Mercedes
Over the course of the three days of testing (with a break on Thursday), the team gained valuable experience with the new Mercedes-Benz EQ Silver Arrow 01 and posted more test kilometers. Lessons learned from the test outings, which were not without some teething problems initially, will be used in getting ready for the team's race debut at the end of November in Diriyah.
"The first two days of testing this week were tough for us," said Team Principal, Ian James. "There were some challenges to overcome that we had not anticipated. It was unexpected, to be honest, but we found the right solutions. It just goes to show how important these test outings are in the run-up to the season. We were consistent when conducting our own private tests and found some stability. We must now ensure that we can achieve that again during the first race weekend. After a difficult start to the week, we've finished Friday's test on a positive note. I think we've created a sound basis on which to build, so that we can continue to develop during the season."
And so, testing in Valencia was primarily about learning more about the car and procedures while posting as many laps as possible. Lap times played a minor role.
"What we're trying to do at the moment is improve consistency," said James. "But of course, we want to be competitive when we get started. Valencia is a permanent race track that is very different to the street circuits we would normally compete on during the season. In addition, each team follows a different program during testing, so it's not easy to draw comparisons. Therefore, we don't yet have the final picture in terms of how competitive we are compared to other outfits. Nevertheless, I think we've created a sound basis, on which to build so that we can continue to develop during the season."
The team's race drivers, Stoffel Vandoorne and Nyck de Vries, were in the cockpits of the two cars on all three test days. In total, they covered 259 laps or 801 kms of the 3.094-km Circuit Ricardo Tormo just outside Valencia.
"We're obviously not completely satisfied after this test week, but that's precisely what testing is for," said Stoffel Vandoorne. "We've ticked off quite a few points on our to-do list, but there's still plenty to do before the season opener in Saudi Arabia. At the same time, I am happy that we are finally racing again. We have been testing for a long time now and the feeling is good. Everything is in place for us to mount a serious challenge, but we have to get it all together. This is by no means an easy task in Formula E. Let's wait and see what happens next. After the long break, I'm really looking forward to getting back into the car and competing in actual races."
"We've had some challenging days with unexpected problems that we managed to fix quickly," said Nyck de Vries. "Unfortunately, I made a mistake in the chicane and lost a lot of time on the track. That, along with a few other difficulties, virtually cost me a whole day. That's why it was very important to have a flawless day today, during which I was able to put in a lot of laps and gain further experience. The morning was very positive in this regard, and the afternoon also was very interesting with regard to the race simulation. It was a pity that there were so many interruptions on the way, but that's all part of racing."
For Ian James, it is vital that his two drivers form an important part of the development team. "The good thing about Stoffel and Nyck is that they give very direct feedback," said the Team Principal. "We can only find the increase in performance necessary if they give us the nudge. They are very frank and will tell us what's good and what's not working out quite so well. The mood within the team is phenomenal despite the enormous challenge and the many tasks that still have to be mastered before the season starts. I am very proud of the way the team are performing."
Porsche still learning too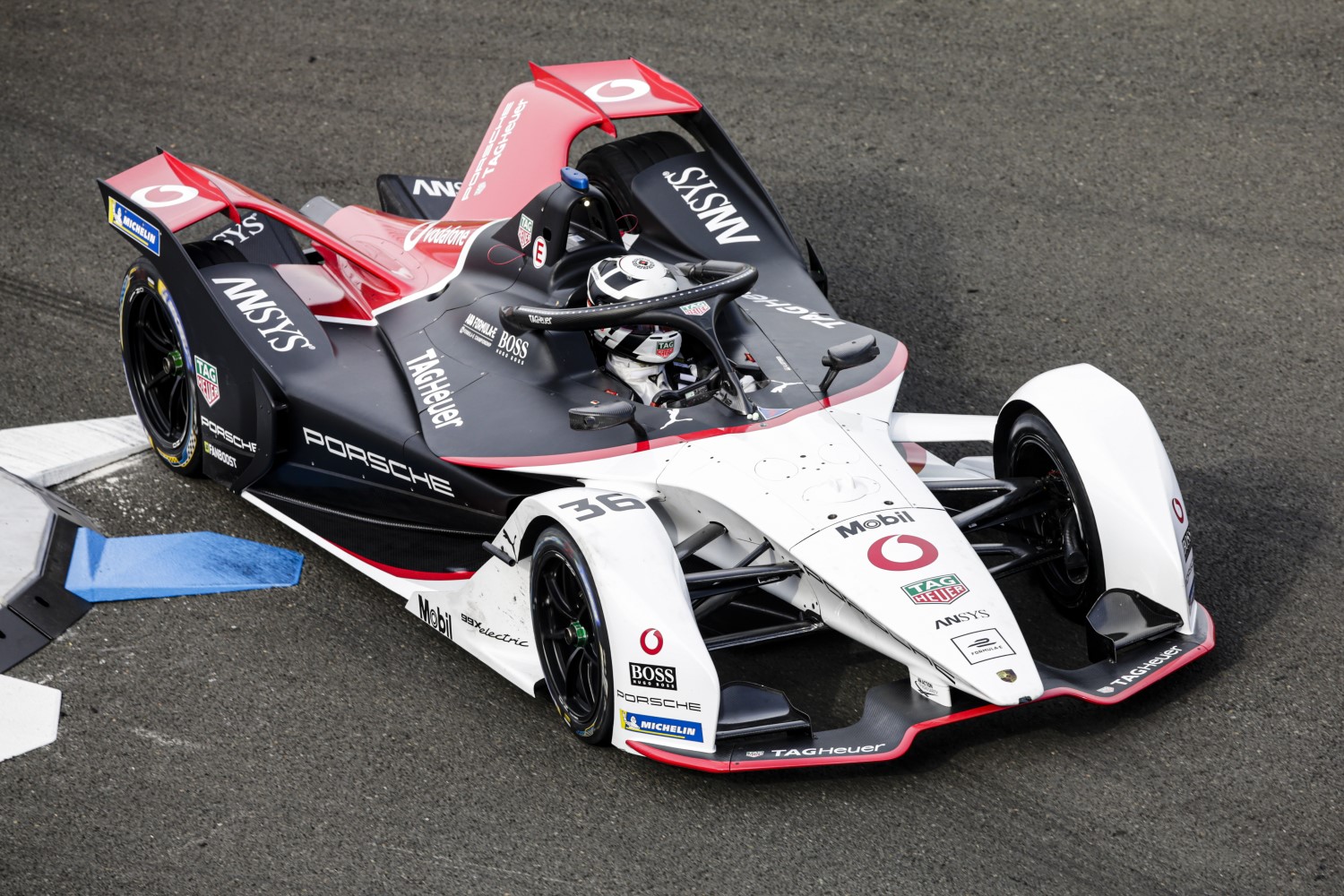 Andre Lotterer
The works Porsche team and its two regular drivers, Neel Jani and Andre Lotterer, gained valuable experience, for the first time on track with all the other teams competing in Season 6 of the ABB FIA Formula E Championship. The data gathered will be analysed at Porsche Motorsport in Weissach in the weeks leading up to the start of the season, in order to draw goal-oriented conclusions. The first two races for the TAG Heuer Porsche Formula E Team – the Diriyah E-Prix on the outskirts of Riyadh – take place on 22nd and 23rd November 2019.
The program at the official Formula E test at Valencia largely consisted of testing various car set-ups and simulations of both qualifying and races. The tests presented the team with its first opportunity to test and optimise the operational processes with both Porsche 99X Electric cars at a racetrack. In total, Jani completed 119 laps (roughly 368 kilometres) of the Circuit Ricardo Tormo. Lotterer was on track for 154 laps (476 kilometres).
Reactions on the test drives in Valencia
Pascal Zurlinden (Director Factory Motorsport): "This was the first time we have gone up against all the other teams, and the first time our complete works team has been able to rehearse race procedures with two cars. A couple of minor incidents meant our first two days were a little shorter. As such, we had to adapt the program-me a little and make a few compromises. Today, Friday, went really well. We were able to complete the full programme. For us, it was very important this week to learn how to cope with other cars on the track on a race weekend. As such, the two race simulations were particularly informative. We will now take our homework away with us and make sure we are ready for our Formula E debut in Riyadh, which we are very much looking forward to."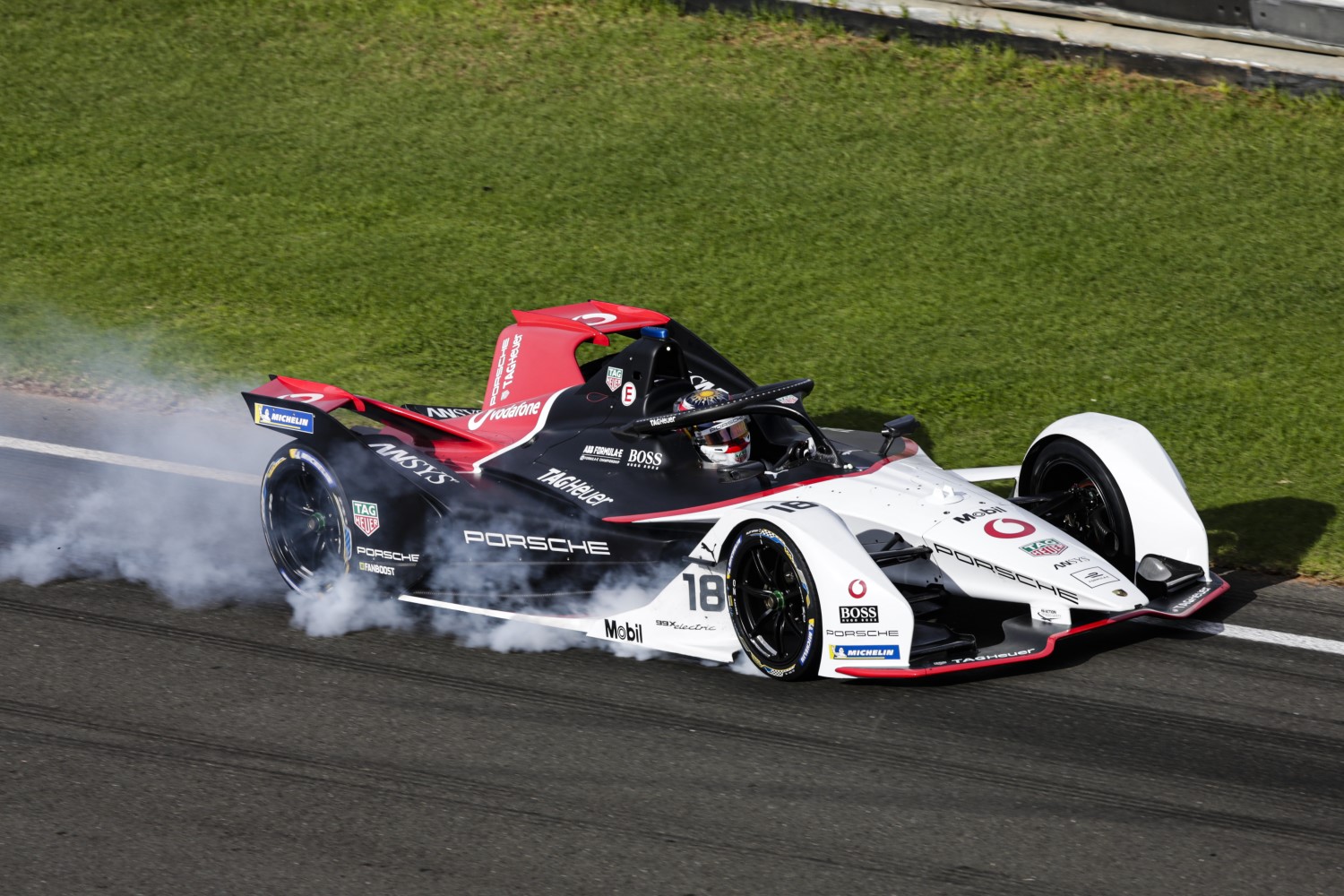 Big lockup for Jani
Neel Jani (Porsche works driver): "We once again learned something with every lap and found a lot of solutions. At the same time, however, we were confronted with a few new questions. It is a very intensive learning process for us. The race simulations were very interesting and helpful for us. Ultimately, however, we are still not where we want to be in the end – at this circuit, at least. Despite this, we have made progress and are confident that we will learn from this ahead of our first race in Riyadh."
Andre Lotterer (Porsche works driver): "We did quite a lot of driving on day one. It went well, but we discovered a few outstanding issues on the car where there is still room for improvement. Unfortunately, we lost time on the track on day two, as I hit the wall in the chicane and it took a while to repair the car. That meant I was unable to take part in the race simulation, but I caught up on that on day three. All in all, we focussed very hard on our programme and did not just concentrate on lap times, as we consciously invested a lot of work in different car set-ups, to sort out as many things as possible and travel to Riyadh as well prepared as possible."
Friday Times
| | | | | |
| --- | --- | --- | --- | --- |
| POS | DRIVER | TEAM | GAP | LAPS |
| 1 | Max Guenther | BMW | 1m15.087s | 17 |
| 2 | Mitch Evans | Jaguar | 0.219s | 14 |
| 3 | Jerome d'Ambrosio | Mahindra | 0.367s | 14 |
| 4 | Pascal Wehrlein | Mahindra | 0.371s | 12 |
| 5 | Antonio Felix da Costa | DS Techeetah | 0.547s | 8 |
| 6 | Sebastien Buemi | e.dams | 0.559s | 10 |
| 7 | Andre Lotterer | Porsche | 0.612s | 12 |
| 8 | Nico Muller | Penske | 0.701s | 10 |
| 9 | Alexander Sims | BMW | 0.735s | 12 |
| 10 | Oliver Rowland | e.dams | 0.788s | 13 |
| 11 | Daniel Abt | Audi | 0.925s | 12 |
| 12 | Jean-Eric Vergne | DS Techeetah | 0.945s | 16 |
| 13 | Neel Jani | Porsche | 0.966s | 10 |
| 14 | Lucas di Grassi | Audi | 0.985s | 12 |
| 15 | Brendon Hartley | Penske | 1.096s | 7 |
| 16 | Stoffel Vandoorne | Mercedes | 1.133s | 6 |
| 17 | Felipe Massa | Venturi | 1.164s | 15 |
| 18 | Oliver Turvey | NIO | 1.481s | 17 |
| 19 | Nyck de Vries | Mercedes | 1.581s | 15 |
| 20 | James Calado | Jaguar | 1.682s | 15 |
| 21 | Edoardo Mortara | Venturi | 2.269s | 8 |
| 22 | Ma Qing Hua | NIO | 2.362s | 19 |
| 23 | Sam Bird | Virgin | 3.830s | 18 |
| 24 | Robin Frijns | Virgin | 3.865s | 15 |