Virgin and Andretti BMW teams fastest so far in testing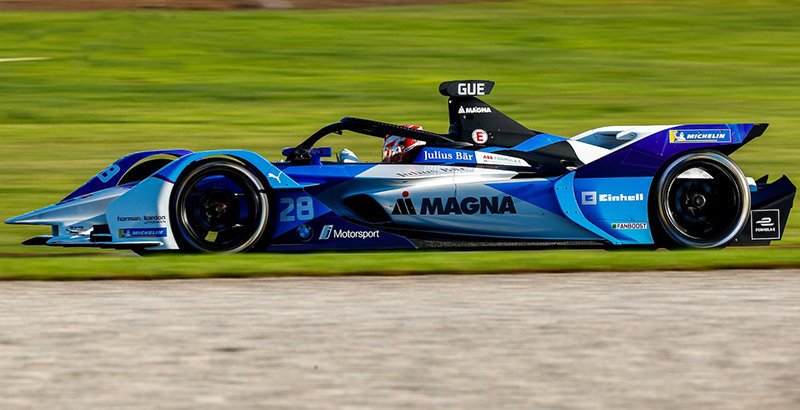 Maximillian Gunther fast for Andretti BMW
Robin Frijns topped Wednesday's morning running at the 2019 Formula E pre-season test at Valencia, while the Andretti BMWs of Max Guenther and Alexander Sims ran 2-3.
Gunther topped the times on the first morning of pre-season testing Tuesday.
Gunther's best time – a 1m15.926s set on his final lap of the morning session – was 1.051 seconds quicker than the fastest time from last year's pre-season test, a 1m16.977s posted by his BMW predecessor Antonio Felix da Costa because of a reconfiguration of the chicane.
Wednesday AM Times
| | | | | |
| --- | --- | --- | --- | --- |
| POS | DRIVER | TEAM | GAP | LAPS |
| 1 | Robin Frijns | Virgin | 1m15.377s | 24 |
| 2 | Max Guenther | BMW | 0.057s | 35 |
| 3 | Alexander Sims | BMW | 0.060s | 36 |
| 4 | Oliver Rowland | e.dams | 0.067s | 35 |
| 5 | Nico Muller | Penske | 0.138s | 38 |
| 6 | Antonio Felix da Costa | DS Techeetah | 0.180s | 38 |
| 7 | Brendon Hartley | Penske | 0.215s | 33 |
| 8 | Mitch Evans | Jaguar | 0.263s | 30 |
| 9 | Lucas di Grassi | Audi | 0.303s | 27 |
| 10 | Sam Bird | Virgin | 0.359s | 37 |
| 11 | Sebastien Buemi | e.dams | 0.400s | 35 |
| 12 | Daniel Abt | Audi | 0.420s | 42 |
| 13 | Pascal Wehrlein | Mahindra | 0.435s | 38 |
| 14 | Edoardo Mortara | Venturi | 0.438s | 31 |
| 15 | Stoffel Vandoorne | Mercedes | 0.489s | 32 |
| 16 | Jean-Eric Vergne | DS Techeetah | 0.543s | 39 |
| 17 | Jerome d'Ambrosio | Mahindra | 0.605s | 21 |
| 18 | James Calado | Jaguar | 0.721s | 32 |
| 19 | Felipe Massa | Venturi | 0.745s | 27 |
| 20 | Neel Jani | Porsche | 0.798s | 35 |
| 21 | Andre Lotterer | Porsche | 0.938s | 16 |
| 22 | Nyck de Vries | Mercedes | 1.654s | 18 |
| 23 | Oliver Turvey | NIO | 1.668s | 23 |
| 24 | Ma Qing Hua | NIO | 2.899s | 23 |
Tuesday AM Times
| | | | | | |
| --- | --- | --- | --- | --- | --- |
| POS | DRIVER | TEAM | CAR | GAP | LAPS |
| 1 | Max Guenther | BMW | BMW | 1m15.926s | 35 |
| 2 | Antonio Felix da Costa | DS Techeetah | DS | 0.106s | 27 |
| 3 | Jean-Eric Vergne | DS Techeetah | DS | 0.236s | 37 |
| 4 | Oliver Rowland | e.dams | Nissan | 0.320s | 32 |
| 5 | Sebastien Buemi | e.dams | Nissan | 0.371s | 31 |
| 6 | Lucas di Grassi | Audi | Audi | 0.371s | 28 |
| 7 | Pascal Wehrlein | Mahindra | Mahindra | 0.459s | 36 |
| 8 | Nico Muller | Penske | Penske | 0.461s | 36 |
| 9 | Mitch Evans | Jaguar | Jaguar | 0.594s | 29 |
| 10 | Edoardo Mortara | Venturi | Mercedes | 0.605s | 27 |
| 11 | Jerome d'Ambrosio | Mahindra | Mahindra | 0.626s | 23 |
| 12 | Andre Lotterer | Porsche | Porsche | 0.696s | 31 |
| 13 | Robin Frijns | Virgin | Audi | 0.714s | 31 |
| 14 | Alexander Sims | BMW | BMW | 0.902s | 40 |
| 15 | Brendon Hartley | Penske | Penske | 0.913s | 38 |
| 16 | Sam Bird | Virgin | Audi | 1.017s | 34 |
| 17 | Daniel Abt | Audi | Audi | 1.026s | 27 |
| 18 | Felipe Massa | Venturi | Mercedes | 1.263s | 16 |
| 19 | Neel Jani | Porsche | Porsche | 1.417s | 30 |
| 20 | Stoffel Vandoorne | Mercedes | Mercedes | 1.463s | 22 |
| 21 | James Calado | Jaguar | Jaguar | 1.812s | 18 |
| 22 | Ma Qing Hua | NIO | NIO | 4.645s | 19 |
| 23 | Nyck de Vries | Mercedes | Mercedes | 6.574s | 13 |
| 24 | Oliver Turvey | NIO | NIO | – | 4 |