NASCAR Talladega 500 postponed until Monday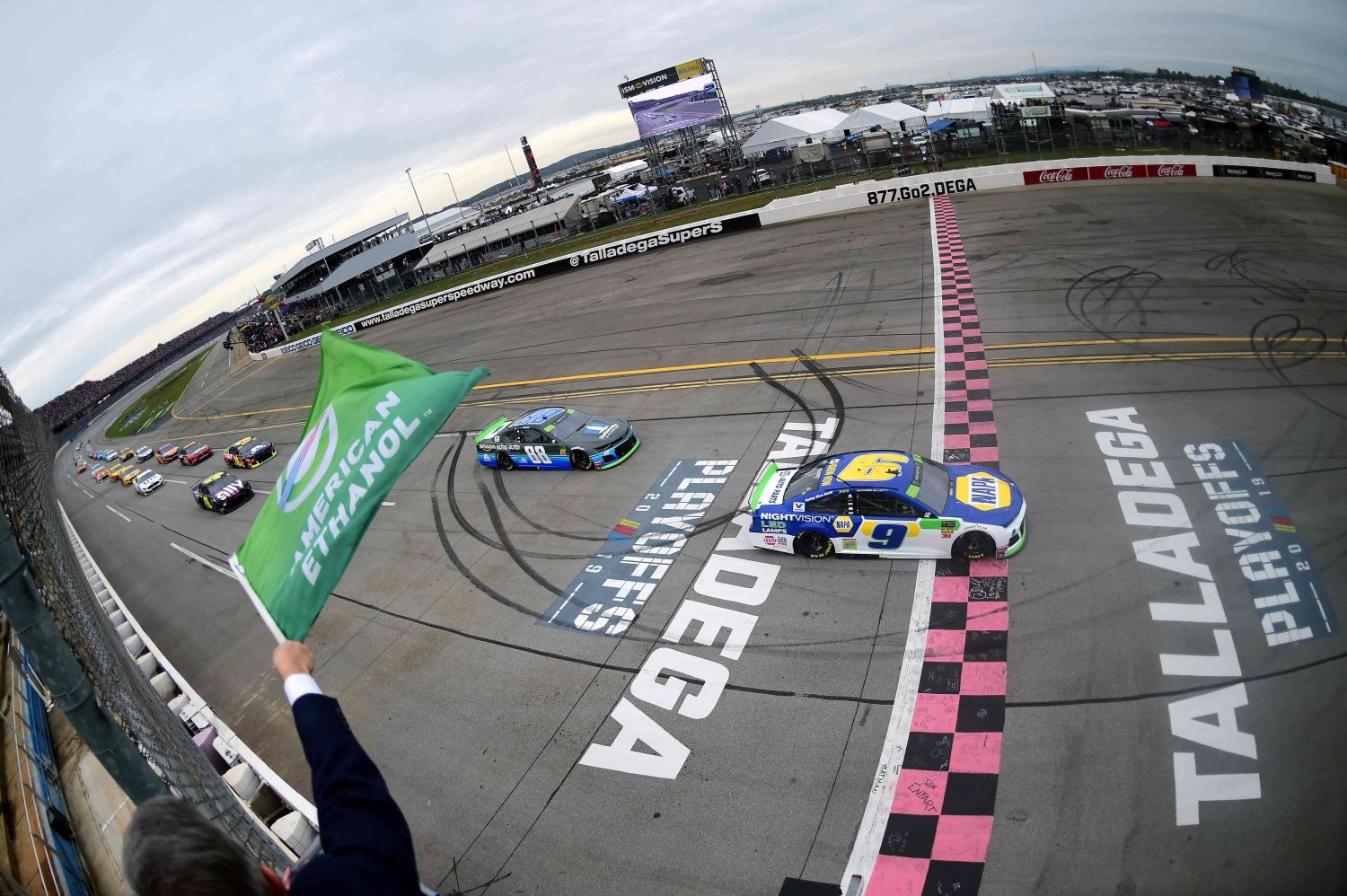 The race ran thru Stage 1 before the rains came
Wet weather has led NASCAR officials to postpone the Monster Energy NASCAR Cup Series race at Talladega Superspeedway to Monday at 2 pm EST.
Moments after the completion of the first segment of the race, rain began to fall over the 2.66-mile speedway. After making two laps under caution, NASCAR officials brought the cars to pit road and put the race under the red flag on lap 57.
William Byron had just scored the segment win, with Joey Logano in second, Alex Bowman in third, Ricky Stenhouse, Jr. in fourth and Brad Keselowski in fifth.
Kyle Larson, Jimmie Johnson, Daniel Suarez, Kurt Busch and Ryan Blaney rounded out the top ten.
Dawsonville, Georgia's Chase Elliott started the day on the pole, and led three laps thus far on the day. When the red flag came out, he was scored in 18th position.
The race is schedule to resume at 2 pm EST Monday afternoon. Brandon Reed reporting for AR1.com
Running Order
| | | | | | |
| --- | --- | --- | --- | --- | --- |
| POS | CAR | DRIVER | MANUF | LAPS | BEHIND |
| 1 | 24 | William Byron (P) | Chevy | 57 | — |
| 2 | 22 | Joey Logano (P) | Ford | 57 | 0.535 |
| 3 | 88 | Alex Bowman (P) | Chevy | 57 | 1.351 |
| 4 | 17 | Ricky Stenhouse Jr | Ford | 57 | 1.886 |
| 5 | 2 | Brad Keselowski (P) | Ford | 57 | 2.253 |
| 6 | 42 | Kyle Larson (P) | Chevy | 57 | 2.522 |
| 7 | 48 | Jimmie Johnson | Chevy | 57 | 3.128 |
| 8 | 41 | Daniel Suarez | Ford | 57 | 3.454 |
| 9 | 1 | Kurt Busch | Chevy | 57 | 3.953 |
| 10 | 12 | Ryan Blaney (P) | Ford | 57 | 4.343 |
| 11 | 95 | Matt DiBenedetto | Toyota | 57 | 4.777 |
| 12 | 4 | Kevin Harvick (P) | Ford | 57 | 5.121 |
| 13 | 14 | Clint Bowyer (P) | Ford | 57 | 6.192 |
| 14 | 11 | Denny Hamlin (P) | Toyota | 57 | 6.438 |
| 15 | 18 | Kyle Busch (P) | Toyota | 57 | 6.483 |
| 16 | 8 | Daniel Hemric # | Chevy | 57 | 6.949 |
| 17 | 38 | David Ragan | Ford | 57 | 7.602 |
| 18 | 9 | Chase Elliott (P) | Chevy | 57 | 8.002 |
| 19 | 6 | Ryan Newman | Ford | 57 | 8.646 |
| 20 | 10 | Aric Almirola | Ford | 57 | 9.125 |
| 21 | 34 | Michael McDowell | Ford | 57 | 9.931 |
| 22 | 3 | Austin Dillon | Chevy | 57 | 9.970 |
| 23 | 13 | Ty Dillon | Chevy | 57 | 10.537 |
| 24 | 43 | Bubba Wallace | Chevy | 57 | 11.159 |
| 25 | 47 | Ryan Preece # | Chevy | 57 | 11.437 |
| 26 | 37 | Chris Buescher | Chevy | 57 | 11.888 |
| 27 | 96 | * Parker Kligerman(i) | Toyota | 57 | 12.118 |
| 28 | 36 | Matt Tifft # | Ford | 57 | 13.105 |
| 29 | 32 | Corey LaJoie | Ford | 57 | 14.189 |
| 30 | 19 | Martin Truex Jr (P) | Toyota | 57 | 14.606 |
| 31 | 62 | * Brendan Gaughan(i) | Chevy | 57 | 15.426 |
| 32 | 00 | Landon Cassill(i) | Che | 57 | 81.699 |
| 33 | 21 | Paul Menard | Ford | 57 | 121.793 |
| 34 | 51 | Austin Theriault | Ford | 56 | -1 |
| 35 | 20 | Erik Jones | Toyota | 56 | -1 |
| 36 | 66 | * Joey Gase(i) | Toyota | 56 | -1 |
| 37 | 15 | Ross Chastain(i) | Chevy | 56 | -1 |
| 38 | 27 | * Reed Sorenson | Chevy | 55 | -2 |
| 39 | 77 | Blake Jones | Chevy | 54 | -3 |
| 40 | 52 | Spencer Boyd(i) | Chevy | 42 | -15 |
# Denotes Rookie
(I) Not Eligible For Points
(*) Required To Qualify On Time
(P) Playoff Driver