Penske and Meyer Shank Acura teams win IMSA titles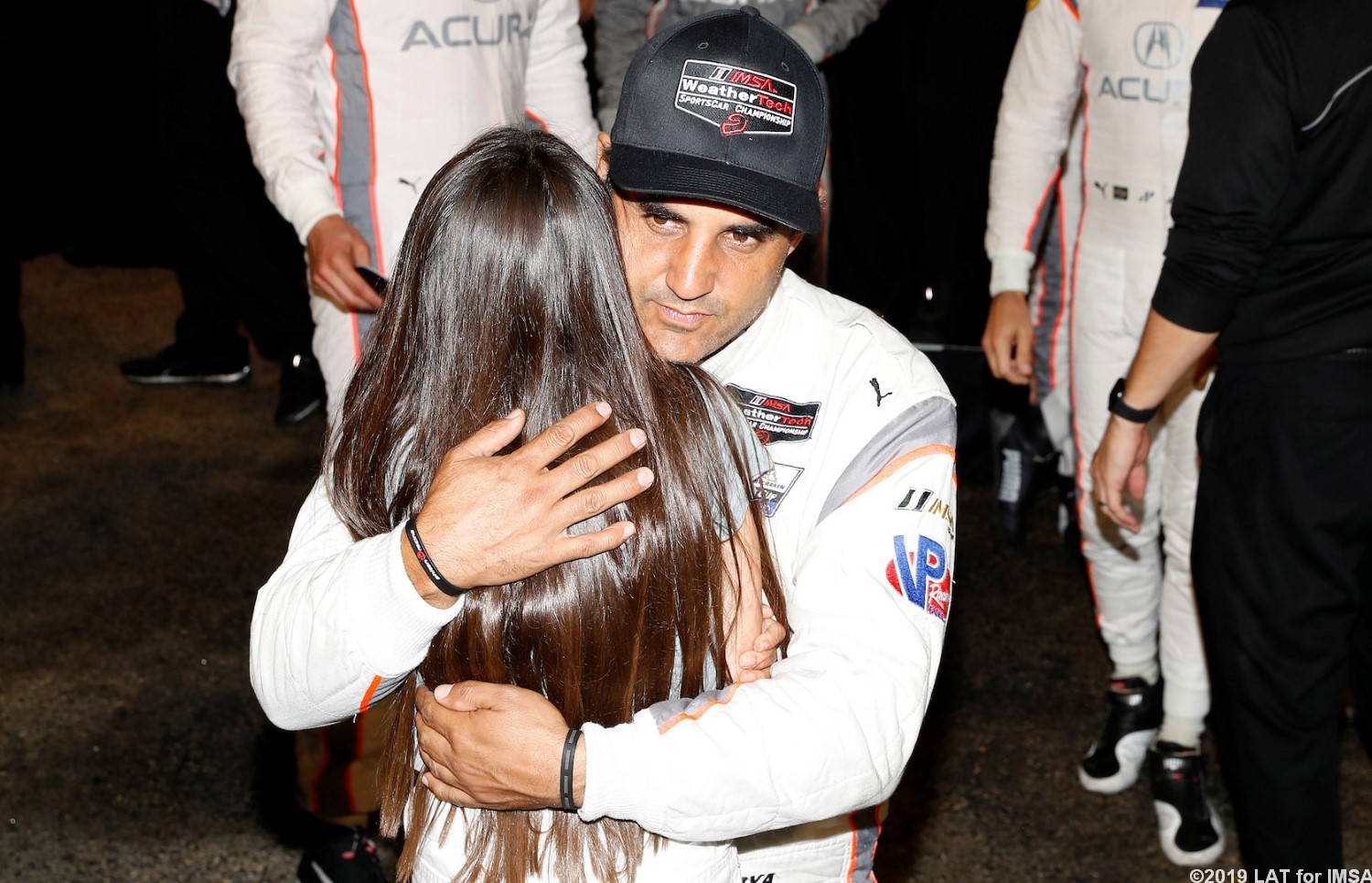 Juan Montoya hugs his daughter after winning his first IMSA title. If you want to win a lot of races and titles you drive for Roger Penske
Acura, its teams and drivers completed its championship-winning IMSA season in Saturday's season-ending Petit Le Mans, putting the finishing touches on the Driver, Manufacturer and Team titles in the featured Daytona Prototype International division at Michelin Raceway Road Atlanta.
Meanwhile, in the GTD division, Meyer Shank Racing claimed the Drivers' and Teams' Championships with the Acura NSX GT-3 Evo.
Finishing a season highlighted by race wins at Mid-Ohio, Detroit and Watkins Glen, and podium finishes in nine of the 10 races in 2019, Acura officially secured the Manufacturers' Championship at the start of today's season finale. But the fight for the drivers' and teams' titles went down to the final laps of the 10-hour endurance contest.
With the #31 Cadillac of Felipe Nasr, Pipo Derani and Eric Curran claiming the win, the #6 Acura ARX-05 of Dane Cameron, Juan Pablo Montoya and Simon Pagenaud needed to finish eighth or higher for full-season drivers Cameron and Montoya to take the championships for themselves and Acura Team Penske.
With Montoya running sixth following the final round of pit stops, a caution flag with just under 30 minutes remaining bunched the field together for a sprint to the finish. Closing drivers Montoya and Ricky Taylor in the #7 Acura gained positions in the final laps, with Taylor claiming third at the checkers in the car he shared with Helio Castroneves and Graham Rahal. Montoya followed his teammate home in fourth to claim his first IMSA championship, a second prototype title for co-driver Cameron, and the Teams crown for Acura Team Penske.
"I think we were really surprised," said Montoya, who claimed his first title since his 1999 CART championship. "They kept adjusting us with the BoP [all year] and this was just a horsepower track.
"It was a really hard day and all weekend we were quite stressed.
"It was good because we had a big enough advantage that we needed to finish eighth. But one mistake and you're done.
"We did a good job all day. We kept it on the track. We didn't hit anybody, we were patient. We had good pit stops and no drama."
Cameron, who combined with Montoya to claim three victories this season, agreed that getting to the end was "more stressful" than anything.
"We knew we were in good shape but you were never sure if something bad was going to happen and steal it away from you," Cameron said. "That was the big fear throughout the day.
"But our guys have been so good this year. The car has been super, super fast and the pit stops have been great. I'm just proud of everybody at Acura Team Penske."
It marked Cameron's second IMSA Prototype championship, after taking the 2016 title for Action Express Racing in a lineup that also featured Pagenaud as the team's endurance driver.
"I had Simon alongside the last time I won a Prototype championship so it's really cool to have him back here," he said.
"Juan was the first guy to drive the car ever and it's really cool to win the championship in something you've had so much influence in it's development and growth.
"It's such a rebound from the learning year we had last year to come out and win three races and win the title is fantastic.