Penske driver McLaughlin wins Bathurst 1000 in final-lap dash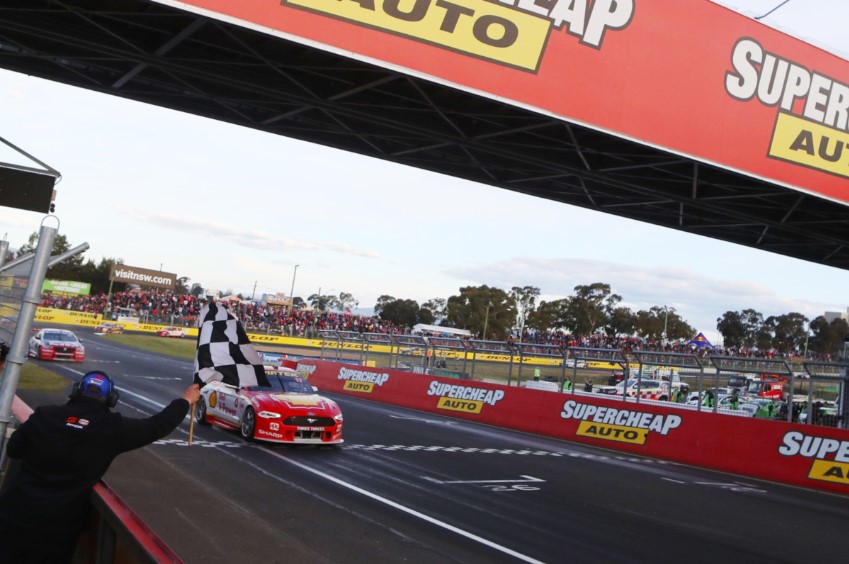 McLaughlin beats van Gisbergen to the line after a 1-lap shootout
Scott McLaughlin and Alexandre Premat have the Supercheap Auto Bathurst 1000 after holding off Shane van Gisbergen on a final lap restart.
What started as a relatively straightforward race became completely unpredictable in the final 40 laps, with Safety Car after Safety Car allowing the IndyCar drivers to finish 19th instead of next to last.
When Andre Heimgartner crunched his Nissan into the wall at Forrest's Elbow with the leaders on their 158th lap, the Safety Car was called for an eighth time.
It crawled around Mount Panorama such that there was time for one more green flag lap, at which point McLaughlin led van Gisbergen, James Courtney, and Jamie Whincup.
The #17 Shell V-Power Mustang led the #97 Red Bull HRT ZB Commodore across the control line by 0.31s to start the 161st and final lap.
McLaughlin kicked up the dust at McPhillamy Park but had an advantage of 0.61s at the second sector, located at the exit of Forrest's Elbow, and eventually got home by 0.68s.
The victory is his and Premat's first in the Supercheap Auto Bathurst 1000, and the first for DJR Team Penske in its current guise, after Dick Johnson Racing last won in 1994.
"Oh man, I can't believe I won the bloody Bathurst 1000. We won!" said McLaughlin.
"We had such a good car all week, I put so much pressure on myself and our team put so much pressure on ourselves to make this a good one.
"So proud of everyone at Shell V-Power Racing; we made a bloody good car.
"I've dreamt about this; dreamt about standing on that roof and this guy (Premat) was unbelievable today with those main drivers. I was a little bit stressed.
Premat added, "That was so stressful. That was insane. Everything was gambling, gambling. That was crazy.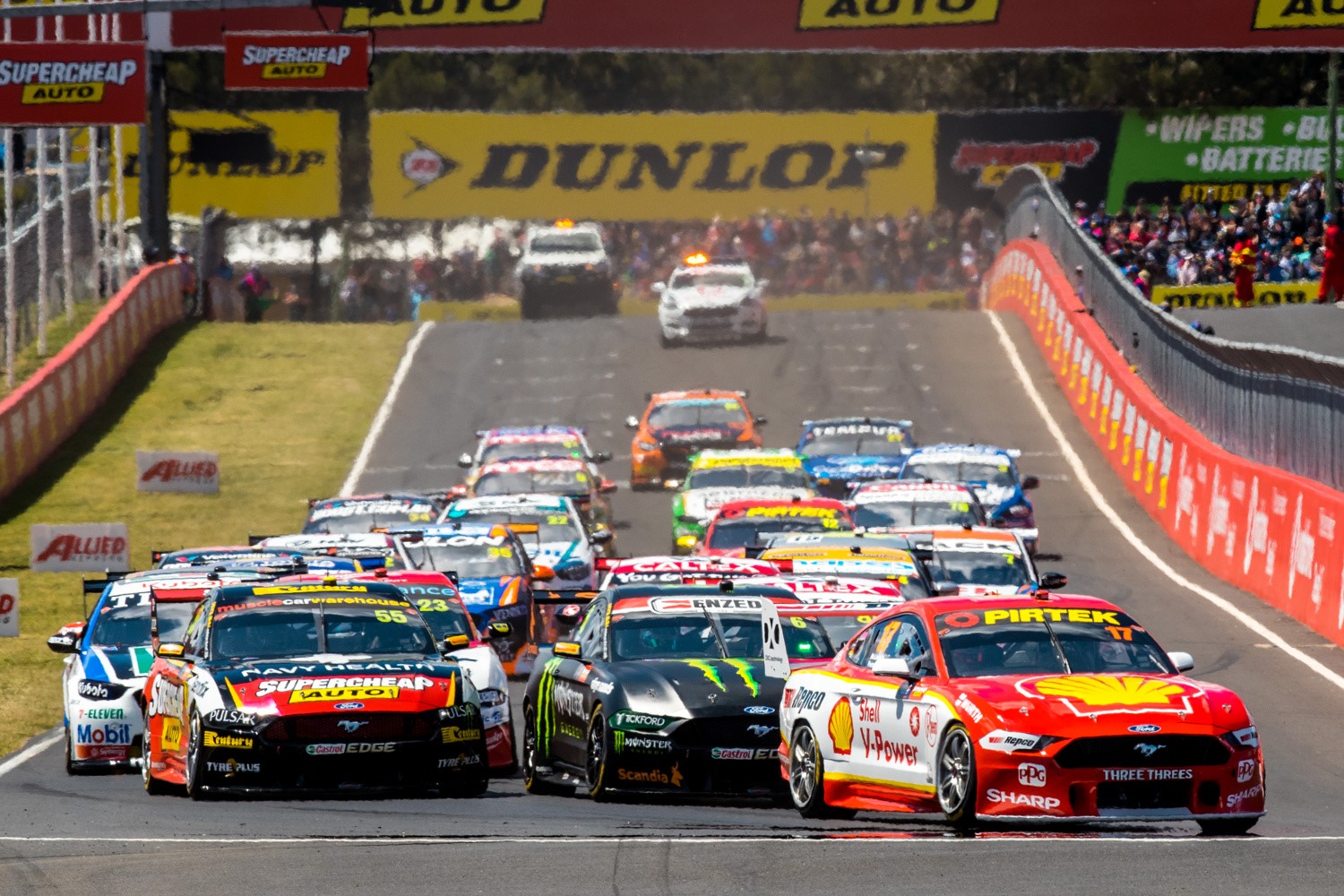 McLaughlin grabs lead at start
"I'm so happy for Shell V-Power to win this race for sure with DJR Team Penske. It's been 25 years that they didn't with Bathurst. It's magic. Magic."
Van Gisbergen and Garth Tander were classified second, Courtney was just over a second back in the #22 Mobil 1 ZB Commodore which he shared with Jack Perkins despite bumping the wall at one stage, and the Red Bull HRT pairing of Whincup and Craig Lowndes were fourth in the #888 ZB Commodore.
James Courtney and Jack Perkins capped an also remarkable race for third place.
Premat became the first Frenchman to win Bathurst and one of the few internationals to stand on the top step.
"Everything was gambling, gambling, that was crazy," Premat said. "It's magic, magic."
It was the first victory for Dick Johnson Racing, now known as DJR Team Penske, and US magnate Roger Penske who bought into the team four years ago.
The last time Johnson won at Mount Panorama was in 1994 when the Australian icon beat Craig Lowndes and Brad Jones home with co-driver John Bowe.
"It's one off the bucket list now, what a great Champion," Penske said. "I just can't believe what is going on here, it is just so exciting."
When American wildcard Alexander Rossi sparked a safety car on lap 135 it threw the race into a battle of fuel as most of the front-runners, aside from Van Gisbergen, were a few laps short of having enough to get them home.
Van Gisbergen's team-mate Jamie Whincup was one of those.
He led the race at that point after McLaughlin stalled in the pits.
But he had to return late in the race to top up, no doubt with memories of the last time he ran out of fuel when leading Bathurst.
That left McLaughlin and Van Gisbergen to battle to the end.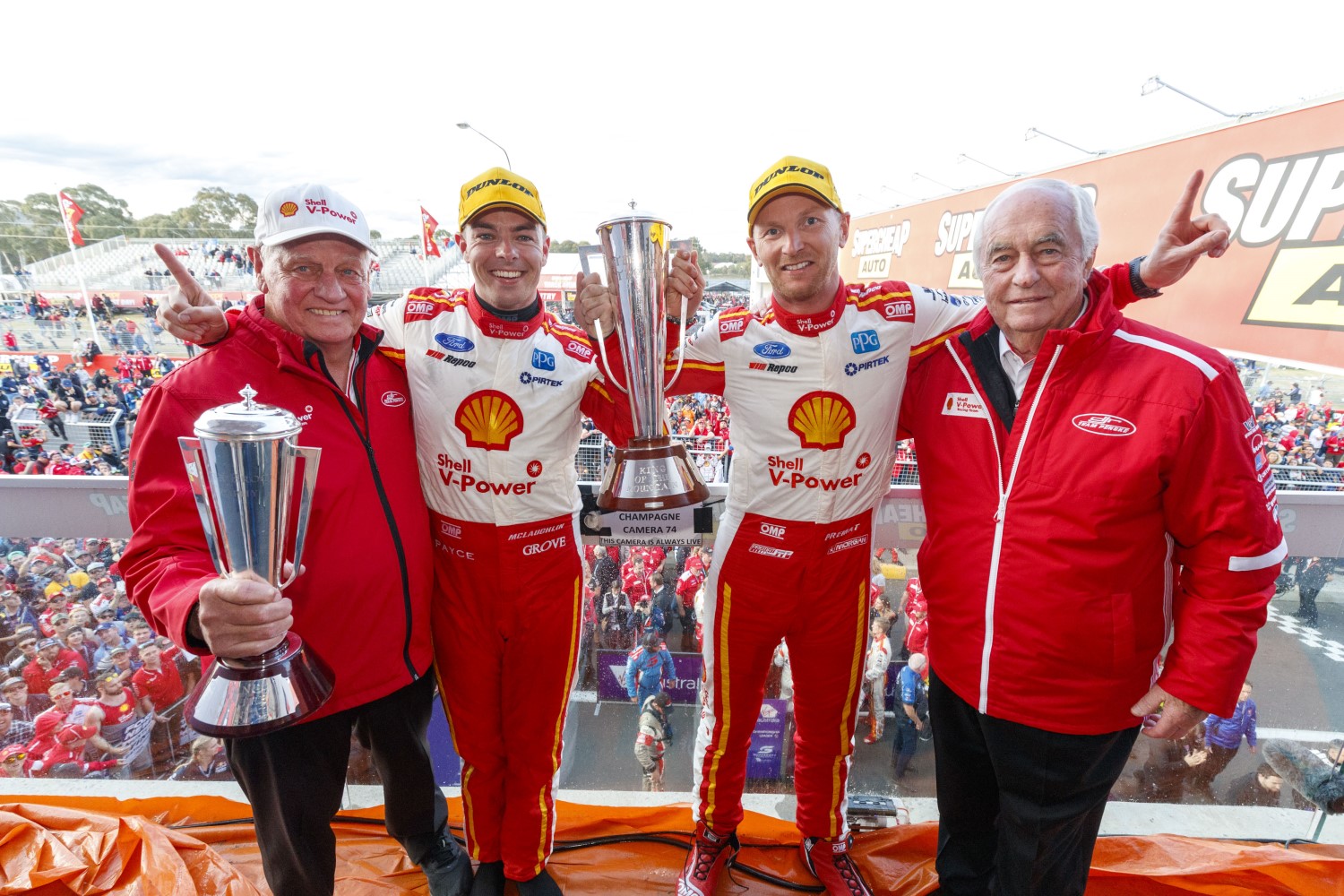 McLaughlin and Premat take the win. If you want to win a lot of races as a driver, you drive for Roger Penske (R)
The hard luck story of the day was with team-mates Chaz Mostert and Cam Waters who crashed into each other on lap 102 just when both were pushing McLaughlin and Whincup.
The pair were running third and fourth, with both looking at a podium or even more depending on what happened in the closing stages.
"I'm just absolutely gutted. No words really, it's just disappointing," Waters said.
"We were trucking along for a podium, we were fuel saving and Chazzy was obviously trying to race me to pass me. I don't know what to say, the car was fast, we should have been on the podium."
It appeared to work in Whincup's favour at the time with the safety car allowing him to save valuable fuel and maintain the lead he took in the pits under the previous safety car.
A second safety car straight after the resumption, when Penrite Racing's Anton De Pasquale slammed into a wall when his throttle jammed, helped with more fuel conservation.
That was before the Rossi safety car under which they all pitted but appeared to be a lap or two short on the fuel needed to finish. One of those was Whincup.
The rest ended in McLaughlin and Premat's extraordinary victory.
The IndyCar drivers Alexander Rossi and James Hinchcliffe finished over 2 laps (over 7-miles), behind as they return to the USA with their tails between their legs, soundly humiliated.
McLaughlin also extends his lead in the Virgin Australia Supercars Championship beyond two events' worth with three to go, the next being the Vodafone Gold Coast 600 on October 25-27.
Results
| | | | | | |
| --- | --- | --- | --- | --- | --- |
| Pos | Num | Team/Sponsor | Drivers | Car | Laps |
| 1 | 17 | Shell V-Power Racing Team | S.McLaughlin/A.Premat | Ford Mustang GT | 161 |
| 2 | 97 | Red Bull Holden Racing Team | S.van Gisbergen/G.Tander | Holden Commodore ZB | 161 |
| 3 | 22 | Mobil 1 Racing | J.Courtney/J.Perkins | Holden Commodore ZB | 161 |
| 4 | 888 | Red Bull Holden Racing Team | J.Whincup/C.Lowndes | Holden Commodore ZB | 161 |
| 5 | 9 | Penrite Racing | D.Reynolds/L.Youlden | Holden Commodore ZB | 161 |
| 6 | 12 | Shell V-Power Racing Team | F.Coulthard/T.D'Alberto | Ford Mustang GT | 161 |
| 7 | 18 | Irwin Racing | M.Winterbottom/S.Richards | Holden Commodore ZB | 161 |
| 8 | 2 | Mobil 1 Racing | S.Pye/W.Luff | Holden Commodore ZB | 161 |
| 9 | 15 | Castrol Racing | R.Kelly/D.Wood | Nissan Altima | 161 |
| 10 | 5 | The Bottle-O Racing Team | L.Holdsworth/T.Randle | Ford Mustang GT | 161 |
| 11 | 23 | Milwaukee Racing | W.Davison/A.Davison | Ford Mustang GT | 161 |
| 12 | 34 | Boost Mobile Racing | J.Golding/R.Muscat | Holden Commodore ZB | 161 |
| 13 | 33 | Boost Mobile Racing | R.Stanaway/C.Pither | Holden Commodore ZB | 161 |
| 14 | 78 | Team Harvey Norman | S.De Silvestro/A.Rullo | Nissan Altima | 160 |
| 15 | 8 | 7-Eleven Mobil Racing | N.Percat/T.Blanchard | Holden Commodore ZB | 160 |
| 16 | 55 | Supercheap Auto Racing | C.Mostert/J.Moffat | Ford Mustang GT | 160 |
| 17 | 21 | Team CoolDrive | M.Jones/D.Canto | Holden Commodore ZB | 160 |
| 18 | 19 | Truck Assist TEKNO Racing | J.Le Brocq/J.Webb | Holden Commodore ZB | 160 |
| 19 | 27 | NAPA Auto Parts Racing | A.Rossi/J.Hinchcliffe | Holden Commodore ZB | 159 |
| 20 | 3 | RABBLE.club Racing | G.Jacobson/D.Fiore | Nissan Altima | 159 |
| 21 | 6 | Monster Energy Racing Team | C.Waters/M.Caruso | Ford Mustang GT | 148 |
| DNF | 7 | Plus Fitness Racing | A.Heimgartner/B.Fullwood | Nissan Altima | 157 |
| DNF | 99 | Penrite Racing | A.De Pasquale/W.Brown | Holden Commodore ZB | 125 |
| DNF | 56 | Team Arcoweld Racing | B.Kostecki/J.Kostecki | Holden Commodore ZB | 111 |
| DNF | 35 | Bigmate Racing | T.Hazelwood/J.Smith | Holden Commodore ZB | 98 |
| DNF | 14 | Freightliner Alliance Racing | Tim Slade | Holden Commodore ZB | |
Championship points
| | | |
| --- | --- | --- |
| Pos | Driver | Pts |
| 1 | Scott McLaughlin | 3308 |
| 2 | Shane van Gisbergen | 2686 |
| 3 | Fabian Coulthard | 2521 |
| 4 | Chaz Mostert | 2441 |
| 5 | Jamie Whincup | 2380 |
| 6 | David Reynolds | 2306 |
| 7 | Cameron Waters | 2059 |
| 8 | Nick Percat | 2014 |
| 9 | Will Davison | 1955 |
| 10 | Lee Holdsworth | 1860 |
| 11 | James Courtney | 1768 |
| 12 | Mark Winterbottom | 1708 |
| 13 | Anton De Pasquale | 1665 |
| 14 | Scott Pye | 1540 |
| 15 | Andre Heimgartner | 1526 |
| 16 | Rick Kelly | 1470 |
| 17 | Tim Slade | 1458 |
| 18 | James Golding | 1355 |
| 19 | Todd Hazelwood | 1291 |
| 20 | Simona De Silvestro | 1255 |
| 21 | Macauley Jones | 999 |
| 22 | Jack Le Brocq | 994 |
| 23 | Garry Jacobson | 944 |
| 24 | Richie Stanaway | 866 |
| 25 | Michael Caruso | 306 |
| 26 | Alexandre Premat | 300 |
| 27 | Chris Pither | 291 |
| 28 | Jack Smith | 285 |
| 29 | Garth Tander | 276 |
| 30 | Thomas Randle | 264 |
| 31 | Jack Perkins | 258 |
| 32 | Craig Lowndes | 240 |
| 33 | Luke Youlden | 222 |
| 34 | Tim Blanchard | 213 |
| 35 | Tony D'Alberto | 204 |
| 36 | Steven Richards | 192 |
| 37 | Warren Luff | 180 |
| 38 | Dale Wood | 168 |
| 39 | Alex Davison | 144 |
| 40 | Richard Muscat | 138 |
| 41 | Alex Rullo | 126 |
| 42 | James Moffat | 114 |
| 43 | Dean Canto | 108 |
| 44 | Jonathon Webb | 102 |
| 45 | James Hinchcliffe | 96 |
| 46 | Alexander Rossi | 96 |
| 47 | Dean Fiore | 90 |
| 48 | William Brown | 0 |
| 49 | Ashley Walsh | 0 |
| 50 | Bryce Fullwood | 0 |
| 51 | Brodie Kostecki | 0 |
| 52 | Jake Kostecki | 0 |