Penske and Ford committed to Supercars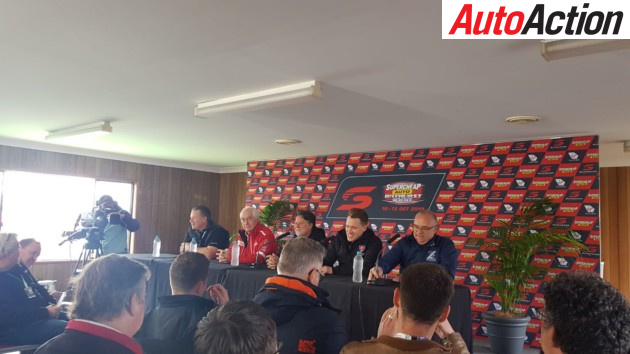 IndyCar team owners Roger Penske and Michael Andretti attend Supercars Press Conference.

AutoAction Photo
Shell V-Power Racing team principal Roger Penske is in town for the Bathurst 1000 and has spoken about his displeasure with how Supercars has tried to neuter his cars.
Penske's team debuted the brand new Ford Mustang at the Adelaide 500 in February and has since seen the aerodynamic performance changed many times and the American expressed his frustration.
"Maybe some of it (aero changes) has to happen," he said.
"We all want to go into a series where we start the championship with a set of rules and we build to it.
"Maybe there is a checkpoint 1/3 through the season and if there has to be some changes then we have to have them. I would certainly vote on that as we go forward to the next year and beyond."
The 82-year-old explained that Ford understand the racing game and despite the parity adjustments the manufacturer is committed to the Supercars Championship.
"Ford understands it, we're very lucky along with Tickford to be able to get Ford back in and I think our relationship with Ford in NASCAR certainly made a difference," he said.
"They saw the benefit here and when Mark Rushbrook (global director of Ford Performance Motorsports) came out to a race he saw the impact it has in the marketplace.
"Ford now has a special Mustang they are selling, I think that is a by-product really of the success the Mustang had this year, so commercially I think it has been good for Ford.
"They are 100% behind the Ford Mustang and the series, and I think they are a long term player."
While the NAPA Auto Parts-backed Holden will start off the back row of the grid as the drivers fight to get up to speed, Walkinshaw says running the car is a proud moment for WAU.
"It's amazing to, for the first time, be able to show the fans publicly what we've been doing internally, the mixture of the organizations," he said.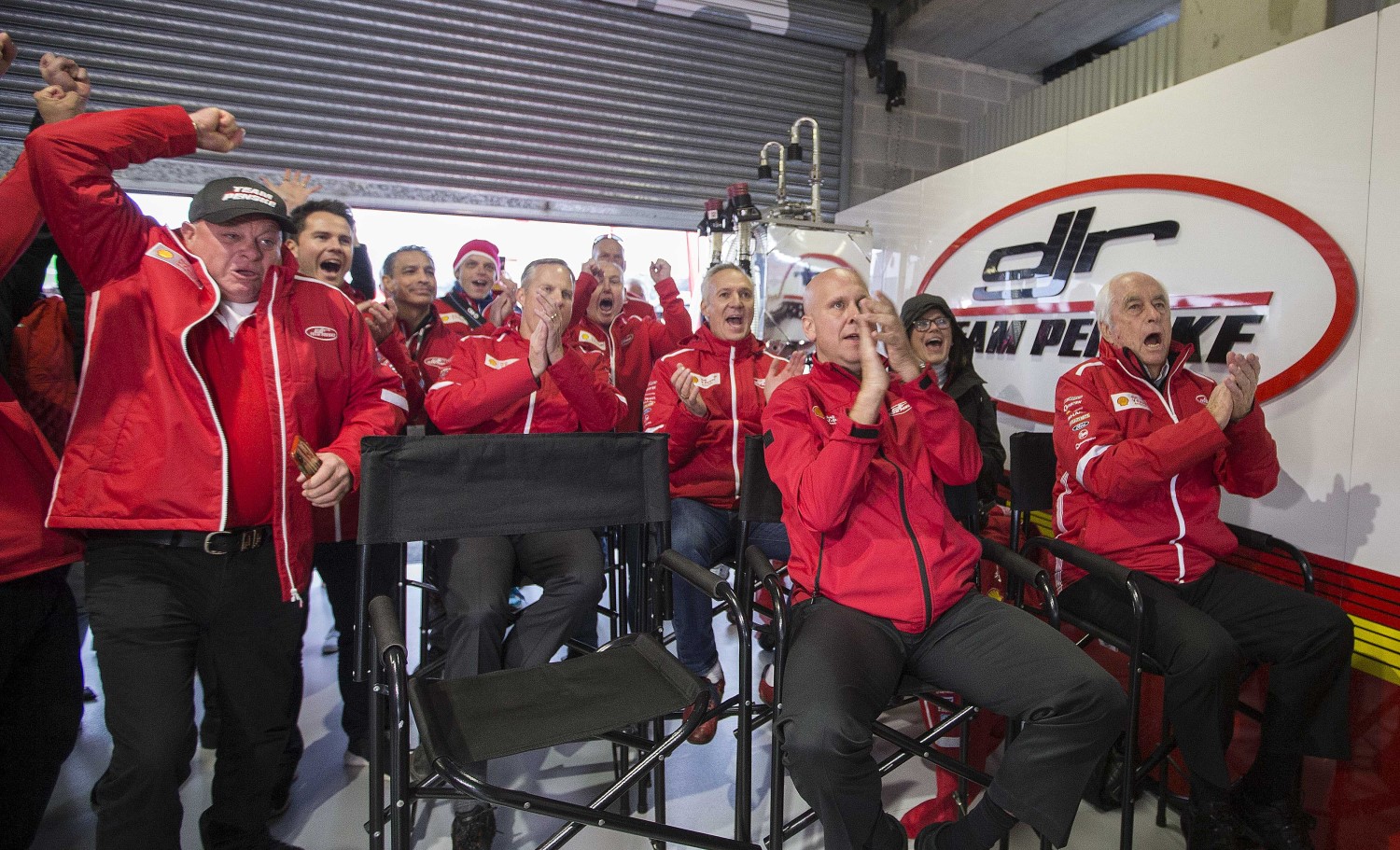 Penske (R) cheers on his driver McLaughlin to pole. Penske challenged Roland Dane to enter the Indy 500
"You've got key staff from Andretti, United and obviously Alexander Rossi and James Hinchcliffe in the car.
"Doing that as a bit of a showcase for our organisation is something we're very, very proud of and I think they've been doing a pretty good job.
"I think they've realized how tough these cars our, how competitive this championship is and, if anything, it's just compounded our belief that we have some of the best drivers in the world here."
Speaking at Saturday's Bathurst press conference alongside Michael Andretti and Triple Eight boss Roland Dane, Penske took the floor to extend a cheeky invite to Dane.
"What I want to do today, before we get done, I want to say to Roland that Michael Andretti and I have gotten together and we want to have a wildcard at Indy," dead-panned Penske.
"We're going to offer it to Roland. He can come over, he can have three days of testing, 10 sets of tires.
"We just want to know who will be his drivers, then we'll maybe give them a little extra wicker [Gurney flap] when he needs it. We'll just wait and see!"
The comments drew laughter from the room, with Dane responding that he'll "have the engine you did in 1994 then", referring to Penske's famous Ilmor engine project that dominated that year's race.
Penske says winning Bathurst – which Triple Eight has done seven times since 2006 – is at the top of his current goals in world motorsport.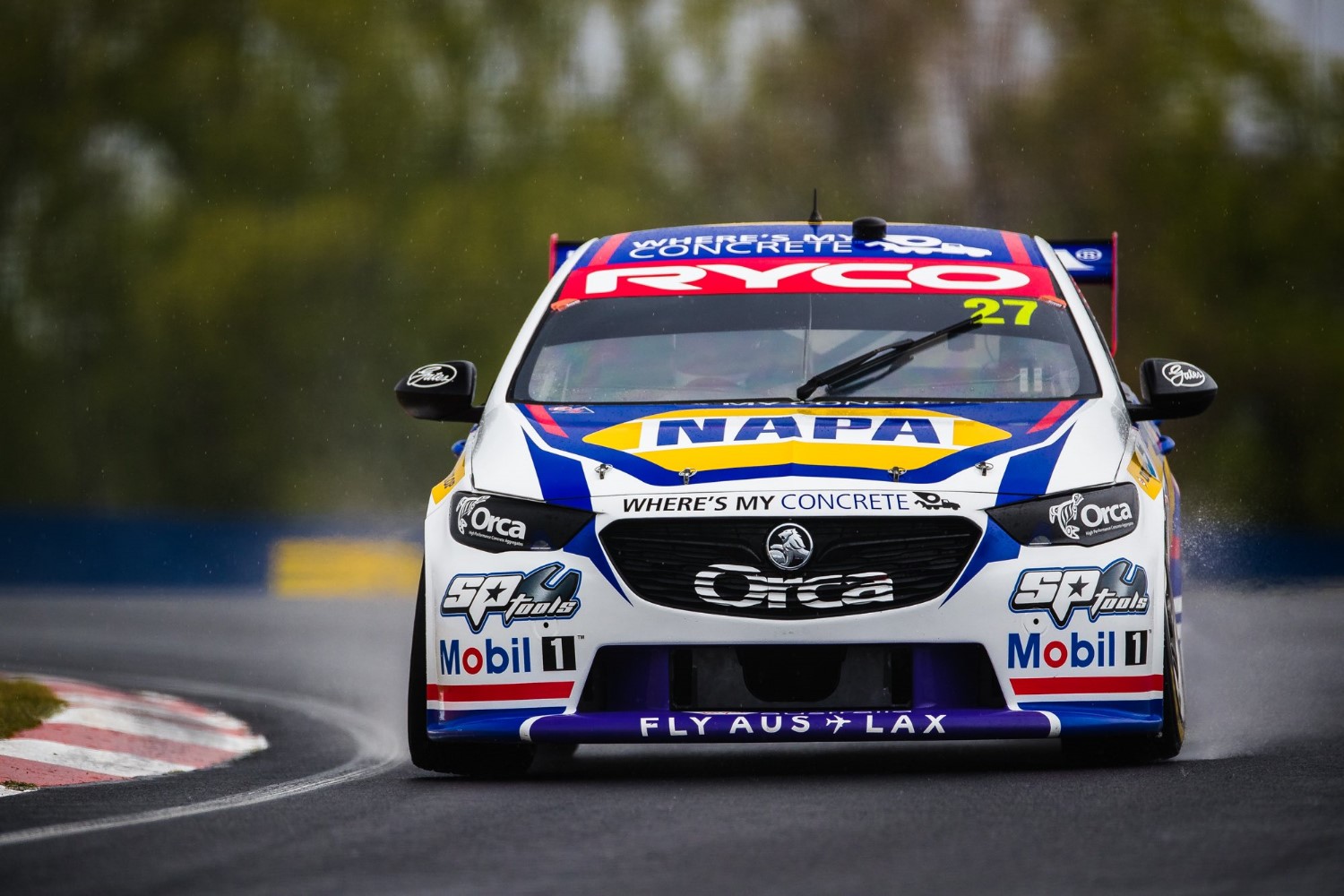 The IndyCar drivers will start on the last row
He referenced his desire to win the race when speaking about his lack of interest in a wildcard.
"Michael talked to me about maybe getting Will [Power] over here when he decided to do a wildcard," Penske said.
"I think from our perspective with all the racing we're doing and knowing how competitive it is, to take any focus off this race… I think we'd be better off running the two cars.
"It's always something in the future, but we haven't won this race and our focus here is on that. Maybe at another race we might do it, but I don't see it in the future at the moment."
WAU's three owners Andretti, Ryan Walkinshaw and Zak Brown are all at Bathurst, watching their two regular entries and their wildcard in action.