Bathurst: IndyCar drivers dead last (again) in Practice 6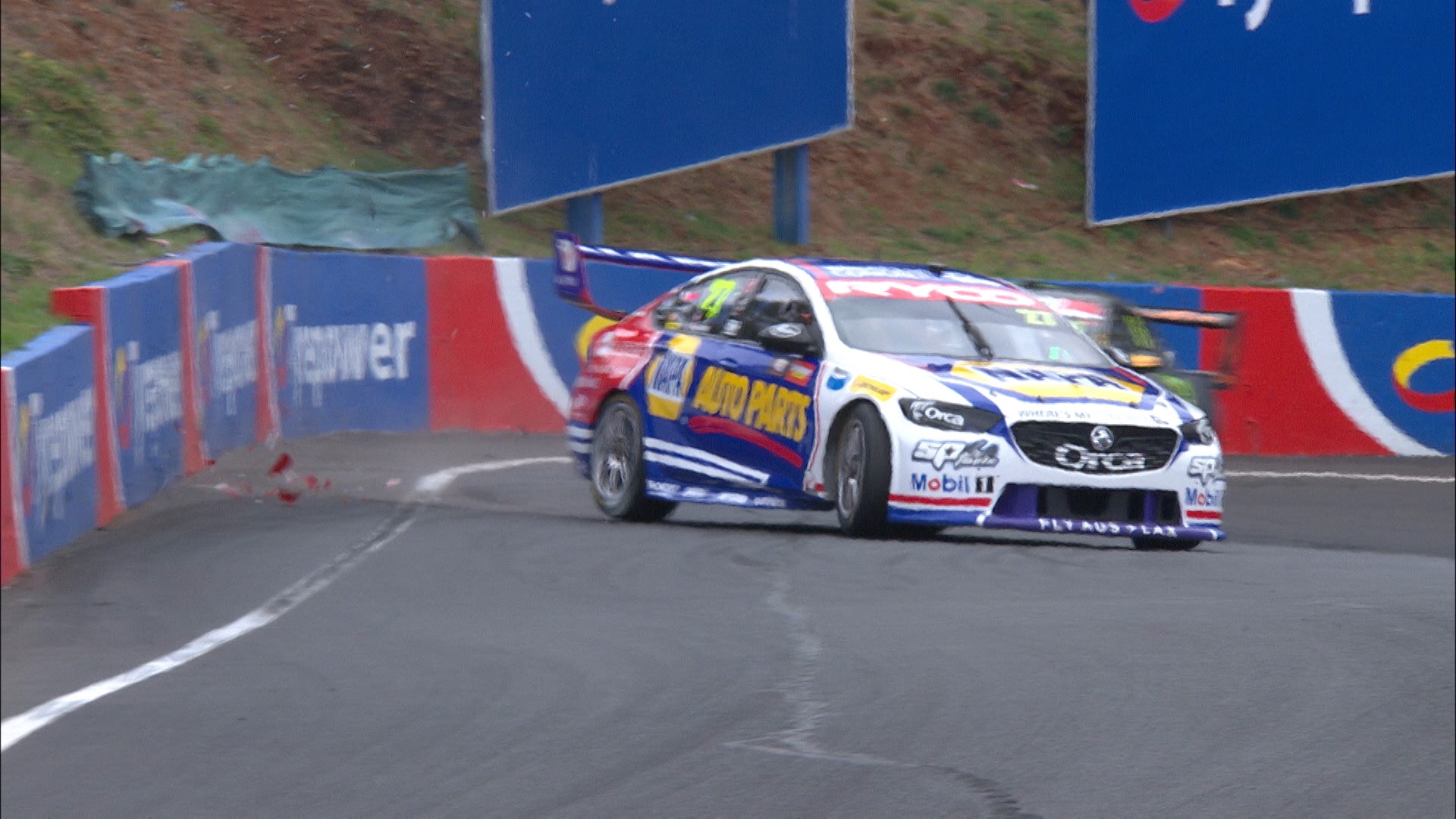 Hinchcliffe bounces off the wall in another last place result for the IndyCar drivers
Just when you didn't thinks could get worse for the IndyCar drivers at Bathurst, they just did.
Having stunk up the joint since the start of practice, Practice 6 saw Walkinshaw Andretti United wildcard entry, this time driven by James Hinchcliffe, hit the wall at The Cutting with five minutes remaining but it did not matter, they were going to finish last anyway.
The Canadian IndyCar driver lost the rear of the #27 NAPA ZB Commodore exiting the corner and dragged the right-rear corner along the concrete, damaging the rear wing.
"The fire hose got turned up this morning; that's all part of it," quipped Hinchcliffe about the 'drinking from a fire hose' task for he and Alexander Rossi to learn the car and circuit.
Rossi off into the dirt yesterday. Clearly the Supercars are too much for the IndyCar drivers to handle. Their performance has been a total embarrassment to the IndyCar series
"I got into the wall a little bit at The Cutting trying to find the limit.
"I'm actually getting a lot more comfortable in the car, Alex and I both. Every night you get to sleep on it, let it sit, marinate a little bit; you come back and you just feel a little more at home in the car, more comfortable.
"(I was) Just starting to push in places we didn't really feel comfortable pushing up until this point. (It) Just got away from me and tagged the wall.
"Hate to lose the track time for me and the team, but I think it's relatively cosmetic stuff, well get it fixed up for this afternoon."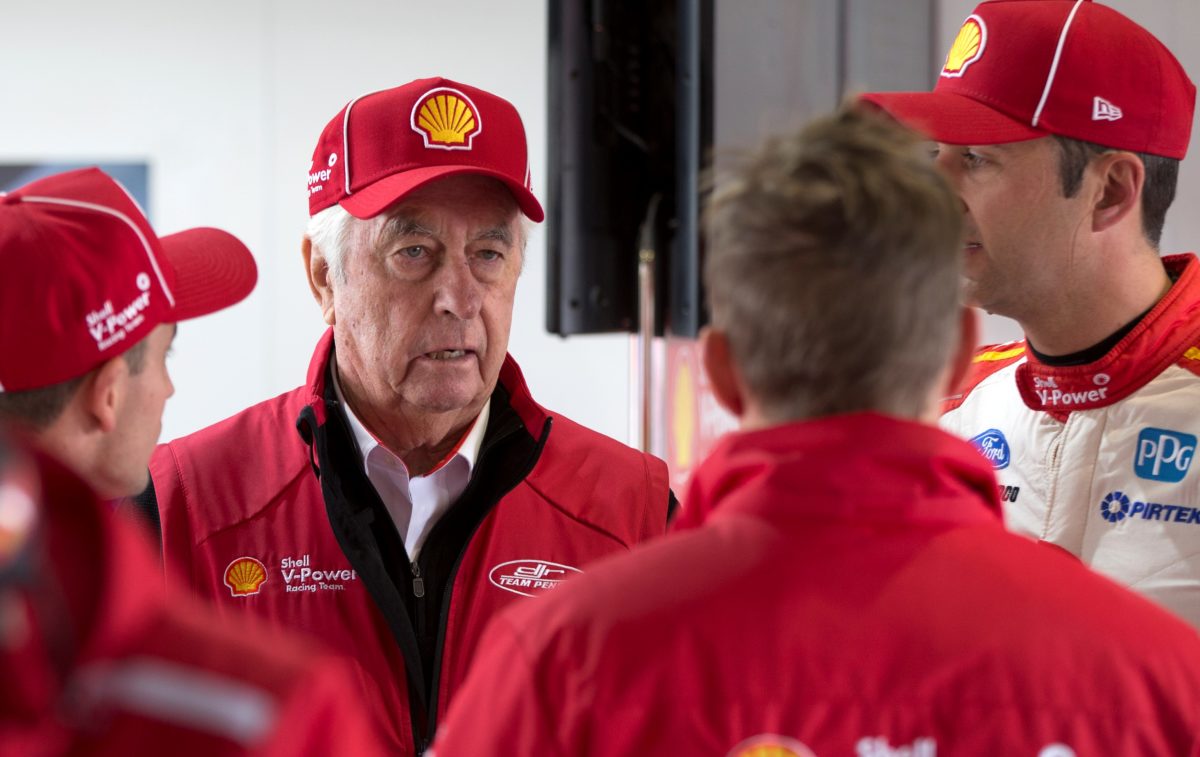 Roger Penske is on hand to watch his Supercar drivers school the IndyCar regulars
There was a time when IndyCar had great drivers like Mario Andretti, AJ Foyt and Dan Gurney, who could go out of their league and win the biggest races in the world in other series. Today when an IndyCar driver tries NASCAR, Sportscars or Supercars, they usually embarrass themselves. F1 teams won't even give them a look. But heh, they're good at Twitter. The Koala Bears were so cute guys.
Will Davison was fastest in Practice 6 for the Supercheap Auto Bathurst 1000 as teams appeared to refrain from pursuing outright pace.
Davison's 2:04.7545s in the #23 Milwaukee Mustang, set early in the half-hour session, was the best time, while Shell V-Power Racing Team's Fabian Coulthard moved to a 2:04.7595s on his second run and remained in second position.
Can the IndyCar drivers make good in the race and surprise us all?
Results: Practice 6
| | | | | | | |
| --- | --- | --- | --- | --- | --- | --- |
| Pos | Num | Team/Sponsor | Driver(s) | Car | Time | Behind |
| 1 | 23 | Milwaukee Racing | W.Davison/A.Davison | Ford Mustang GT | 2:04.7545 | 0.000s |
| 2 | 12 | Shell V-Power Racing Team | F.Coulthard/T.D'Alberto | Ford Mustang GT | 2:04.7595 | 0.0050 |
| 3 | 14 | Freightliner Alliance Racing | T.Slade/A.Walsh | Holden Commodore ZB | 2:04.9764 | 0.2219 |
| 4 | 8 | 7-Eleven Mobil Racing | Nick Percat | Holden Commodore ZB | 2:05.2599 | 0.5054 |
| 5 | 17 | Shell V-Power Racing Team | Alexandre Premat | Ford Mustang GT | 2:05.2806 | 0.5261 |
| 6 | 97 | Red Bull Holden Racing Team | S.van Gisbergen/G.Tander | Holden Commodore ZB | 2:05.3016 | 0.5471 |
| 7 | 55 | Supercheap Auto Racing | C.Mostert/J.Moffat | Ford Mustang GT | 2:05.3061 | 0.5516 |
| 8 | 35 | Bigmate Racing | T.Hazelwood/J.Smith | Holden Commodore ZB | 2:05.4128 | 0.6583 |
| 9 | 9 | Penrite Racing | D.Reynolds/L.Youlden | Holden Commodore ZB | 2:05.5985 | 0.8440 |
| 10 | 18 | Irwin Racing | M.Winterbottom/S.Richards | Holden Commodore ZB | 2:05.8142 | 1.0597 |
| 11 | 5 | The Bottle-O Racing Team | L.Holdsworth/T.Randle | Ford Mustang GT | 2:05.8388 | 1.0843 |
| 12 | 99 | Penrite Racing | A.De Pasquale/W.Brown | Holden Commodore ZB | 2:05.9673 | 1.2128 |
| 13 | 3 | RABBLE.club Racing | G.Jacobson/D.Fiore | Nissan Altima | 2:06.0172 | 1.2627 |
| 14 | 22 | Mobil 1 Racing | J.Courtney/J.Perkins | Holden Commodore ZB | 2:06.0758 | 1.3213 |
| 15 | 7 | Plus Fitness Racing | Bryce Fullwood | Nissan Altima | 2:06.0817 | 1.3272 |
| 16 | 21 | Team CoolDrive | Macauley Jones | Holden Commodore ZB | 2:06.1618 | 1.4073 |
| 17 | 6 | Monster Energy Racing Team | C.Waters/M.Caruso | Ford Mustang GT | 2:06.1943 | 1.4398 |
| 18 | 19 | Truck Assist TEKNO Racing | J.Le Brocq/J.Webb | Holden Commodore ZB | 2:06.2664 | 1.5119 |
| 19 | 15 | Castrol Racing | R.Kelly/D.Wood | Nissan Altima | 2:06.3265 | 1.5720 |
| 20 | 888 | Red Bull Holden Racing Team | J.Whincup/C.Lowndes | Holden Commodore ZB | 2:06.3437 | 1.5892 |
| 21 | 56 | Team Arcoweld Racing | B.Kostecki/J.Kostecki | Holden Commodore ZB | 2:06.4342 | 1.6797 |
| 22 | 2 | Mobil 1 Racing | S.Pye/W.Luff | Holden Commodore ZB | 2:06.4396 | 1.6851 |
| 23 | 33 | Boost Mobile Racing | R.Stanaway/C.Pither | Holden Commodore ZB | 2:07.1617 | 2.4072 |
| 24 | 78 | Team Harvey Norman | S.De Silvestro/A.Rullo | Nissan Altima | 2:07.2712 | 2.5167 |
| 25 | 34 | Boost Mobile Racing | J.Golding/R.Muscat | Holden Commodore ZB | 2:07.3152 | 2.5607 |
| 26 | 27 | NAPA Auto Parts Racing | A.Rossi/J.Hinchcliffe | Holden Commodore ZB | 2:08.0357 | 3.2812 |