Hamlin tops opening Cup Talladega practice at 204.904 m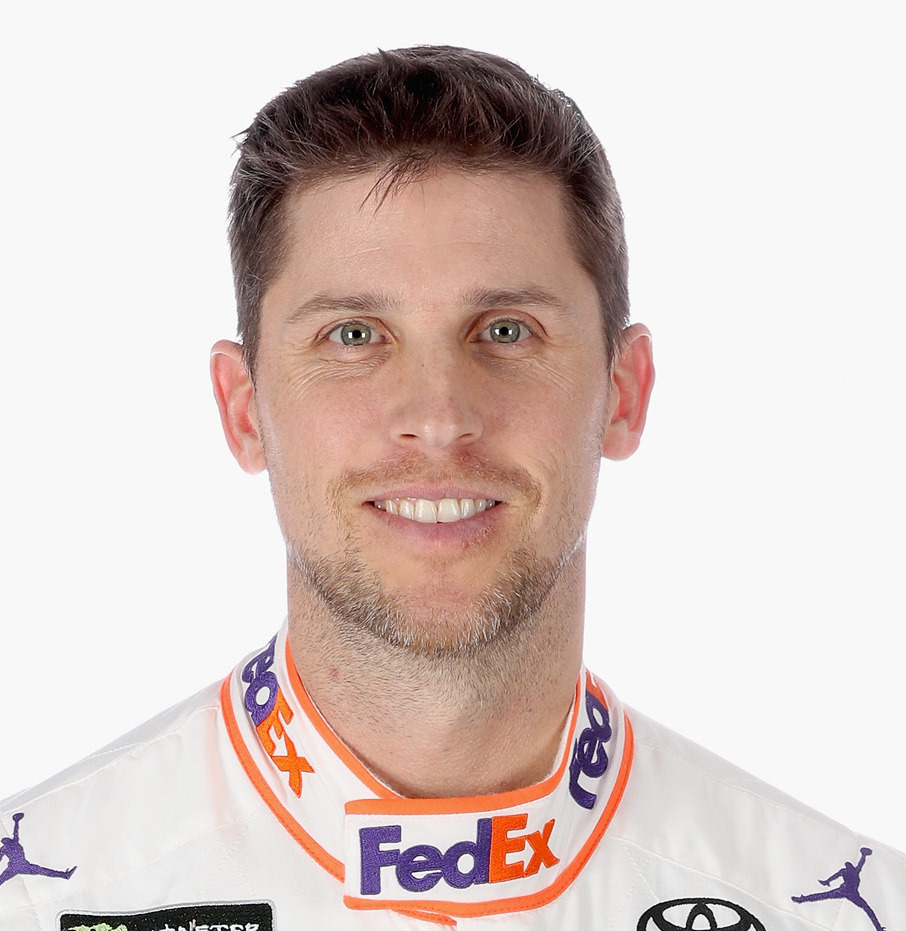 Denny Hamlin
JGR Toyota driver Denny Hamlin posted the fastest lap of the season in the first of two Cup practice sessions Friday at Talladega Superspeedway.
Hamlin topped the field with a lap of 204.904 mph. He was followed by Kevin Harvick (203.688 mph), Kyle Busch (203.684), Corey LaJoie (203.407) and Michael McDowell (203.386).
Matt Crafton, who will be on standby for Paul Menard this weekend, ran a few laps in the session.
Practice 1 Results
| | | | | | | | |
| --- | --- | --- | --- | --- | --- | --- | --- |
| Pos | Car | Driver | Team | Time | Speed | Behind | Gap |
| 1 | 11 | Denny Hamlin (P) | FedEx Ground Toyota | 46.734 | 204.904 | —.— | —.— |
| 2 | 4 | Kevin Harvick (P) | Busch Light Ford | 47.013 | 203.688 | -0.279 | -0.279 |
| 3 | 18 | Kyle Busch (P) | M&M's Hazelnut Toyota | 47.014 | 203.684 | -0.280 | -0.001 |
| 4 | 32 | Corey LaJoie | VisoneRV.com Ford | 47.078 | 203.407 | -0.344 | -0.064 |
| 5 | 34 | Michael McDowell | Love's Travel Stops Ford | 47.083 | 203.386 | -0.349 | -0.005 |
| 6 | 20 | Erik Jones | DeWalt Toyota | 47.106 | 203.286 | -0.372 | -0.023 |
| 7 | 15 | Ross Chastain(i) | Low-T Center Chevrolet | 47.123 | 203.213 | -0.389 | -0.017 |
| 8 | *62 | Brendan Gaughan(i) | BeardOilDistributing/SouthPointHotel | 47.174 | 202.993 | -0.440 | -0.051 |
| 9 | 37 | Chris Buescher | Louisiana Hot Sauce Chevrolet | 47.178 | 202.976 | -0.444 | -0.004 |
| 10 | 95 | Matt DiBenedetto | One Bite Toyota | 47.207 | 202.851 | -0.473 | -0.029 |
| 11 | 21 | P. Menard / M. | Menards/Tarkett Ford | 47.220 | 202.795 | -0.486 | -0.013 |
| 12 | 6 | Ryan Newman | Wyndham Rewards Ford | 47.229 | 202.757 | -0.495 | -0.009 |
| 13 | 38 | David Ragan | Envision Ford | 47.262 | 202.615 | -0.528 | -0.033 |
| 14 | 42 | Kyle Larson (P) | McDonald's Chevrolet | 47.310 | 202.410 | -0.576 | -0.048 |
| 15 | 22 | Joey Logano (P) | Shell Pennzoil Ford | 47.337 | 202.294 | -0.603 | -0.027 |
| 16 | 13 | Ty Dillon | GEICO Chevrolet | 47.350 | 202.239 | -0.616 | -0.013 |
| 17 | 12 | Ryan Blaney (P) | Dent Wizard Ford | 47.354 | 202.222 | -0.620 | -0.004 |
| 18 | 47 | Ryan Preece # | Kroger Chevrolet | 47.369 | 202.158 | -0.635 | -0.015 |
| 19 | 41 | Daniel Suarez | Haas Automation Ford | 47.393 | 202.055 | -0.659 | -0.024 |
| 20 | 17 | Ricky Stenhouse Jr | SunnyD Ford | 47.426 | 201.915 | -0.692 | -0.033 |
| 21 | 10 | Aric Almirola | Smithfield Racin' for Bacon Ford | 47.437 | 201.868 | -0.703 | -0.011 |
| 22 | 2 | Brad Keselowski (P) | Miller Lite Ford | 47.442 | 201.846 | -0.708 | -0.005 |
| 23 | 14 | Clint Bowyer (P) | Rush/Mobil Delvac 1 Ford | 47.445 | 201.834 | -0.711 | -0.003 |
| 24 | 43 | Bubba Wallace | Victory Junction Chevrolet | 47.478 | 201.693 | -0.744 | -0.033 |
| 25 | 19 | Martin Truex Jr (P) | Bass Pro Shops Toyota | 47.489 | 201.647 | -0.755 | -0.011 |
| 26 | 9 | Chase Elliott (P) | NAPA Night Vision Chevrolet | 47.491 | 201.638 | -0.757 | -0.002 |
| 27 | 8 | Daniel Hemrick # | Liberty National/RCR 50th Chevrolet | 47.496 | 201.617 | -0.762 | -0.005 |
| 28 | 88 | Alex Bowman (P) | Nationwide/Amazon Echo Auto Chevy | 47.502 | 201.592 | -0.768 | -0.006 |
| 29 | 3 | Austin Dillon | American Ethanol/RCR 50th Chevrolet | 47.503 | 201.587 | -0.769 | -0.001 |
| 30 | 24 | William Byron (P) | Axalta Chevrolet | 47.512 | 201.549 | -0.778 | -0.009 |
| 31 | 1 | Kurt Busch | Monster Energy Chevrolet | 47.516 | 201.532 | -0.782 | -0.004 |
| 32 | 48 | Jimmie Johnson | Ally Chevrolet | 47.533 | 201.460 | -0.799 | -0.017 |
| 33 | 36 | Matt Tifft # | Surface Sunscreen/Tunity Ford | 47.797 | 200.347 | -1.063 | -0.264 |
| 34 | *96 | Parker Kligerman(i) | TRD 40th Anniversary Toyota | 50.674 | 188.973 | -3.940 | -2.877 |
| 35 | 51 | Austin Theriault | JACOB COMPANIES Ford | 50.845 | 188.337 | -4.111 | -0.171 |
| 36 | 77 | Blake Jones | Tennessee Shine Co. Chevrolet | 51.054 | 187.566 | -4.320 | -0.209 |
| 37 | 00 | Landon Cassill(i) | Graybar/Superior Essex Chevrolet | 51.203 | 187.020 | -4.469 | -0.149 |
| 38 | *66 | Joey Gase(i) | Fan Memories at Richmond Raceway | 51.319 | 186.598 | -4.585 | -0.116 |
| 39 | *27 | Reed Sorenson | Chevrolet | 52.454 | 182.560 | -5.720 | -1.135 |
| 40 | 52 | Spencer Boyd(i) | Medicine Shoppe Chevrolet | 53.073 | 180.431 | -6.339 | -0.619 |