IndyCar drivers get schooled at Bathurst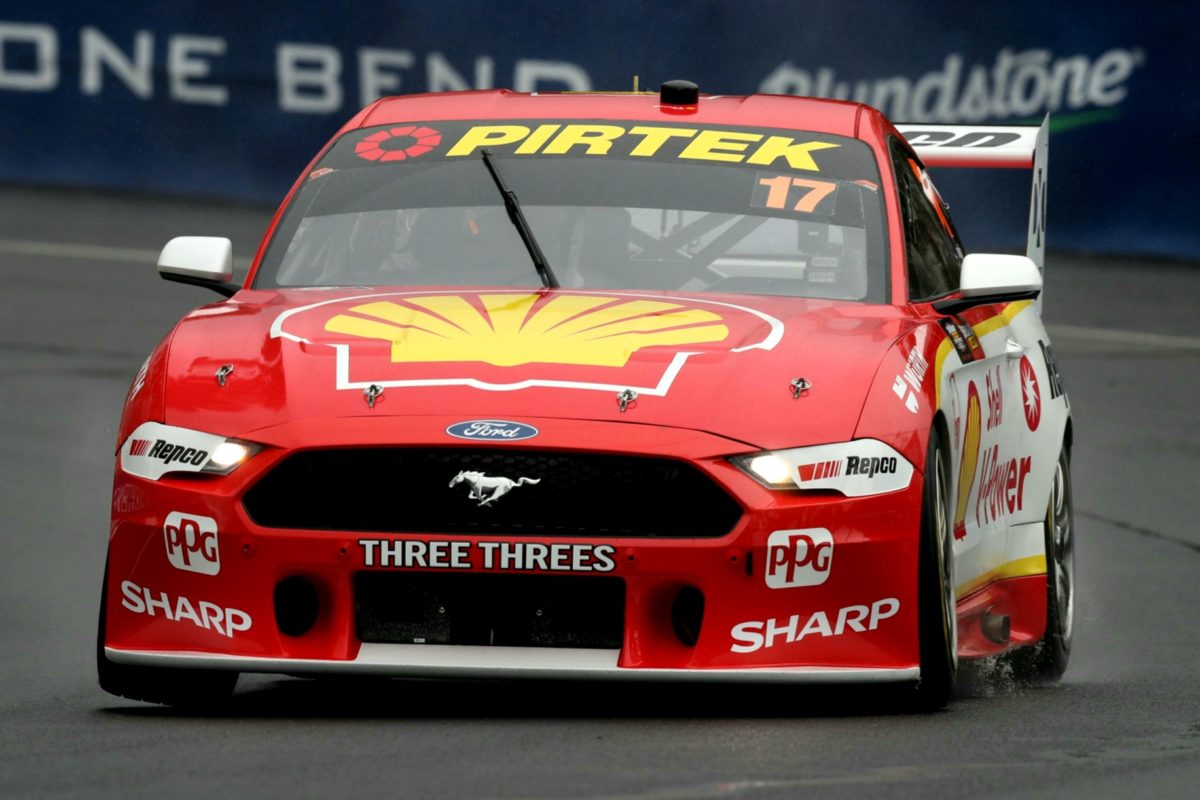 Scott McLaughlin fastest in Penske Mustang
Mount Panorama threw everything it had at Supercars teams and drivers today, with record breaking track conditions this morning before a storm front rolled through to provide a wet track for qualifying.
The day opened with a co-driver only session in Practice 4, with Alex Premat and Tony D'Alberto on track in the Shell V-Power Mustangs. Both co-drivers did an excellent job, working on race-pace before handing the cars back to Scott McLaughlin and Fabian Coulthard for Practice 5.
Both cars were fast in the cold, dry conditions with McLaughlin lowering his lap record even further to a 2m03.4813s to be a half-second clear of the field.
Temperatures plummeted and rain began to fall around the circuit in the hour before qualifying, with the full 40-minute session run in wet conditions.
McLaughlin was again fast in the trying conditions, sitting at the top of the time sheets for the majority of the forty-minutes. Conditions dried out a little late in the session, and timing became key with Coulthard losing out on best track conditions to be pushed out of the Top 10.
McLaughlin took provisional pole, and will start last in tomorrow afternoon's Top 10 Shootout that will decide the final places on the grid.
IndyCar drivers get schooled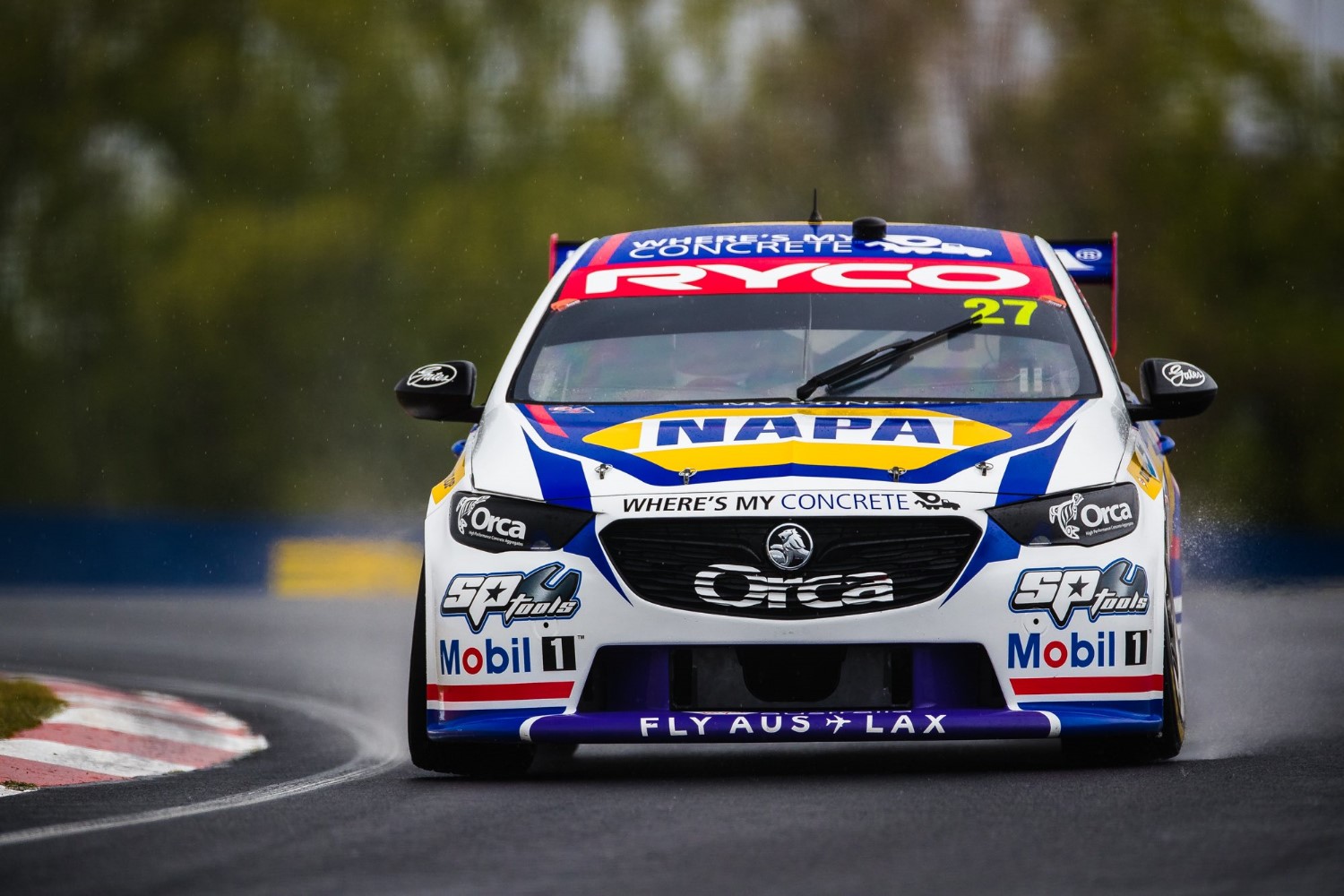 Rossi in the #27 Andretti Holden next to last in the wet
Like in every practice session, the IndyCar drivers were at the back and out to lunch. Alexander Rossi qualified the Andretti Holden 4-seconds off the pace.
"It's a bit of a baptism of fire for us here," said Hinchcliffe.
"Alex and I were joking earlier it's kind of like drinking out of a fire hose.
"We have very little car knowledge, zero track knowledge and, obviously, this is one of the most daunting, challenging race tracks in the world.
"But man, it's beautiful. All the hype, it's everything everybody said it was and then some."
Provisional Qualifying Results
| | | | | | | |
| --- | --- | --- | --- | --- | --- | --- |
| Pos | Num | Team/Sponsor | Driver(s) | Car | Fastest lap | Behind |
| 1 | 17 | Shell V-Power Racing Team | Scott McLaughlin | Ford Mustang GT | 2:27.6476 | 0.0000s |
| 2 | 55 | Supercheap Auto Racing | Chaz Mostert | Ford Mustang GT | 2:28.0484 | 0.4008 |
| 3 | 97 | Red Bull Holden Racing Team | Shane van Gisbergen | Holden Commodore ZB | 2:29.1880 | 1.5404 |
| 4 | 23 | Milwaukee Racing | Will Davison | Ford Mustang GT | 2:29.2431 | 1.5955 |
| 5 | 14 | Freightliner Alliance Racing | Tim Slade | Holden Commodore ZB | 2:29.3889 | 1.7413 |
| 6 | 8 | 7-Eleven Mobil Racing | Nick Percat | Holden Commodore ZB | 2:29.4619 | 1.8143 |
| 7 | 888 | Red Bull Holden Racing Team | Jamie Whincup | Holden Commodore ZB | 2:29.6973 | 2.0497 |
| 8 | 6 | Monster Energy Racing Team | Cameron Waters | Ford Mustang GT | 2:29.7038 | 2.0562 |
| 9 | 18 | Irwin Racing | Mark Winterbottom | Holden Commodore ZB | 2:29.8025 | 2.1549 |
| 10 | 99 | Penrite Racing | Anton de Pasquale | Holden Commodore ZB | 2:29.8288 | 2.1812 |
| 11 | 15 | Castrol Racing | Rick Kelly | Nissan Altima | 2:29.8573 | 2.2097 |
| 12 | 33 | Boost Mobile Racing | Richie Stanaway | Holden Commodore ZB | 2:29.9048 | 2.2572 |
| 13 | 7 | Plus Fitness Racing | Andre Heimgartner | Nissan Altima | 2:30.1249 | 2.4773 |
| 14 | 2 | Mobil 1 Racing | Scott Pye | Holden Commodore ZB | 2:30.1690 | 2.5214 |
| 15 | 35 | Bigmate Racing | Todd Hazelwood | Holden Commodore ZB | 2:30.2670 | 2.6194 |
| 16 | 12 | Shell V-Power Racing Team | Fabian Coulthard | Ford Mustang GT | 2:30.2983 | 2.6507 |
| 17 | 78 | Team Harvey Norman | Simona De Silvestro | Nissan Altima | 2:30.5723 | 2.9247 |
| 18 | 22 | Mobil 1 Racing | James Courtney | Holden Commodore ZB | 2:30.6557 | 3.0081 |
| 19 | 34 | Boost Mobile Racing | James Golding | Holden Commodore ZB | 2:30.7457 | 3.0981 |
| 20 | 5 | The Bottle-O Racing Team | Lee Holdsworth | Ford Mustang GT | 2:30.7643 | 3.1167 |
| 21 | 3 | RABBLE.club Racing | Garry Jacobson | Nissan Altima | 2:30.9051 | 3.2575 |
| 22 | 9 | Penrite Racing | David Reynolds | Holden Commodore ZB | 2:31.1510 | 3.5034 |
| 23 | 21 | Team CoolDrive | Macauley Jones | Holden Commodore ZB | 2:31.2474 | 3.5998 |
| 24 | 56 | Team Arcoweld Racing | Brodie Kostecki | Holden Commodore ZB | 2:31.5758 | 3.9282 |
| 25 | 27 | NAPA Auto Parts Racing | Alexander Rossi | Holden Commodore ZB | 2:31.6046 | 3.9570 |
| 26 | 19 | Truck Assist TEKNO Racing | Jack Le Brocq | Holden Commodore ZB | 2:33.8786 | 6.2310 |